Mocha Truffles
As we creep closer to the holidays I am sharing some of my most favourite, easy peasy dessert recipes.
These are recipes that likely won't have step-by-step process photos as they are so simple and quick they aren't really needed.
One of those recipes I am sharing today is these incredibly delicious Mocha Truffles.
They come together quickly and are the perfect treat any time of the year!
For the holidays, you could always add these to a coffee-themed gift basket for the coffee lover on your list.
Mocha Truffles
These Mocha Truffles are the perfect snack while sipping a cup of coffee, curled up on the couch.
They also make a delicious dessert for holiday parties or as gifts to coffee lovers.
So, whip up a batch of these yummy Mocha Truffles today!
Plus, check out the other delicious dessert recipes at the end of this blog post.
What You Will Need:
25 sugar cookies crumbled

½ cup of icing

1 package of cream cheese

1 tsp hot water

1 tbsp instant coffee

Melted chocolate (you can use white, milk or dark)
Yields: 12-15 Truffles
Steve and Hailee both enjoy these, so much so I have to make them each their own batch!
And who can blame them for not wanting to share?
These Mocha Truffles are so good you might not want to share either!
Yield: 12-15 Truffles
Mocha Truffles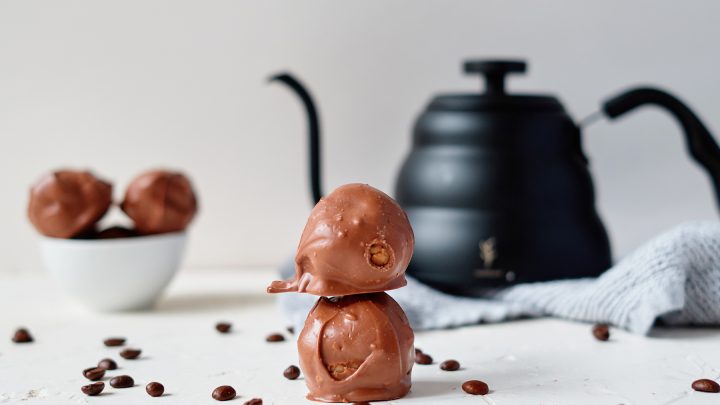 Additional Time
30 minutes
Ingredients
25 sugar cookies crumbled
½ cup of icing
1 package of cream cheese
1 tsp hot water
1 tbsp instant coffee
Melted chocolate (you can use white, milk or dark)
Instructions
Place cookies into a bag and crumble using a rolling pin. You want the cookies to be crumbled finely.
Mix instant coffee and hot water. It will be quite thick, don't worry.
Pour crumbled cookies into a bowl and add cream cheese, icing, and coffee mixture.
Mix until you have a thick mixture.
Roll into balls and place on a parchment-lined paper. Space the truffles about 1 inch apart so they don't freeze together. Place into the freezer to set for 10 minutes.
Melt chocolate. Milk chocolate goes very well with coffee, but white or dark chocolate would taste great too.
Cover truffles in chocolate and place back on the parchment sheet to set in the fridge. Letting the truffles set in the fridge for 20 minutes will firm the chocolate but not make the truffles too hard.
Delicious Desserts To Make
Scroll through and check out these other amazing desserts you need to try!