I have an addiction to Reese Peanut Butter EGGS, those big ones that come out around Easter. Well they also have the trees around Christmas but they are not as good as the eggs. They are perfect, they have more peanut butter vs chocolate and that is heaven in my opinion!
Of course this addiction can become costly which is why I have learned to make my own. Anytime I get that craving I just pop in my kitchen and whip up a batch of these because I can shape them into eggs if I am in the mood or into balls if I want to be more lady like LOL!
For the holidays I always make them and have to make about 3 or 4 batches because I tend to eat the first batch and my family tends to eat the second so the 3rd and 4th are left for the guests!
If you have 15-20 minutes you can get these all done and then you just need a bit of patience as they set in the fridge. It is a simple and easy yet delicious recipe that is always a hit in our home.
Deliciously Easy Peanut Butter Balls
You can easily use this recipe to make peanut butter balls or those jam packed peanut butter heaven eggs that only come out at Easter. For the eggs all you would need to do is shape them into an egg before setting and dipping.
Print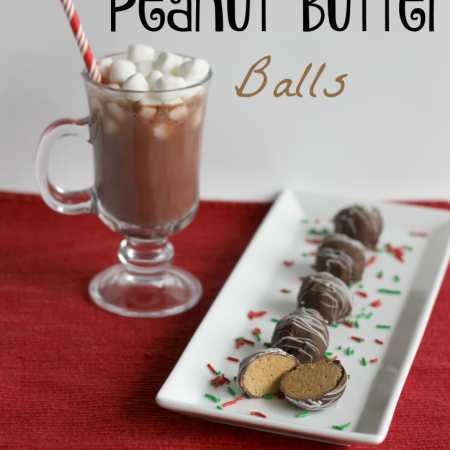 Deliciously Easy Peanut Butter Balls Recipe
---
Author:

Prep Time:

10 mins

Cook Time:

10 mins

Total Time:

20 minutes

Category:

Dessert
Ingredients
Batter:
3/4 cup of peanut butter
3 tbsp of butter (room temp)
1 cup of icing sugar
1/2 cup of graham cracker crumbs
Topping:
2 cups of chocolate (melts or chips)
1 cup of white chocolate
You can also sprinkle on coconut, toffee bits, sprinkles, crushed nuts etc while the chocolate is melted – BE CREATIVE!
---
Instructions
Batter:
In your mixer beat together your peanut butter and butter until well blended.
Add in your icing sugar and graham cracker crumbs and mix until fully combined.
Shape your mixture into 1 inch balls and then place on a parchment lined baking sheet in the fridge to set as you prepare the topping.
Topping:
Melt your chocolate in a medium-sized bowl in the microwave in 15 second intervals stirring after each time.
Place one ball at a time into the chocolate and using two forks move it around to fully cover. Then using the forks pass it back and forth between the forks to work off any excess chocolate before placing on a parchment lined baking sheet.
Once you have coated all your peanut butter balls with the chocolate place them in the fridge to firm.
Melt your white chocolate in a small bowl in the microwave in 15 second intervals stirring after each time.
Remove your peanut butter balls from the fridge. Place your melted white chocolate in a Glad bag and snip the tip then drizzle all over your peanut butter balls.
Return your peanut butter balls to the fridge to set and then place them in a container for storage.
Notes
If you are using coconut or any other topping you can sprinkle it on top of your peanut butter balls while the chocolate is melted if not using white chocolate or sprinkle on top of the white chocolate while it is still melted.
.
Keep your peanut butter balls in a container in your fridge until you are ready to plate to serve. Sharing is not necessary but I am sure it would be appreciated by your family … I won't tell if you don't share, pinky swear!