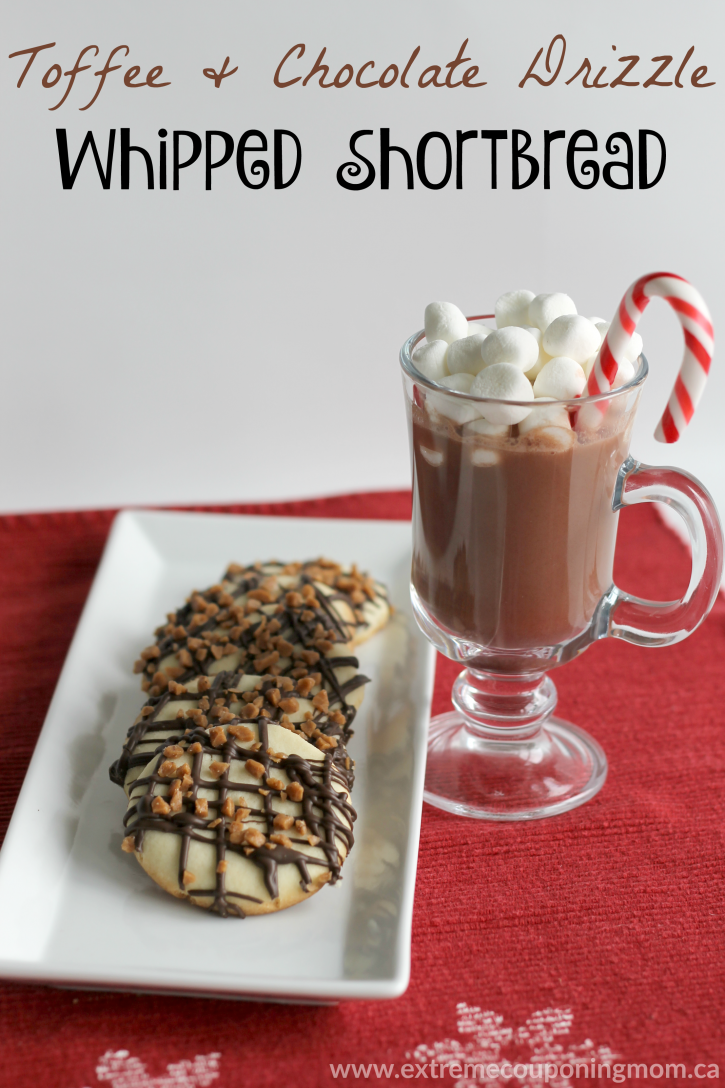 I love Shortbread Cookies, sadly I only ever really ate them during the holidays when my Aunt Lynda would gift us a delicious package of her Shortbread Cookies and Peanut Brittle. I honestly always assumed they took FOREVER to make and if a recipe calls for me to use a rolling-pin I am less likely to do it!
I like simple as do most people. I do a lot of baking during the holidays and I need each recipe to be as simple and fast as can be so I can bang it out and move on to the next delicious task.
Thankfully this year I came across the lovely Sober Julie's Whipped Shortbread recipe which showed me a super easy way to make these delicious little cookies! I put my own twist on the toppings as well as tweaked the recipe to suit my baking style, now I can enjoy these cookies all year-long.

Toffee & Chocolate Drizzle Whipped Shortbread Cookies
Enjoy shortbread cookies without putting in all the work with these whipped shortbread cookies!
Print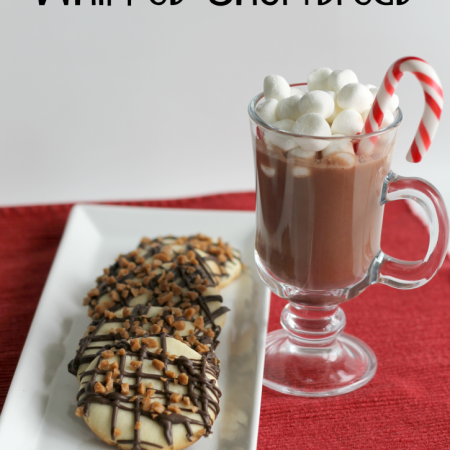 Toffee & Chocolate Drizzle Whipped Shortbread Cookies Recipe
---
Author:

Prep Time:

15 mins

Cook Time:

10 mins

Total Time:

25 minutes

Category:

Dessert
Ingredients
Cookies:

2 cups of butter (room temp)
1 cup of icing sugar
1/2 cups of cornstarch
3 cups of flour
Topping:

1 cup chocolate, your preference (melts or chips)
1 cup toffee bits
You can also mix icing sugar and water to get a glaze and then sprinkle on some festive coloured sprinkles too – BE CREATIVE!
---
Instructions
Cookies:

Preheat your oven to 375 degrees.
In your mixer on high-speed beat your butter for 10 minutes, it will turn from yellow to white in colour.
Next mix in your icing sugar and cornstarch. Mix until fully combined.
Add in your flour 1 cup at a time and mix until combined.
Place your mixture in the fridge for 10-15 minutes to get a bit firm.
Once your dough has chilled remove from the fridge and roll into 1 inch balls. Slightly flatten your ball between the palms of your hands and place onto a cookie sheet lined with parchment paper.
Bake for 10 minutes then remove and place on a rack to cool.
Topping:

Melt your chocolate in a small bowl in the microwave in 15 second intervals stirring after each time.
Place your melted chocolate in a Glad bag and snip the tip then drizzle all over your cookies. Immediately sprinkle on your toffee bits while the chocolate is still melted.
If using a glaze mix together 1 cup of icing sugar and a few drops of water at a time until you get a glaze that is not too thick and not too runny.
Brush on glaze and then immediately sprinkle on festive sprinkles!
Notes
Keep your cookies in an airtight container in your fridge for up to a week.