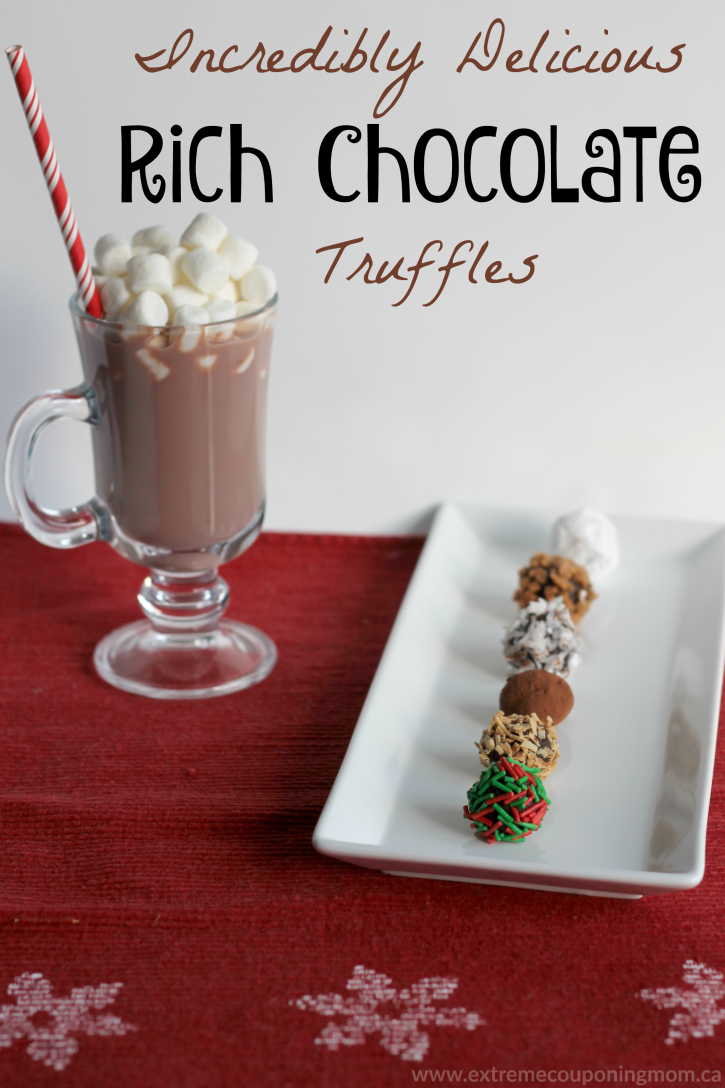 Truffles are definitely at the top of my holiday baking list.
I have such fond memories as a child of my mother and aunts making delicious truffles for our family parties.
Over the years I have tried several recipes but found that a lot of them yielded a mixture that was incredibly soft and very hard to roll into balls without it completely melting in my hands.
It was for that reason that I played with ingredients and amounts to find the perfect consistency for me.
I left these suckers to the end because I knew I was going to have to play around with them.
Sure enough, after hours of setting in the fridge, my mixture was still too soft so I had to reheat my mixture and add in more chocolate.
Finally this morning it is the perfect consistency for rolling!
Rich Chocolate Truffles
Create a variety of deliciously rich chocolate truffles with this base recipe.
Feel free to add in flavours or use different toppings to roll them in!
Rich Chocolate Truffles Recipe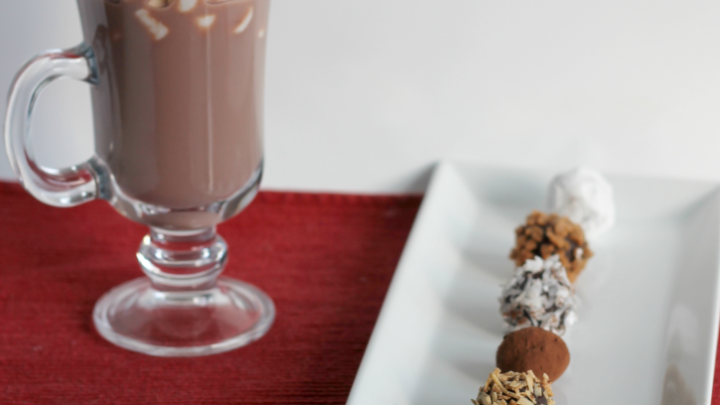 Total Time
2 hours
30 minutes
Ingredients
Truffles:
8 ounces good quality dark chocolate
1/2 cup heavy cream (35%)
1 tsp of vanilla extract
Garnish
Shredded Coconut
Cocoa Powder
Icing Sugar
Nuts
Sprinkles
Instructions
Truffles:
In a medium bowl break up your chocolate into small pieces and set aside.
In a small pot over medium heat, heat your cream until it begins to simmer.
Remove from heat and pour over your chocolate. Cover your bowl with plastic wrap and let it stand for about 10 minutes.
Uncover your bowl and whisk your chocolate mixture until it is smooth then mix in your vanilla.
Pour your mixture into a 9×9 glass pan and let cool for 20 minutes on your counter.
Once cooled cover with plastic wrap and set in the fridge to set for at least 2 hours. I prefer to leave mine overnight.
Scoop out tablespoon-sized truffles and roll them into smooth balls.
Garnish:
Once you have rolled your ball immediately roll it in your desired topping. I normally have all my toppings in small bowls or on small plates like an assembly line making it easy to roll.
Notes
Store the truffles in an airtight container in the fridge until you are ready to serve (up to a week).