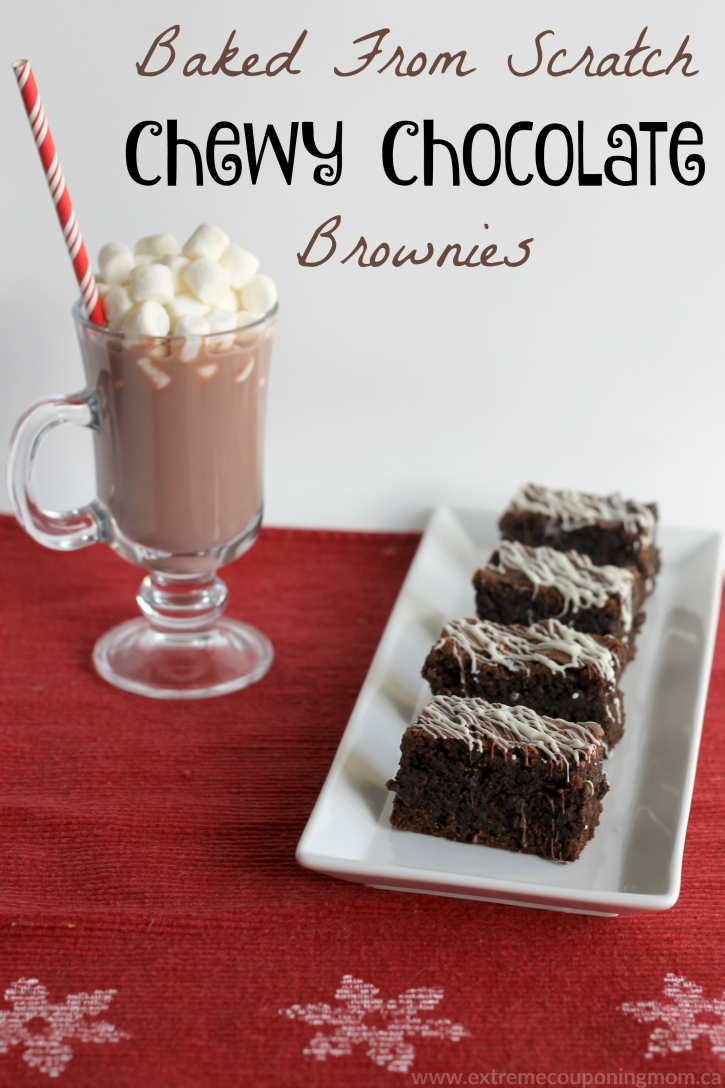 If there is one thing that gets my family running to the kitchen it is my chewy delicious baked from scratch brownies! Whether I serve it alongside a big scoop of their fave ice cream or with a tall glass of milk they can barely wait for it to cool before sinking their teeth in it!
Of course these babies take more time than a simple box mix BUT the results are out of this world and way worth the time to make these vs the box option.
If you have some time this holiday season definitely make a batch of these, your family will thank you … well that is if you share with them.
Baked From Scratch Chewy Chocolate Brownies
Indulge a little with these incredibly chewy chocolate brownies.
Print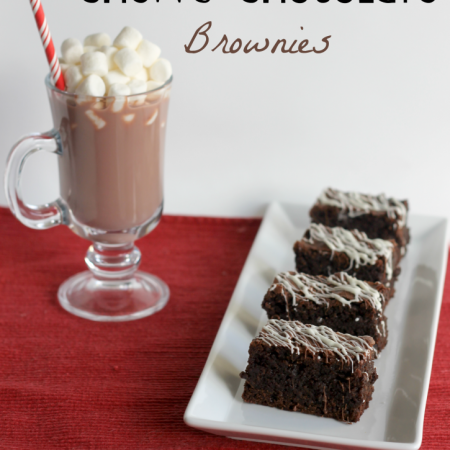 Baked From Scratch Chewy Chocolate Brownies Recipe
---
Author:

Prep Time:

10 mins

Cook Time:

30 mins

Total Time:

40 minutes

Category:

Dessert
Ingredients
Brownie Batter:

1 1/4 cup of flour
2 tbsp cocoa powder
1/2 cup dark brown sugar
1 1/2 cups of granulated sugar
1 cup of butter cut into small pieces
85 grams of 60% cacao chocolate chopped
170 grams of 70% cacao chocolate chopped
57 grams of 85% cacao chocolate chopped
5 large eggs (at room temp)
2 tsp of vanilla extract
Topping:

2 cups of walnut pieces (optional)
1 cup of chocolate (melts or chips)
1 cup of white chocolate
You can also sprinkle on coconut, toffee bits, sprinkles, crushed nuts etc while the chocolate is melted – BE CREATIVE!
---
Instructions
Brownie Batter:

Preheat your oven to 350 degrees and spray your 9×13 inch pan with a non-stick spray.
In a small bowl whisk together your flour and cocoa powder and set aside.
In a separate bowl whisk together your sugars together and set aside.
Fill a medium-sized pot half way with water and bring to a light simmer over low-medium heat. In a large heat proof bowl combine your chocolate and butter stirring until melted and smooth.
Once your mixture is melted turn off your burner but leave the bowl over the water. Add in your sugars and whisk until fully combined.
Remove the bowl from over the water and add in 3 of your eggs, whisk until just combined. Add in your remaining eggs and whisk until just combined.
Add in your vanilla and whisk gently – do not over mix.
Sprinkle your flour mixture over the batter and using a spatula fold the flour mixture in. Stop when you see just a few remaining bits of flour mixture.
Pour and level your mixture into your baking pan and bake for 25-30 minutes rotating your pan after 15 minutes. Be careful not to over bake! NOTE: if using walnuts you can sprinkle them over top your mixture before placing in oven to bake.
Remove from the oven and let cool 15 – 20 minutes before topping.
Topping:

Melt your chocolate in separate small bowls in the microwave in 15 second intervals stirring after each time.
Place your melted chocolate into separate Glad bags and using one bag at a time snip of the end and drizzle over your brownies.
If using any other toppings (coconut, toffee bits etc) immediately sprinkle them over top the melted chocolate.
Notes
Keep your brownies in a container in your fridge until you are ready to plate to serve.