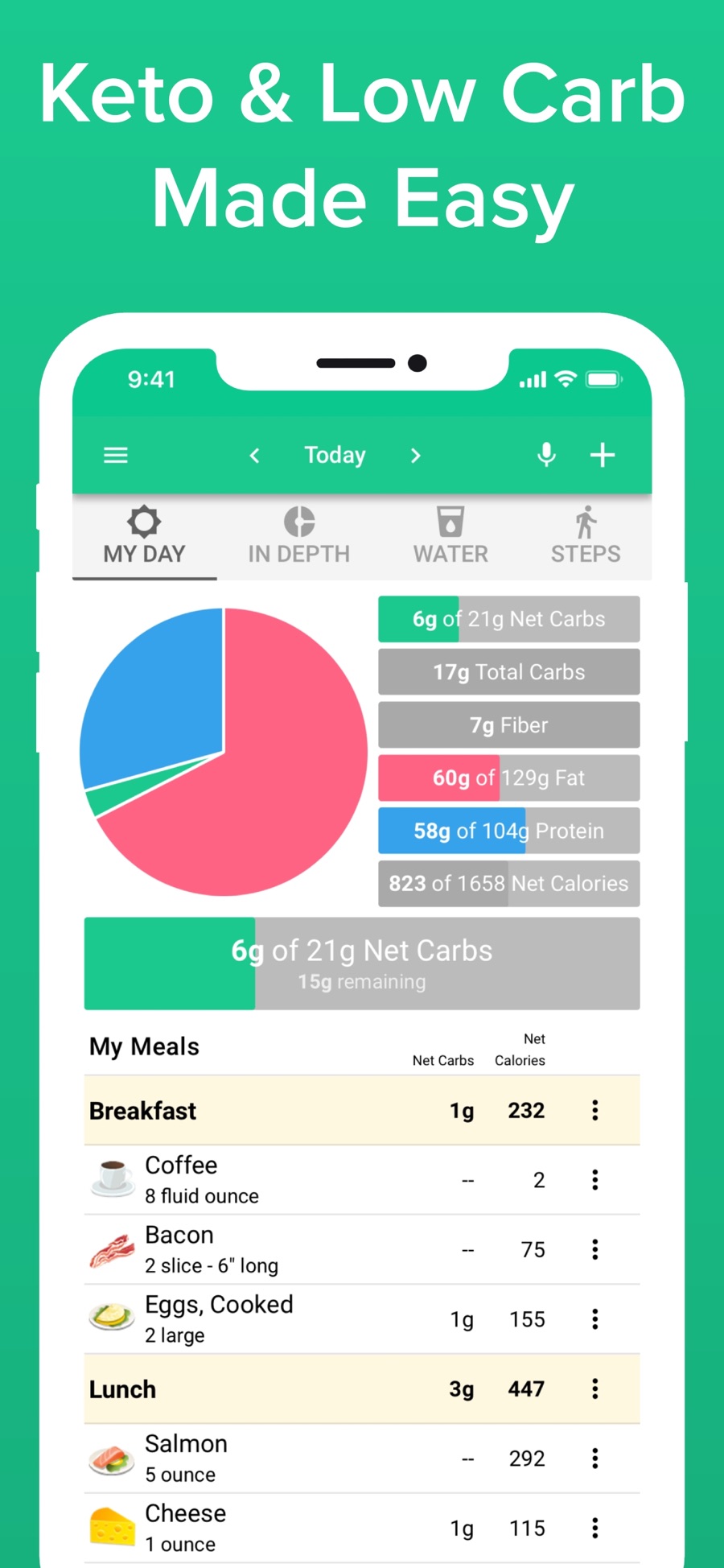 Today I am going to share my favourite Low Carb & Keto Tracking App: Carb Manager.
The day has finally come where I have decided to dive into Keto full force.
Well … It's been three weeks since I started Keto!
While I have been quiet on the blog and Facebook, I have been sharing my journey over on my Instagram account since starting three weeks ago.
If you are not following me on Instagram you can do so by clicking the link below!
.
Low Carb & Keto Tracking App: Carb Manager
One of the most topics I have been messaged about has been "are you tracking your food and if so what are you using to track"?
In the beginning, I wasn't going to track anything.
I didn't even weigh myself before starting because for me this isn't about a number on a scale, more than it is about how I physically feel and how I feel when I look at myself in the mirror.
About two weeks in I decided to download the app to check it out.
I'm glad I did as it is an invaluable resource and helps me stay accountable.
Since 2010, Carb Manager has been the #1 low carb diet tracker for iOS, Android, and the web.
Their mission is to make the low carb lifestyle easy, fun, and delicious, and empower their millions of members to achieve their wellness goals.
Why I Started Keto
Now before the comments and messages start rolling in, "you look so thin" and "why do you need to lose weight" please know that looks can be deceiving.
Receiving nearly 100 of those types of comments and messages was why I posted the following photo on my Instagram stories and feed.
The above pictures were me on the day I started Keto.
I'm by no means overweight, but I am not as healthy as I could be and I was not happy with my body shape.
Growing up I was always tiny, in fact, my mother had to take me to a nutritionist to help me gain weight as a kid/teen.
I had an amazing metabolism growing up and even into adulthood. I could eat anything I wanted and it rarely changed my weight or body shape.
Well, as I have aged my metabolism has slowed down.
At 37 I no longer can eat whatever I want with no consequence.
All the Red Bull, Doritos, pizza and pasta paired with working from home in a desk with little exercise has gone straight to my belly and face.
Now, if it had gone to my ass we wouldn't be having this conversation LOL!
All jokes aside, I needed to change my horrible eating habits and get rid of this belly I have been so good at hiding behind Spanx, high waisted pants and good angles.
Below is me at the two-week mark in my Keto journey.
Within the first two weeks, I noticed:
a significant reduction in my bloated belly
my face got slimmer
no longer need a 3-4 hour nap every day
sleeping better at night
better mood
haven't had a single migraine after the first few days (I used to get regular migraines)
Intermittent Fasting
After the first week, I also implemented intermittent fasting.
I did this to curb my bad late-night eating habits as this is where I would eat a lot and the food was unhealthy for me.
I'm doing the 16:8 fasting method and I fast from 8:00 pm until 12:00 pm the following day.
Below is me at the three-week mark in my Keto journey.
At the three week mark I have noticed:
a significant slimming of my belly
my face has continued to slim and my puffy bags under my eyes have minimized
still have not needed a nap
still sleeping better at night
much happier
still no migraines
How To Use The Low Carb & Keto Tracking App: Carb Manager
First things first, you will want to download the app onto your device and sign up for your FREE account.
It is available on the Apple Store, Google Play and if you don't have a device you can use their web version.
Once downloaded, fill out your profile with your gender, year of birth, height, starting weight and your activity level.
Settings
Under the main settings tab, you will want to set your Carb Manager App Settings.
You can go through these and choose your own settings.
My settings are:
Carbs to track: NET
Track all macros: ON
Track calories: ON
Deduct calories when I exercise: ON
Deduct macros when I exercise: OFF
Show progress wheel: OFF
Connect with Apple Health: ON
Show Keto food grades: ON
When you connect with Apple Health this helps track your steps etc.
To adjust what data Apple Health sends to Carb Manager:
Open the app on your device
Tap on your name (top right)
Go to Apps under Privacy
Tap on Carb Manager
The slide to turn green any of the information you would like Apple Health to share with Carb Manager
I personally have allowed:
Active Energy
Activity
Exercise Minutes
Steps
Connecting To Fit Bit/Garmin
In order to connect with Fit Bit or Garmin, you will need to upgrade to the premium version of Carb Manager.
The cost per year is only $39.99 USD and I am thinking of doing this to get a much more accurate exercise and activity level reading.
The premium version also brings other features to the app as well.
Setting Your Calories Goal
Next step is to go to the Macros section under settings.
You will want to set your calories goal based on whether you want to lose weight, maintain or build muscle.
I set mine to a 30% calories deficit because I would like to lose weight, this allows me 1086 calories per day, yours will depend on your stats you input into your profile.
Setting Your Macronutrient Goals
Next is calculating your macronutrient goals based on your preferred type of diet.
Macros (your carbs, protein and fat) are the building blocks to your diet.
I set mine to Keto (5:25:70) and adjusted the slider at carbs to 30 grams.
With that said, I rarely hit 20 grams of carbs per day and it is rarer for me to go over. I just set it at 30 grams to make myself feel like I had wiggle room if needed one day.
To be quite honest, my appetite quickly lessened after doing Keto and implementing intermittent fasting.
My full macronutrient goals are 30 grams of carbs, 64 grams of protein and 79 grams of fat per day.
I have the "ease into my diet" set to off, this is all in for me!
Diet Goals
In settings, the next section besides Macros is Diet Goals.
I personally do not use this.
Health Goals
The next section in settings is Health Goals.
Here you can put your desired weight, how much water you would like to drink, sleep you would like to get, step goals and more.
I set my water, sleep and step goals.
Advanced Settings
Should you purchase the premium version or you'd like to set up meal reminders (available for the FREE version), you can go into the advanced section under settings to set some meal stuff.
My Daily Log
Alright, now that we are past the set up of your app it is time to start using it!
In your my daily log section you will find 4 sections:
My Day
In Depth
Water
Steps
This is where you will track everything.
My Day
Under the "my day" section you will track all the foods, beverages and any supplements you consume each day.
To add the item(s) you consume you will simply tap on the three dots beside breakfast, lunch, dinner, snack or supplements and then tap on add foods.
You can enter your food, beverage or supplement manually by typing out what the item is OR you can use the SCAN option if the item has a barcode.
Once you see the item pop up you tap on it and adjust the amount of serving size you are consuming (eg 1 cup, 1 tsp etc) and hit add today.
In order to track my food more precisely I use a kitchen scale to weigh my food portions.
I purchased my scale (Amazon Basics) off Amazon for less than $20, you can find it in my Keto Must-Haves section on my Amazon Influencer Page.
In Depth
The in depth section gives you a larger look at how you are doing daily for the week and more.
Water
Whether you do Keto or not, you need to ensure you are drinking enough water daily.
This is especially important on Keto to avoid getting dehydrated and/or constipated.
In the water section under My Daily Log, you can track how many glasses of water you have consumed each day.
Mine is set to 8 cups which equals four 500ml bottles of water.
If you have a hard time reaching your water intake, use no-carb flavours or use lemon, cucumber or raspberries to infuse your water.
Steps
In this section, you will be able to see your daily steps for the week.
Don't judge my Sunday steps … it was a lounge on the couch, don't leave the house kind of day.
I literally took just over 700 steps LOL!
As you can see I haven't yet hit my daily goal of 10,000 steps, but I am trying and hopefully nicer weather will motivate me to get out and about more.
I also didn't connect my Apple Health until this week.
Additionally, I think upgrading to premium and connecting to a Fit Bit will give me a more accurate reading on my steps as I don't always carry my phone around with me.
You Can Do This
The Carb Manager App is only one part of this lifestyle, you are the other.
You will be the driving force to your own results.
Remember it is ok to have an off day, failure doesn't mean anything if you dust yourself off, get back up and try again!
Little truth bomb … I ate ONE Timbit a few days ago. It kicked me right out of Ketosis and took me a full day to get back into Ketosis.
I'm human, you are human, we are all human!
I learned my lesson real quick, even though it didn't put me over any of my daily limits, the refined sugar and carbs booted me right out.
One day I may implement a "cheat day" down the road once I hit my goal and I am steady, but not now, it is too early to cheat!
More Keto Posts + Recipes
Check out these other Keto posts and recipes to help you kickstart your journey!