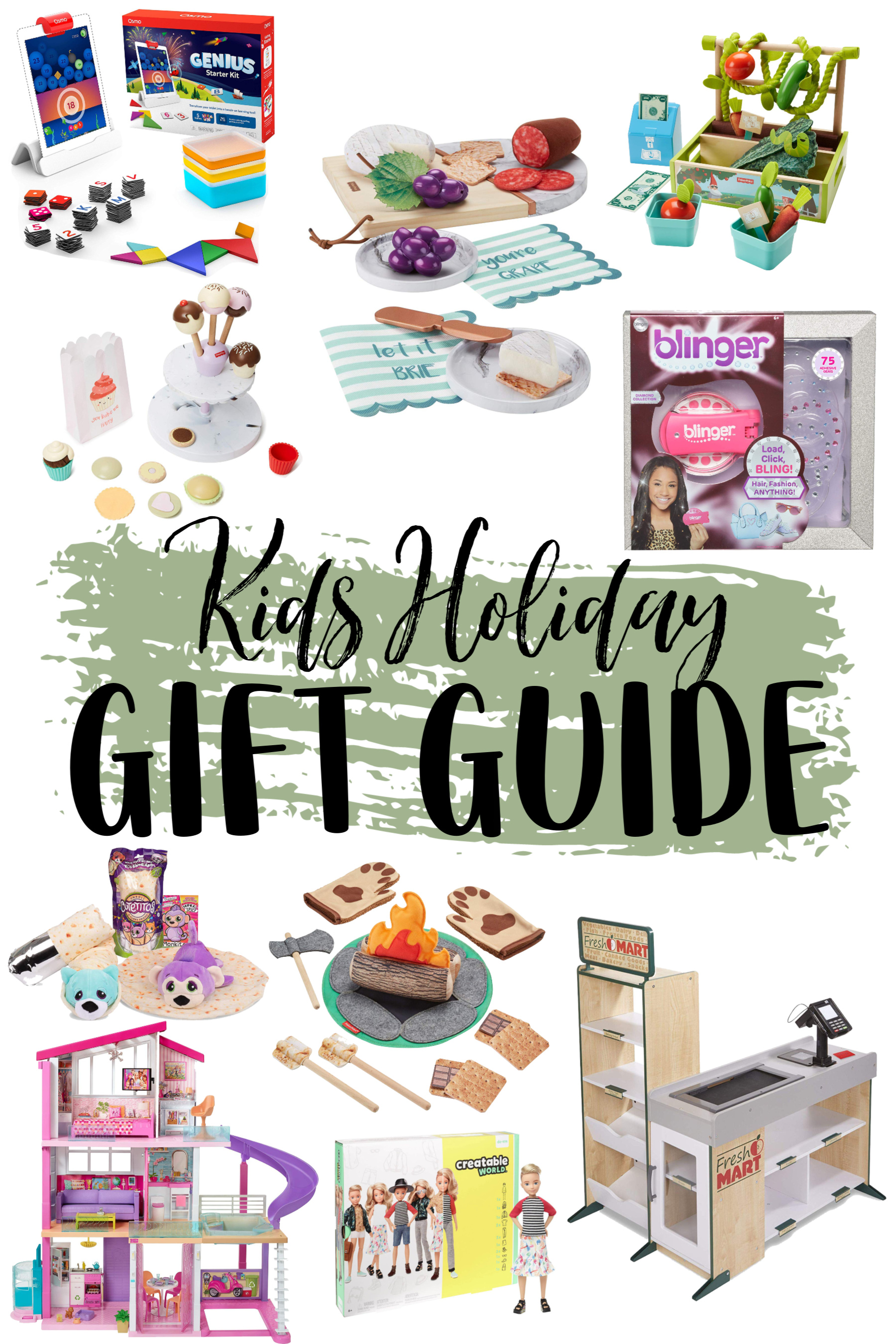 Alright, the last holiday gift guide is here! It's my Kids Holiday Gift Guide – Top Toys.
I've done a few other toy gift guides, but those were brand-specific and this one is my top toys from a variety of brands I haven't yet posted about!
After 17 years of being a parent, I would like to think I am pretty good at gift-giving.
I've watched brands evolve over the years and new brands storm into the retail world with amazing toys.
I will say, the toys of 2019 are much cooler than the toys of the early 2000s when my first child was born.
But I guess that is how things go, even toy brands get better with age!
Kids Holiday Gift Guide – Top Toys
So check out these 10 amazing gift ideas to finish off those last-minute gifts!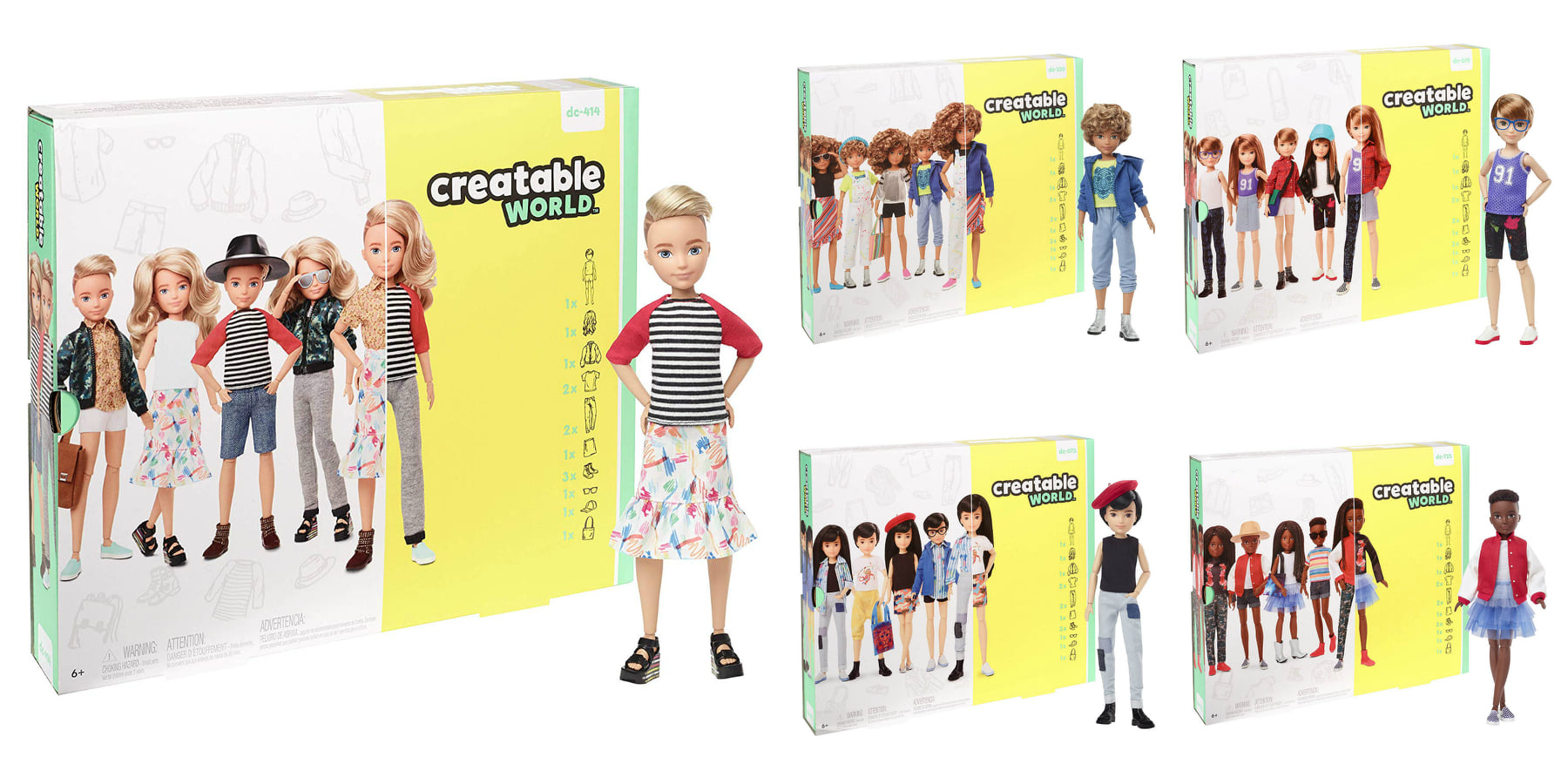 1. Creatable World
Creatable World inspires all kids to get creative with doll play.
Deluxe Character Kits provide a blank canvas along with the pieces to create unique characters, over and over again!
The 11-inch doll wears a tank and shorts, has a short haircut and comes with six items of clothing, three pairs of shoes, two additional accessories and a long-haired wig – all versatile pieces that give kids the freedom to make their characters whoever they want them to be.
The clothing is straight off the playground, and authentic details keep it even more real.
The wig is easy to take on and off – kids can switch long hair for short hair, then back again.
Add a skirt, pants or use both.
Accessorize…or don't.
Creatable World doll kits give all kids the ability to make and remake characters they love.
With so many choices, the fun is never-ending!
Collect other doll kits for even more options and creative possibilities (each sold separately).
As a mom of a son who is transgender, this makes my heart so so happy.
I am so thankful that brands are making more gender-fluid toys.
They will help teach kids it is ok to be whoever you are and that we should accept others for who they are too!
You can purchase Creatable World doll kits on sale at Amazon right now!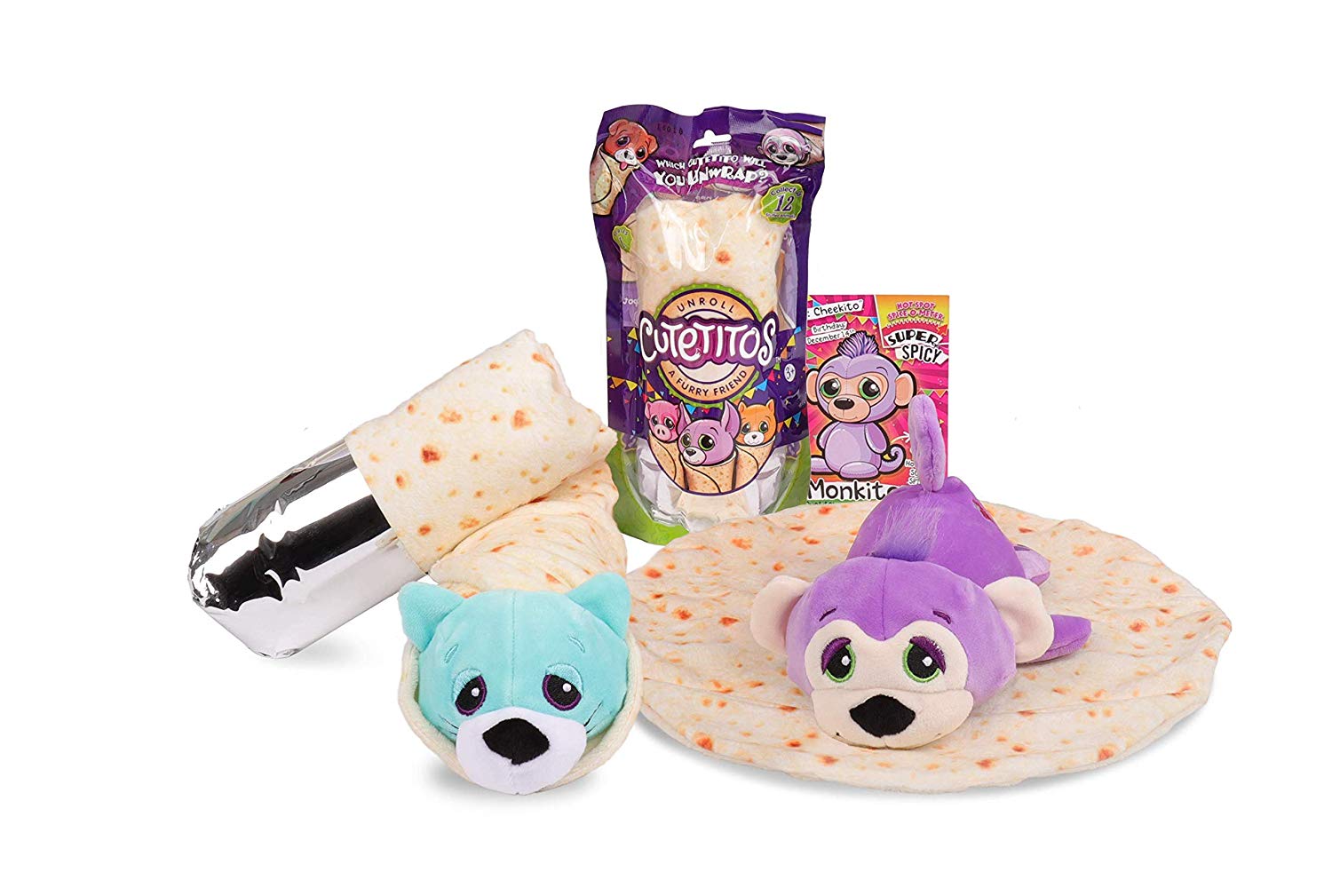 2. Cutetitos
Cutetitos are a variety of adorable, stuffed animals wrapped and hidden in a burrito blanket ready to be unrolled and discovered.
Based on the current trend of pet owners wrapping their pets in blankets like a burrito, now kids of all ages can collect Cutetitos and roll their own pet into a burrito.
Cutetitos come uniquely wrapped in a large mystery bag building suspense of which Cutetito is inside, then unwrap to discover your new Cutetito pet & more.
To find out if your Cutetito's personality is mild, medium or hot, just check out it's "Hot Spot".
From a Slothito to a Puppito, there are 12 different Cutetitos to collect.
Each comes with a burrito blanket and Pet Collector card with additional information about your pet including its species, name, birthday and favourite quotito.
Cutetitos come in 12 colourful styles including Cattito's, Bearito, Monkito and Piggito – some are super rare – collect them all.
Available online at Amazon, and you can find them in-store at Indigo and Toys R Us.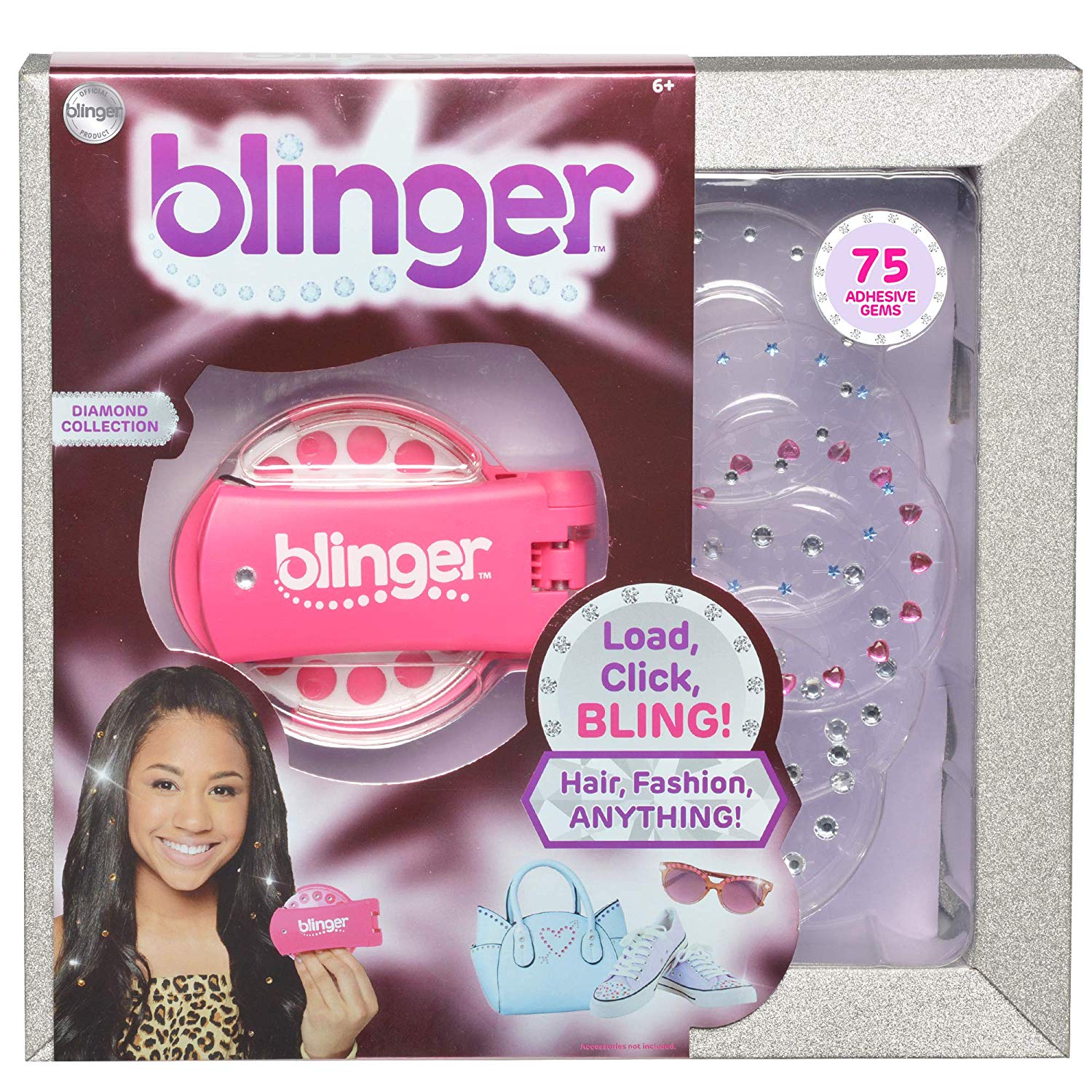 3. Blinger
Load, Click, Bling! Hair, Fashion, Anything!
Blinger is the accessory that allows you to add bling to your everyday life.
Blinger is safe and easy to use.
Whether you're blinging your hair, clothes or accessories, these gems stay on all day!
Includes 75 gems with an assortment of colours.
We got to test out Blinger at a media event we attended and Bella fell in love.
She is going to be so excited to open it on Christmas morning!
You can purchase Blinger at Walmart online right now.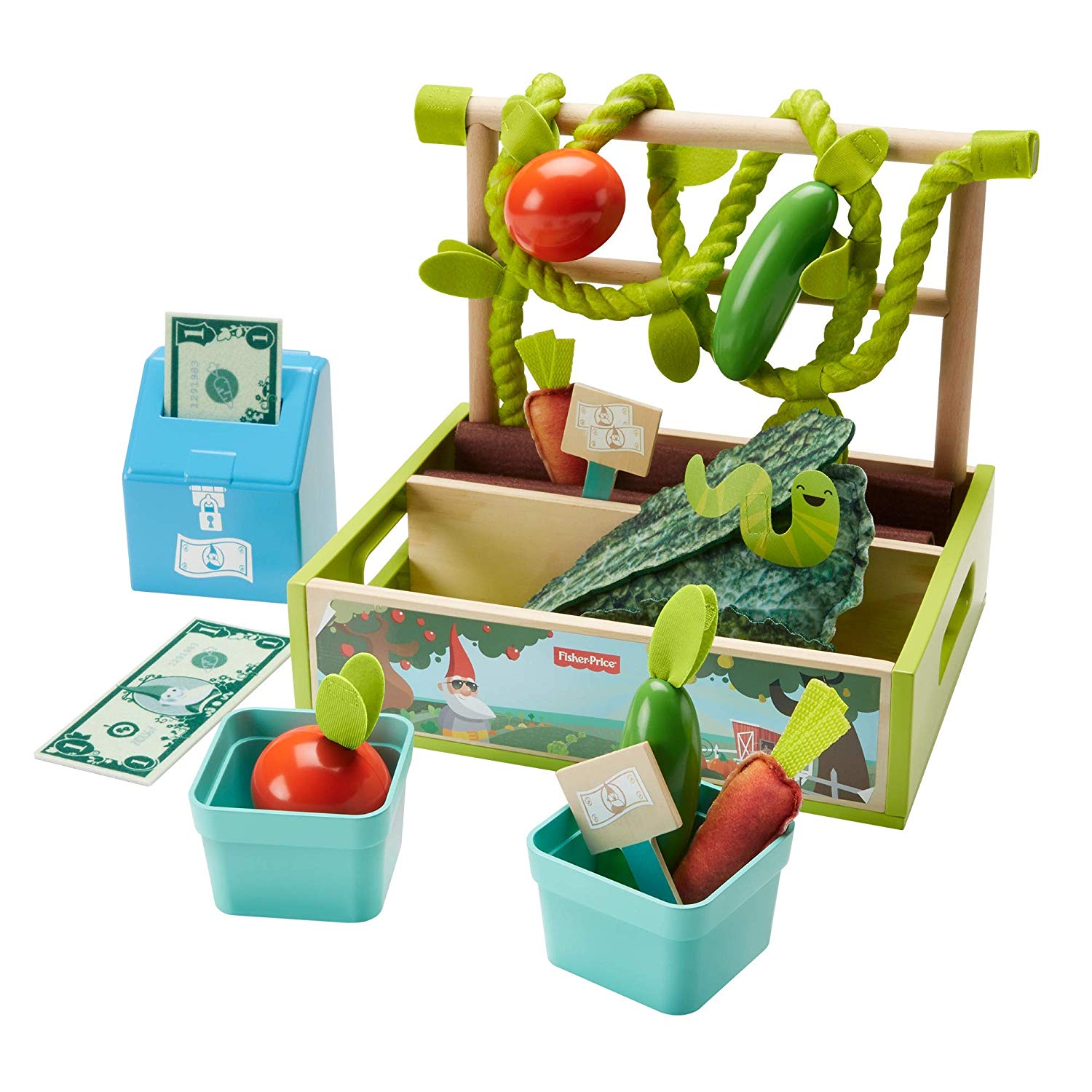 4. Fisher-Price Farm-to-Market Stand
It's all healthy, organic, and locally sourced at your little farmer's Farm-to-Market Stand!
This exciting roleplay set from Fisher-Price comes with everything preschoolers need to "plant" and "grow" vegetables like carrots, kale, tomatoes and more.
Then they can set up a stand to sell their fresh goods.
A variety of textures, like soft plant vines, smooth veggies with removable leaves, a real wooden trellis and cash box with soft money help bring your child's role play adventures to life.
​Roleplay garden and market stand for kids ages 3 year and up
I am so in love with these new Fisher-Price toys, as you will see with the next few gift guide items.
If there is one thing Bella and almost all kids love to do, it is roleplay and these toys are the perfect way to do that!
I definitely snagged this to gift to one of Bella's cousins.
You can purchase this on Amazon right now.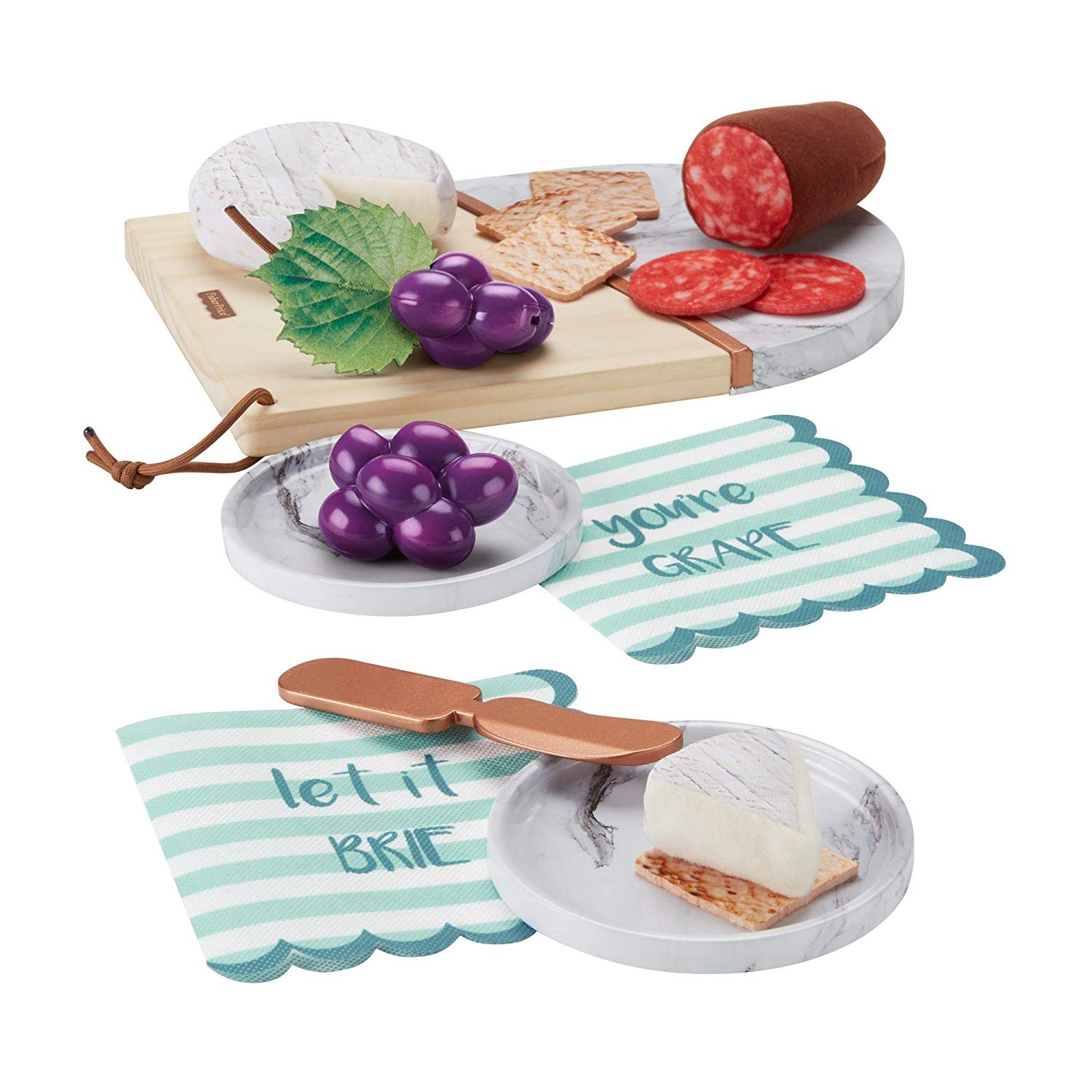 5. Fisher-Price Snacks for Two
Little foodies will love indulging in fancy snacking fun with the Fisher-Price Snacks for Two role playset.
This pretend charcuterie set is loaded with delicious hands-on play, including a soft salami kids can "slice," pull-apart grapes (perfect for sharing!), "crackers" for stacking, stylish plates and real fabric napkins.
Bon appétit, kiddo!
This set is on another level and I totally bought it to gift to one of Bella's cousins.
You can purchase this on Amazon right now!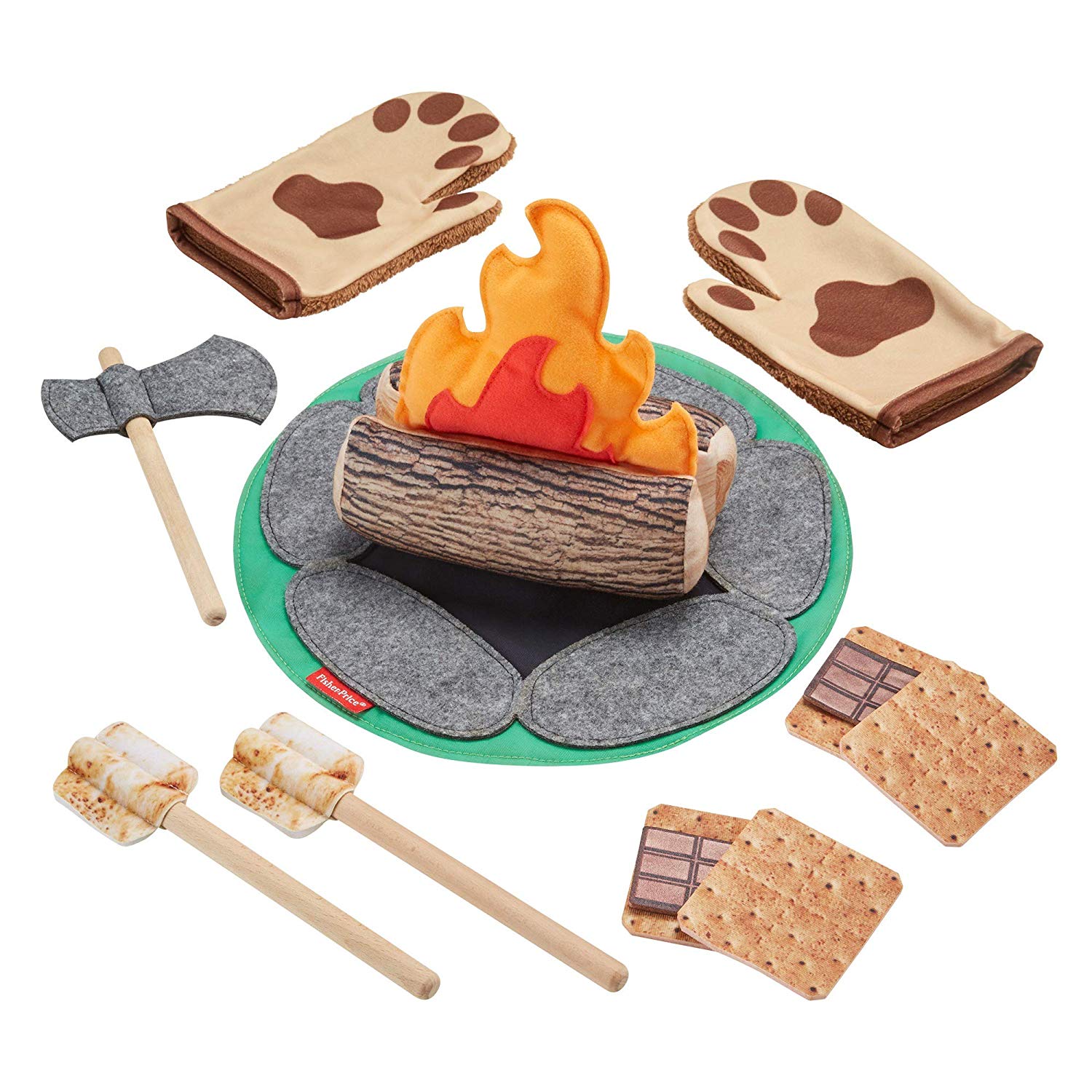 6. Fisher-Price S'More Fun Campfire
Gear up for exciting camping adventures with the S'more Fun Campfire role playset from Fisher-Price!
Preschoolers can "chop" wood, tell stories around the campfire, "roast" some tasty s'mores, and even enjoy a lovely picnic.
With real wood accents, fabric treats, and soft, wearable bear paws, this set lets your little camper act out all sorts of fun outdoor stories—right in your living room.
Both Bella and my niece Olivia got this for Christmas from my mom.
You can purchase this on Amazon right now!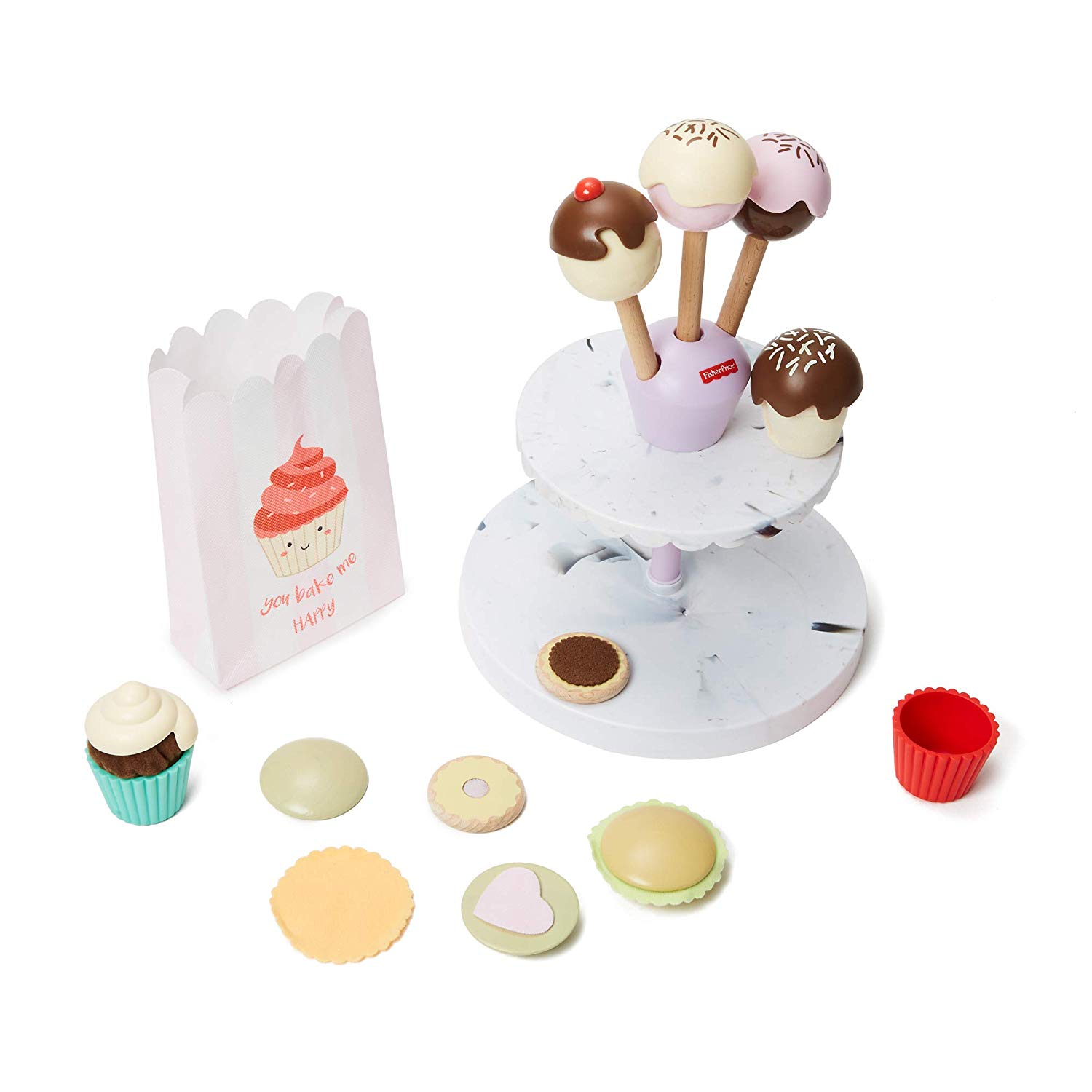 7. Fisher-Price Cake Pop Shop
Mini-pastry chefs can create their own "tasty" treats with the Fisher-Price Cake Pop Shop role playset.
With four kinds of desserts and 20+ mix-and-match play pieces, preschoolers can decorate cookies, macarons, cake pops, and cupcakes with a variety of toppings and flavours, then display their creations on the cake stand.
They can even send customers' treats to-go in the fabric bag!
I told you I was slightly obsessed with all the new Fisher-Price toys. There are more of them, but these ones were my faves!
You can buy this on Amazon right now.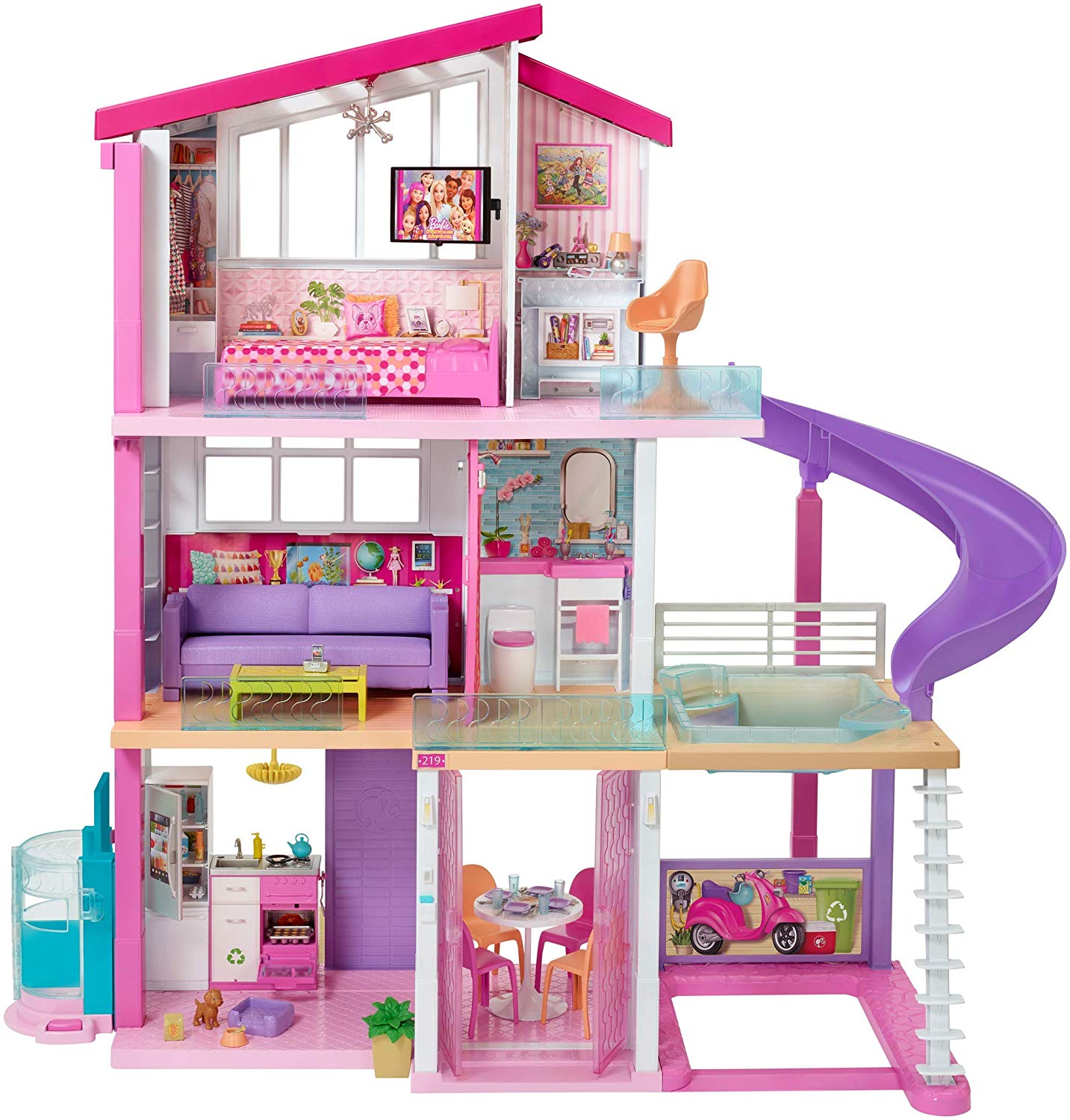 8. Barbie Dreamhouse
With so many exciting features and accessories, the Barbie DreamHouse encourages young imaginations to move into this dollhouse and set up a dream home.
Kids will have limitless ways to play and explore, from friend sleepovers and family bonding moments to birthday parties and backyard BBQs!
The Barbie DreamHouse measures an impressive 3+ feet tall and 4+ feet wide and features 3 stories, 8 rooms and 70+ accessories.
Special amenities include a working elevator, home office, carport and second-story pool — fill it with water for a real splash!
Lights and sounds add delightful touches, while 2-in-1 transforming furniture pieces expand the storytelling possibilities.
Bella just loves her Barbie DreamHouse and she plays with it daily.
You can purchase this on Amazon right now!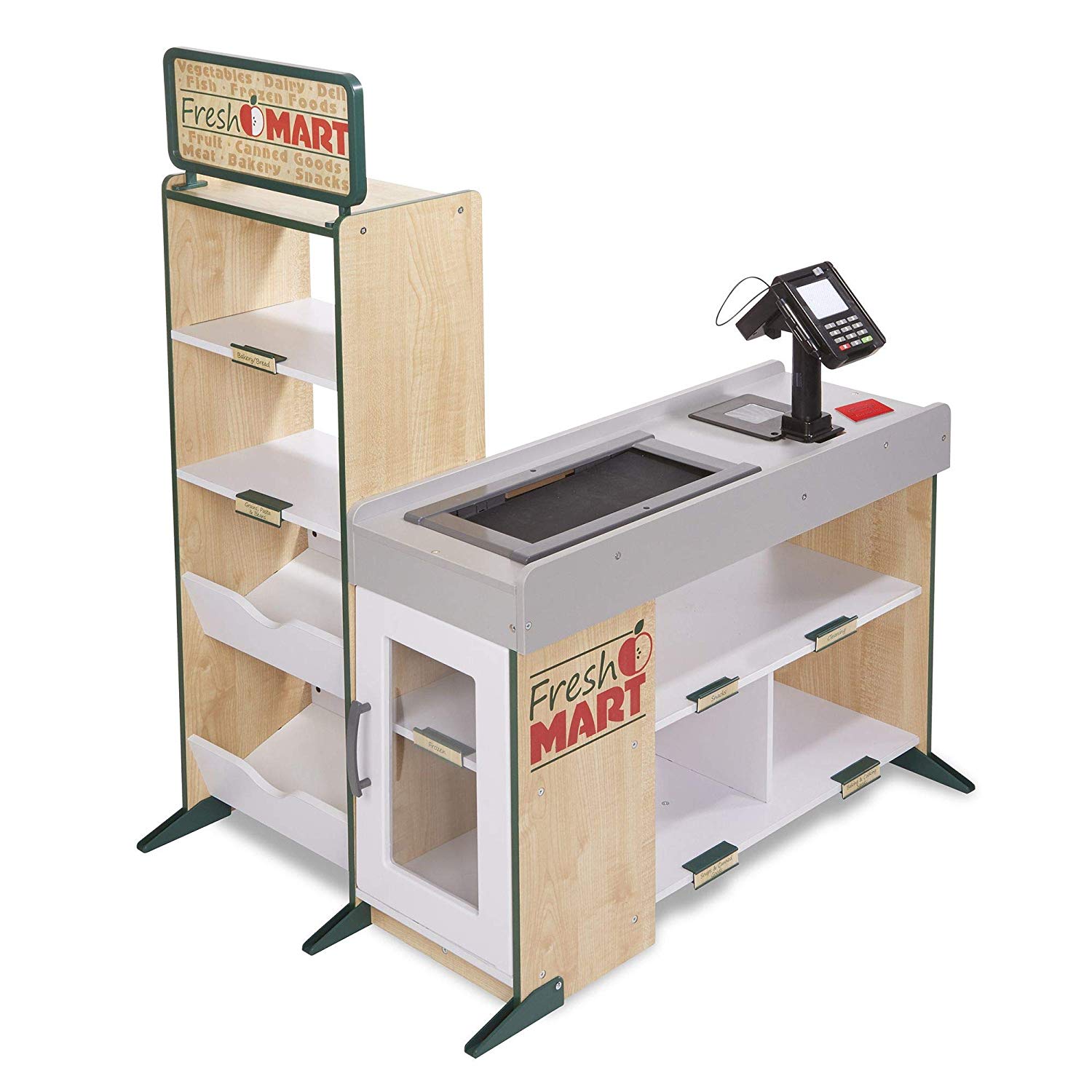 9. Melissa & Doug Fresh Mart Grocery Store
Shopping and playful purchasing is exciting at the sturdy wooden Fresh Mart Grocery Store!
The free-standing play space with smooth, curved corners and edges lets customers three and older browse the shelves and pay for purchases on one side, and allows the grocer to ring up items on the other.
Ample shelving on both sides for display and storage; smooth, curved corners and edges
Realistic features include beeping "scanner," a hand-crank conveyor belt, a card-swiping machine, a keypad/calculator, and a cash drawer.
Kids are sure to find everything on their shopping list at this friendly neighbourhood grocery store!
Melissa & Doug is one of our favourite brands for well-made toys that will last multiple children (and hold their value if reselling down the road).
You can purchase this on Amazon right now.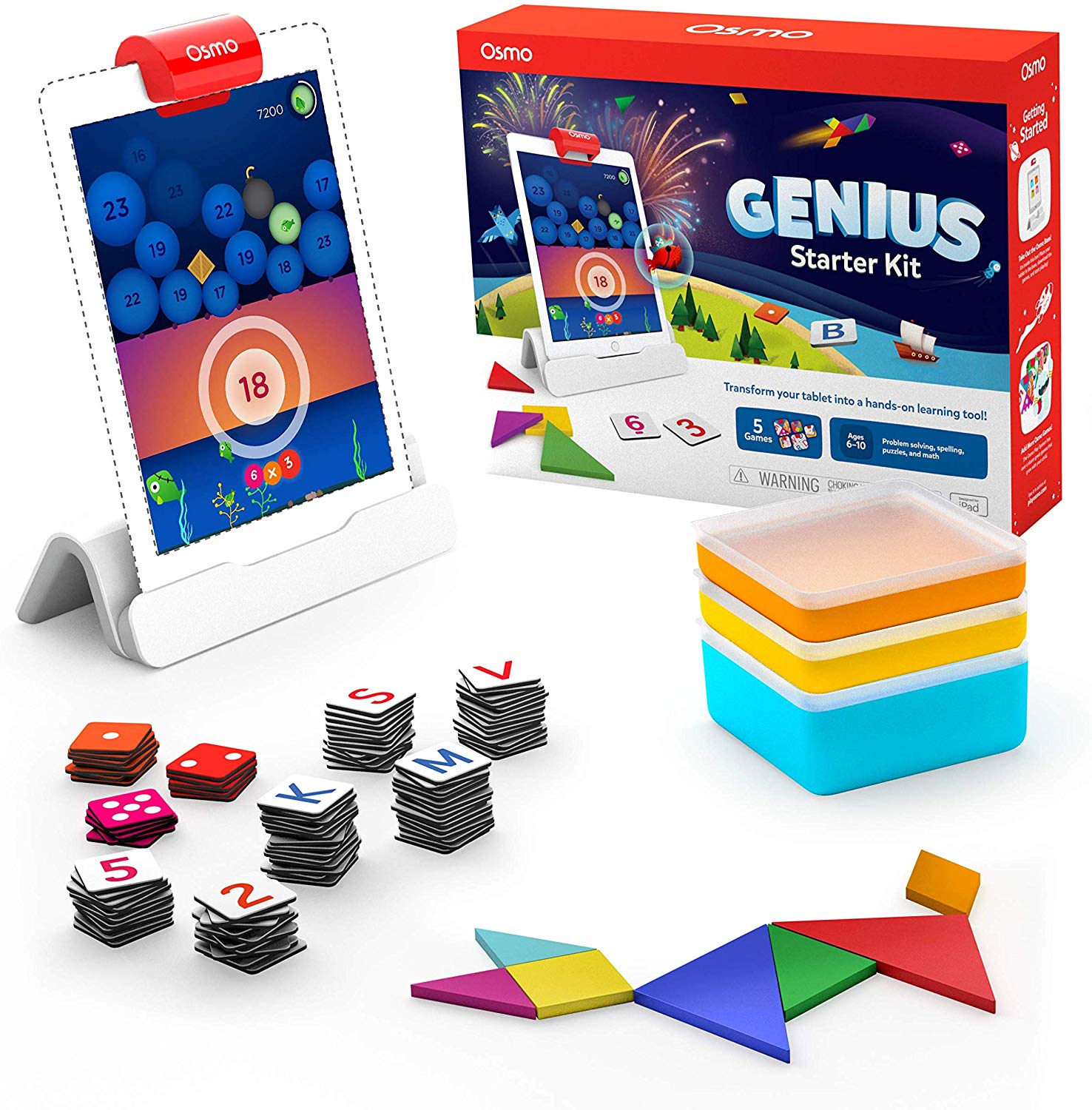 10. Osmo Genius Starter Kit for iPad
Osmo learning games make it fun for children to learn, using Toys as Teaching Tools. Osmo is Magic!
In 2013, Osmo created fun-filled & award-winning learning games that interact with actual handheld pieces & an iPad and/or Fire Tablet, bringing a child's game pieces & actions to life (No WiFi necessary for gameplay).
Osmo merges tactile exploration with innovative technology, actively engaging children in the learning process.
Osmo games develop a wide range of skills, varying skills based on each game, including Creativity, Problem-Solving, Confidence Gaining, Child-Led, Hands-On, Gender-Neutral, Curriculum Inclusion, Social/Emotional Skills, STEM/STEAM (Science, Technology, Engineering Math & Art) and many more educational capabilities.
Games are designed for children between the ages of 3-11+ and include beginner to expert levels.
OSMO enables the continuation of learning.
Parents can track game progress, using child game profiles, on a parent app.
Genius Kit for iPad focuses on the following gameplay: Shapes & placing in designs (Tangram), problem-solving/early physics (Newton), creative drawing skills (Masterpiece), counting with numbers/dice (Numbers), letters, spelling & vocabulary (Words).
Approved by parents and teachers worldwide, used in over 30,000 classrooms.
You can purchase this on Amazon right now!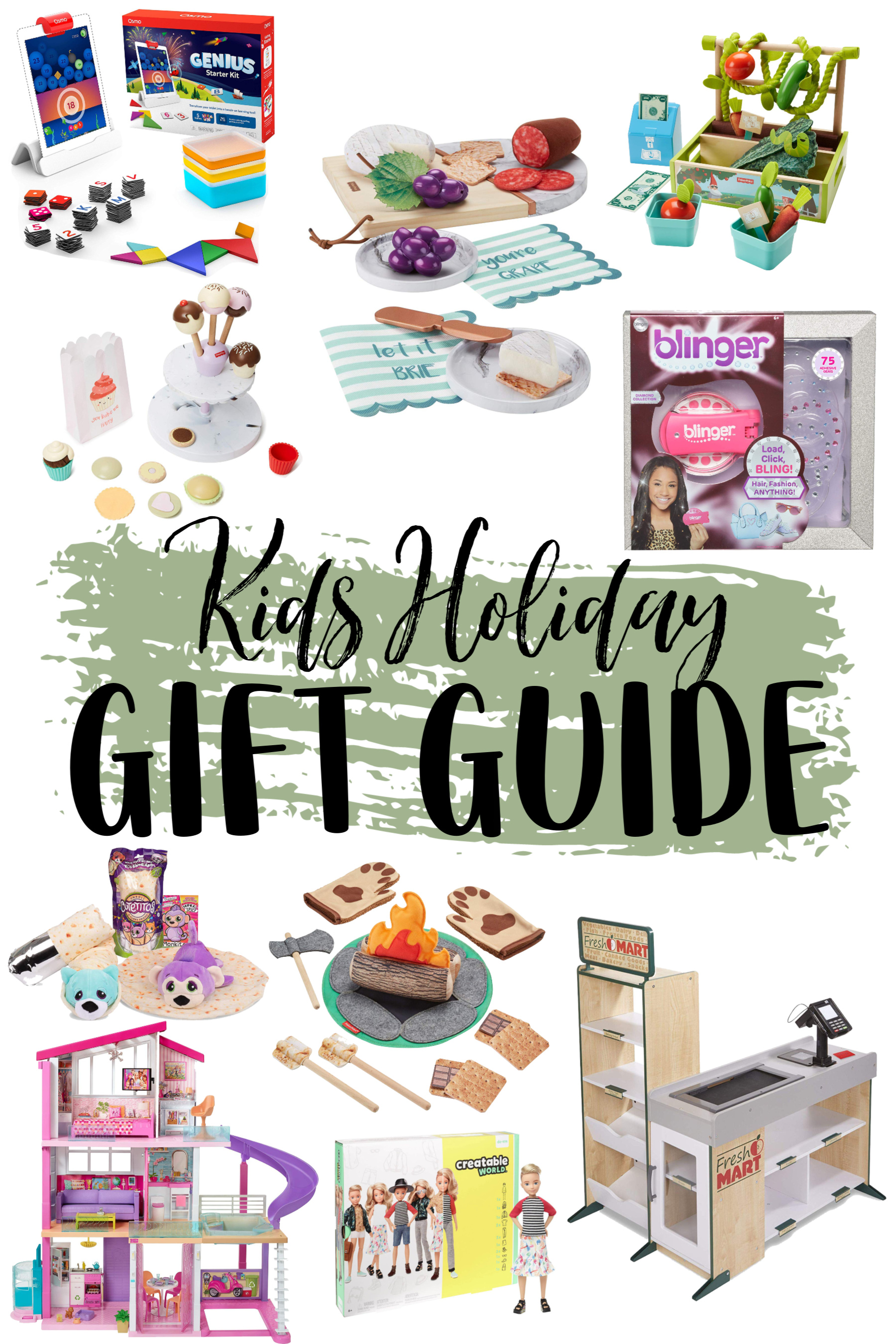 Disclosure: Although we were sent product for consideration from some of the above-mentioned brands, the opinions and language are all my own, and in no way do they reflect the mentioned brands. Any product claim, statistic, quote or other representation about a product or service should be verified with the manufacturer, company, provider or party in question.