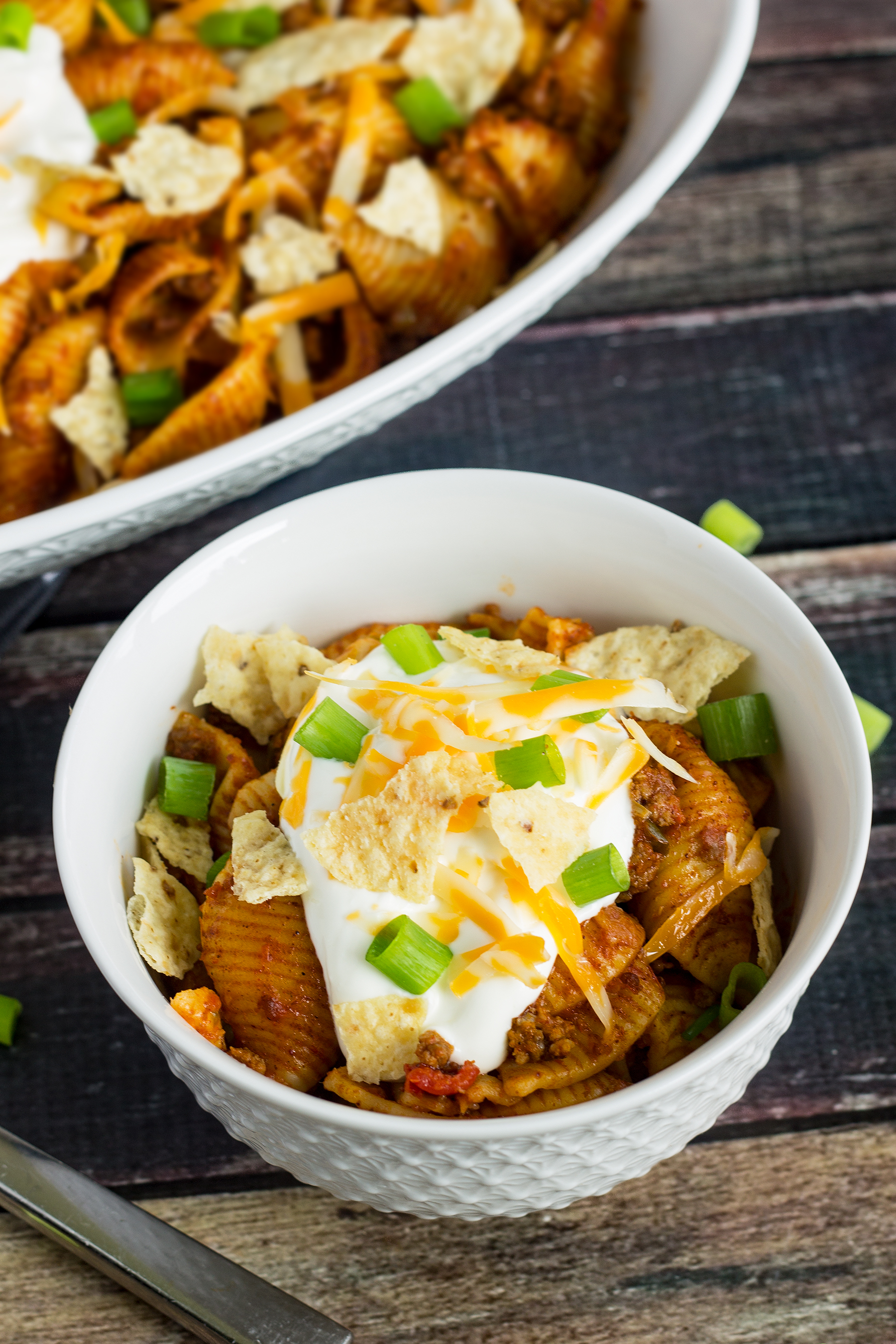 Do you love tacos? If you answered yes, then you can stay because this cheesy taco pasta is for you!
One thing I love almost as much as chicken wings is tacos.
When we go to Mexico every February I am in taco heaven! You'd probably think I would be sick of tacos upon my return, no way José.
Taco Tuesday, and sometimes Thursday, is a regular occurrence in our home.
I am always trying to come up with new ways to incorporate that taco flavour so we are not constantly eating the same old tacos week after week.
Dating an Italian, we also love pasta in this house. It seems to be one solid thing I know will get cleared from my kids dinner plates without a fight! So, what better way to get my kids to love taco night than to mix it up with an Italian flare.
A few weeks ago I dusted off my crockpot recipe for Cheesy Taco Pasta and sat down to convert it for my Instant Pot.
Don't get me wrong, my crockpot version is the bomb, but I don't want to have to start dinner in the morning or early afternoon.
That is exactly why I bought my two Instant Pots, so I could have meals in no time with little pre-planning.
Well, not surprising, my entire family cleared their plates. Some even went back for seconds … Steve!
My daughter Hailee enjoys it so much she takes it in her lunch for school until the leftovers are gone!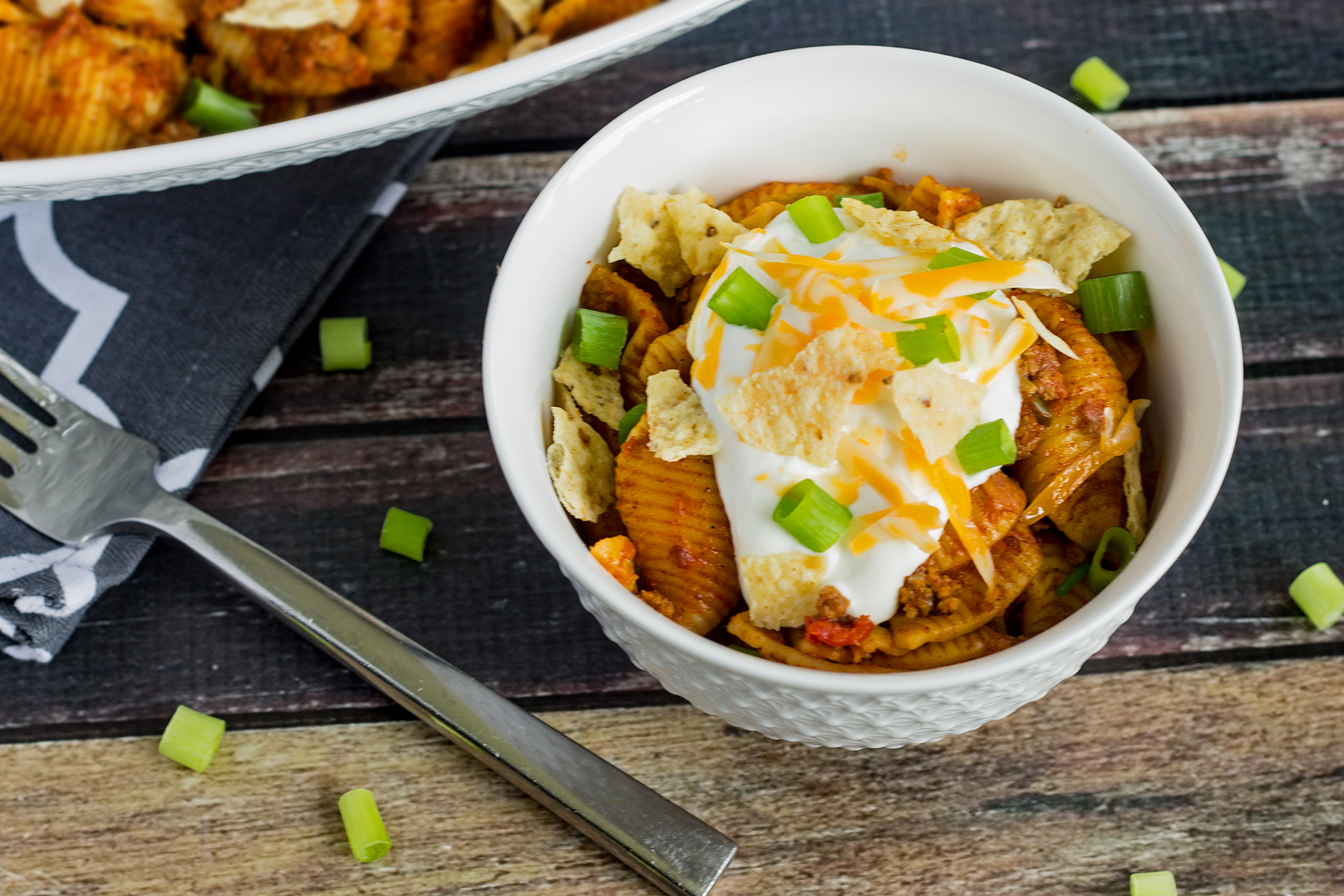 Instant Pot Cheesy Taco Pasta
If you love tacos and pasta you must try this recipe! It is probably the easiest recipe on my blog with next to no prep work.
This cheesy taco pasta is perfect for your next taco Tuesday, or any night when you are in a rush!
Instant Pot Cheesy Taco Pasta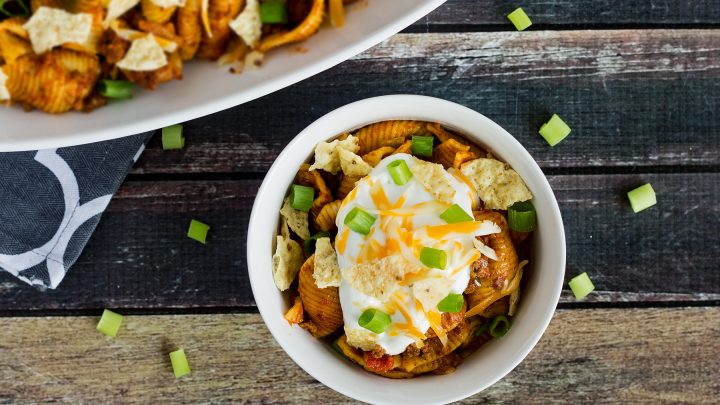 Change up your Taco Tuesday with this extremely easy, fast, and insanely delicious Instant Pot Cheesy Taco Pasta!
Ingredients
1lb ground beef
1 tbsp olive oil
5 cups water
3/4 of a 900g bag of large pasta shells
2 28g packages of taco seasoning
642ml jar of salsa
Toppings:
shredded cheese
sour cream
green onions
tortilla chips (broken up)
Instructions
Turn on the sauté function on your Instant Pot and wait for it to read HOT.
Add in your olive oil and 1lb of ground beef, stir and break up your beef until browned.
Pour in your taco seasoning and mix until the meat is fully coated.
Next, add in your jar of salsa and water.
Add in your pasta shells and give it a good stir to ensure most, if not all, the pasta is in the liquid.
Put your lid on and set the vent to sealing. Using the manual button set your Instant Pot to 10 minutes. If you like your pasta a bit on the al dente side, set for 8 minutes.
When your Instant Pot is finished cooking and beeps, turn off your pot and quick release the pressure by moving your vent button to venting.
Once the pressure is released, open your lid and give your meal a good stir.
Serve your delicious meal and top with your favourite toppings like shredded cheese, sour cream, green onions, and broken up tortilla chips!
Notes
Remember the cook time does not include the time it takes for your pressure cooker to come to pressure. The time it takes to come to pressure will vary.
This recipe was made using the 8 Quart Instant Pot but can be done in the 6 quart Instant Pot as well.
Also ensure when you are pressure cooking, that your valve is set to sealing not venting or it will not come to pressure.
Will you try my Instant Pot Cheesy Taco Pasta recipe? If you do, please come back and let everyone know what you thought in the comment section below!
Don't forget to check out my other delicious and easy Instant Pot recipes!
If you are new to your Instant Pot, you'll want to pop over to read my Instant Pot for Beginners Guide. It will help you get comfortable and cooking like a pro with your Instant Pot in no time!