Instant Pot Tips For Beginners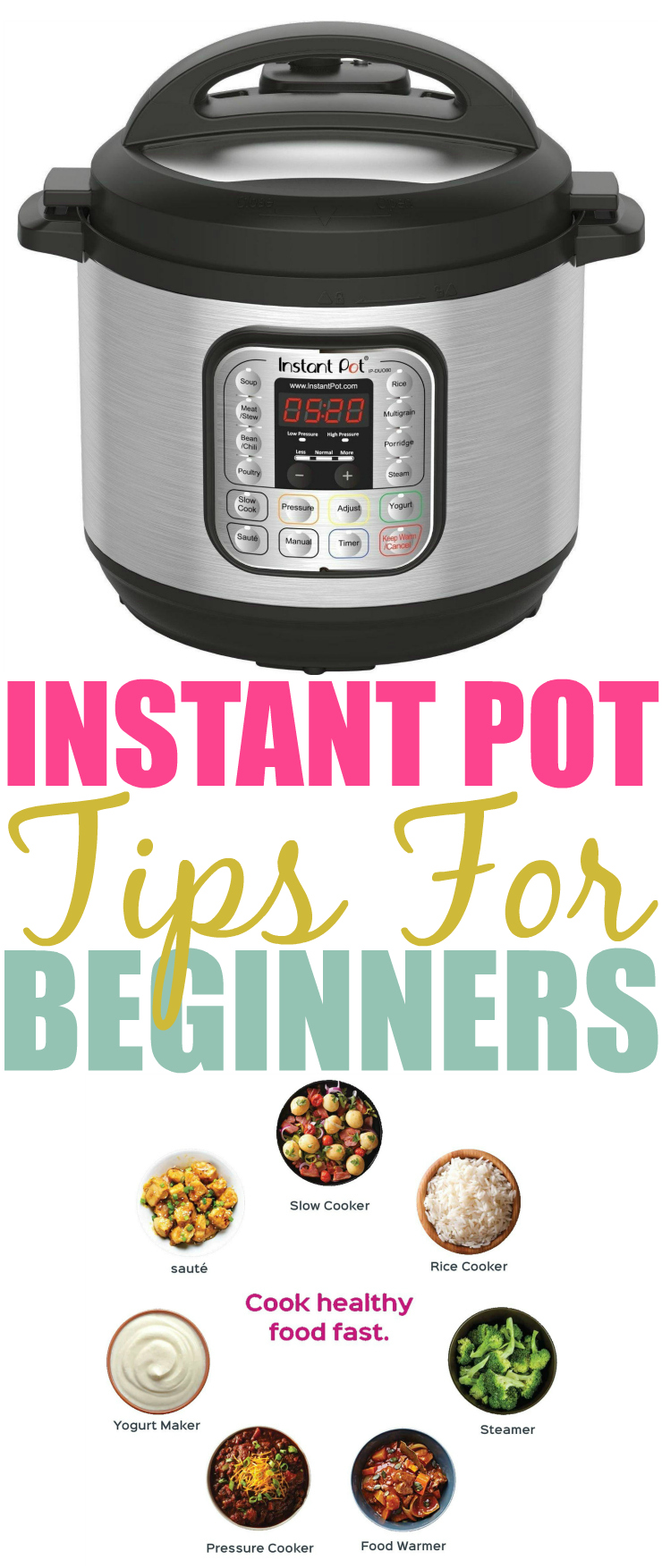 The Instant Pot isn't new. But, it's seemingly more popular than ever before. Why? It's a fantastic product that saves you tons of time in the kitchen, allowing you to cook healthy food fast!
I did a lot of research before purchasing my Instant Pot, I wanted to make sure I knew as much about this amazing gadget before making our first meal. I definitely went big right from the start and my first meal made in my Instant Pot was a delicious pot roast. It not only turned out perfectly, it was better than when I slow cooked it in my oven.
Knowing how to use my Instant Pot played a huge part in the success of my meals. So if you are just starting out or think you could use some pointers keep reading, I am sharing 11 Instant Pot tips for beginners that will have you mastering your Instant Pot in no time!
Instant Pot Tips For Beginners
The following Instant Pot tips for beginners are provided as a means to help you take full advantage of your Instant Pot. Are you ready to get cooking?
Pressure Test
The very first thing you should do when you receive your Instant Pot is the pressure test. It is a quick test to ensure your pressure cooker is working properly. I can't tell you how many times I have read in groups of someone pulling their Instant Pot out of the closet, going to use it, and it not working. Even worse, many of these people have let their pressure cooker sit past the warranty. So take this as a precaution and no matter how nervous you are, do the pressure test immediately.
If you are nervous, watch my video on how to set up and test your pot!
Ensure Pressure Valve Is Set To Sealing
When using the Instant Pot to pressure cook ensure the pressure value is set to the sealing point. If you have it on venting, the Instant Pot will not come to pressure. I make a habit of closing my lid, checking the pressure valve setting, then setting the timer on my Instant Pot.
Say Goodbye to Thawing
One of the coolest things about the Instant Pot is that it eliminates the need to thaw most frozen ingredients, including meat. I can't even begin to tell you how much of a timesaver this is. Even better, your family or guests won't be able to taste a difference.
Natural Release vs Quick Release (NR/QR)
The Instant Pot is a pressure cooker. That being said, it's necessary to release the pressure buildup that occurs during the cooking process. This is accomplished in one of two ways, natural release or quick release.
Natural release occurs when the pot gradually drops the pressure level on its own, this typically takes about 15 minutes. NR is great for foods that are foamy, have a lot of liquid, or a high starch content.
Quick release occurs when you turn the venting knob yourself to release the pressure. QR is key for quickly stopping the cooking process to prevent your food from overcooking. It is ideal for quick-cooking vegetables, pasta, and seafood.
Always be sure to read recipes carefully as some require natural release vs quick release or vice versa!
Purchase an Extra Stainless-Steel Insert
If you're totally in love with your Instant Pot and plan to use it frequently, you should consider purchasing an extra stainless-steel insert. You could also purchase an entire second unit as well. This way, you can cook a second dish without taking the time to wash the inside pot, before using it again. Having two Instant Pots or a secondary insert is so helpful when cooking for a crowd or meal planning.
I currently own a 7-in-1 8qt Instant Pot and I am waiting for either the 6qt or 8qt to go on sale again to purchase a second full unit. I am always meal planning and cooking for a crowd so for me having two units is a must!
Don't Use Too Much Liquid
One mistake that many new Instant Pot users make is using too much liquid in their recipe. Doing so dilutes the flavour and actually increases cooking time. Between one and 1-1/2 cups of liquid (in total) is all that's usually required.
An exception to this is when you're cooking grains or beans. Both of these ingredients absorb more water.
Use Your Instant Pot to Brown Meat
You can save even more time and use less dishes by using your Instant Pot to brown meat. After all, that's what the "sauté function" is for. Don't let it go to waste!
When you brown your meat you always want to deglaze the pot before cooking your meal. Simply pour cold liquid into the pot and then scrape the brown bits off the bottom. Those bits are packed with flavour and will add to the deliciousness of your meal. If you don't deglaze the bottom there is a good chance your pot will not come to pressure, sos always deglaze!
My Instant Pot Sausage and Rigatoni Pasta recipe is done all in the Instant Pot. From browning the meat to cooking the pasta, I use nothing but my Instant Pot to cook. The same goes for my Instant Pot Pot Roast, I sear my roast in the Instant Pot and then cook it. I love that many of my favourite meals that took multiple pots, pans, and dishes, can be done all in the Instant Pot. Less dishes to wash was a huge selling point for us.
The Manual Button Is Your Best Friend
Many Instant Pot recipes you will find use the Manual Button. The reason most recipes us the manual button is because it gives you control to cook more precisely and accurately. If you find a recipe that says to cook at high pressure for 20 minutes, simply press the manual button and change the time to 20 minutes by pressing the + or – buttons.
Pot-in-Pot Method (PIP)
The Pot-in-Pot cooking method is just cooking 2 dishes separately in the Instant Pot at the same time.
For example: You can cook chicken at the bottom of your pot, and rice on top in a bowl placed on a steamer rack to lift it up, separating it from the chicken below!
Check Your Sealing Ring Often
The Instant Pot silicone sealing ring will deform over time. Get in the habit of checking it every time you go to use your pot if it is properly in place before pressure cooking. Instant Pot recommends you replace your silicone sealing ring every 18 – 24 months or when it becomes deformed. I always keep two replacement rings on hand at all times, this way if my current ring becomes deformed I am not waiting on a new one to be delivered.
Add 10-20 Minutes To Cook Time
When pressure cooking with the Instant Pot, or any other pressure cooker, it will take your unit about 10 minutes to come to pressure. So, if your recipe calls for 20 minutes, then your total cooking time will be around 30 minutes. Recipes you find online do not include the time it takes to come to pressure in the cook time. They may mention how long their pot took to come to pressure, but the cook time is only the time the unit is cooking the food, not the time prior as the machine comes to pressure.
You also need to add another 5-10 minutes at the end of your cooking time for the release of pressure. My pasta and pot roast recipes both took just under 10 minutes to depressurize using quick release.
Armed with these tips, it's time to put them to use! If you're new to the world of Instant Pot, you're really in for a treat. Chances are, you'll wonder how you ever got along without this convenient cooking tool.
Do you have any other tips to add? Leave them in the comment section below!
Looking to buy an Instant Pot or accessories for your pot? Visit Amazon.ca for my Canadian readers or Amazon.com for my American readers to purchase an Instant Pot and accessories!