Cedar Plank Grilled Turkey Breast Roast With Charred Tomato Salsa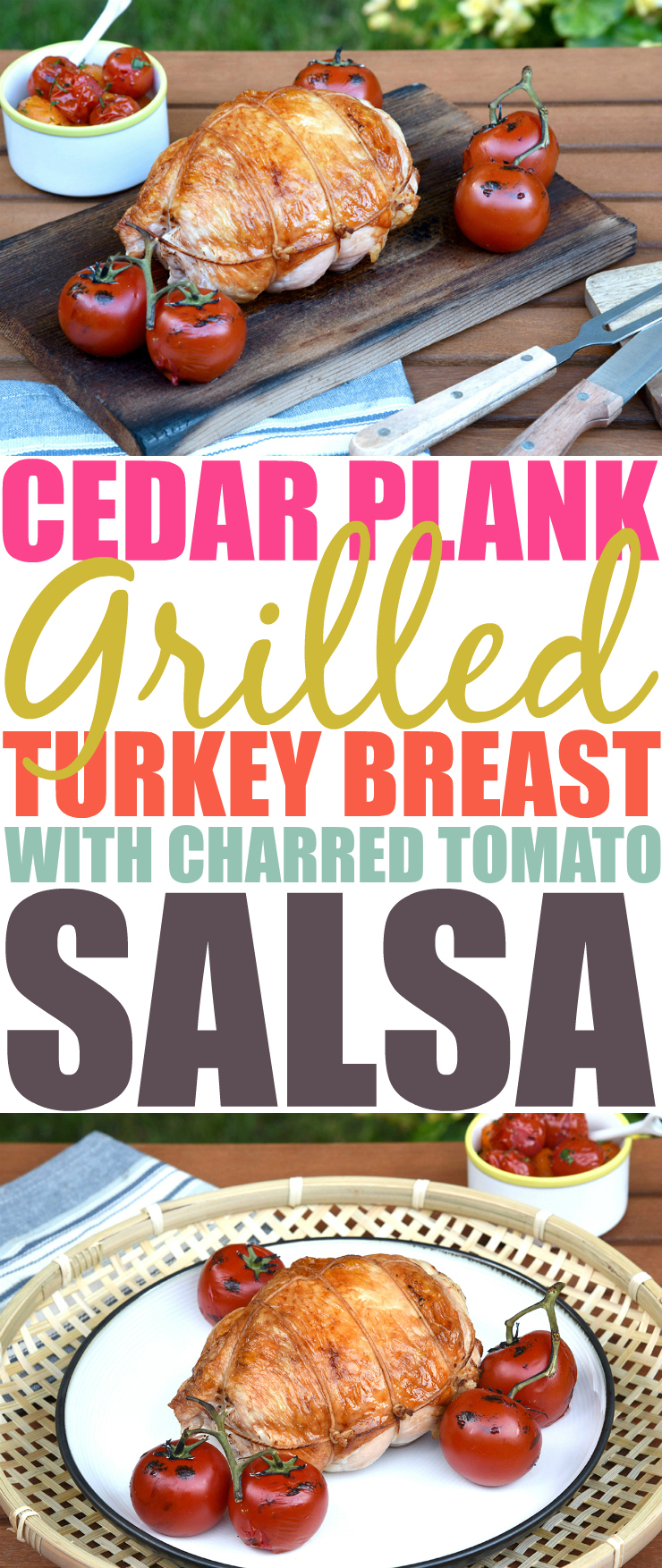 I don't know about you, but I love to grill. We love it so much we even grill during the winter months! BBQ season is in full swing and it is the perfect time to get outside and cook up some amazing healthy meals on the grill.
On thing I used to never even think of grilling was turkey. I always made it the old fashion way, in the oven. However, when I was at a friends BBQ last summer they had grilled up some turkey and I was hooked. I couldn't believe how delicious and packed with flavour it was.
Keep On Grilling With Canadian Turkey
If you have never tried grilled turkey breast on the BBQ, believe me when I tell you it is something you will want to do ASAP! Not only is it absolutely delicious, it is a great light and lean summer meal the whole family will enjoy.
Canadian turkey is not just for those special holiday gatherings. It is perfect for everyday meals, weekend get-togethers, family celebrations, lunches, and more! A whole turkey will easily feed a large group without breaking the bank. Using the leftovers, you can easily cook up multiple meals, like this delicious turkey pasta, making it even more budget friendly.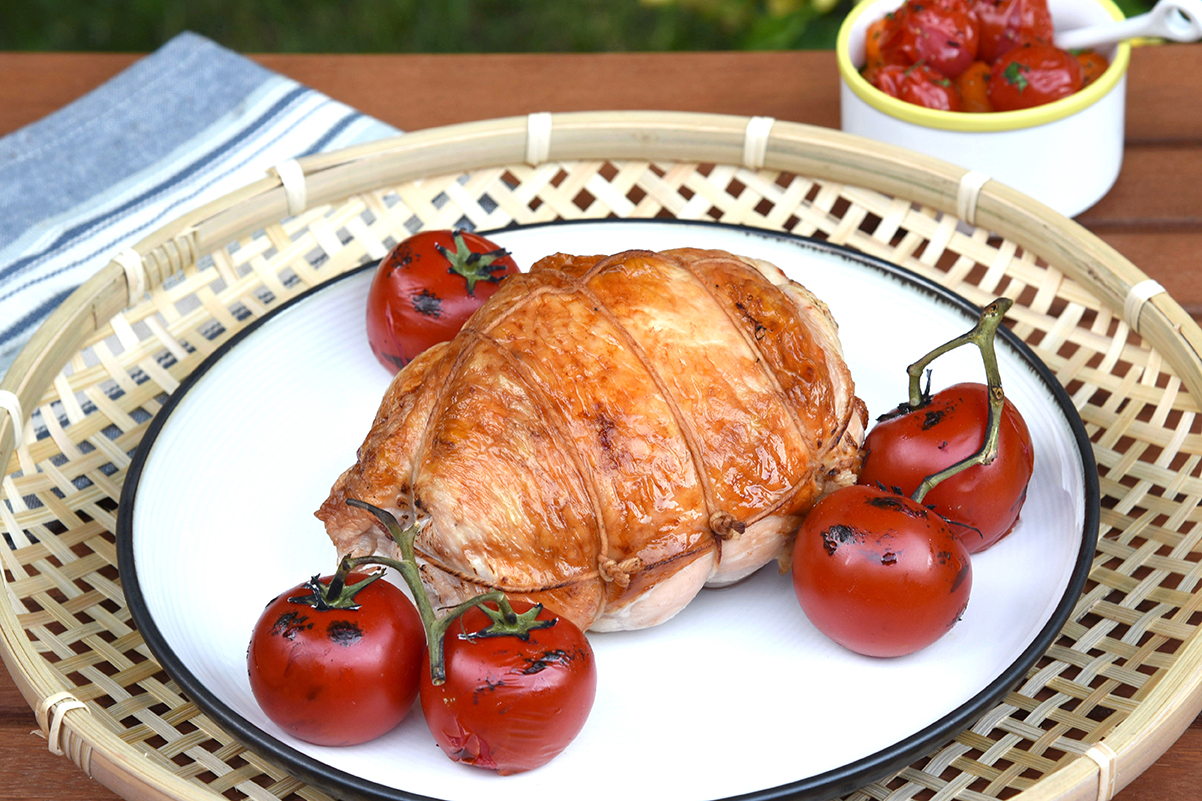 Don't get stuck in the same BBQ routine of burgers, dogs, steak, and chicken. Switch it up the next time you grill and pop some delicious Canadian turkey on, your family and friends will thank you.
There are so many options when it comes to flavour and marinating your turkey ahead of time will ensure it is ready to cook when you are. Depending on how you want to cook, there are also different cuts. You can choose smaller cuts that cook quickly as you watch over them, or grab a larger cut to cook low and slow with little supervision! Don't forget to grab some of your favourite vegetables to toss on the grill for a complete meal with little clean up.
Turkey Tips
Turkey doesn't have to be boring. I am going to share some tips to help you get the most flavour from your favourite turkey grilling recipes!
Use dry and wet rubs to season your turkey cuts. Turkey loves a variety of herbs and spices, so get experimenting with your favourite flavours to enhance the taste and texture of your turkey.
Flip it! Use the flip-often method when cooking over direct heat to avoid burn spots and achieve an even browning and crisping.
Leave it alone! When cooking over indirect heat, you need to leave your turkey cuts alone without flipping or turning them very often to achieve an even cooking, browning, and crisping.
Use a meat thermometer to check doneness and avoid overcooking and drying out. There is nothing worse than a dried out turkey!
Cook your entire meal on the BBQ. From your appetizers to side dishes, vegetables to desserts, it all can be cooked on the grill with some planning.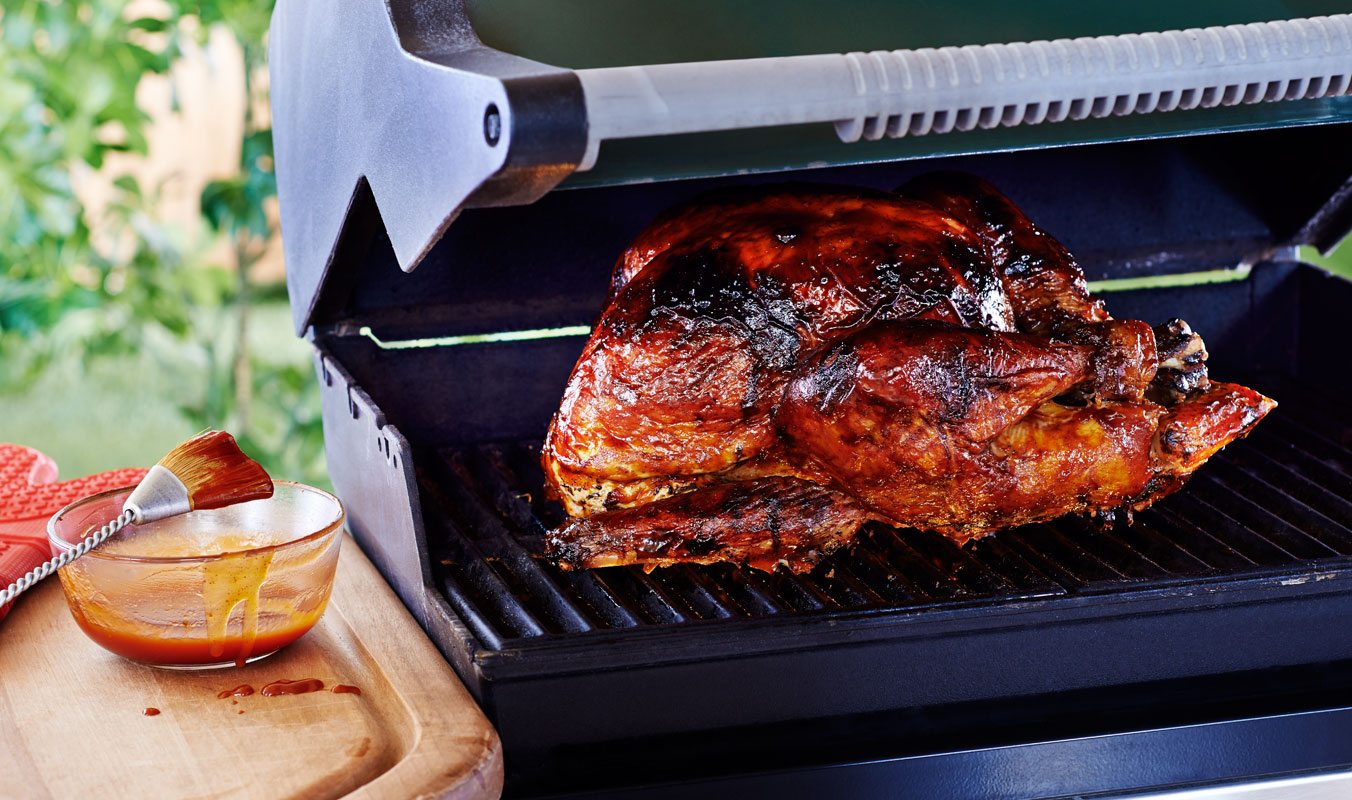 If you are feeding a big crowd, Barbecuing a whole turkey is a perfect way to feed a big crowd. Visit the Canadian Turkey website for tips and instructions on how to barbecue a whole turkey!
Cedar Plank Grilled Turkey Breast Roast w/ Charred Tomato Salsa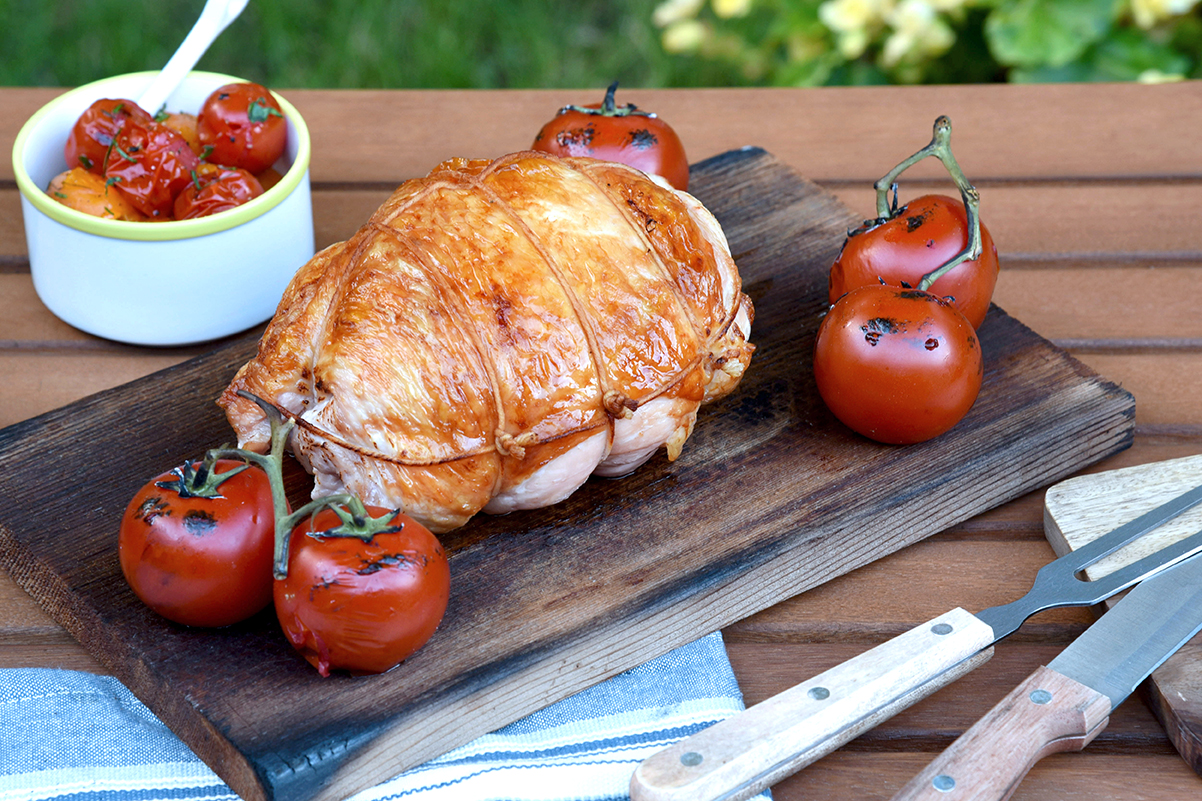 This flavour packed grilled turkey breast recipe is sure to wow your family. So, head out and pick up a nice turkey breast so you can get grilling this delicious recipe this week!
Cedar Plank Grilled Turkey Breast Roast With Charred Tomato Salsa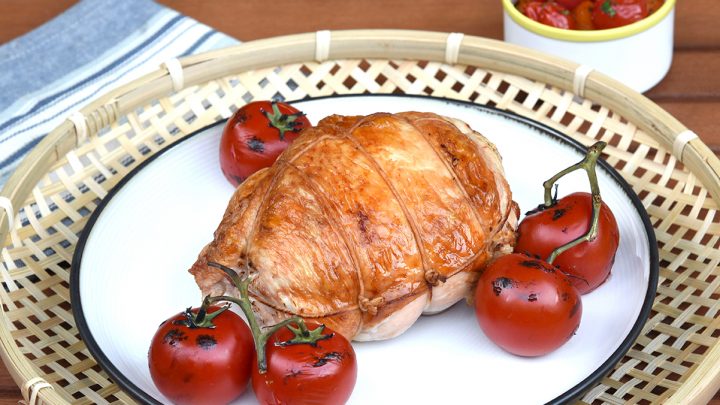 Prep Time 2 hours

Cook Time 2 hours

Total Time 4 hours
Ingredients
Ingredients:
3 lb Canadian turkey breast roast, boneless and skin-on
2 tsp salt
¾ inch thick cedar plank, soaked at least 6 hrs to overnight
Marinade:
1 cup white wine or beer
½ cup olive oil
6 cloves crushed garlic
4 sprigs of sage
Salsa:
1 pint cherry tomatoes
1 tbsp fresh thyme
Salt and pepper to taste
1 tbsp apple cider vinegar
1 tbsp olive oil
Instructions
Combine marinade ingredients in a medium-sized deep glass bowl or Ziploc bag. Marinate the turkey breast roast for a minimum of 2 hrs, turning at least once every hour to coat.
Wipe the roast of any excess marinade. Season with salt.
Place roast on cedar plank.
Heat BBQ to medium. Cook the roast over indirect heat (turn one burner off and place plank over this burner. Leave the other burners on).
Cook for 50 mins – 1 ½ hrs until meat is cooked through and registers 165°F (74°C) on a meat thermometer inserted in the thickest part of the meat. (Heat setting and cook time will depend on the power of your BBQ.)
Once cooked, remove the grilled turkey breast roast from the grill and let rest for 20 mins before slicing.
While the roast is resting, make the tomato salsa.
Grill tomatoes over high heat until soft and blistered, 3-6 mins. Leave the tomatoes on the vine or use a grill basket for easier handling.
Remove from heat and season with olive oil, thyme and vinegar. Add salt and pepper to taste. Serve with sliced roast.
Notes
TIP: Use any turkey roast leftovers to make a hearty and healthy salad for dinner or lunch the next day. Visit canadianturkey.ca and search for 'salad' to access our library of inspirational recipes.

Visit the Canadian Turkey website to explore even more incredibly delicious grilled turkey recipes!
ENTER TO WIN A $75 AMAZON.CA GIFT CARD
I have teamed up with Canadian Turkey to offer one lucky reader a $75 gift card for Amazon.ca. The giveaway is open to residents in Canada who are 18+. You will have 2 weeks to enter, the contest will run from August 24th to September 7, 2017.
Prize:
One (1) lucky winner will be randomly selected from all eligible entrants to win a $75 Amazon.ca gift card.
Rules:
The first entry is MANDATORY and must be completed by each entrant. To leave a comment on my blog simply scroll to the bottom of this page for the comment box. Once you complete the mandatory entry you will be offered additional entry options to earn additional entries into the draw. The additional entries, while not mandatory, are very much appreciated. They show the sponsor, Canadian Turkey, you appreciate them offering the giveaway to our readers.
Important:
ALL entries are verified. If your name is drawn and it is found that you did not complete the entry, or unfollowed the account you said you followed, your entry will be void and a new winner drawn.
Disclosure: Although this post is sponsored by Canadian Turkey, the opinions and language are all my own, and in no way do they reflect Canadian Turkey. Any product claim, statistic, quote or other representation about a product or service should be verified with the manufacturer, company, provider or party in question.