Lighten Up With Canadian Turkey: Spring Veggie, Herb Pesto and Turkey Pasta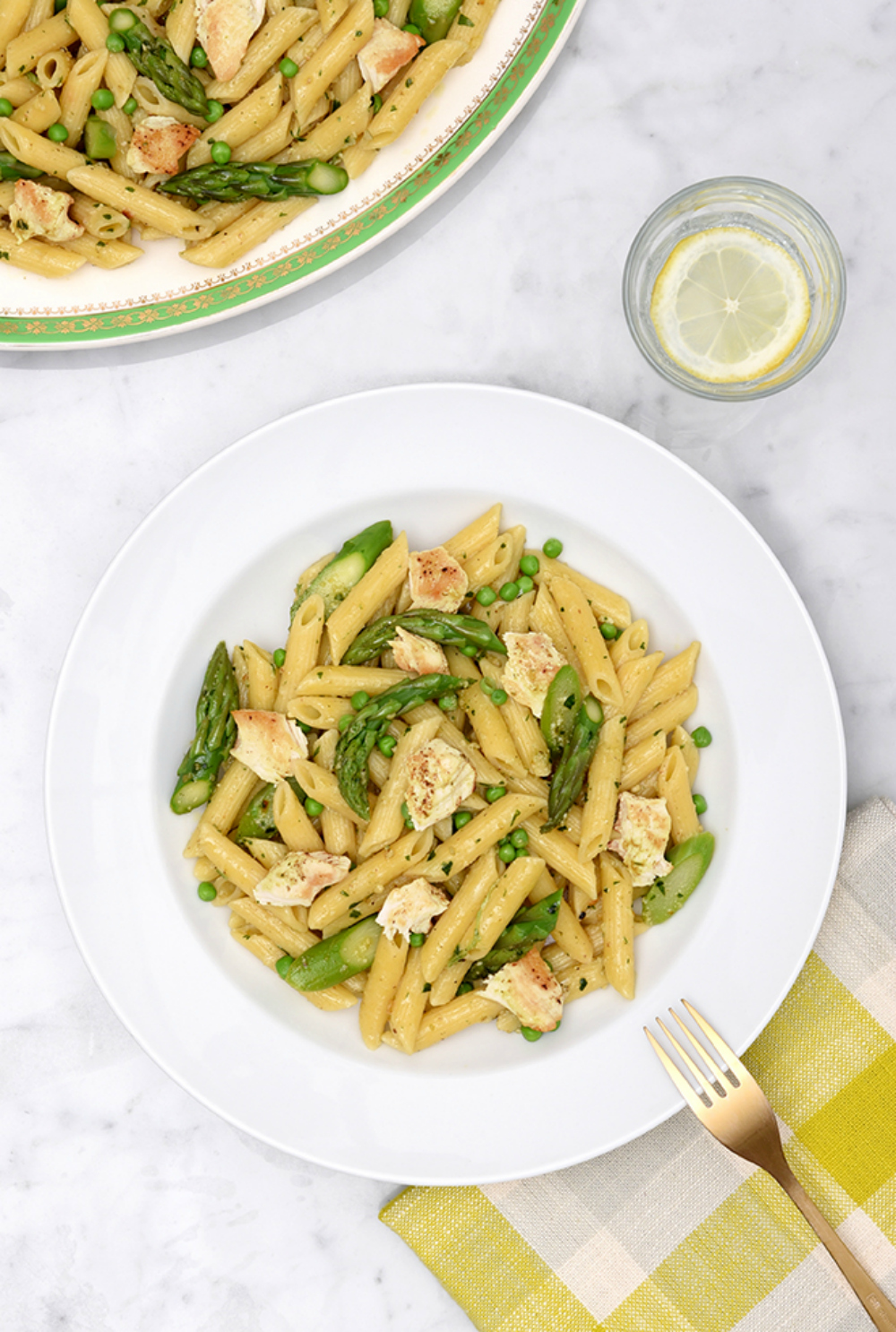 Turkey happens to be one of my favourite meats to serve my family. Whether it is a special occasion like Easter, or a normal weekday dinner, turkey is often on our menu. Whole Canadian turkey is an excellent choice for parties, family get-together's, celebrations, and meals that feed a crowd.
Turkey is not only lean and nutrient-rich, it is considered a quality protein with about 30 grams of protein in every 100 gram serving. Turkey is also a lighter choice in comparison to other holiday meats. With all the delicious recipes available, your family won't even realize you're making healthier choices!
A great way to get more of this power protein in your diet is to "Try It With Turkey!" Simply swap in Canadian turkey for the meat protein in any of your favourite recipes. It is incredible how well turkey pairs with a variety of flavour profiles and seasonings.
Why Turkey?
…
Low in fat. Both light meat and dark meat are lean choices. Turkey breast is actually extra-lean, with 3 grams of fat per 100-gram serving. Dark meat is lean, with just 8 grams of fat per the same size serving.
Packed with protein. Each 100-gram serving has about 30 grams of high quality protein. This helps you feel energized and satisfied while helping to keep your muscles healthy and happy.
A Nutritional Powerhouse. Turkey has a whole lot of health-boosting nutrients per calorie. Dark meat is especially rich in nutrients.
Bursting with Vitamin B12. Turkey is an excellent source of vitamin B12. B12 is important for keeping your nervous system, the body's electrical wiring, working well.
Chockfull of Niacin. Turkey is an excellent source of niacin. You need niacin every day to help convert the food you eat into usable energy for your body.
Naturally low in sodium. Since turkey is so flavourful that you don't need to soak it in salty marinades like other holiday meats.
A lighter choice. Turkey is lower in fat and calories compared to some other holiday meats, such as prime rib, glazed holiday ham, or a pork shoulder.
Find out more at canadianturkey.ca/nutrition.
Visit your local butcher or grocer to find a variety of Canadian turkey parts that you can use in your next meal. Thighs, breasts, drumsticks, sausages, and ground turkey are all readily available. This makes it super easy to include turkey in everyday meals.
Be sure to give Canadian turkey a try for your upcoming celebration meals! Turkey is not only healthy and delicious, it is perfect for occasions like Mother's Day, Father's Day, spring communions, confirmations, and graduations. Canadian Turkey makes it simple to lighten up your meals. Check out www.canadianturkey.ca for all your cooking inspiration!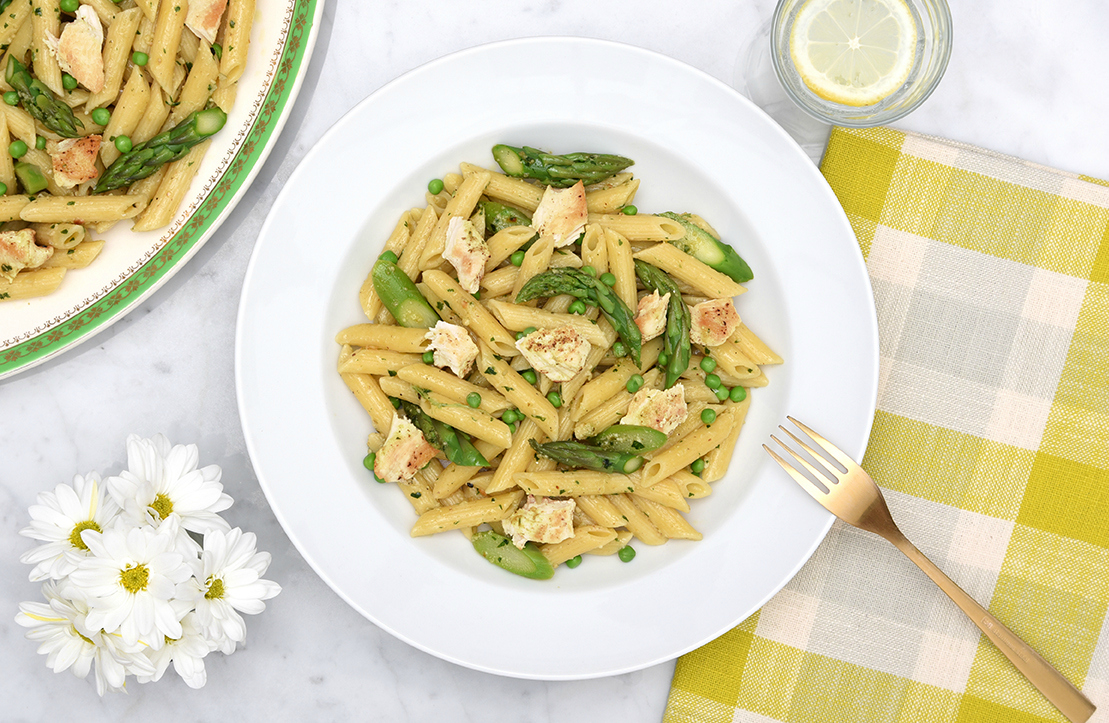 Spring Veggie, Herb Pesto and Turkey Pasta
This light and delicious recipe is a must-try, easy recipe for spring. Packed full of goodness and flavour, it might just become your new family favourite meal!
Print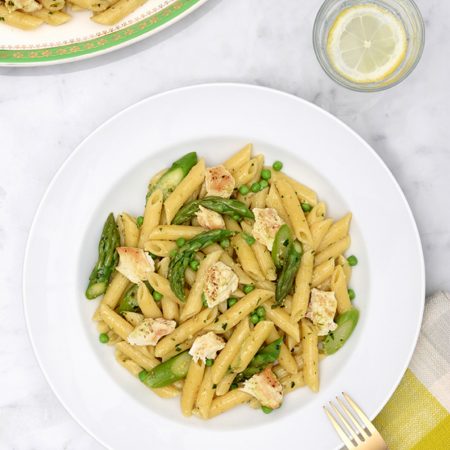 Spring Veggie, Herb Pesto and Turkey Pasta
---
Author:

Prep Time:

15 mins

Cook Time:

25 mins

Total Time:

40 minutes

Yield:

4

Category:

Main Dish
Ingredients
Spring Veggie, Herb Pesto and Turkey Pasta
300 grams penne pasta
1 lb turkey breast, cut into 1 inch chunks
Salt and pepper to taste
¾ cup frozen peas
1 bunch asparagus, 12-14 stalks
1 tbsp butter [optional]
For herb pesto:
¼ cup parsley
¼ cup basil
1 tbsp Parmesan cheese
2 tbsp pumpkin seeds
½ garlic clove
Salt and pepper to taste
1 tbsp olive oil
---
Instructions
Season turkey with salt and pepper. Sauté in a non-stick frying pan over medium heat, until browned and cooked through, 4-6 minutes per side. Set aside.
Steam or boil asparagus until cooked through but still a little crisp, 5-7 minutes. Chop roughly.
Cook peas according to package instructions.
Make pesto: blend all ingredients with a food processor or hand blender. Pesto can be made ahead of time.
Cook pasta according to package directions until al dente. Before you drain the pasta, make sure to reserve ½ cup of cooked pasta water.
As soon as pasta is drained, toss with butter (if using), 1/3 cup pasta water, vegetables and pesto sauce. Add additional pasta water if pasta starts to dry out.
Serve immediately.
Notes
TIP: Double or triple your pesto recipe to keep on hand. It makes a great sauce to top grilled turkey, steamed veggies or a salad. You can keep it in the fridge for up to 3 days after you make it or up to 3 months in the freezer.
CANADIAN TURKEY
Stay up-to-date with Canadian Turkey by visiting their website. Also follow them on Facebook, Twitter, Instagram, Pinterest, and Youtube.
Use hashtag #TryTurkey to share your turkey inspired meals on and get inspiration from others!
Disclosure: Although this post is sponsored by Canadian Turkey, the opinions and language are all my own, and in no way do they reflect Canadian Turkey. Any product claim, statistic, quote or other representation about a product or service should be verified with the manufacturer, company, provider or party in question.