Back To School Essentials For Grades JK – 5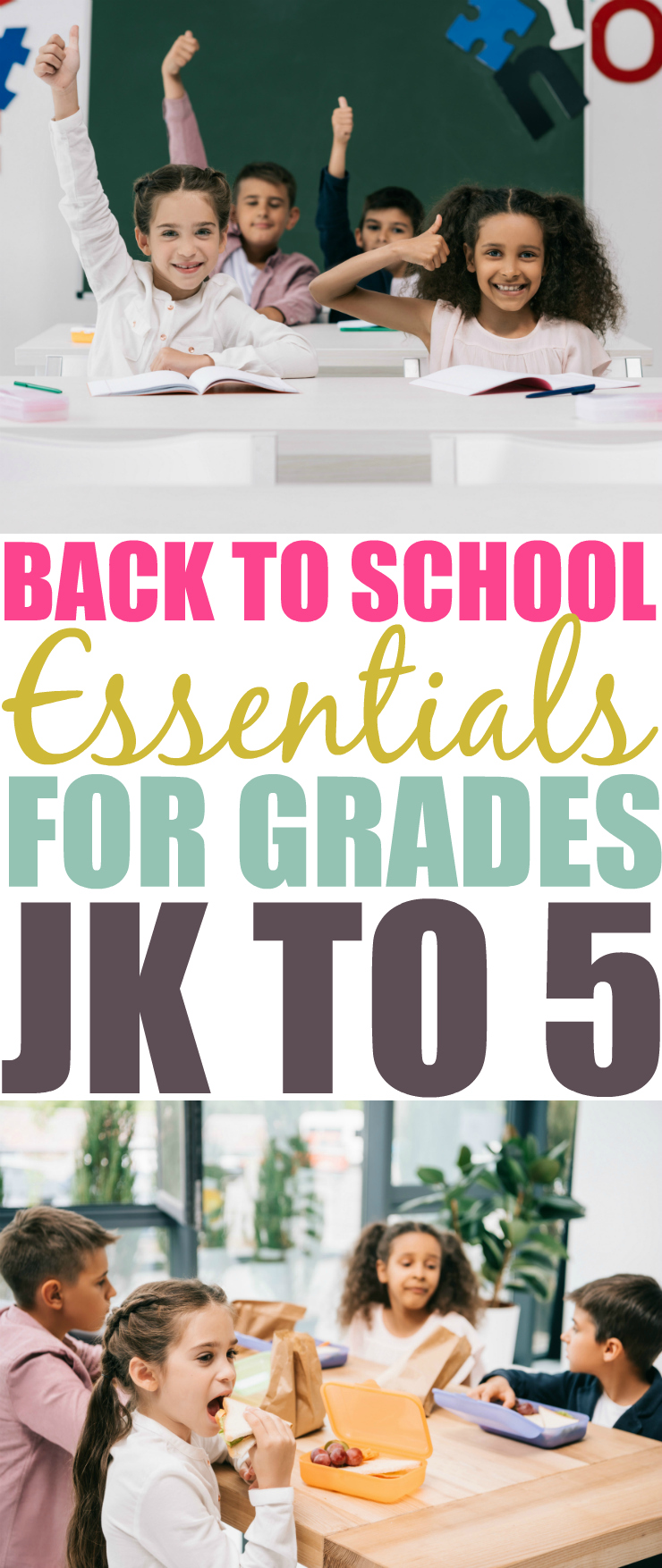 We are now coming closer to summer being a thing of the past and the hustle of getting kids dressed, lunches packed, homework done etc as our present!
As a parent of three school-aged children I find the time leading up to back to school stressful as I am worrying about what they need, how much they need, and making sure my purchases are not always grabbing what is cheapest but making smart purchases.
When I say smart purchases, I mean purchasing good quality items that may not be the cheapest but will last my girls the whole school year granting they don't misplace or lose it. I personally have done the cheap route before and found myself in the middle of the school year buying new runners because the cheap ones have ripped, new backpacks because the zippers have broken beyond repair etc.
Like most of you, I love spending the least amount of money when it comes to everyday items such as food, health products and household cleaners. I do find however that investing properly and making wise choices when it comes to things that we want to last is more frugal in the long run. After all, purchasing multiples of the same item, that if I had just spent an extra $10.00 wouldn't have happened, isn't my idea of frugal!
Back to School Must Haves:
Below I am sharing what I feel school-aged child need for back to school. Items such as paper, crayons, markers etc are provided in the classroom to children in grades JK – 5 and are not as necessary.
Clothing
Have your child try on their jeans and tops to see what does and does not fit. I always make sure my children have at least 7 to 10 pairs of pants, 7 to 10 t-shirts, 7 long sleeve tops, 3 sweaters, 10+ pairs of underwear and socks as well as 2-4 dresses for girls.
If your children attend a school where uniforms are the attire I suggest checking out thrift stores like Once Upon A Child, online used sites like Kijiji.ca and VarageSale as well as Old Navy if you have no luck finding some gently used. I have noticed Old Navy has had some great sales on kid's school uniforms as of late!
Backpack
Do not cheap out on a backpack! I find cheaper no-name backpacks tend to rip and zippers break before the school year is over. Also, you want to ensure your choice of backpack fits your child's needs as well as their body. There is nothing worse than seeing a little Kindergarten student with a massive backpack on that is down to the back of their knees.
Lunch Bag
Having a great lunch bag and one that is sturdy is a must. I splurge on lunch bags but they have lasted many school years thus far and are still in perfect condition. For Bella I will be using a bento style lunch container for her and Amazon has a great selection!
Reusable Water Bottle
Every child needs one of these filled with fresh cold refreshing water to take along to school each day. This also allows them to refill throughout the day when they are thirsty keeping their lips away from fountains that can harbor germs getting them sick. I have tried dollar store bottles and find while cheap they break or leak easily. We chose the Funtainer for Bella. It is easy for her to open and close.
Running Shoes/Rain Boots
We all know that fall can tend to be rainy so I felt the need to also include rain boots. As a parent nothing irks me more than spending money only to have the product fail our needs. Your child will be on their feet a lot during the school day and having a good quality pair of running shoes will save you money in the long run.
I also bought Bella a pair of TOMS slip on comfy shoes for her indoor pair in class. They are super easy to get on and off for her which was very important.
Waterproof Coat
A nice waterproof fall jacket is a must for our children. In the morning it will most likely be chilly before the warmth of the afternoon sun hits so be sure to put this on your list!
Pencil Case
Even though I know my grade-aged children do not 'need' to bring crayons, markers, pencils etc to school as their classroom always has these items I do always make sure my kids have a pencil-case. This is just in case they feel the need to take some supplies from our home to school with them. Hailee tends to use hers for make-up, my little fashionista!
For me this is one thing I do not splurge on and purchase at my local dollar store. The amount of use it actually gets never seems to cause any breakage during the school year. Steer away from plastic cases/boxes as they are bulky and will break faster than a fabric case.
Tissue
I send with my children a box of tissue to place on their desk once per month, more if they tell me they are out. This is something you will want to have in your stockpile, Shoppers Drug Mart often has their Life Brand boxes go on sale for $0.59 each which works out to $3.54 for 6 boxes. I generally stock up during those sales to ensure we have lots on hand to get us through until they go on sale again.
Hand Sanitizer
Hand sanitizer is a must-have for back to school and throughout the school year. No one wants to be that parent who sent their child to school not knowing they were coming down with the flu only to have their child blow their nose, not sanitize their hands, and pass it along to their classmates. Having your child place a bottle of hand sanitizer on their desk will remind them to keep their hands clean!
Library Card
If your child does not already have their own Library card I highly suggest getting them one. This will allow them to learn responsibility by bringing their books back on time and give them the opportunity to borrow books for class projects or for leisure to keep their brains active!
When heading to your local Library be sure to take with you your child's ID and a piece of mail showing your address. I made this mistake once and had to go back.
Each child will have different needs and you as a parent may want to send all that jazz of pencils, crayons, etc. The above is only a helpful guide of what I think is essential for grade school children. I can't even count how much money I have saved by not purchasing items that I know are provided to my child in school and by purchasing good quality items instead of trying to cut corners for a few dollars savings!
Some grades (JK and SK) often have the teacher asking each parent to donate certain items to the classroom, for those items I suggest shopping at your local dollar store to save on money.
What are your must-have back to school items for your children in grades JK through 5? Let me know in the comment section below!