Budget Friendly Back To School Fashion Finds At Sears Canada + $300 Giveaway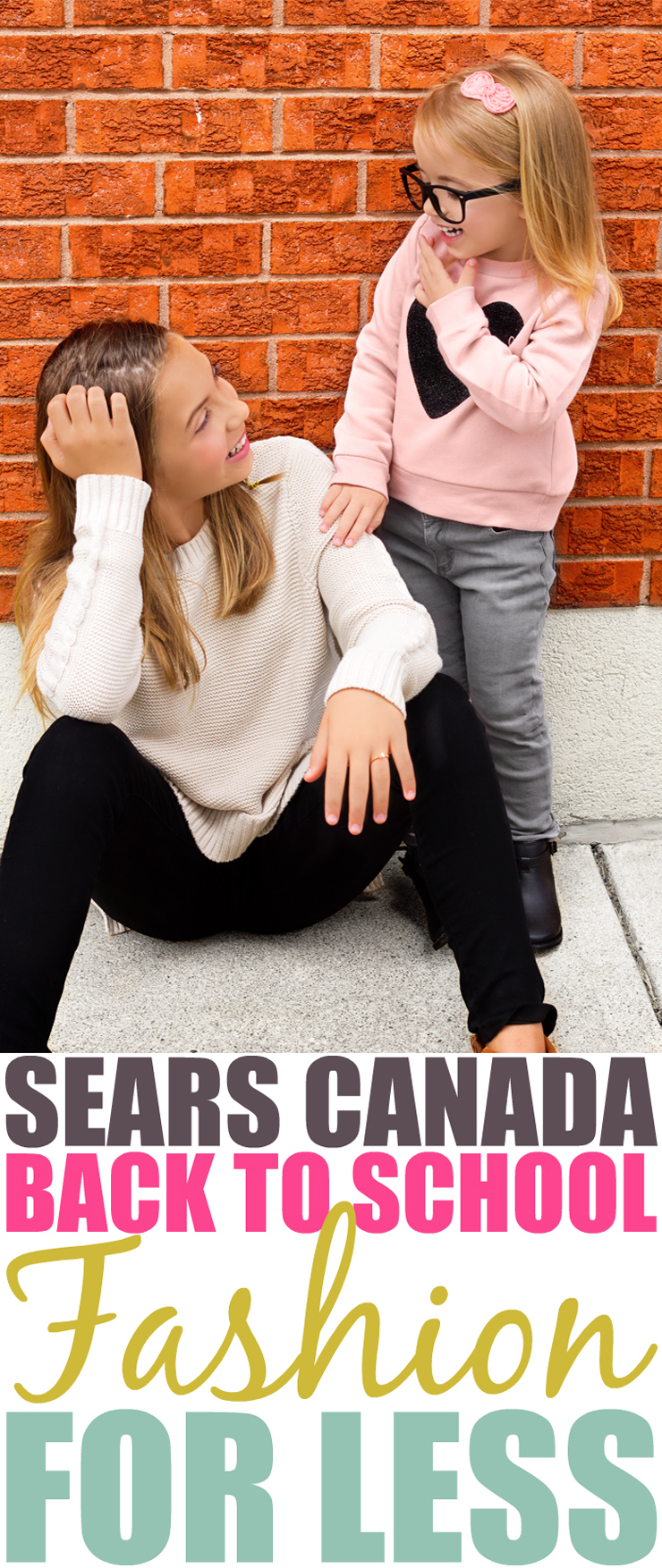 It's that time of the year again, parents are preparing to send their children back to school!
While you may be doing a happy dance after a long summer of bickering, or the ever famous "I'm bored" every 5 minutes, your wallet may be shaking at the thought of the back to school costs.
From new clothes to backpacks, lunch storage to stationary, it can add up if you are not careful. Don't worry, I'm here to show you how you can send your kids back to school in style, without spending a small fortune!
Back To School On A Budget With Sears Canada
With three kids heading to school this year and each of them needing some fall clothes, backpacks and other essentials, I am always on the hunt for great deals on quality products. It is no surprise that Sears is always on our list for back to school shopping. I know I can get the girls great quality clothing, shoes and more, without breaking the bank.
Sears Canada has been one of my go-to stores for quality fashion, at an affordable price, for my whole family. I have been shopping at Sears since I was a child, and when I had my own children, I naturally continued to shop there for my daughters and I.
While Sears has always had an amazing selection of name brand clothing for the whole family, when they launched their own private label of products I fell even more in love with shopping there.
I've teamed up with Sears Canada to share how you can get some amazing back to school fashion for less. Everything we purchased was from the Sears Canada private label, no name brands at all, and all items were regular retail price! Are you ready?
Back To School Fashion For The Littles (Girls & Boys 2-6x)
First up I am sharing my fashion picks for Bella. While I am a mom of all girls, I have to say the boys sections are bursting with just as much awesome budget friendly fashion!
As I edited the photos of Bella in her new outfits for school my heart-strings were being pulled. While I am excited for her to enter a new stage in life, being my last baby, it is a bit of a hard pill to swallow. We've spent the last 3 years side-by-side, and as much as I joke about being excited for her not to be bugging asking me for cookies all day, I know I am going to miss it!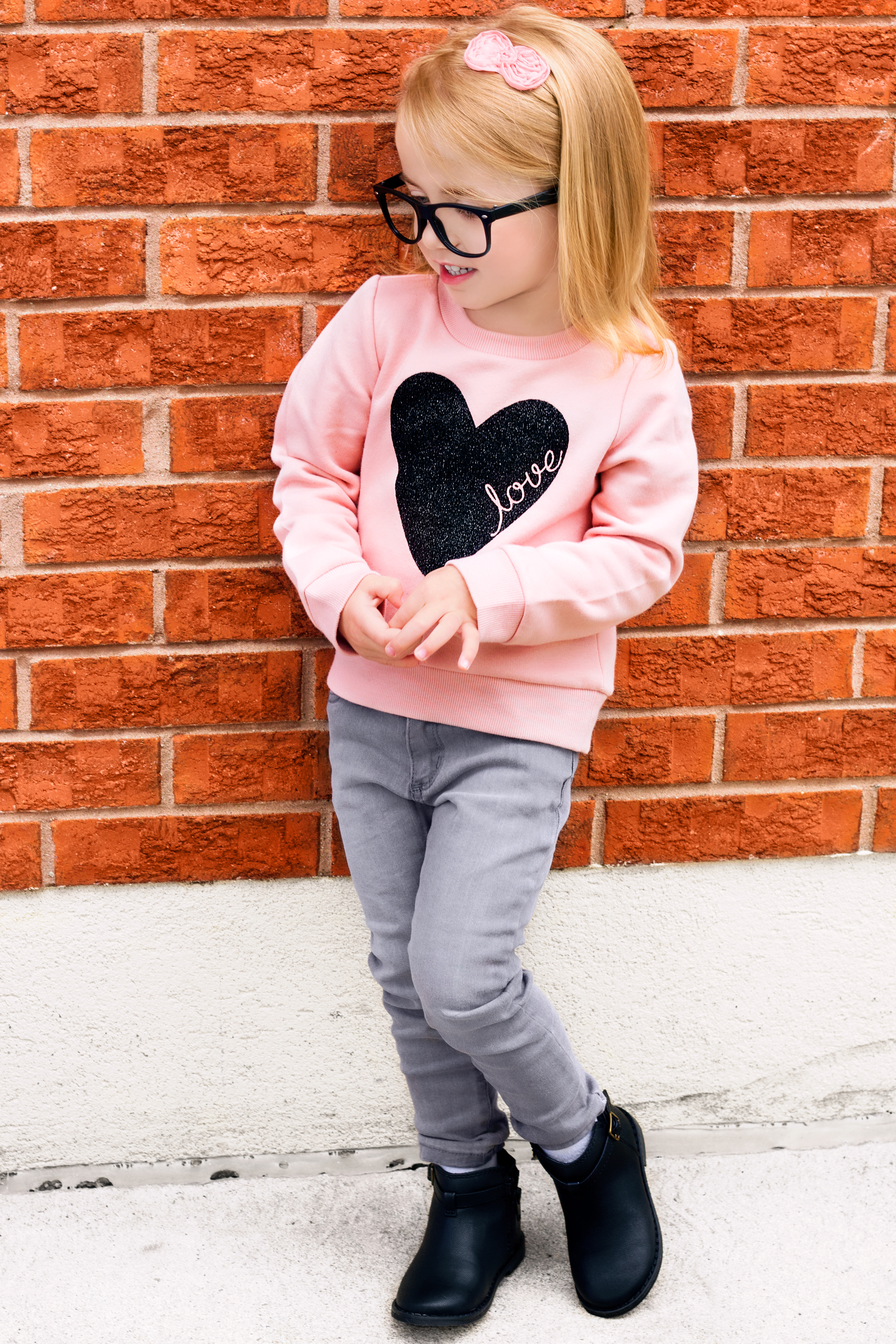 This was the first outfit I pulled for Bella.
The grey skinny jeans have a nice stretch to them which is great for all the playing she will do. They also have an adjustable waist, this is something I always look for. Bella is tall but tiny, so sometimes pants will fit her in length, but are too big in the waist. Not to mention they are only $12.97 or 2 for $20.
The pink sweater with a glittery heart/love graphic will keep her warm on those cool fall days. I love the soft pink on her and secretly wish Sears would make this in my size!
Grey Skinny Jeans $12.97 or 2 for $20
Pink Crewneck Sweatshirt $12.97
MOM TIP

When buying clothing with glitter you can coat the glittered area lightly with an adhesive to prevent shedding. I like to use Aleene's Fabric Fusion, using a paint brush I apply a light coat on top of the glitter. It is machine washable and dry cleanable too!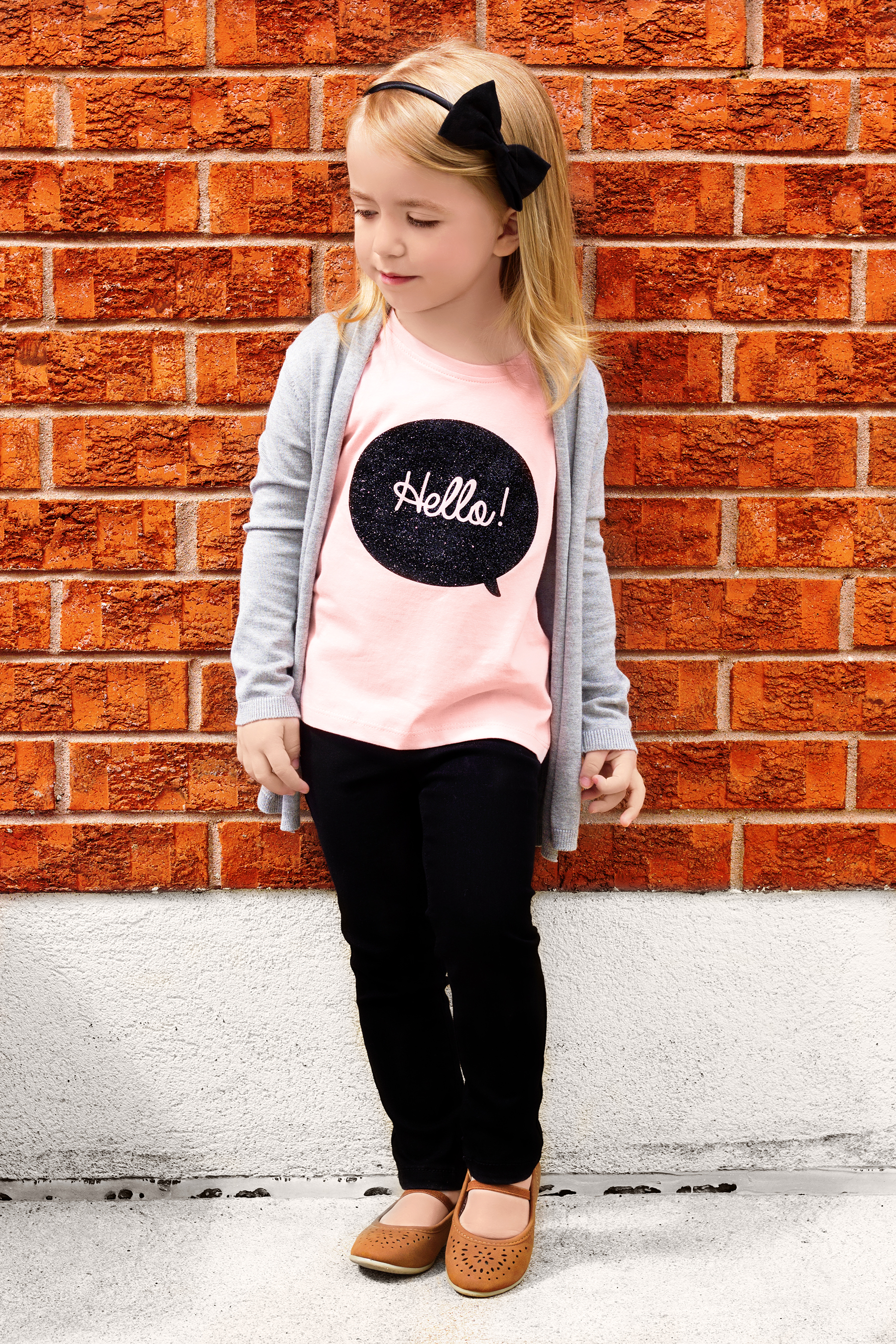 Bella is still learning to do up buttons so when I found these black denim jeggings with just an elastic waistband I was pretty happy. While we usually have to give up length to have the waist fit in pants with no adjustable waist, that wasn't the case here. I grabbed them in a 3T and they fit her perfectly.
The "Hello" pink tee was a must-have, Bella is so friendly and is forever saying hello to everyone she sees. I was blown away by the price-point on their graphic tees, $3.97 … yes, I said $3.97! Honestly, you cannot ask for a better price, and the shirts are not cheap or lacking in quality. At $3.97 I grabbed a handful of t-shirts for her.
I am all about the cardi's. There is something so adorable about little ones rocking a cardigan that just melts my heart. They had a few colours but I settled on grey for Bella as it will go with anything she wears. There are no buttons which means she can easily put it on and take it off herself.
Black Denim Jeggings $12.97 or 2 for $20
Pink Hello T-Shirt $3.97
Heather Grey Open Wrap Cardigan $12.97
MOM TIP

Keep those black jeans from fading by pre-soaking them to set the dye colour. Simply turn your jeans inside-out and then soak them in cold water with a cup of vinegar and one tbsp of salt. To further preserve their dark colour, wash them inside out in cold water and skip the dryer!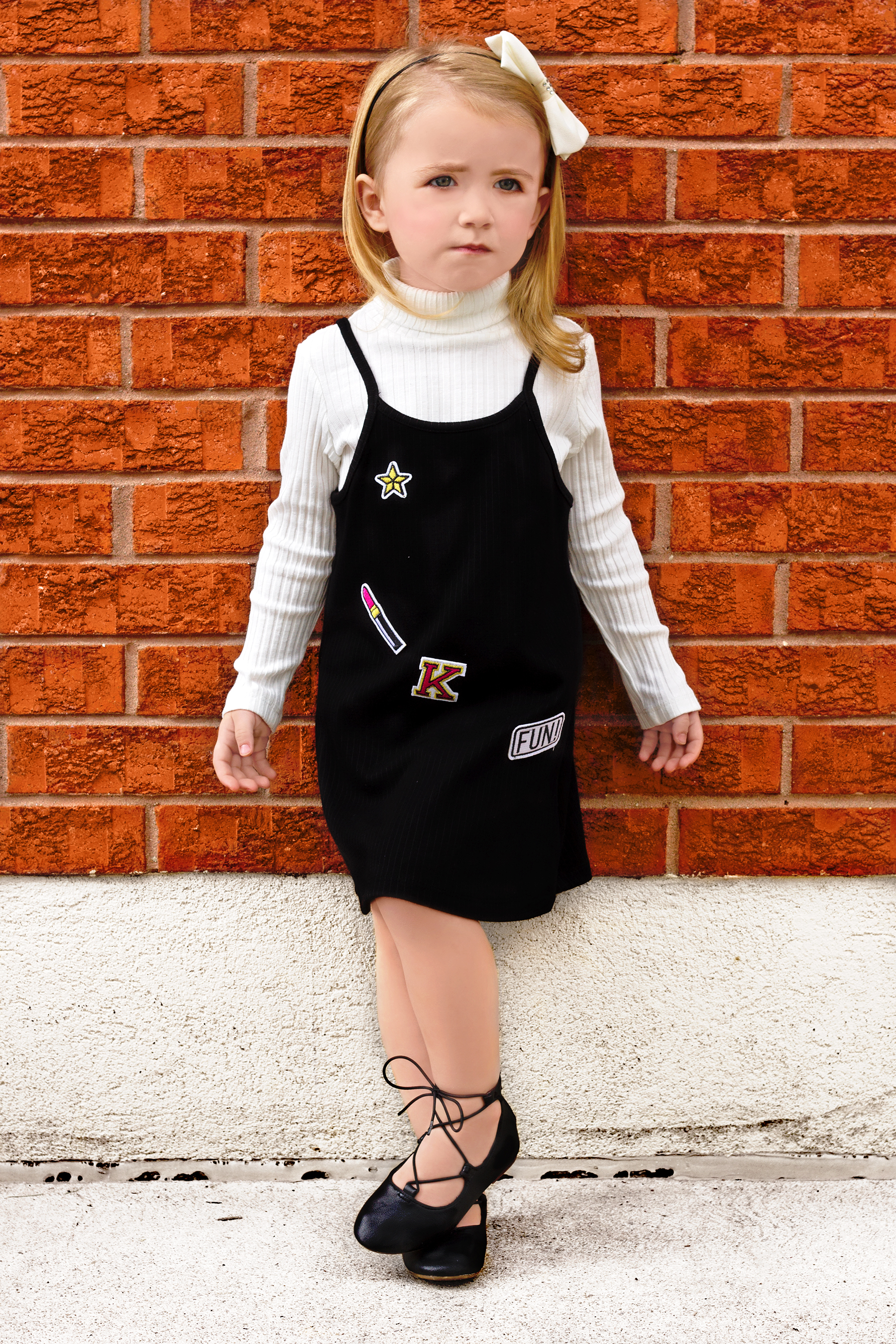 This two-piece dress and turtleneck outfit is another level of cuteness! It really hit me good when I put this outfit on her and started to take her picture that she is going to school. But before I could start tearing up, Bella found the lipstick on her dress and proceeded to pretend to take it off and put some on her lips. Honestly, this kid makes me laugh every single day.
You could even swap out the turtleneck for a plain white or coloured t-shirt in the beginning of the school year when it is still warm out. I am happy the dress came with the turtleneck as we don't own one and I always have a hard time finding something to go under other dresses we have.
Two-piece Turtleneck and Black Dress $24.97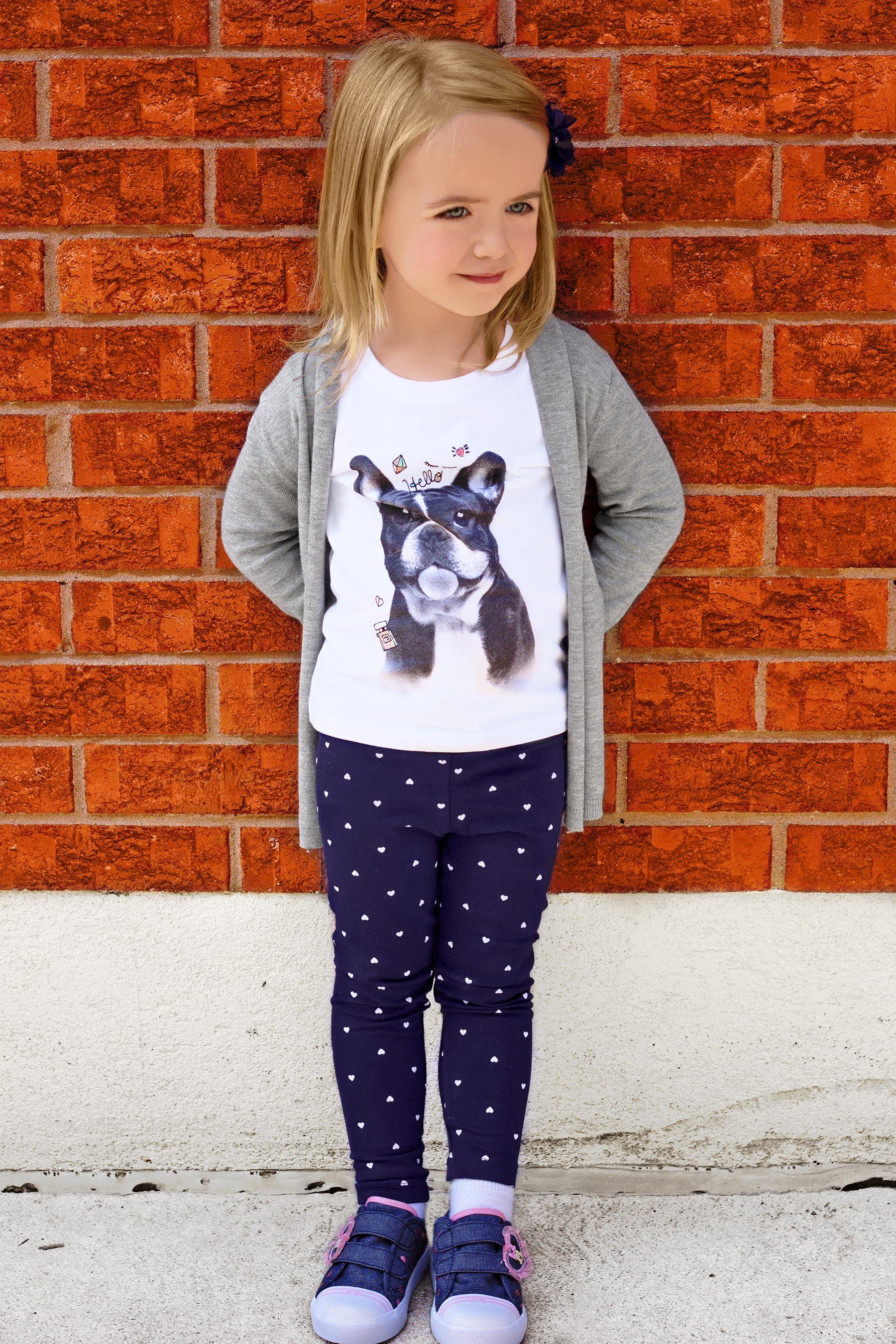 Leggings are an essential in our house. Not only are they extremely comfy, they are super easy for little ones like Bella to get on and off. The last thing I want is her struggling in the bathroom at school and having an accident.
Sears Canada has an amazing selection of leggings for little girls like the navy blue with hearts leggings Bella is wearing. At $5.97 each or 2 for $10 you can't go wrong. I paired the leggings with an adorable dog graphic t-shirt and the cardigan from outfit #2.
Where else can you snag two legging and graphic t-shirt outfits for under $18 at regular price?
Navy Leggings with White Hearts $5.97 or 2 for $10
White Dog T-Shirt $3.97
MOM TIP

Keep your clothes looking new by reducing pilling that often happens to sweaters and leggings. Pilling is mainly caused when fabrics rub against each other. You can reduce this by turning leggings and other fabrics that are susceptible to pilling  inside out before washing. This will reduce the amount of contact it has with other items during washing. You can further reduce pilling by hanging items to dry vs using your dryer, and you'll save some money on hydro too!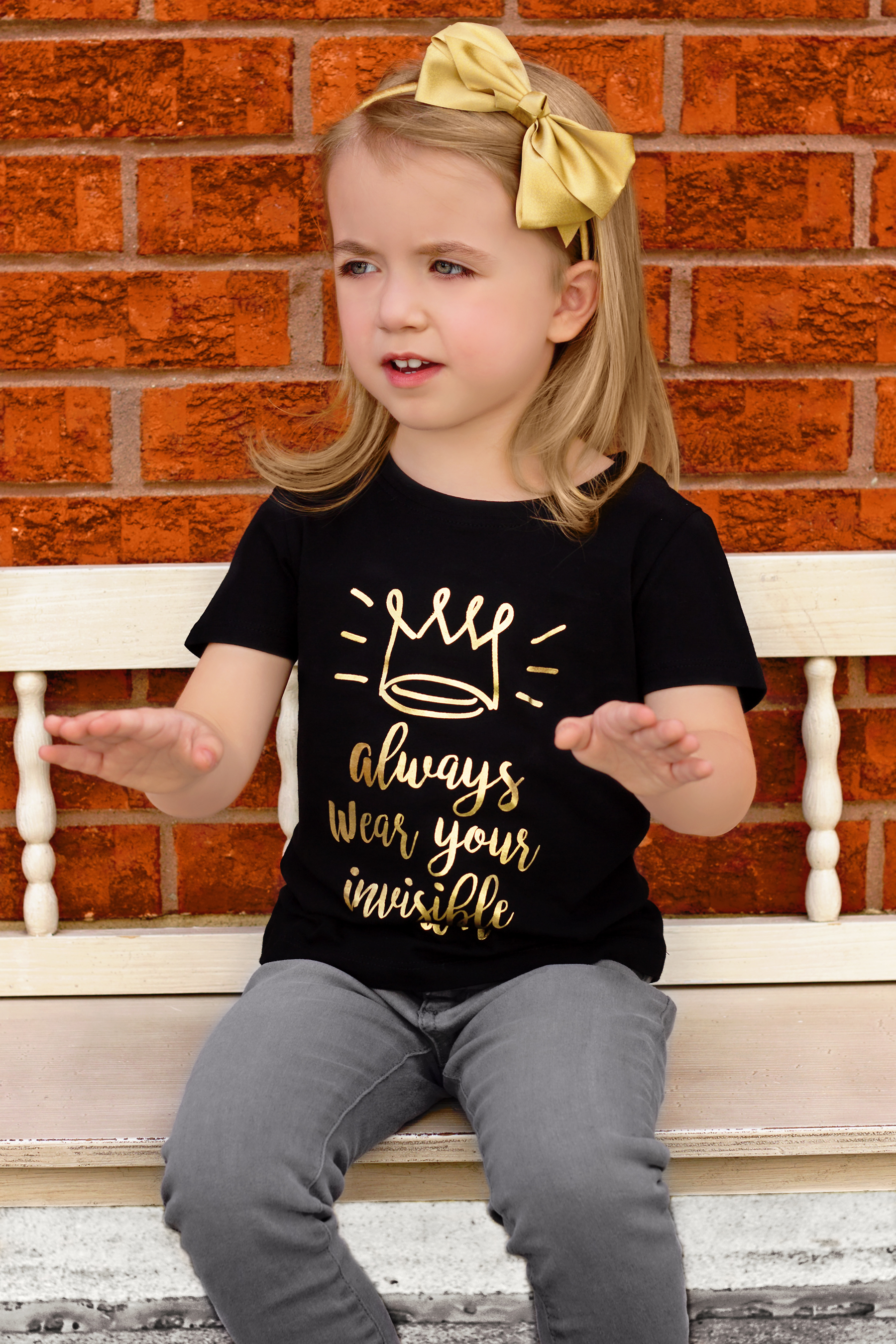 At $3.97 for such awesome graphic t-shirts I couldn't help but buy a few! This black graphic tee says "always wear your invisible crown" in gold font – totally adorable! I paired it with her grey skinny jeans from outfit #1 and a cute gold headband we had at home.
Black and Gold T-Shirt $3.97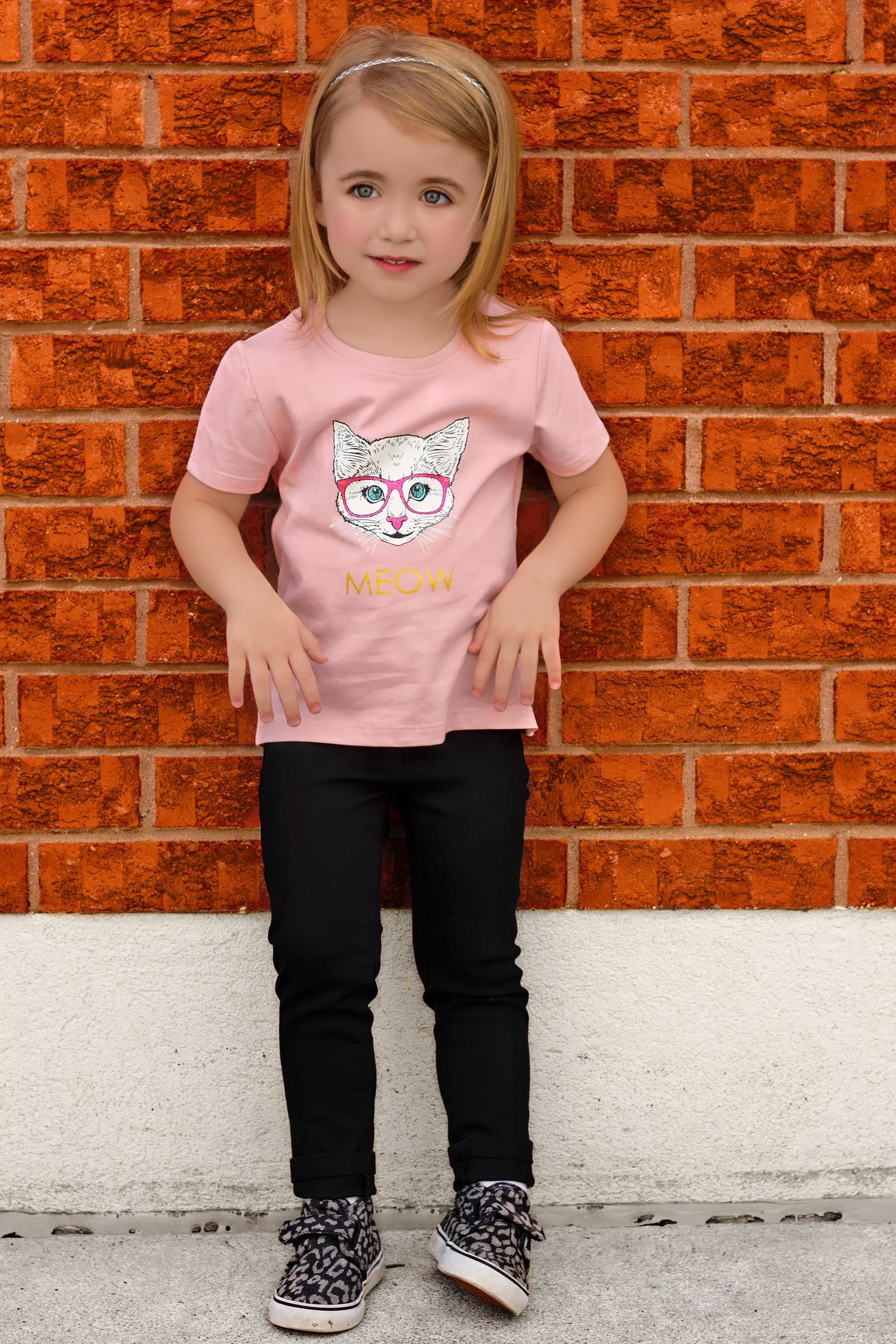 Bella is obsessed with kittens ever since we adopted our rescue kitten, Kiki! She picked out this cute pink kitten graphic tee and said "mommy it says MEOW" in her cutest squeaky voice. When she put it on it took us a while to get a good shot because she spent most of her time pulling up the shirt to kiss the kitten and say "awww so cute". I paired this tee with her black denim jeggings from outfit #2.
Pink Kitten T-Shirt $3.97
In total I picked up 10 items for Bella for only $103.63
Back To School Fashion For The Big Kids (Girls & Boys 7-16)
Hailee has always had a great eye for fashion. From a young age she was very vocal on what she wanted to wear, including wanting high heels. She had a blast shopping the Sears Canada private label and found some great pieces all on her own.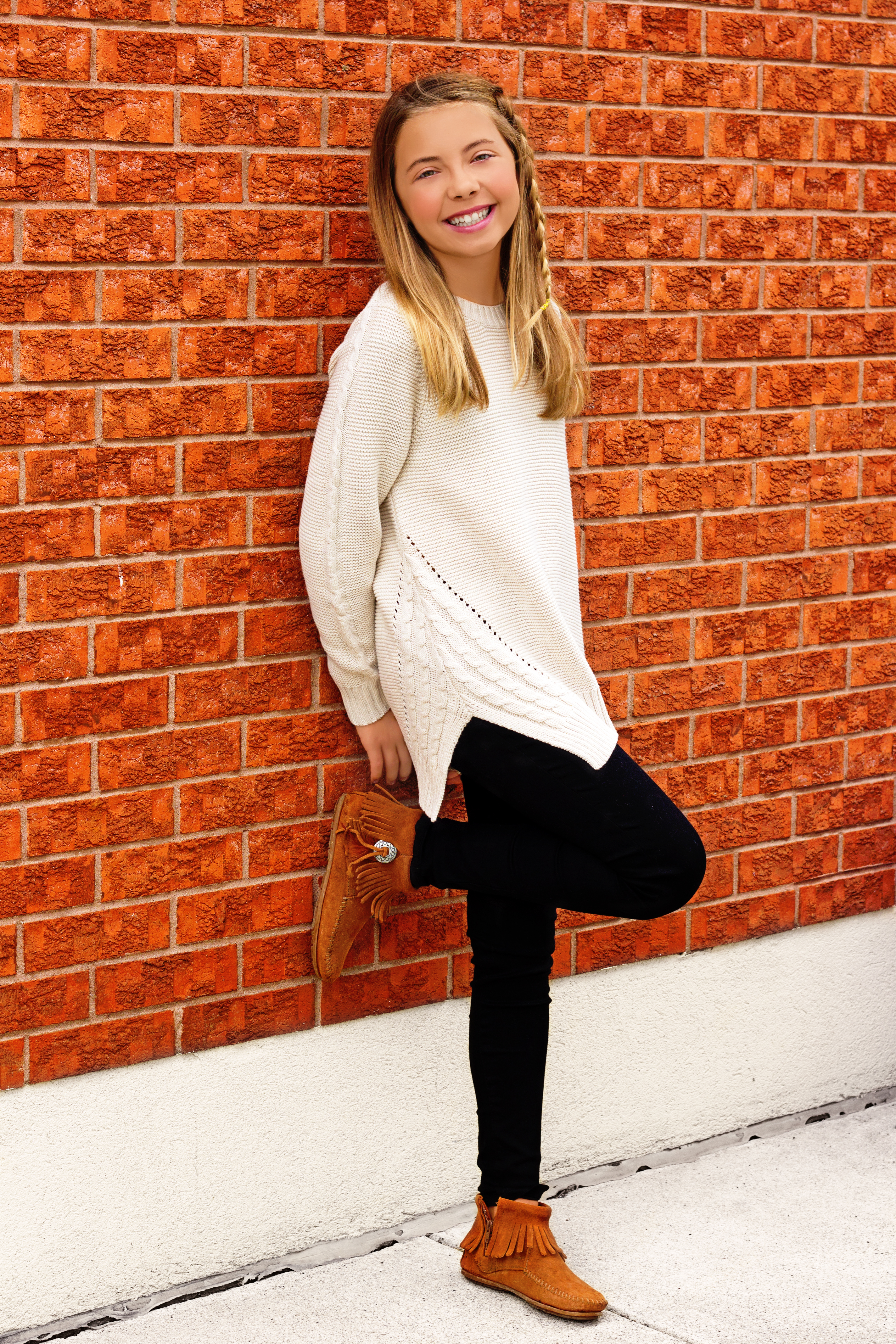 This is probably my favourite outfit that Hailee picked out. The cable knit sweater has a great shape to it and will keep her cozy and warm in the fall. She paired it with a pair of black skinny jeans that are only $14.97 each or 2 for $22.
Black Skinny Jeans $14.97 or 2 for $22
Cable Knit Sweater $19.99
MOM TIP

Cable knit sweaters are delicate, to keep them in the best shape you need to take a little care when washing them. Always wash in cold water on a delicate cycle. You can further this by selecting the shortest cycle length and light under the soil option if your machine offers them. You can go one step further and wash inside of a mesh bag to further reduce the friction. Additionally you will want to air dry your sweater by laying it flat on a table.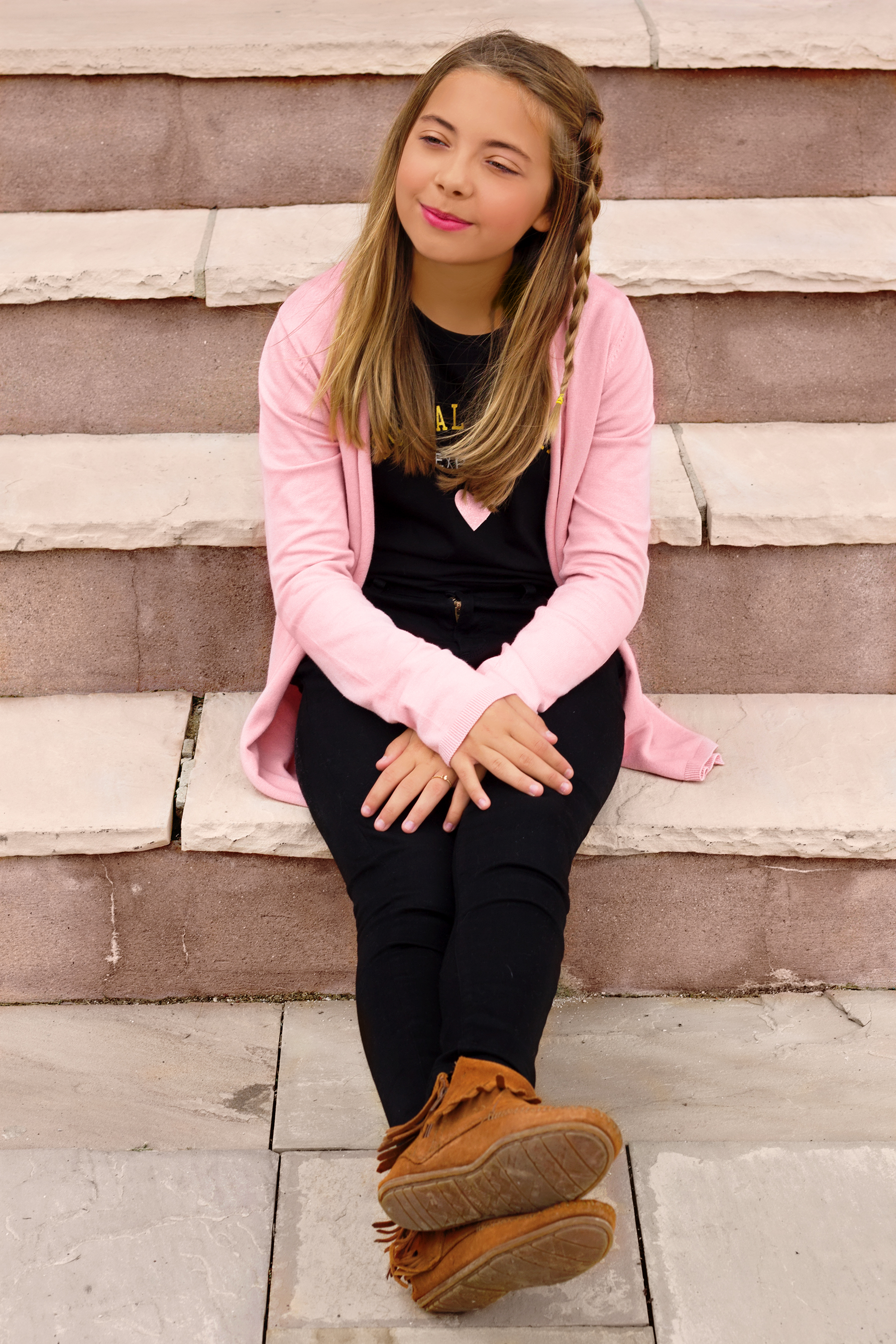 Hailee's second outfit is something I would totally rock, if it came in my size. I'll admit, I totally looked to see if the black "social media expert" tee was in stock in XL. I would have tried to squeeze into it! She paired it with her black skinny jeans from outfit #1 and a buttery soft, pink open wrap cardigan.
Can you believe that the big girls (and boys) graphic tees are also only $3.97? Absolutely an incredible deal!
Black Social Media Expert T-Shirt $3.97
Pink Open Wrap Cardigan $19.97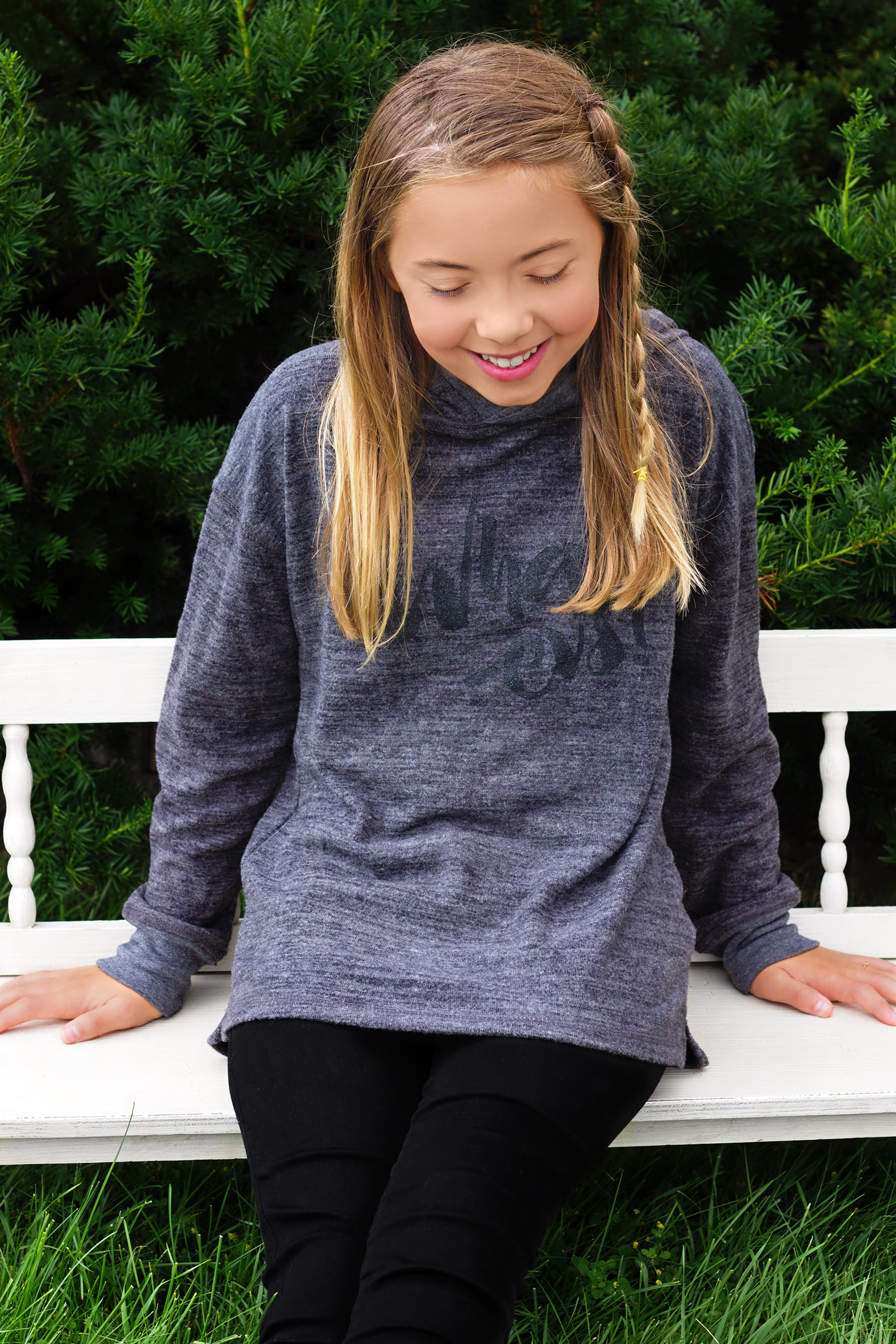 Some days Hailee also likes to dress down and more comfortable. She found this soft charcoal what-evs hoodie that is not only comfortable but stylish. Hailee paired her hoodie with her black skinny jeans from outfit #1.
Charcoal What-evs Hoodie $14.97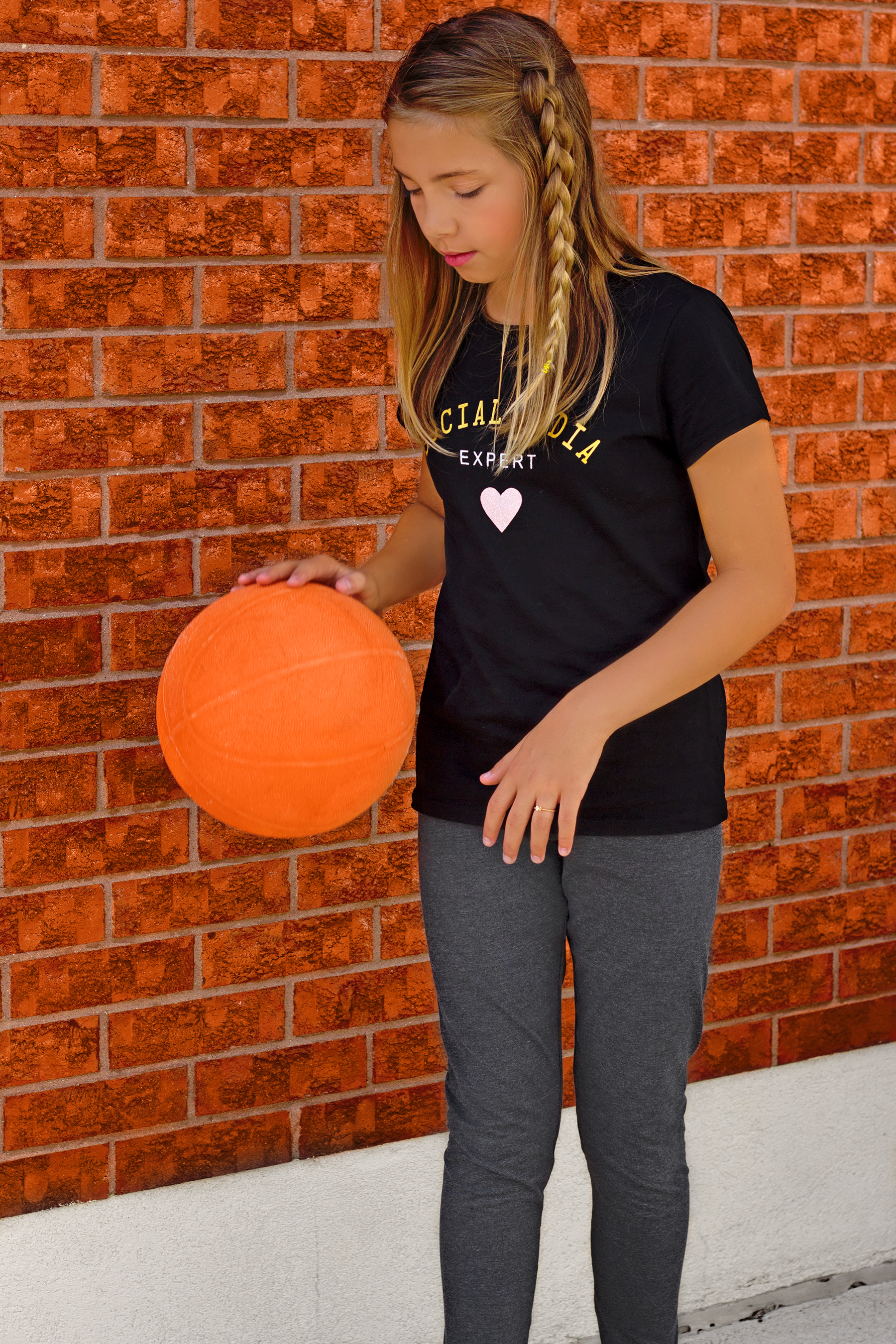 Leggings are a must for my active kids. Hailee likes to wear hers for gym or pair them with tunics for a more fashionable look. These leggings when paired with one of Sears Canada's graphic tees makes for a perfect gym outfit!
Charcoal Leggings $7.97 or 2 for $12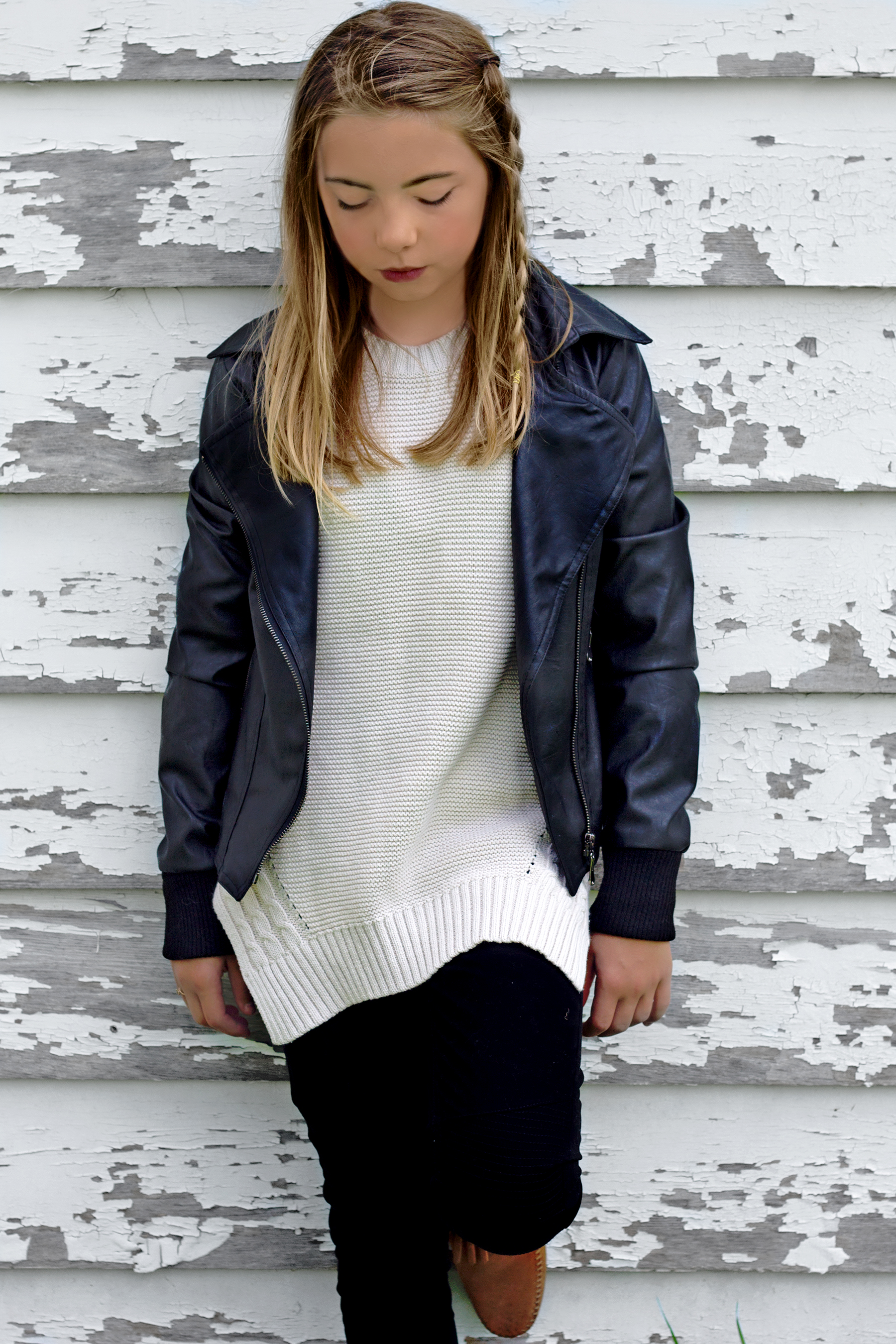 I was happy when Hailee picked out these black moto zippered skinny jeans. They are a bit edgier and the details on the knee give this outfit a fashion-forward look. She paired them with her cable knit sweater from outfit #1 and her favourite faux leather jacket for a perfect fall look.
Black Moto Zippered Skinny Jeans $24.97
In total I picked up 7 items for Hailee for only $112.15
Back To School Fashion For The Teens
While Abby is only 15, she no longer fits into children's clothing sizes. We headed to the women's department to see what we could find for her. Abby is a very laid back kind of girl, she would rather wear sweats, leggings, tees, and hoodies every day. At 15 I don't have much say in what she wears, not that I have ever had to put my foot down as she is pretty conservative.
Out of my daughters, Abby didn't need much in the way of clothing as her growing has slowed down. She gladly picked out a few things she can wear to gym class and offered the rest of her budget to her sisters!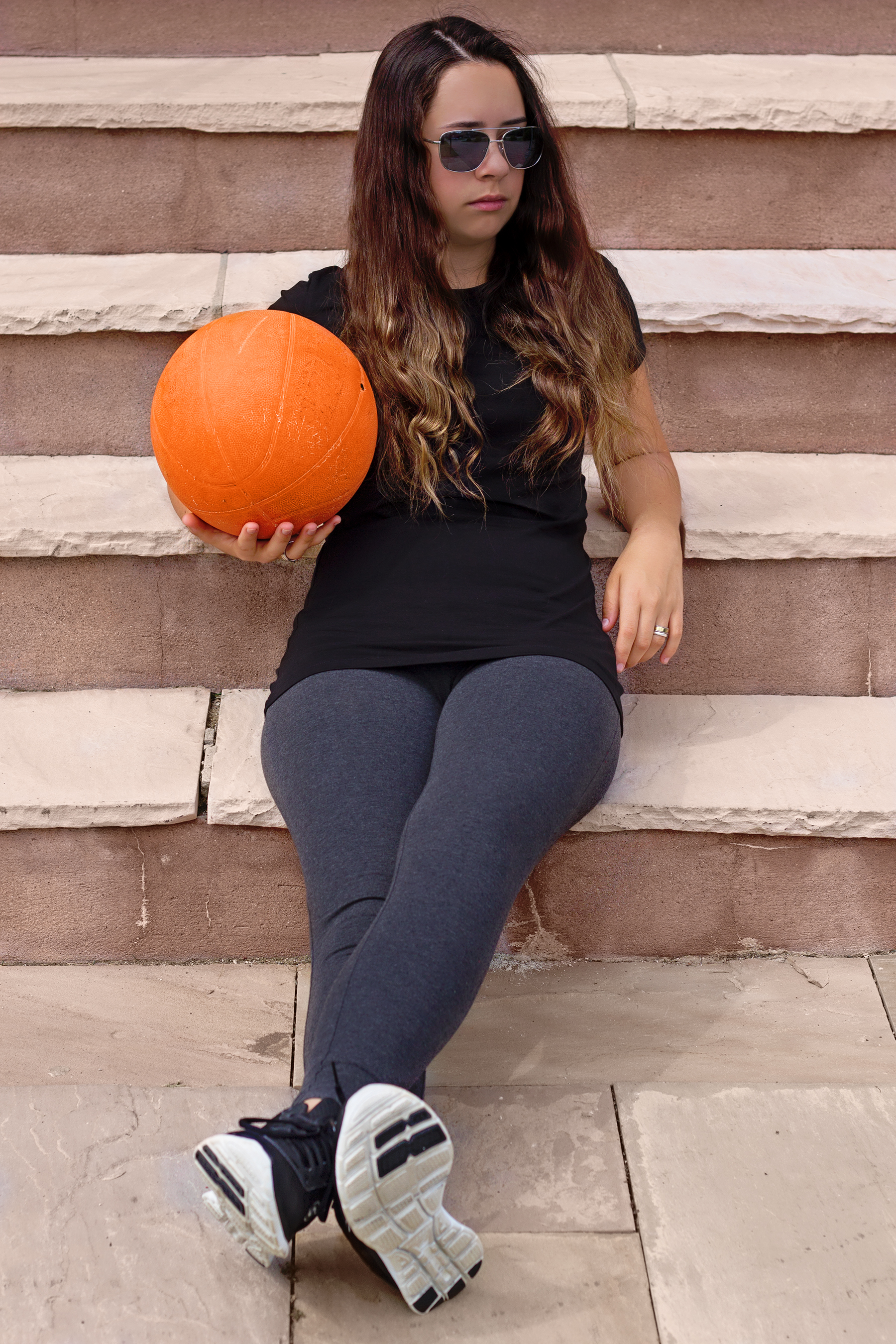 Abby is so much like me it is funny and also awesome because we wear the same size. We both love comfortable clothing and she often catches me wearing her clothes or vice versa. She chose a pair of charcoal knit leggings as she is taking a fitness gym class this year and wanted something she can workout comfortably in. She paired it with a plain black crewneck tee.
Of course she had to grab a new pair of shades to go back to school with too!
Charcoal Knit Leggings $14.97
Black Crewneck T-Shirt $9.97
Men's Aloha Silver Aviators $20.00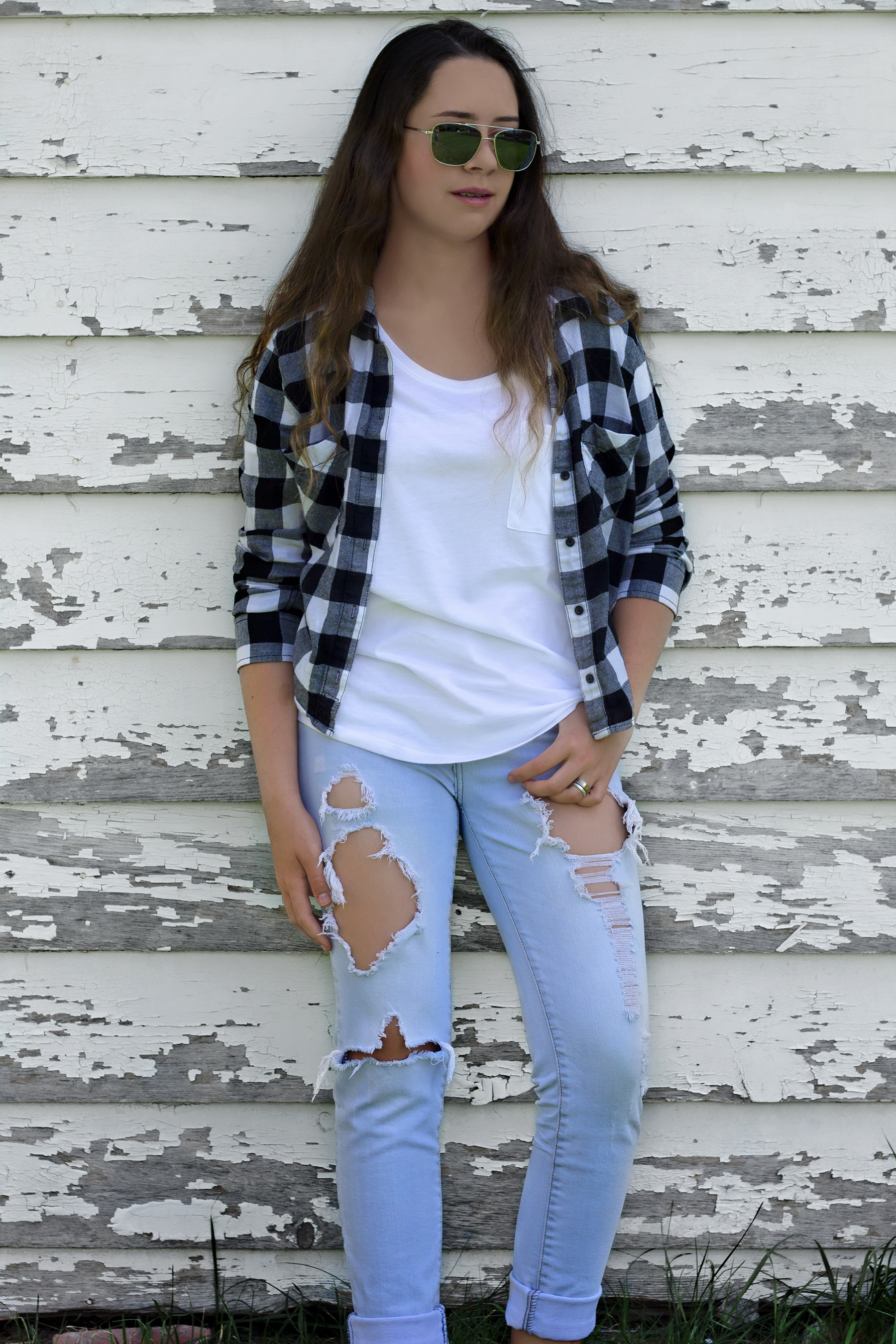 This loose-fitting white boyfriend tee is a great basic piece for her wardrobe. She can pair it with virtually everything she owns. For this look we layered it under a flannel top with a pair of mom's extreme distressed jeans for a hip look.
White Boyfriend Tee $14.97
MOM TIP

You don't have to spend tons of money on expensive distressed denim. Buying a pair of normal jeans at a budget friendly price, or using a pair you already own, you can easily create a distressed look at home. Using things you have around the house like scissors or an X-Acto knife, sand paper, and tweezers you can transform a pair of boring jeans into rad distressed denim! There are tons of tutorials on YouTube if you need help with some visual instructions.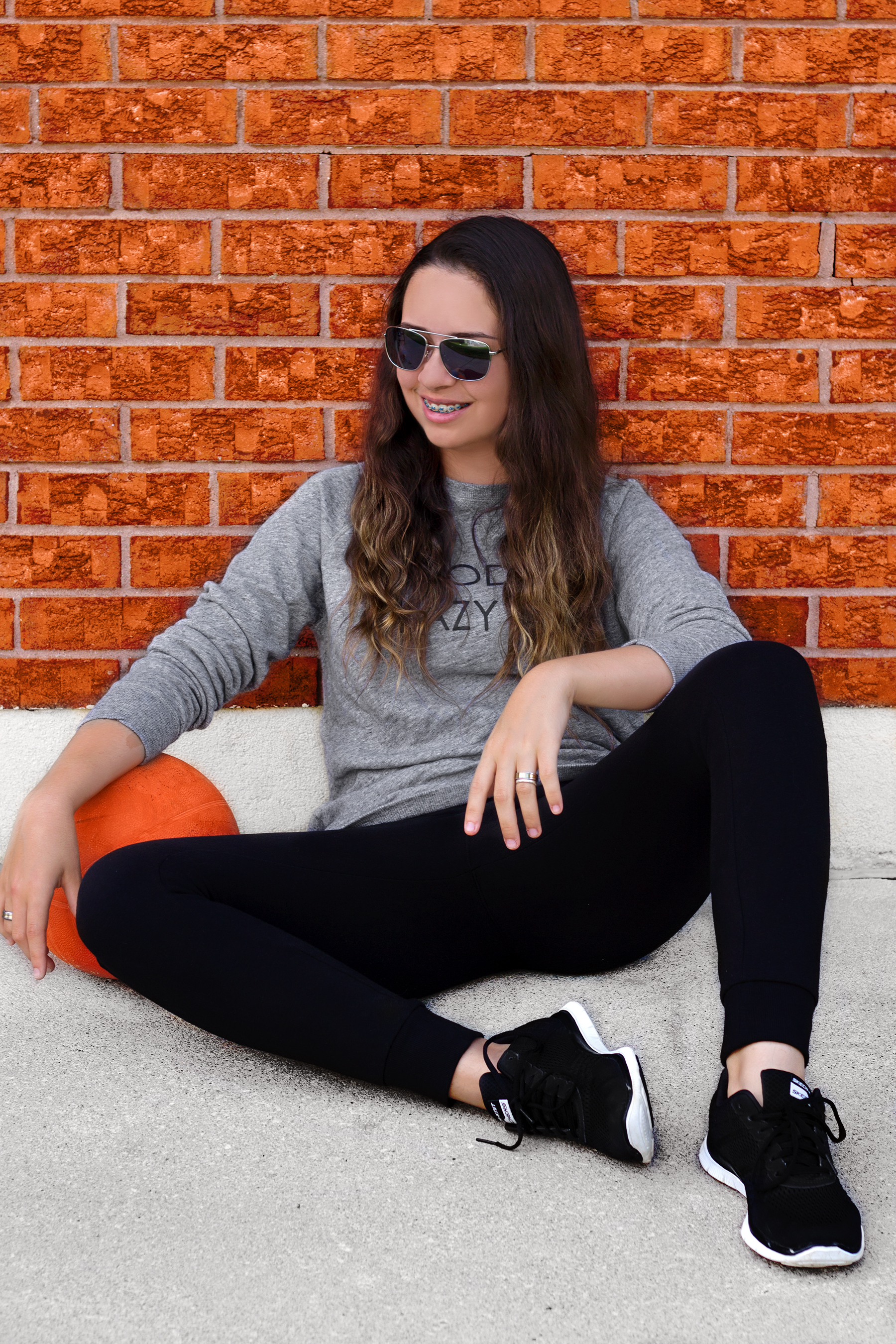 Keeping on the theme of comfort, Abby picked out a pair of black french terry joggers. Talk about soft comfort, I might have to go back and grab myself a pair because I doubt she will let me borrow them!
Black French Terry Joggers $14.99
Abby got 5 items for $84.64.
Sears Canada Back To School Savings
Sears Canada continues to amaze me with their great selection of fashion-forward, budget friendly clothing in their private label. I was able to outfit all three of my girls with pieces that can be mixed and matched for only $300.41.
And it isn't just for the kids, Steve and I love their clothing and shoes too. I often shop at Sears Canada when I have upcoming segments on The Marilyn Denis Show. I can always find gorgeous dressy tops for under $15. One of my favourite pair of heels is from the Sears Canada private label and they were only $29.
So, if you are looking to outfit your kids for back to school, a special occasion, new seasons, or any other reason, head to Sears and check out the amazing selection.
They also have some great deals online too, like this Purple Multi Season Jacket with Hood for only $8.96 (Reg $24.97). I saw this coat in my local store, they didn't have Bella's size so I just snagged it online!
Back To School Giveaway With Sears Canada
Who wants to win a $300 gift card to Sears Canada? I thought so!
I have partnered up with Sears to bring you an amazing giveaway. One lucky Extreme Couponing Mom reader will win a $300 gift card!
This giveaway is open to Canadian residents, excluding Quebec. The giveaway will close on September 18, 2017 at 11:59 PM EST. The winner will be drawn from all eligible entries and contacted via email on September 19, 2017. The winner will have 24 hours to respond to the email and claim their prize.
How To Enter
To enter the giveaway head over to the Sears Canada website, then come back here and leave a comment below (scroll down for comment box) telling me what Sears Canada private label items you would buy if you won.
Connect With Sears Canada
Follow Sears Canada on Facebook, Twitter, and Instagram for all the latest fashion, deals, and more! Don't forget to share your Sears Canada finds using the hashtag #GotItAtSears on social media!
Disclosure: Although this post is sponsored by Sears Canada, the opinions and language are all my own, and in no way do they reflect Sears Canada. Any product claim, statistic, quote or other representation about a product or service should be verified with the manufacturer, company, provider or party in question.