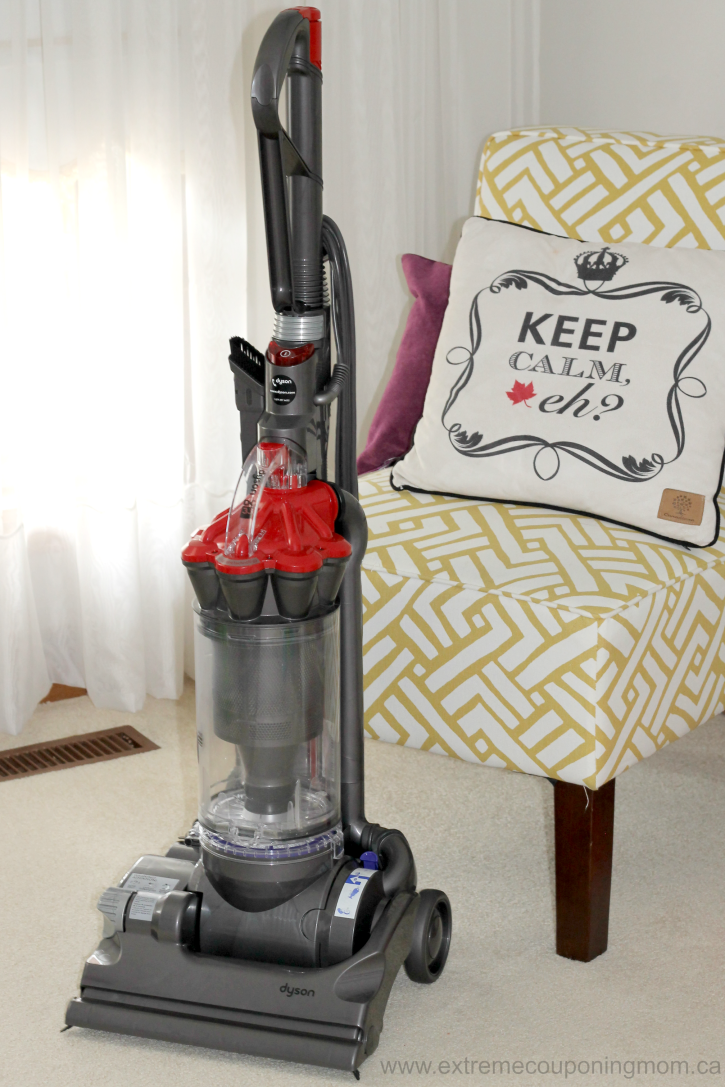 If there is one chore I actually enjoy doing it's vacuuming. I am not sure why, maybe because it is easier and faster than most chores.
We live in a fairly large home with multiple floor surfaces. We have full carpet in our living and dining rooms, we have hardwood in the back hallway and bedrooms, and in our main hallway and kitchen we have tiling. In our bedrooms we also have area rugs in addition to the hardwood floors. Having multiple floor surfaces throughout our home has caused many headaches in finding a vacuum that actually works on all these surfaces. Let's be honest, I am no Suzy homemaker and I hate sweeping. Half the time whatever I am sweeping ends up all in the air which eventually floats right back down on the floor anyway.
I 've had plenty of vacuums over my adult life, plenty being the key word! It really didn't matter if I spent $40 or $200, the vacuums I was buying worked great at first but then slowly started losing their power or in some cases blew up in my living room like my last one leaving a pile of dust, cat hair and more everywhere! I can't recall the last vacuum I owned that made it passed the 12 month mark. I can certainly tell you a few of them lasted mere months and having to constantly purchase a new vacuum can truly add up!
Many know Dyson as a leader in the marketplace when it comes to their well-designed and powerful machines that last. From their full-size vacuums to cordless stick vacuums to fans. The thing about Dyson vacuums is that they are at a price point that many Canadians, including myself, are just not comfortable with.
I had big plans to purchase my very first Dyson. It was during the Target liquidation, I stalked my Target on a daily basis watching for the discount to drop as I wasn't quite ready to invest such a large amount of money. After all I had never owned a Dyson and my previous experiences with vacuums all ended in disappointment. Sadly I waited too long, on one of my daily visits the display was cleared out and my dream of a Dyson at an affordable price vanished.
Well I have some pretty exciting news for those of you who, like me, have wanted a Dyson in your life but just haven't been able to justify the cost!
Dyson has teamed up with Canadian Tire to give us Canadians what we want – a Dyson at an affordable price point! The new Dyson DC33 Multi Floor Upright Vacuum is available exclusively at Canadian Tire for only $399.88.
This is the ideal machine for someone who's always wanted a Dyson: it has the same great technology expected from them, but at a price point that's manageable. The DC33 has Root Cyclone ™ technology that captures more microscopic dust than any other cyclone and a HEPA filter that traps microscopic pollen and allergens, making this ideal for allergy sufferers.
I have been using our Dyson DC33 Multi Floor Upright Vaccum for a few weeks now and have to say it is the most amazing vacuum I have owned! Having three messy children, a cat, and a dog you can just imagine the mess I have to clean up. Even though Bella is walking now she still crawls from time to time. She also is a teething monster right now with all four of her first molars coming in so many of her toys that go in her mouth also go on the floor. Having clean floors is a huge deal for me, especially with the baby.
Of course in anticipation of our new vacuums arrival I didn't vacuum much as I wanted to give it a good test to see how it could stack up to our family's mess. Needless to say there were mini Reggie's visible on the carpet along with crumbs from the kids. The mess that was awaiting the Dyson DC33 Multi Floor didn't stand a chance as the DC33 sucked the mess up effortlessly. It packs some serious pick-up power!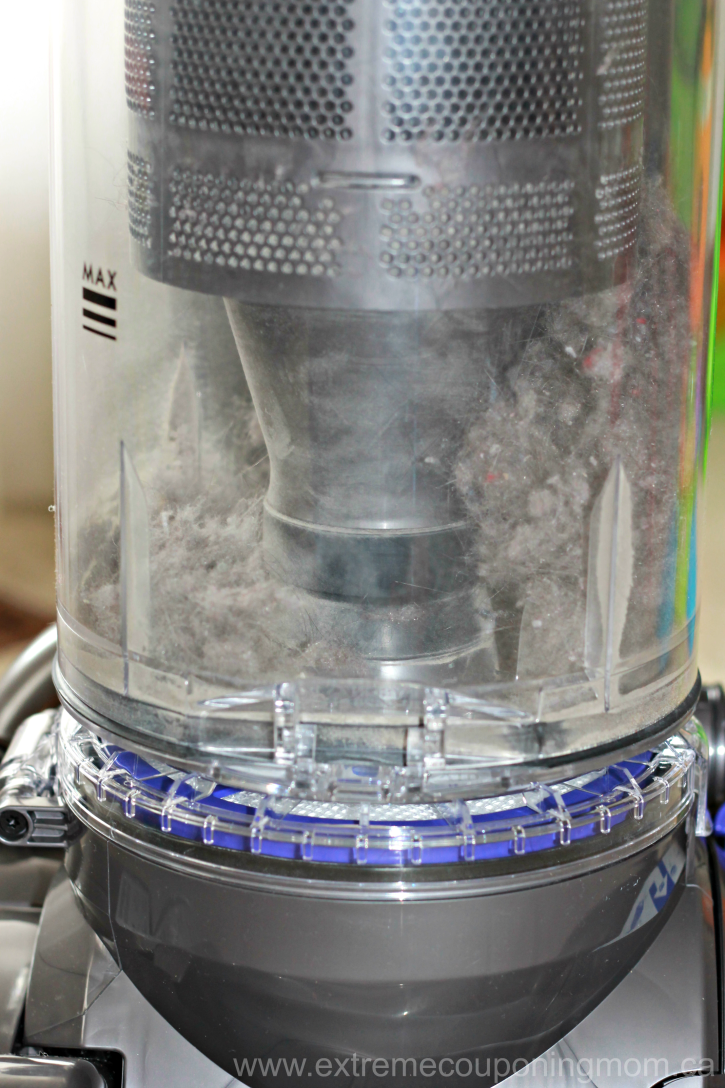 I was on the fence if I should show just how much the DC33 picked up as I was a bit embarrassed. But I realized that it wasn't that we were messy people at all. Our previous vacuums simply weren't anywhere near as powerful as the Dyson DC33 Multi Floor Upright Vacuum meaning they left behind a lot even though the surface looked clean. After using the DC33 on a daily basis as I did with my other vacuums I can tell that it is working, I can see that it is picking up way more than our other vacuums ever did. Even more so, I can physically see the cat hair in the machine!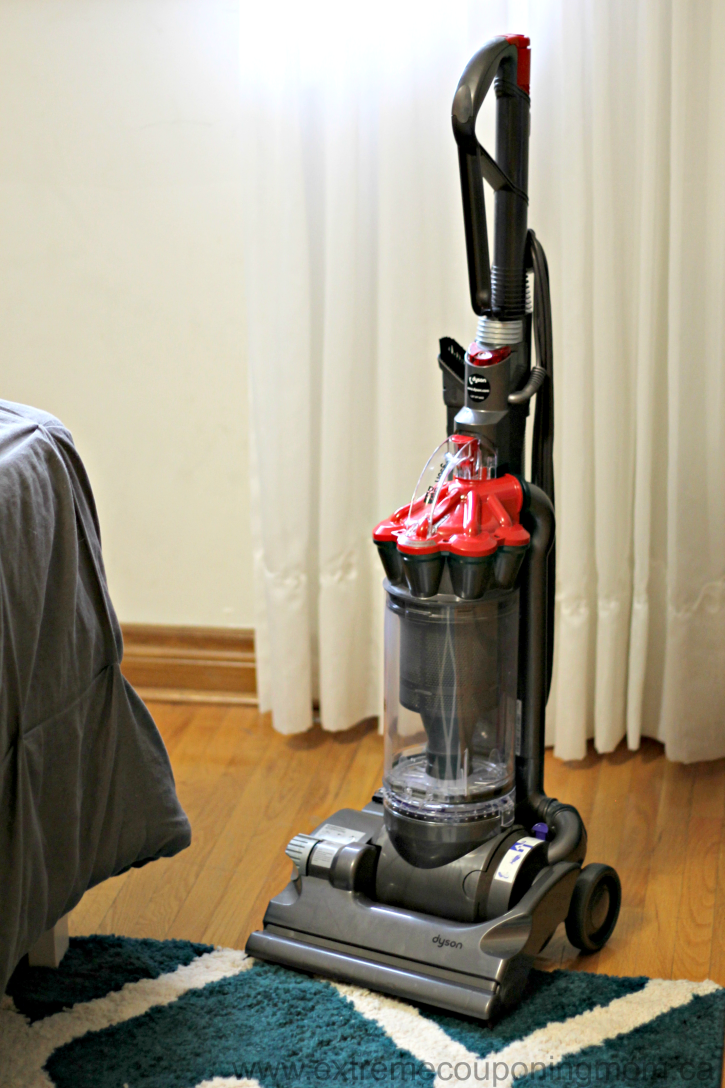 Maneuvering from our bedroom area rugs to the hardwood floors is effortless. The DC33 handles hard floors better than any vacuum I have ever owned. The DC33 Multi Floor Upright Vacuum has a self-adjusting cleaner head which maintains constant contact with your floor to seal in the suction. I have never had a vacuum that I didn't have to physically change the height setting manually so I really appreciate this feature and am extremely pleased that it works. Many vacuums I have owned never really picked up much from the floors but the suction power the DC33 has is remarkable!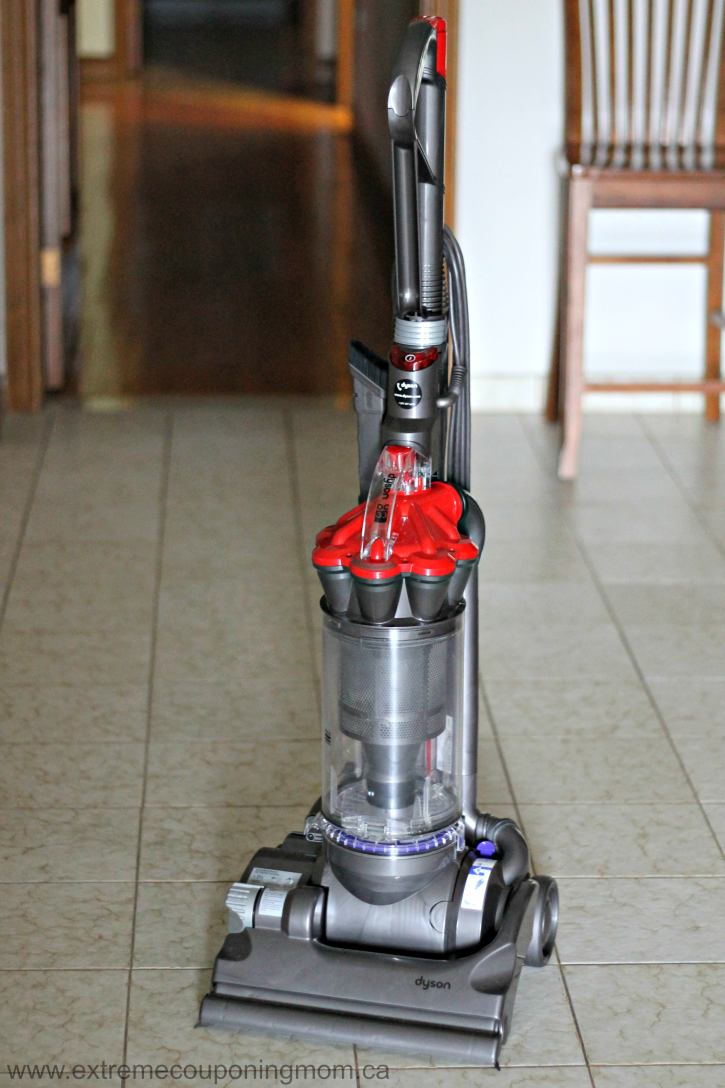 It even does an amazing job on our tiled flooring. I am pretty sure if I didn't need my broom to kill centipedes I would throw it out now that I own this beast of a vacuum!
The DC33 comes with three added tools including a stair cleaning tool that attaches to the removable wand or hose for easy cleaning on stairs, a combo accessory tool which features a nozzle for large debris which converts to a brush tool for dusting – ideal for baseboard crevices, and a flexi crevice tool which extends and flexes into awkward gaps – perfect for cleaning between furniture.
The Dyson DC33 Multi Floor Upright Vacuum features two washable filters making cleaning the machine super easy. Emptying the bin doesn't get any easier or cleaner either. With the DC33 you simply pop off the bin from the machine, hold the bin over your garbage can, and press the button to release the dirt. After pop the bin back on the machine and you are ready to go!
One of my favourite things aside from the amazing vacuum is that the Dyson DC33 Multi Floor comes with a five year parts and labour warranty redeemable at Canadian Tire. Knowing there is a long warranty period makes purchases like these feel less stressful. I know none of my other vacuums had warranties anywhere near this long!
I can't express how happy I am with the performance of the Dyson DC33 Multi Floor Upright Vacuum. It definitely handles pet and children mess far better than any vacuum I have owned. I look forward to having this vacuum for years to come.
If you are interested in buying a Dyson I would definitely recommend this model to those who are on the fence. It is available exclusively at Canadian Tire.
DYSON DC33 MULTI FLOOR UPRIGHT VACUUM GIVEAWAY!
Dyson has generously offered one Canadian Extreme Couponing Mom reader will win their own Dyson DC33 Multi Floor Upright Vacuum!
To enter the giveaway please complete the mandatory entry option(s) on the giveaway widget below. Once you complete the mandatory option(s) you will be given a list of additional entry options to increase your number of entries for a better chance at winning. Some entries can be complete once per day so remember to return daily to get even more entries into the draw!

This giveaway is open to residents of Canada only. For complete giveaway rules see the giveaway widget below. All entries will be verified.
Disclosure: Although this post has been sponsored by Dyson, the opinions and language are all my own, and in no way do they reflect Dyson. Any product claim, statistic, quote or other representation about a product or service should be verified with the manufacturer, company, provider or party in question.