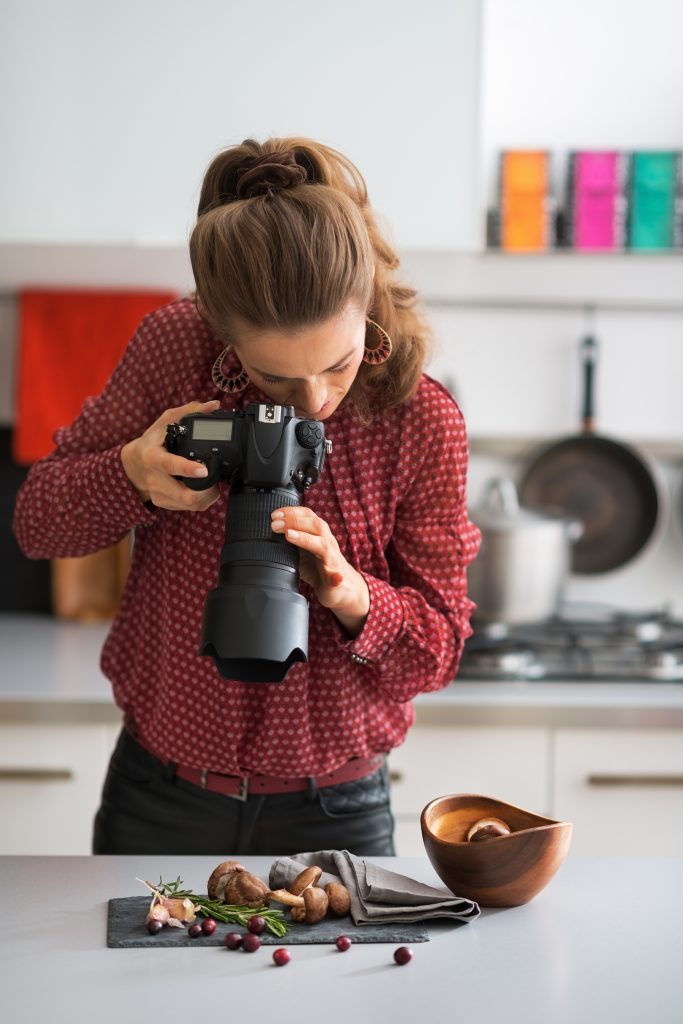 Today I am sharing some Photography Tips for creating standout photos for your blog!
One thing many bloggers wish they had been better at when they first started blogging is their photography.
Many bloggers, myself included, are now going back and re-shooting old recipes and crafts because our photos back then are not the greatest.
You want to start your blog off on the right foot, and having standout photographs on your blog will be key in your success.
Not only do great photos draw in readers, but they also draw in clients.
When brands and pr reps are looking to pitch bloggers they are looking at your blog.
They are looking to see that you can write engaging articles, can take beautiful photos, and that you have an audience.
In order to grow an audience, your photographs are just as important as the content you are putting out.
For recipes, crafts and review articles, you will want to take original photos.
Having the knowledge and skill to make those photos amazing is extremely important!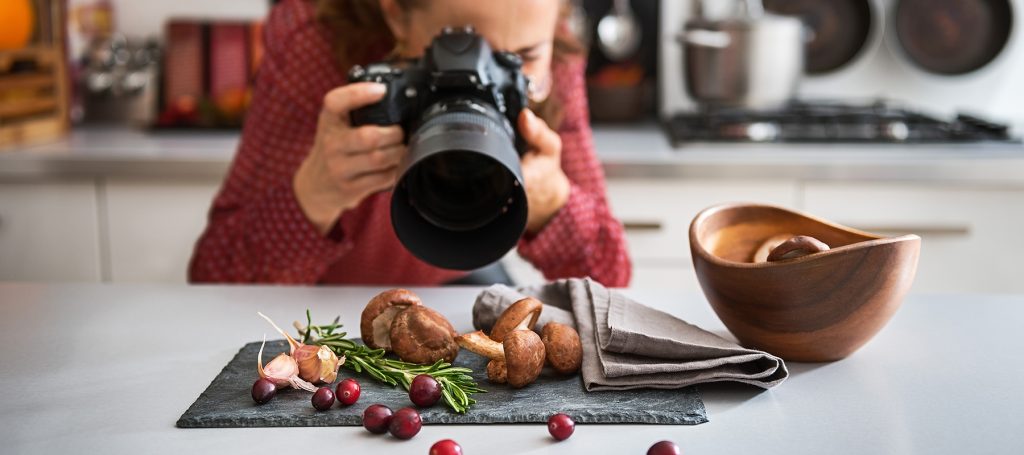 Photography Tips For Your Blog
Over the 8+ years that I have been blogging, I have learned a thing or two.
I'm extremely grateful to have an amazing network of bloggers who share their tips and tricks with others.
Today I am going to share a few photography tips so you can start creating standout photos for your blog.
1. Invest In A Good Camera
When I first started blogging I had a point and shoot digital camera and my Blackberry.
Neither took great photos.
A few years ago I invested in a DSLR camera and some lenses.
I currently shoot with a Canon EOS Rebel T3 and almost always my 50mm lens.
While it has served its purpose and does take great photos, I will soon be investing in a full frame camera to take my photographs to the next level.
Like I mentioned in my past blogging tips articles, investing in your blog is important, it is your business.
When you purchase a camera for your business it is a write-off during tax time, so be sure to save your receipt.
If you can afford to go with a full frame camera out of the gate I highly suggest doing so.
If not, a lower end DSLR is more budget-friendly and can produce incredible photographs too.
2. Natural Light VS Artificial Light
When taking photographs for your blog, having an area in your home where you get incredible natural light is #bloggergoals, honestly!
In my home, the best spot for me to take photographs is in my office.
My office is in the sunroom attached to our house, with huge bay windows.
I have set up three different tables on one side of the room along the windows to take my photographs on.
With that said, not every day is a sunny day in paradise.
The winter can be especially difficult to shoot with natural light.
For this reason, having quality artificial photography lighting is needed.
I currently have the Lowel Ego Digital Imaging Tabletop Fluorescent Light to shoot with when shooting with natural light is not possible.
In the next few months, I will be investing in more photography lighting.
I want a ring light for video, as well as some larger photography lighting too.
3. Photography Props
Having great photography props is just as important as having a great camera.
You don't have to spend thousands of dollars on props.
Many of the props I use are bought at garage sales, Value Village, dollar stores and things I already own.
Photography backdrops are important too.
Two of the three tables I have can be used as backdrops as they are distressed wooden tops.
I bought them on VarageSale from someone who hand makes furniture.
You can also head to your local home improvement store and buy some wood slats, stain, distress, and nail them together to make your own.
I also own a handful of amazing vinyl backdrops I purchased off Swanky Prints on Etsy.
One is a marble style and the others are wooden styles.
If you are on a budget, you can also use black and white foam boards from the dollar store.
The whiteboards are also great for reflecting light so you don't have harsh shadows in your photos too!
Another great investment is a tripod.
I have pretty shaky hands and sometimes this can cause my photos to blur.
A tripod is also great for overhead shots and video too!
I purchased the Amazon Basics tripod and love it!
4. How To Take A Great Photo
A few photography tips I have learned to take great photos for my blog:
Set up your camera, lighting if needed, and props prior to starting to shoot. It will make shooting faster!
Shoot in RAW. I capture both RAW and JPG formats when taking photos and use my RAW photos to edit for the blog.
Take photos at different angles. For flat food, you should take an overhead, 3/4 angle, and overhead partial shots.
Get close to what you are shooting, it will capture the textures and close up photos are much better than distance when it comes to food.
I want to add that when taking photos in RAW format you don't have to worry as much about getting the perfect lighting.
With RAW you have so much more editing ability, you can easily fix dark or blown out photos.
When shooting in JPG format, you have less ability to fix bad photos.
I always suggest shooting in RAW and capturing both the RAW and JPG format of the photos.
5. Learn To Edit Your Photos
Learning to edit photos can be intimidating.
Programs like Photoshop and Lightroom are amazing tools to help you bring your photos from ok to amazing.
Even after 6 years of blogging I still am constantly learning and teaching myself skills to better my blog.
I recently took two photo editing courses as part of a BETA testing group for two amazing bloggers, and ladies I call friends!
Randa from The Bewitchin' Kitchen and Stacie from Simply Stacie created Click Start Club to help bloggers reach their full potential when it comes to photography and video.
These ladies output incredible photography on their blogs.
Their recipe photos are something I aspire to be able to do, and with their course, I am getting there.
There are so many courses online with photography tips and I have taken my fair share.
Many were way too technical for my tell-it-to-me-straight brain.
On top of that, some of the courses out there are just plain expensive.
Randa and Stacie have created these two courses for editing in Photoshop and Lightroom with those things in mind.
They speak to the many bloggers who are not professional photographers, don't know all the technical terms, and who can't afford $100's of dollars on one course.
Their course is filled with amazing photography tips and it is so easy to understand.
They lead you through the step-by-step process from snapping a good photo to editing it into an amazing photo!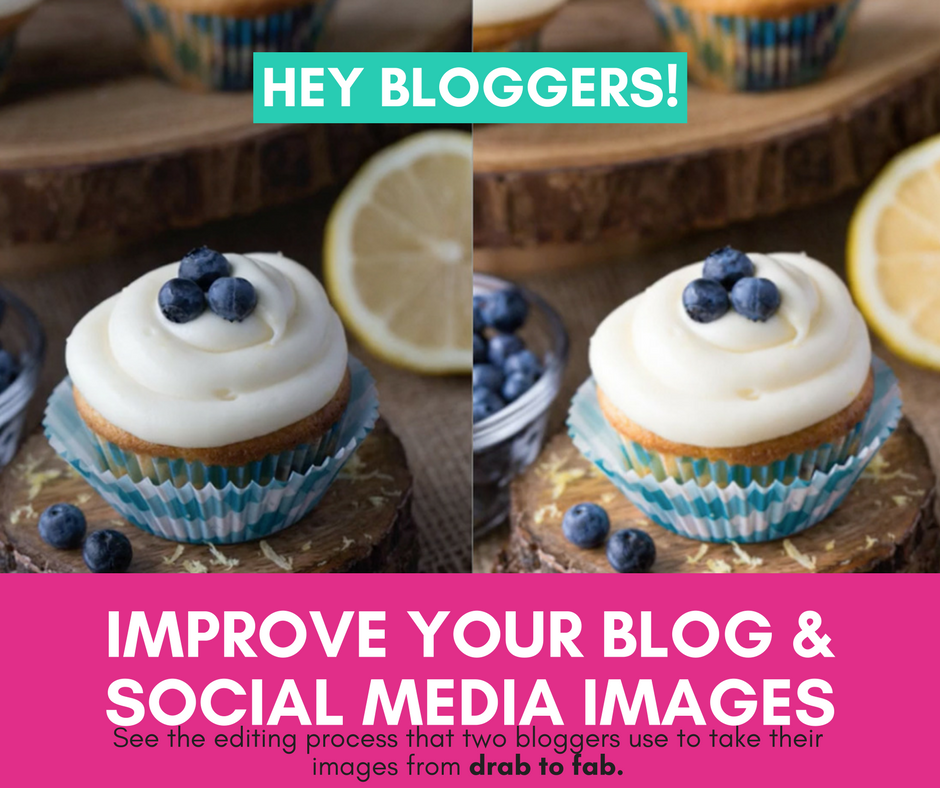 If you are interested in taking your photography to the next level you must go take their courses.
You can take either the Photoshop or Lightroom course for only $79 USD.
If you are like me and want to learn both so you can have the ability to edit in either program, they also have a special bundle offer for both courses for only $138 USD (a $20 savings).
Stay tuned, I will be sharing more tips on blogging soon. Some of the topics I will be covering are:
Affiliate marketing
How to write the perfect pitch
Amazing resources & tools for bloggers
5 investments for your blog that are worth it
… and so much more!
Do you have any photography tips you would like to share? Drop them in the comment section below!