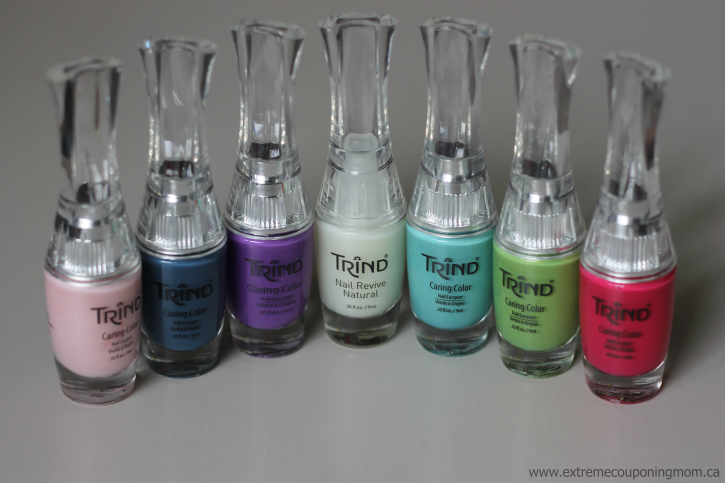 I've always been a major nail biter. I can recall as a young child my mother buying that awful tasting nail stuff to put on my nails in an attempt to get me to stop biting. Truth be told, I became used to the awful taste and after a while it became ineffective. It wasn't until I became pregnant with my first daughter that my nails began to grow extremely long, strong and beautiful. Now I don't know if it was the pregnancy or the fact that I really did my best not to bite, either way I was in love!
With having long nails comes the need to care for them. As a busy mom you can bet you won't find me in the nail salon often getting a manicure. Not only do I not have the time, I would just rather spend my money on my kids!
Thankfully for me, Trind has a wide selection of restorative products designed to restore our nails' natural balance of protein and moisture helping nails look their best at any stage. Everyday wear and tear can truly damage our nails. Not to mention, environmental factors, diet, age, toxins in the environment, and repeated use of gels and acrylics can all contribute to a damaged or brittle nail that chips and breaks easily. Trind has a full suite of salon-quality nail care products to suit all of your needs, whether it's repairing dry or damaged nails or giving you that "healthy tune up" to get your nails looking their best.
From your fingers to your toes, the Trind family of products can restore your nails to the perfect balance of strength, flexibility, and moisture. What better way to finish off all your hot summer looks than with beautiful, strong, and healthy nails?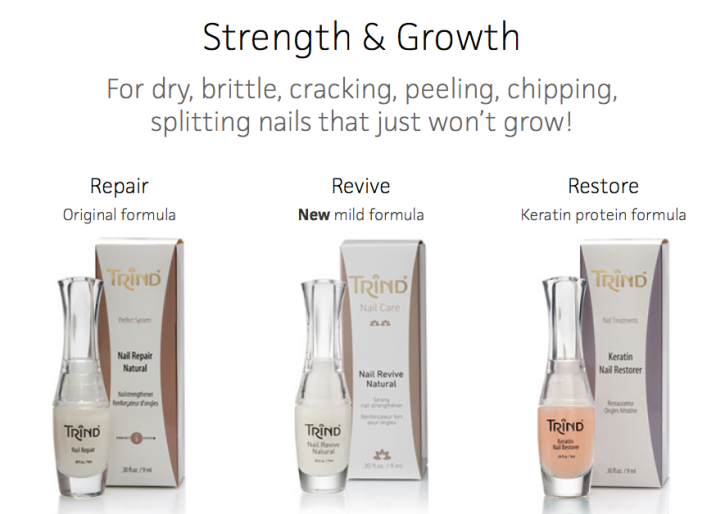 Trind Nail Repair
Trind Nail Repair is an incredibly effective nail strengthener with an "extra-strength" formulation. The Trind Nail Repair works by reinforcing the connections between protein molecules, creating a strong yet flexible nail. Using this product will help to repair damaged or weakened nails and bring them back to a healthy, beautiful balance.  It applies like a polish and dries with a glossy finish. In as little as two weeks you will begin to see visibly stronger and healthier nails! Combine it with the Trind Nail Balsam for the ultimate nail care..
Trind Nail Revive
Trind Nail Revive is a formaldehyde-free nail strengthener for those of us that find our nails weak and brittle. This unique formula works to strengthen nails while maintaining flexibility so they don't split or chip.  That has to be one of my biggest pet-peeves of having long nails, one splits or breaks and then it is either live with one short nail or chop them all off! The Nail Revive is applied to the nails just like regular nail polish. Combining it with the Trind Nail Balsam will give your nails the ultimate care!
Trind Keratin Nail Restorer
Trind's Keratin Nail Restorer is an extra-mild moisturizing and strengthening treatment which was formulated specifically for those with weak or damaged nails who are looking for a gentler solution. It rebuilds brittle and fragile nails, and repairs damage due to repeat use of gels, acrylics, artificial nails or exposure to solvents or environmental toxins. The special formulation of this balsam contains a high concentration of the protein Keratin, which restores and strengthens the structure of the nail. Special hydration properties keep nails flexible helping to prevent chipping so the nails can continue to grow. It's ideal for sensitive nails damaged after using artificial nails. Boost your results with the Trind Nail Protector, which adds a layer of protection and acts as the perfect basecoat for Caring Colors polish.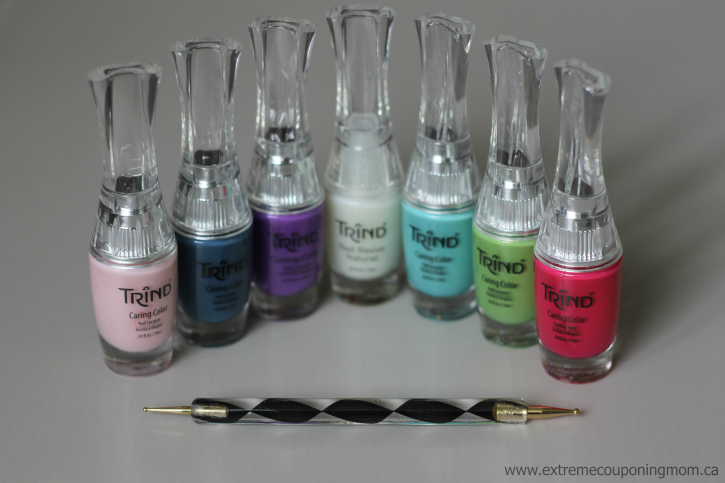 Pale Pink, Cadet Blue, Purple Sunset, Nail Revive, Mint Julep, Appletini, Miss O'Hara
I am loving the Trind products and have noticed a real improvement in my nails since using it. Trind's Caring Color Polishes are specially formulated to strengthen and improve the overall condition of your nails. You can build a better nail while still creating a beautiful manicure. Use the Caring Colors with Trind's treatment products for a powerful combination that will give you the nails you've always dreamed of! I am excited to keep my long beautiful nails healthy and give them a great summer inspired look with all the fabulous Caring Color Polishes I have to choose from.
Special Coupon Code
Trind is providing a special discount offer for our readers! Get 2 Caring Colors for the price of 1 by using the coupon code CARING2FOR1 at checkout. Valid until September 30, 2015.
Connect with Trind on Facebook, Twitter and Pinterest
Win a Trind Summer Nails Prize Pack!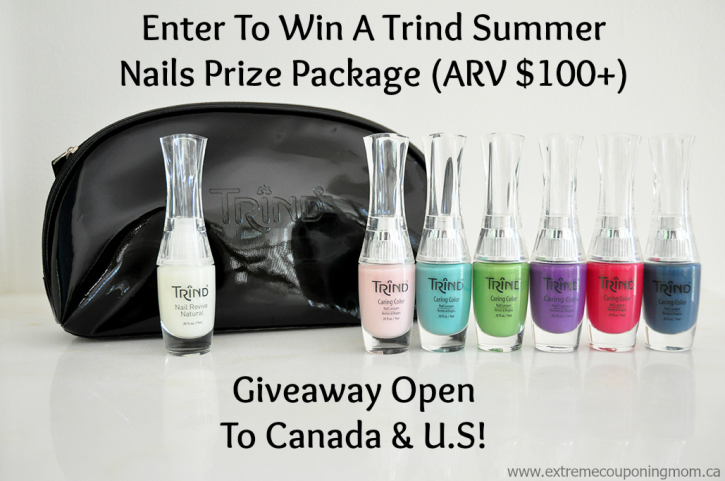 Trind has offered a special giveaway for my readers! One of you will win this amazing Trind Summer Nails Prize Package which includs the Trind Nail Revive, 6 Trind Caring Color polishes and a beautiful black cosmetic bag to keep all your Trind Nail Care products in! This prize is worth over $100!
To enter the giveaway please complete the mandatory entry option(s) on the giveaway widget below. Once you complete the mandatory option(s) you will be given a list of additional entry options to increase your number of entries for a better chance at winning. Some entries can be complete once per day so remember to return daily to get even more entries into the draw!

This giveaway is open to residents of Canada and the US, 18+. For complete giveaway rules see the giveaway widget below. All entries will be verified.
Disclosure: Although this post has been sponsored by Trind, the opinions and language are all my own, and in no way do they reflect Trind. Any product claim, statistic, quote or other representation about a product or service should be verified with the manufacturer, company, provider or party in question.