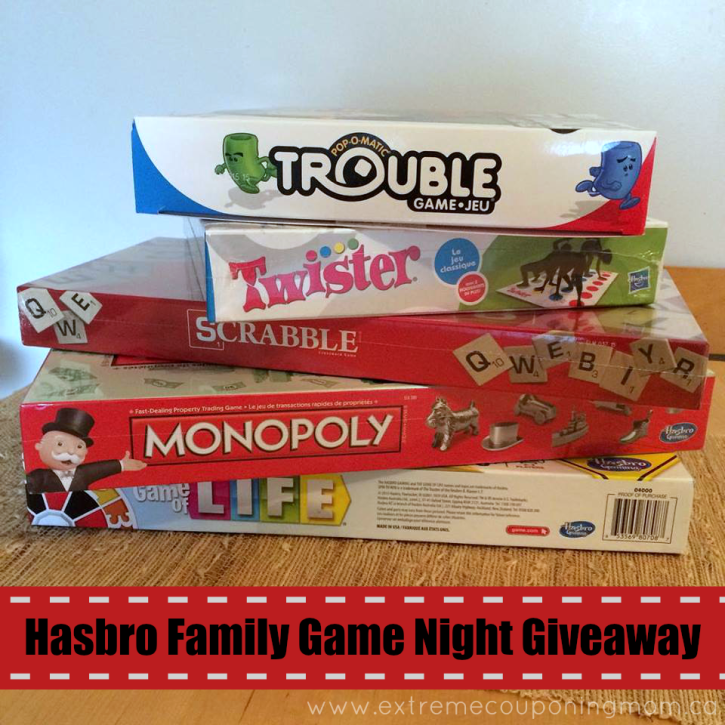 Do you have a Family Game Night tradition?
For as long as I can remember my family has always had a Family Game Night. Growing up it was normally held on a Sunday night after we ate dinner. Over the years, as we grew older, our significant others would join in for dinner and some competitive gaming! Hasbro games were a huge part of our family game nights. From Monopoly to The Game of Life, Trouble to Scrabble we played them all, over and over again. As we grew older and moved away from home we still would venture back on Sundays for our traditional family dinner and game night.
Eventually I started a family and started my own traditions of a Family Game Night. Not as often as I would like, life with kids is hectic, but I am working on implementing a Sunday family game night for my girls like I had growing up!
Thanks to Hasbro, implementing Family Game Night in our home will be much easier with the amazing package they sent us to help encourage us to gather and play!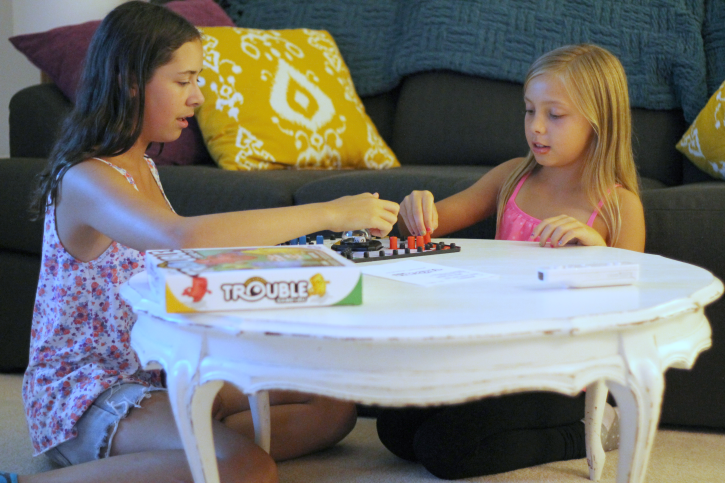 I caught a candid moment the last night when I walked into my living room to see my daughters, Abby and Hailee, playing a game of Trouble. There was no arguing, no bickering, just two sisters having fun – something this mom loves to see! I grabbed my camera to capture the moment and watched them play. It brought back memories of my sister and I playing games for hours on rainy days, a smile grew upon my face!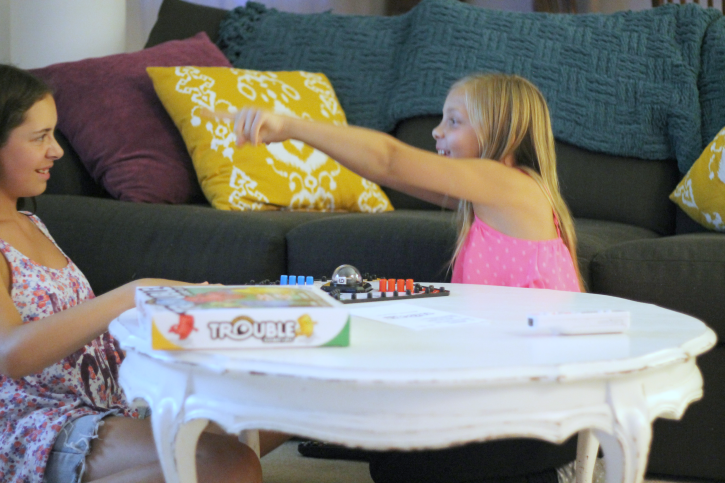 There is my competitive kid, Hailee, just like her mom! She won the game and gave her best 'I BEAT YOU' victory celebration!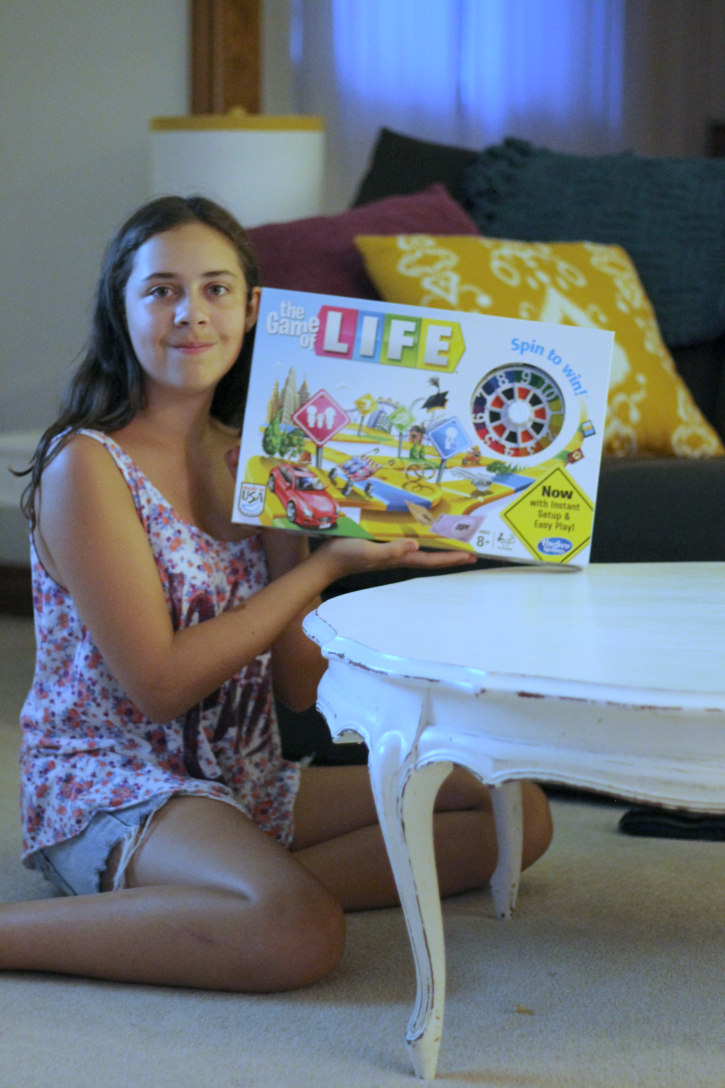 The girls then noticed me creeping in the shadows and asked if we could play The Game of Life. Who was I to say no? Little did they know this was MY game, I have been playing this game for a very long time and I was about to show them how competitive their momma was!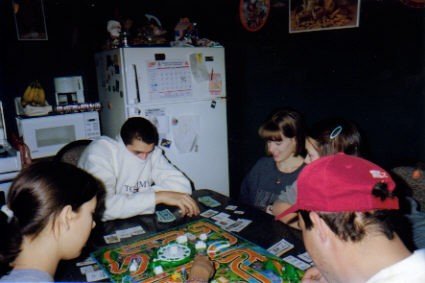 The above picture is my family and I during our traditional Family Game Night playing The Game of Life! These kids had no idea what they were in for!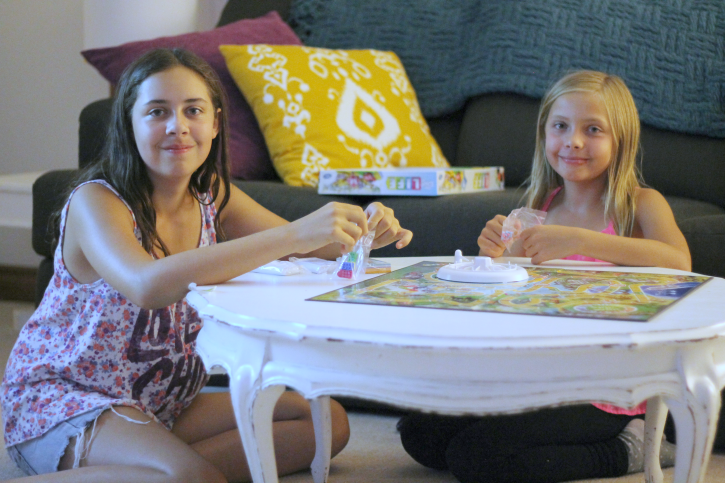 The girls set up the game and I came over to read the rules to them and explain how to play. GAME ON! We played, we all chose the college path and graduated landing some pretty sweet paying jobs. Hailee and I both got fired, her for sleeping on the job and I apparently brought Reggie, our cat to work! Thankfully we landed some equally great jobs quickly! Hailee and Abby chose to take the family path, Hailee who happened to already land on twins before reaching there wanted more babies I suppose. I chose to take the life path and forego having a family. Although a few spots on the board with surprise babies, I managed to steer clear of a family other than my husband! Hailee retired first gaining her a bonus 400k, I retired second gaining 300k and Abby last gaining 200k. Over the course of the game we bought homes and I landed on so many Action cards due to constantly spinning low numbers we were competing on table drum solos, ballet moves and more! Thankfully due to those low spins and numerous Action cards that net you 100k per card at the end of the game, I won! Abby came in second and Hailee who had 6 children and needed a second car came in last.
The funniest moment of the game had to be when Hailee landed on triplets after already having 3 children. She needed another car so she put her husband in that car and as she went to put her children in she looked up and said "babies can't go in the front seat mom". We all curled over laughing, such a smart kiddo!
HASBRO FAMILY GAME NIGHT SAVINGS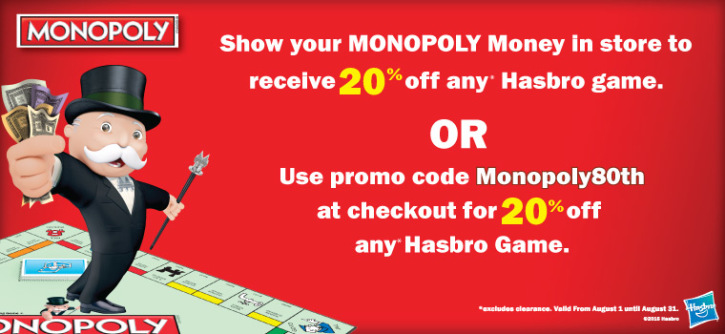 Hasbro wants you to get your Family Game Night on! When you bring in your Monopoly money to Toys R you will receive 20% off the purchase price of Hasbro board games until August 31, 2015. You can also shop online at Toys R Us using code Monopoly80th to receive 20% off your purchase of any Hasbro game excluding clearance!
Stay up-to-date with Hasbro and follow them on Facebook, Twitter and Instagram.
HASBRO FAMILY GAME NIGHT PACKAGE GIVEAWAY
Hasbro is offering my readers the chance to win an amazing Family Game Night prize pack valued at over $100! The Family Game Night prize package includes the following:
Monopoly (ARV $19.99)
Twister (ARV $19.99)
The Game of Life (ARV $24.99)
Scrabble (ARV $19.99)
Trouble (ARV $16.99)
To enter the giveaway please complete the mandatory entry option(s) on the giveaway widget below. Once you complete the mandatory option(s) you will be given a list of additional entry options to increase your number of entries for a better chance at winning. Some entries can be complete once per day so remember to return daily to get even more entries into the draw!

This giveaway is open to Canadian residents only (excluding Quebec, sorry). For complete giveaway rules see the giveaway widget below.
Disclosure: Although this post has been sponsored by Hasbro, the opinions and language are all my own, and in no way do they reflect Hasbro. Any product claim, statistic, quote or other representation about a product or service should be verified with the manufacturer, company, provider or party in question.