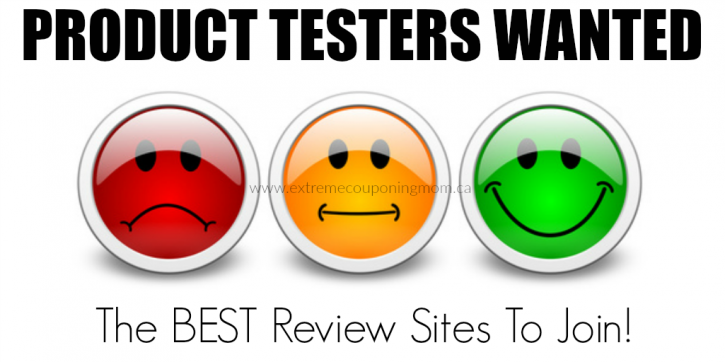 Over the years I have been a part of some amazing review sites that have allowed me to try out so many products for free in exchange for my open and honest opinion on that product. I have loved many products, liked a lot, and disliked a few. Some just didn't mesh well with me whether it was a beauty product that I didn't quite love the colour but the product itself was awesome or a food item that I just didn't personally enjoy that particular flavour however love the product just in another kind.
Companies are constantly looking for people who love to try new things and love to share their thoughts to review their products to let other potential customers know what you think. They are looking for honest opinions, they are not wanting you to say you love it if you don't so let them know why it wasn't for you and give them suggestions on improvements if any can be made.
The BEST Product Review Sites To Join!

BzzAgent is the very first review site I ever joined, I have been a member since 2006 –> yup TEN YEARS! I have to say over the years I have not had as many campaigns as I would have liked but they have had some amazing ones over the years that I have been very lucky to have been chosen for. Make sure to login weekly and fill out any surveys to keep your profile up-to-date which will help keep you on the top of the list for any campaigns you may qualify for.

Chick Advisor's product review club is the second review site I joined. I have loved being a member of Chick Advisor and over the years have had the chance to review some amazing products and attend some pretty kick-ass events! If you are not a member I highly suggest joining – the staff at Chick Advisor are some of the sweetest people I have had the pleasure of meeting online and off!

Crowdsocial is a somewhat new product testing and reviewing network. I have been a crowdsocial member since they launched and have done many quick review opps with them. The BEST part of crowdsocial and something that sets them apart from other review sites is you EARN money for reviewing or participating in campaigns. Some campaigns are a simple tweet where you will earn a $25 Visa card and others you review a product, tweet and earn a $25 Visa card.

Review Squad used to be part of Divine.ca however they gave the Review Squad it's own site so it could better stand out online. I actually just realized I needed to resign up as our accounts from the old site were not forwarded to the new site. So if you were a member of the Divine.ca Review Squad you are going to want to re-join over on the new site and fill out all your info so you are eligible for any upcoming opportunities!

PTPA is another long time fave of mine. I have loved being a tester and over the years as a member my family has had the chance to test out some great products. I love that the products they offer to have tested are all family friendly products. My kids love to join in on the testing fun and if yours do to this is definitely one review site you want to join!

I have been a member of influenster for a few years, since 2012 I think, and have had two campaigns, one fairly soon after I joined and one I am currently waiting on. There have been some amazing campaigns from influenster as I have seen many of my friends reviewing some awesome stuff so if you have time to spare this may be a great site for you as I feel they offer those who are really active on there more opportunities. I personally don't have a lot of time to play around on sites so I generally go for the ones that I can fill out my profile and if something is a fit they email me with a chance to sign up to be chosen.

Brand Power's Home Tester Club has been around for a few years and although I have been a member from it's launch I have yet to get in on any campaigns. I have applied for a bunch but have never been picked. I do know many who have so it is a great site to be a member of I am just not sure if like influenster you need to be a super active member – something I don't have much time for.

Social Nature is fairly new and I haven't really done much besides signing up. They promote products that care for the planet, respect animal rights, benefit the community and promote wellness. So if that is something you are into definitely sign up and cross your fingers for some good review opportunities with them!

Shopper Army is another great product testing site to join. Shopper Army was created by BrandSpark International and I have been a member since I learned about it but have yet to get any "MISSIONS" which is what they call their review opportunities. They have a Facebook group they want you to join but again I have had my request sitting unanswered since I joined and requested into the Facebook Group so not sure if anyone is managing it or not?
Which of the above is your fave review site and what has been the best review opportunity you have received? Let me know in the comments below!