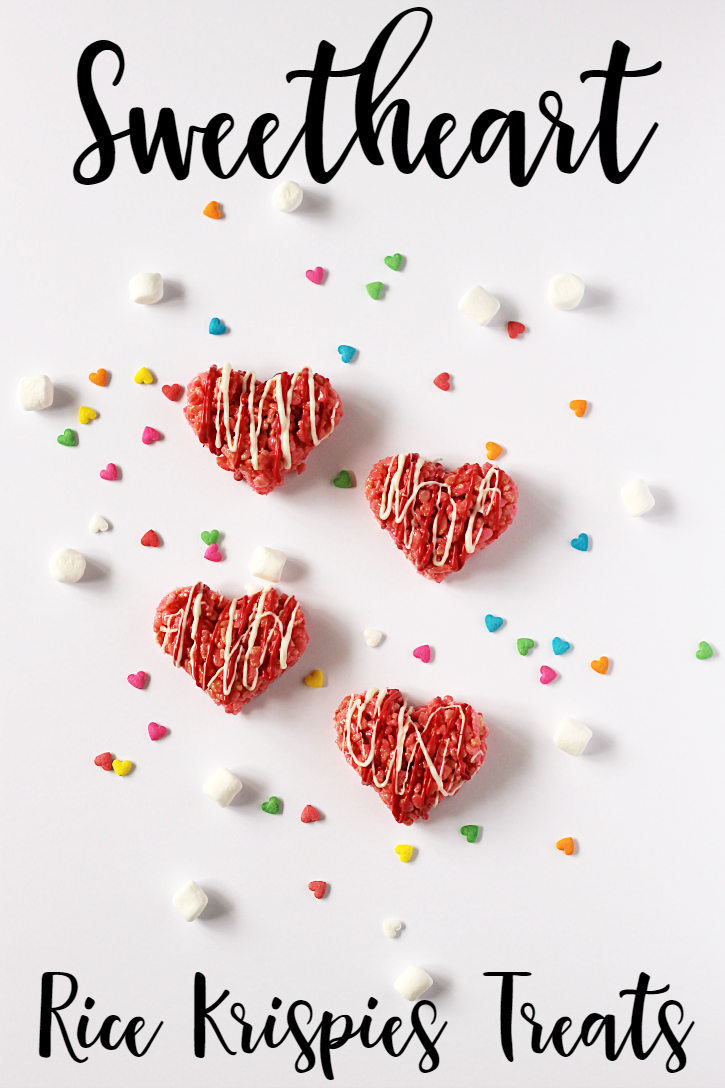 Valentine's Day is supposed to be a happy holiday filled with the ones you love.
This Valentine's Day I will be away in Mexico and I won't be home to celebrate with my kids.
I always love getting them a small present. Usually, it is something dorky and uber mushy, a card and some yummy treats – like these Sweetheart Rice Krispies treats.
Since I will be away, I went out and bought their gifts so that my mother can give those to the kids on Valentine's Day.
They leave for a long weekend with their dad, he is taking them skiing, and they won't arrive home until Tuesday evening which is after our departure.
Feeling a bit heavy-hearted I went ahead and made some delicious treats for them today, a little pre-celebration if we must.
So cue in mushy, emotional mom, sneaking this delicious Sweetheart Rice Krispies Treats into their luggage so when they get to their dad's house they will find them.
Sweetheart Rice Krispies Treats
These sweet treats are easy to make with the kids and they will also enjoy devouring them!
Sweetheart Rice Krispies Treats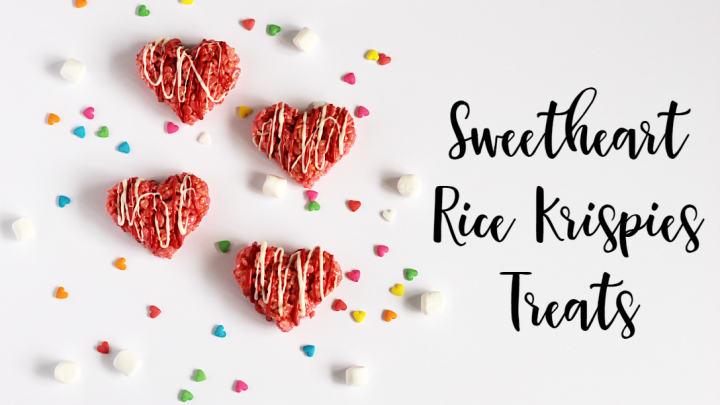 Looking for a fun treat to make for the kids this Valentine's Day? Why not make these super easy, fast and tasty Sweetheart Rice Krispies Treats.

Cook Time 5 minutes

Additional Time 10 minutes

Total Time 15 minutes
Ingredients
3 tbsp butter or margarine
4 cups mini marshmallows
4 cups Rice Krispies
pink food colouring
chocolate wafers for decorating
Instructions
Place your 3 tbsp of butter or margarine in a microwave safe bowl and melt. Once melted, using a spatula coat the sides of your bowl.
Place your 4 cups of mini marshmallows in your dish and melt them in the microwave. Do this in 30 second intervals, stirring each time until melted.
Add your food colouring to the melted marshmallow mixture until you get the colour you desire.
Next add in your Rice Krispies and fold until fully mixed.
Pour your mixture onto your greased pan and level it out, then using your heart-shaped cutter cut out your shapes and place them onto a piece of parchment paper.
Place your hearts into the fridge to firm up.
Place your chocolate wafers in a microwave safe dish and using 30 second intervals melt it.
Once melted, transfer into a plastic bag, snip off the tip and decorate the tops of your hearts.
Stuck on what to send to school as a sweet treat for your children's classmates? Why not make these fun Butterfly Valentine's Day Treat Bag DIY!
How do you celebrate Valentine's Day in your home? Let me know in the comment section below!