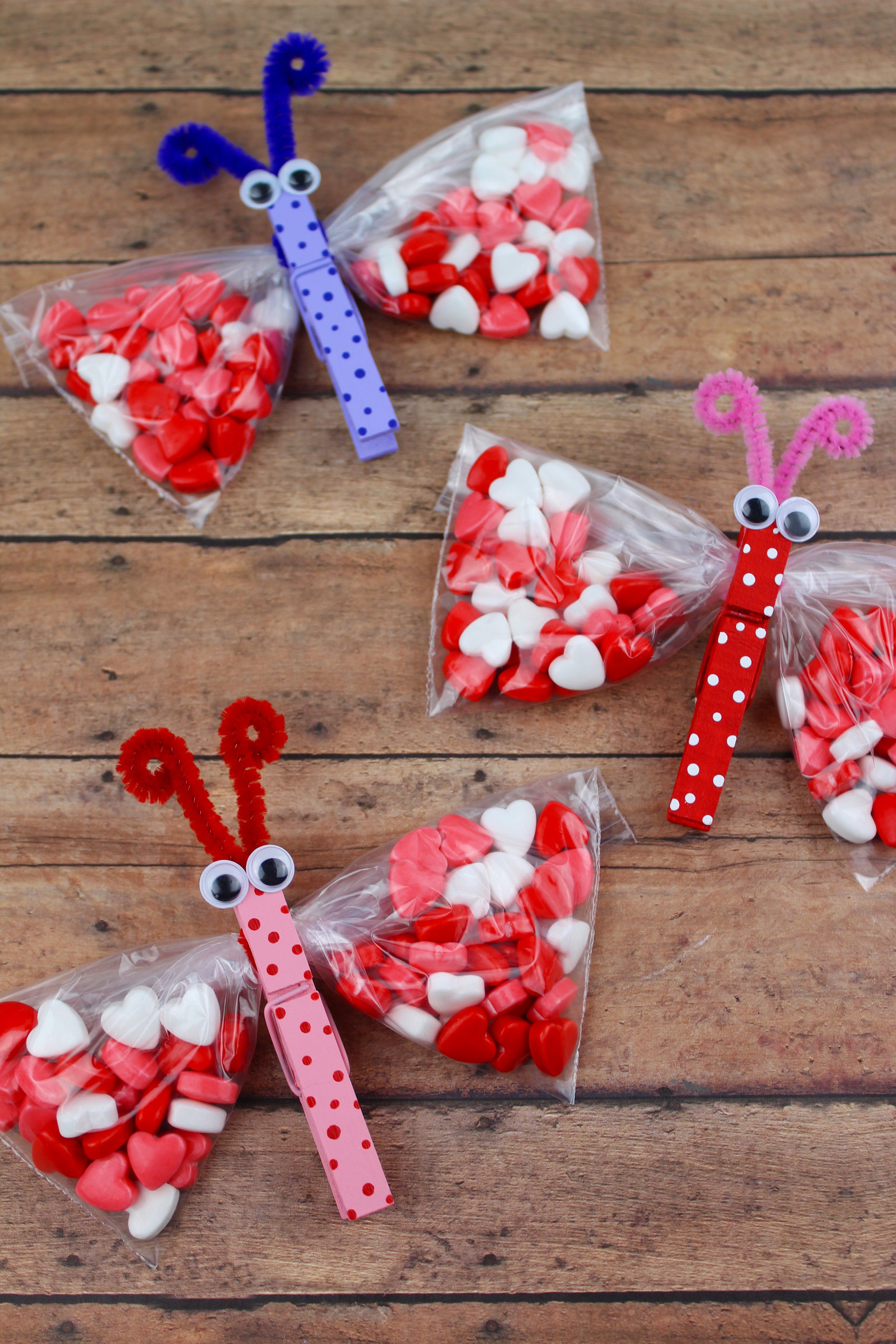 How cute are these Valentine's Day Treat Bags?
It always happens that I am on vacation during Valentine's Day.
We always pick super early flights so we can enjoy the first full day of our vacation, and so we are not homeless, aka without a room, all day on our last day.
I definitely prefer to wake up on the last day, have breakfast, grab our bags and shortly after checkout leave for the airport.
Since I am always away on Valentine's Day I have to prepare ahead of time for the girls.
I make sure to write out all their cards and make little gifts for their friends the week before.
This way my mom doesn't have to worry about that while she is watching the girls.
This is Bella's first year in school and I am excited to send some fun gifts for her class.
She is also so excited to help make her friends something special and wear her special Valentine's Day sunglasses to school.
Butterfly Valentine's Day Treat Bags
Some schools have policies on what you can and cannot send. For us, it is mainly to ensure that anything sent is peanut and nut free.
There are some schools and teachers who prefer parents don't send candy period.
If that is the case you can still do this craft, just substitute the candy for some homemade play-dough on one side and maybe some stickers or little trinkets like stamps, erasers, etc on the other!
Either way, these Butterfly Valentine's Day Treat Bags are super cute and the kids will enjoy helping to make them.
Follow along below with the step-by-step process and then find the printable instructions and supply list below!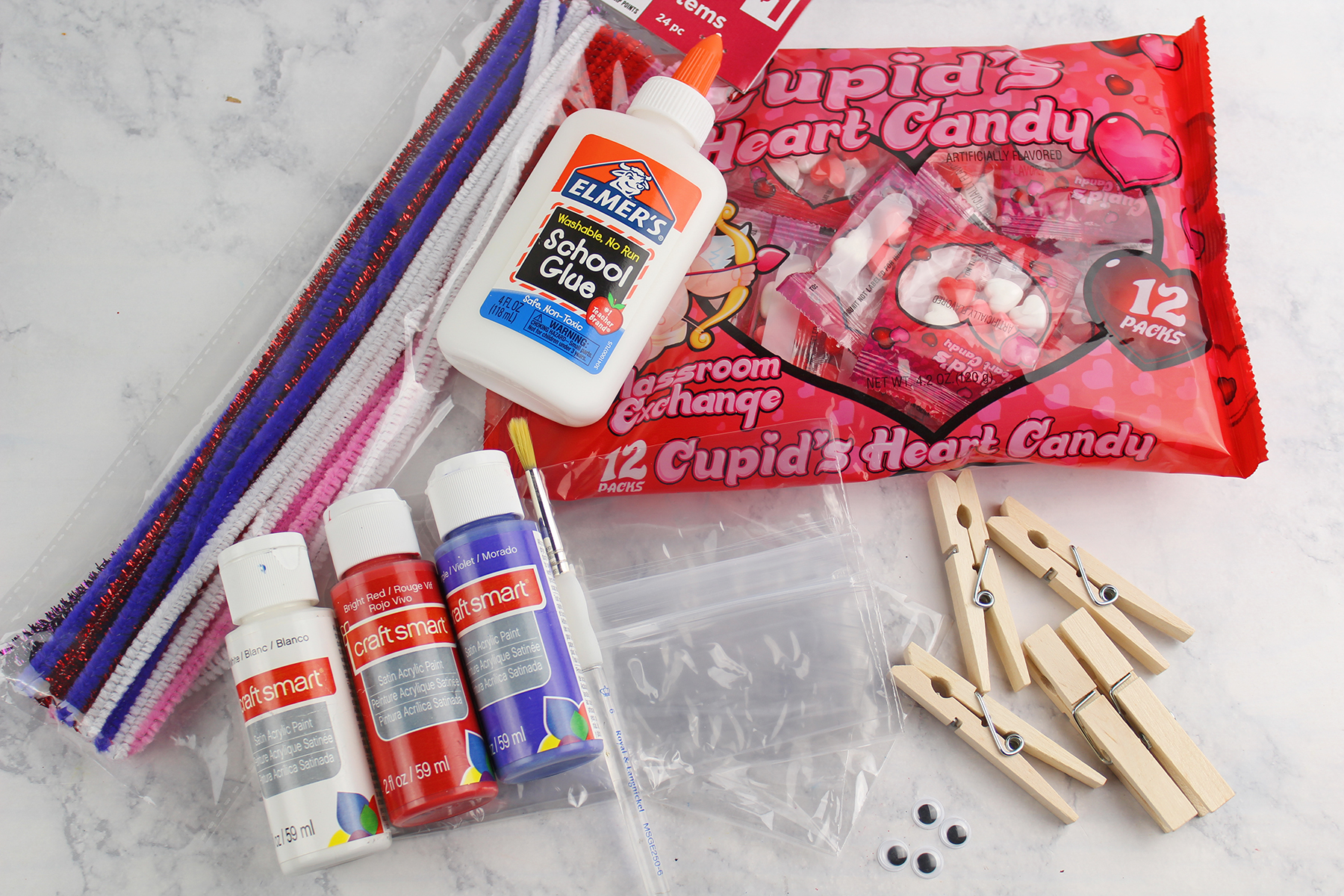 Get all your supplies needed for your craft.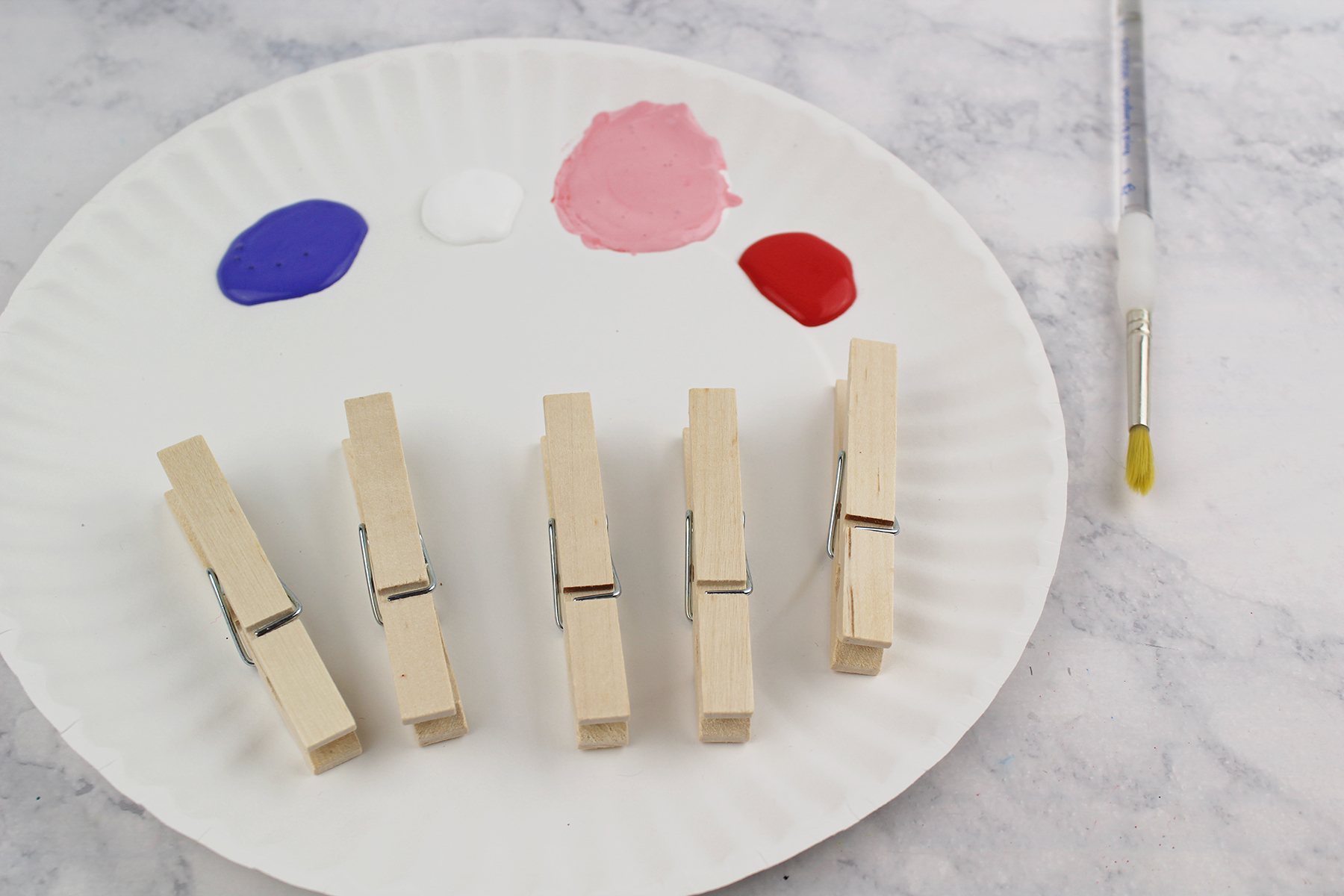 Squeeze some paint on to a paper plate and paint your clothespins.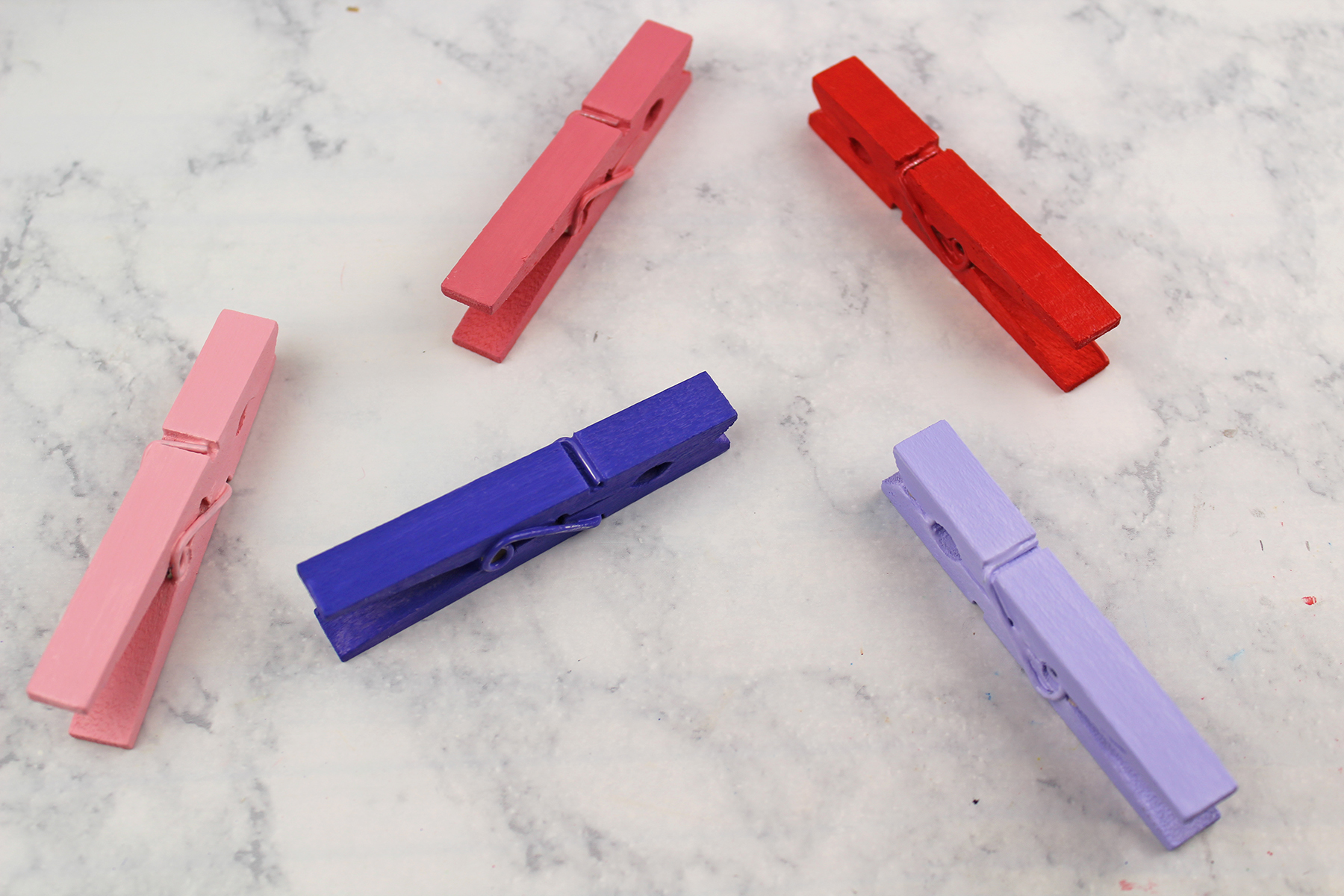 Once painted let them dry fully.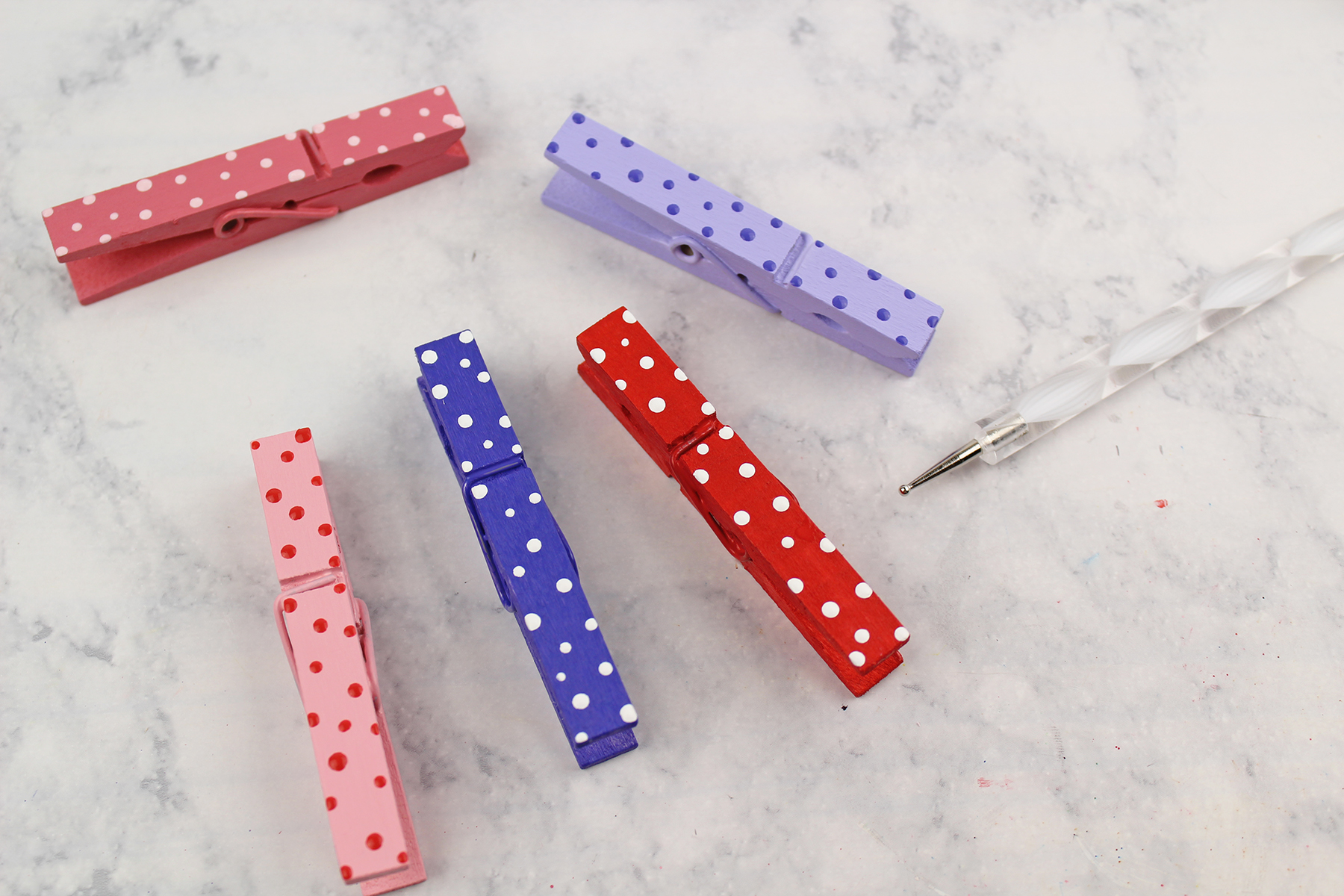 Once dry use a stylus tool to paint dots on your clothespins and let dry.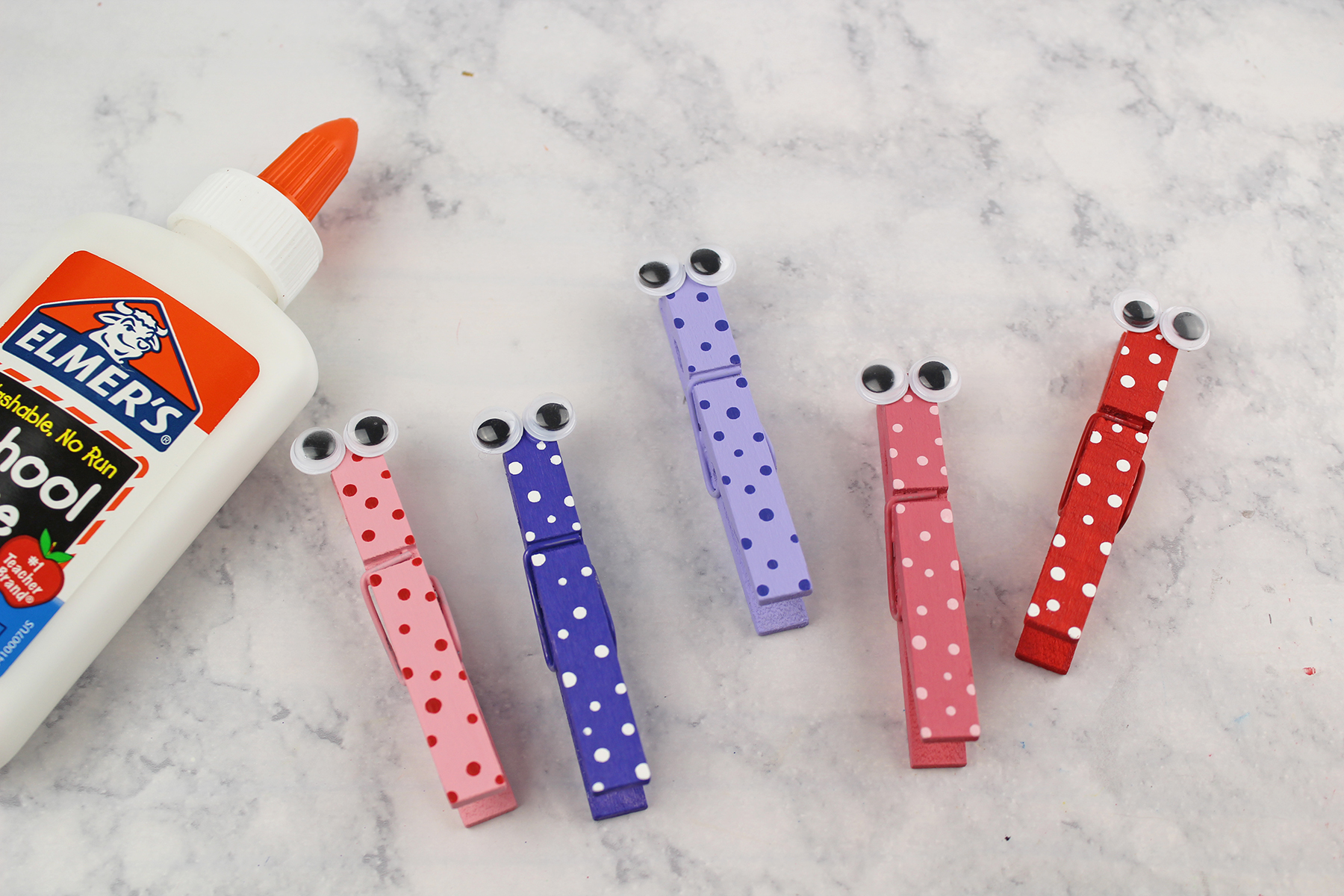 Glue on eyes to your clothespins on the end that opens and let dry.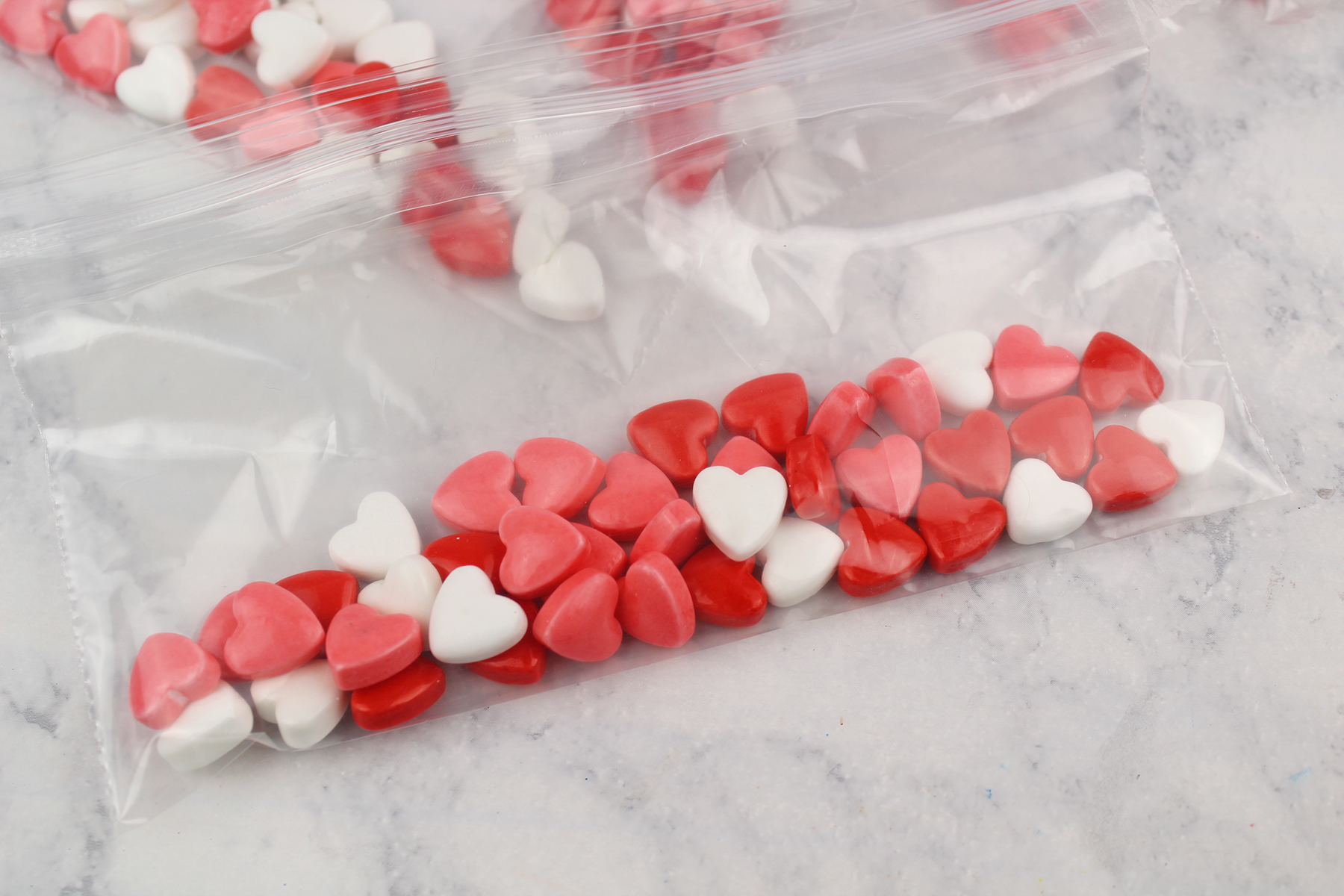 Put the treats into snack size bags.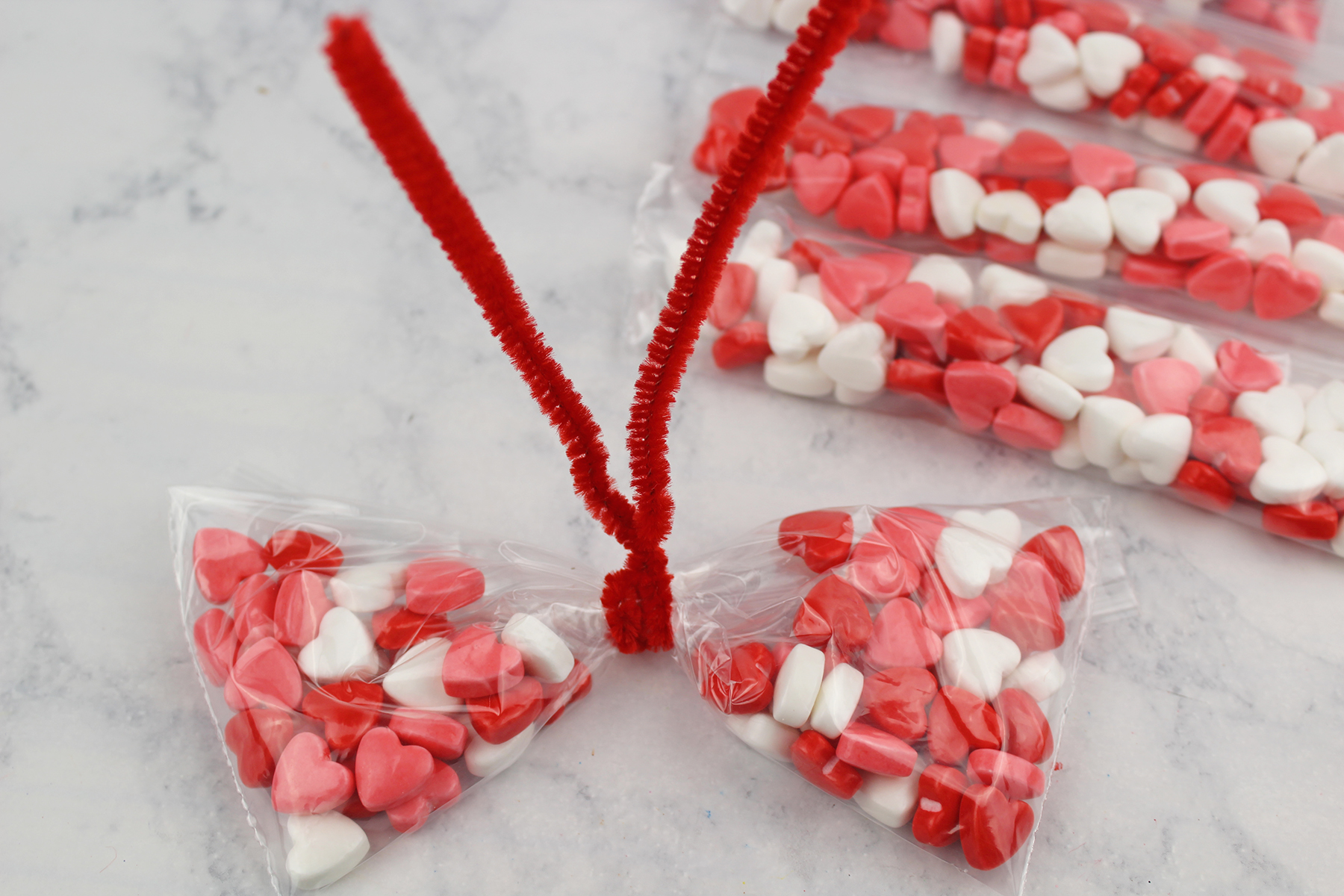 Divide the content by pushing them to either side.
Next, wrap a pipe cleaner around the bag a few times to keep it from coming undone.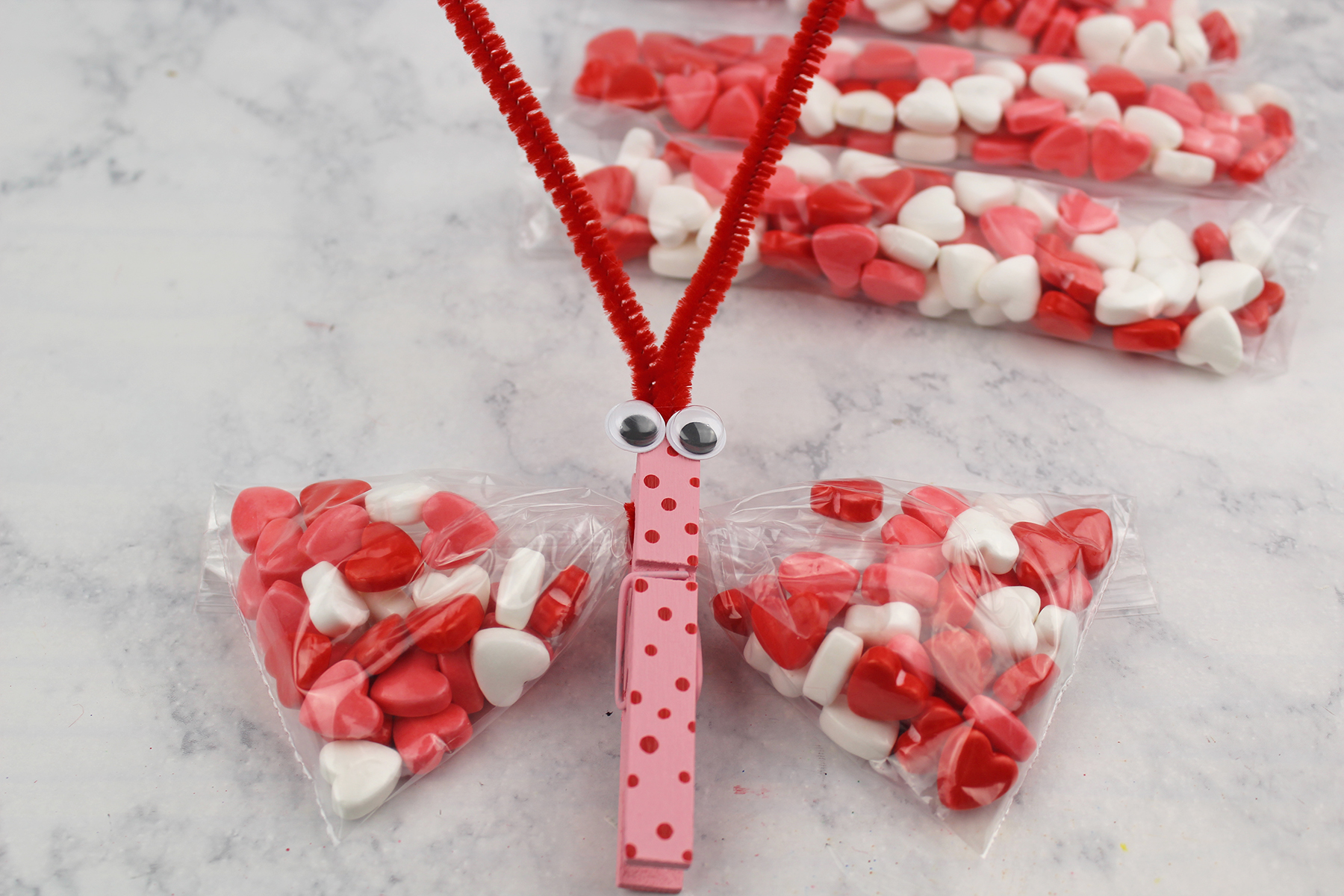 Clip the clothespin into the middle of the bag.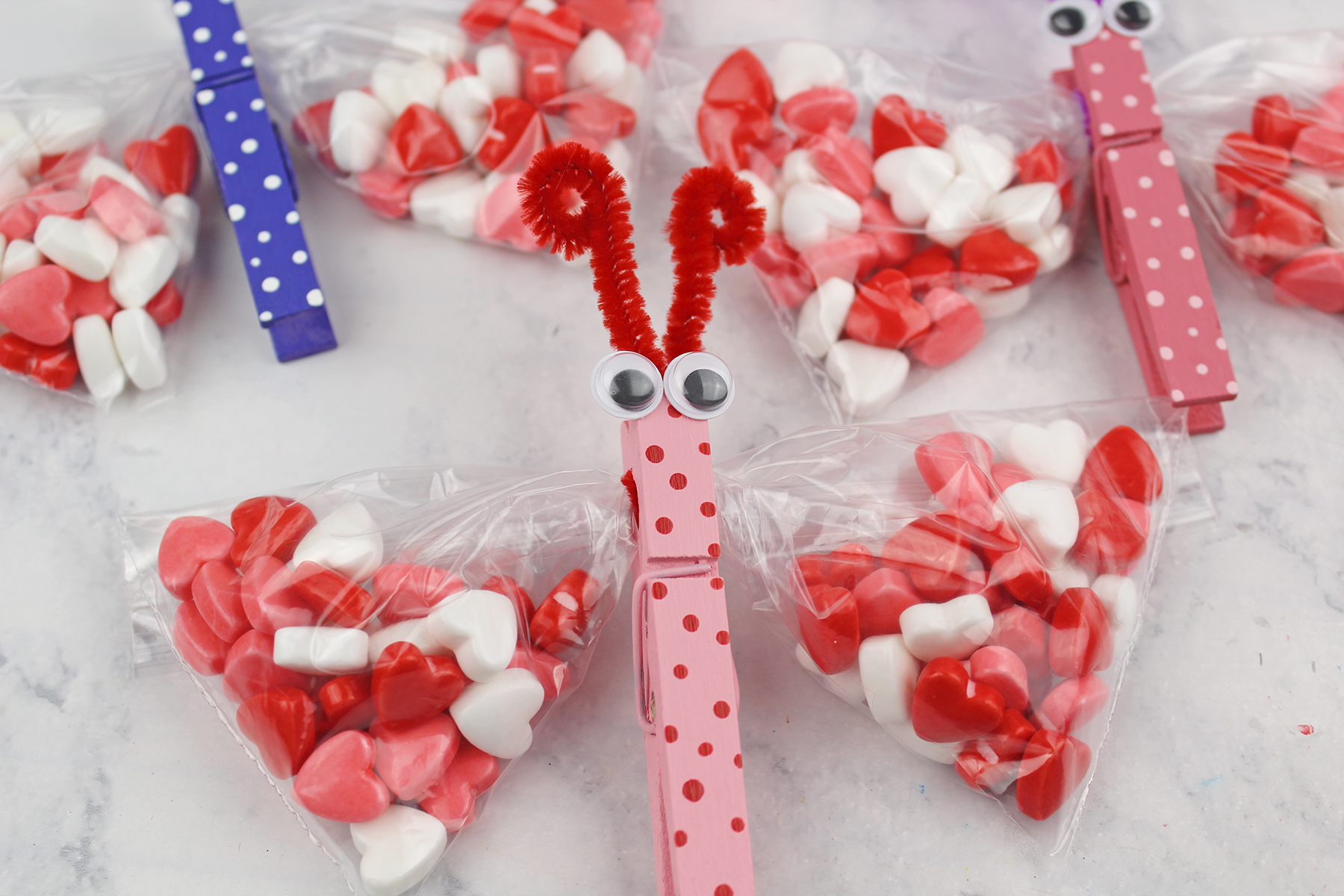 Repeat those steps until all your bags are done.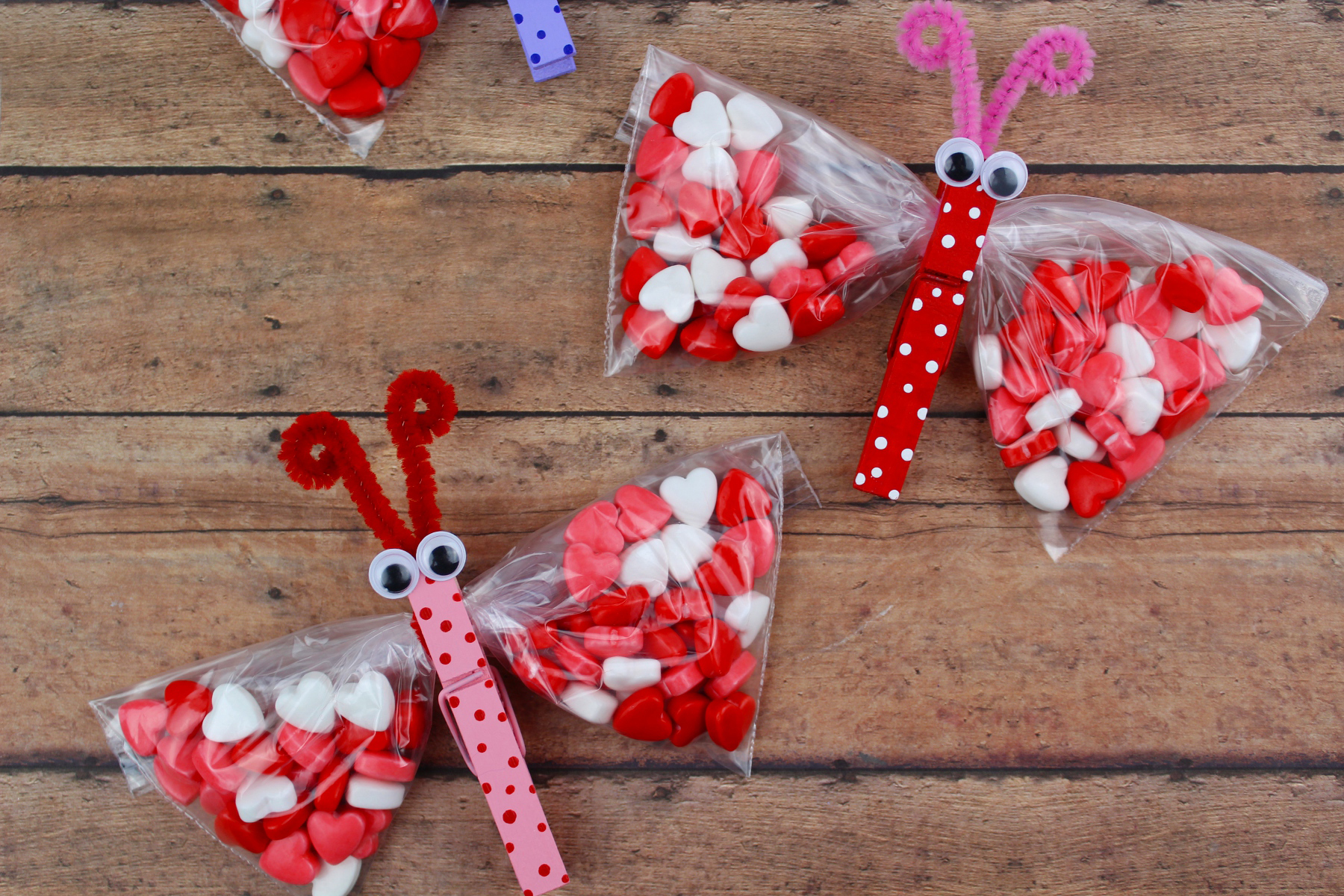 Your craft is ready to be taken to school or daycare by your little one and gifted to their friends.
Butterfly Valentine's Day Treat Bags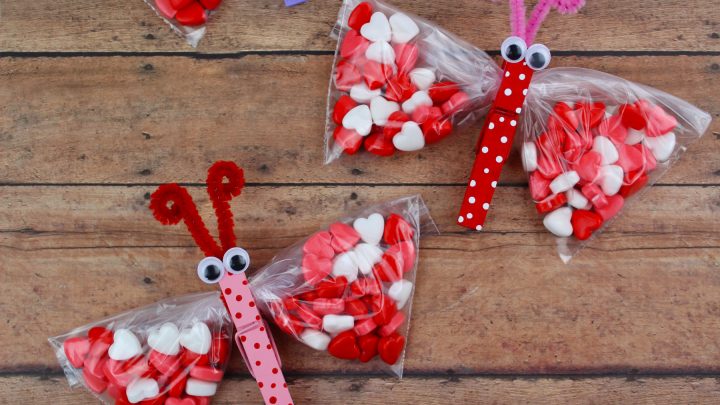 Whether you fill these Butterfly Valentine's Day Treat Bags with candy, play-dough, stamps, erasers, or other items, kids love to help make and receive them!

Prep Time 10 minutes

Active Time 10 minutes

Total Time 20 minutes

Difficulty Easy
Materials
Pipe Cleaners
Clothespins
Googly Eyes
Paint
Paintbrush
Glue
Heart Candy
Instructions
Paint the clothespins shades of red, pink and purple. Allow paint to dry completely.
Use a stylus tool, paintbrush, toothpick etc to add polka dots onto the clothespins with complementing colors of paint. Allow to dry completely.
Glue googly eyes onto the top of the clothespin. (the end that opens) Allow the glue to dry completely.
While the glue dries, fill snack sized Ziploc bags with candy hearts or other candy treats.
Split the contents of the bag into two by pushing even amounts to each side of the bag.
Wrap a pipe cleaner evenly around the middle of the bag. Twist a few times to keep it from coming undone.
Clip the clothespin onto the middle of the snack bag. It fits nicely on top of the twisted pipe cleaner.
Trim your pipe cleaners and then twist into a swirl to form the butterfly's antennae.
Your butterfly snack treat bags are finished and ready to be enjoyed!
Notes
You can also swap out a sugary treat for a more healthy option if you choose!

Check out these Sweetheart Rice Krispies Treats too, they are super easy and yummy. The perfect special snack for their lunchbox on Valentine's Day!