Spring Bucket List For Toddlers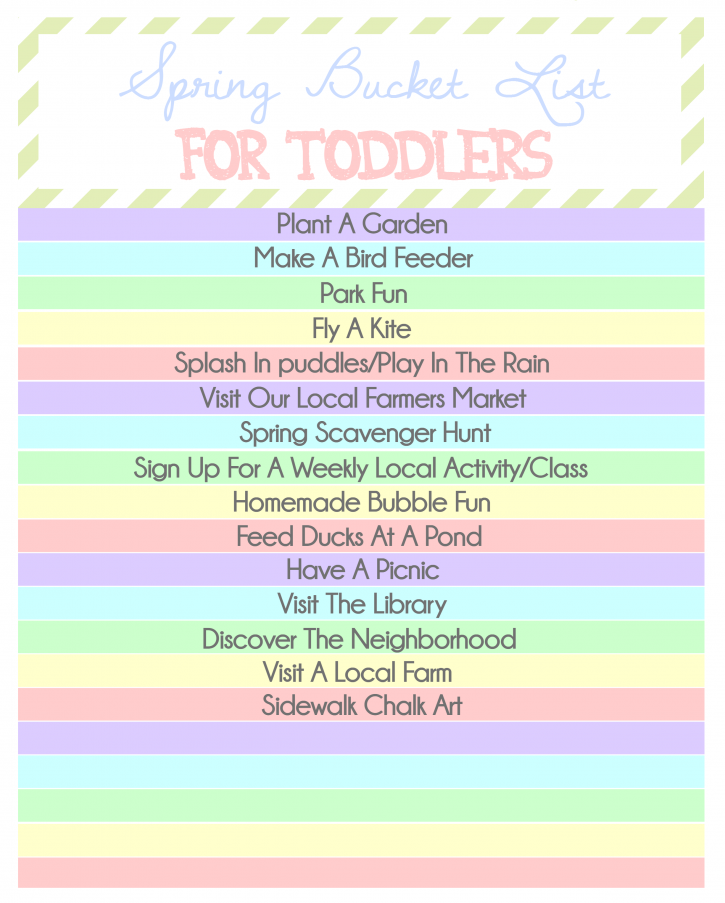 Spring is coming, I promise. If you live in Ontario, or some other parts of Canada, Mother Nature seems to have bumped back on the winter switch. I am sure it was completely an accident and she will be fixing the dire situation real soon. Well, she better have, if I have to wake up to one more morning of my lawn covered in snow I may just consider uprooting my family to warmer climates.
Last spring Bella was still a cautious 1 year old who wasn't walking unassisted and she hated grass. She didn't like getting her hands dirty either. She did however love long walks and the park so most of our days we ventured out consisted of those two activities.
This year, I am so excited that she is walking and able to participate in lots of activities. She doesn't hate the world as much which opens the doors to even more fun.
I am so happy to share with you today the Spring Bucket List For Toddlers I created. It is a list of things I would like to do with Bella once the weather warms up a touch. I thought it would be a great list to share with y'all so if you have a toddler running wild in your home you can get out and have some fun that will hopefully tire them out.
Spring Bucket List For Toddlers
Planting A Garden

Make A Bird Feeder

Park Fun

Fly A Kite

Splash In Puddles/Play In The Rain

Visit Our Local Farmers Market

Sign Up For A Weekly Local Activity/Class

Feed Ducks At A Pond

Visit The Library

Discover The Neighborhood

Visit A Local Farm

Sidewalk Chalk
I hope to be able to complete all these awesome adventures with Bella and look forward to updating you on how we did when I bring you my Summer Bucket List For Toddlers in a few months.
You can follow along and join in on the amazing fun Spring Bucket List For Toddlers adventures by using the hashtag #ECMSpringBucketList on social media. I can't wait to see everyone getting outside and enjoying time with our littles before they grow up on us!
I have created a beautiful Spring Bucket List For Toddlers FREE Printable that you can print out and check off each fun adventure you have this spring with your little one(s). I also added in 5 blank spaces for you to add some of your own fun adventures for your toddler, be creative & have fun!
Spring Bucket List For Toddlers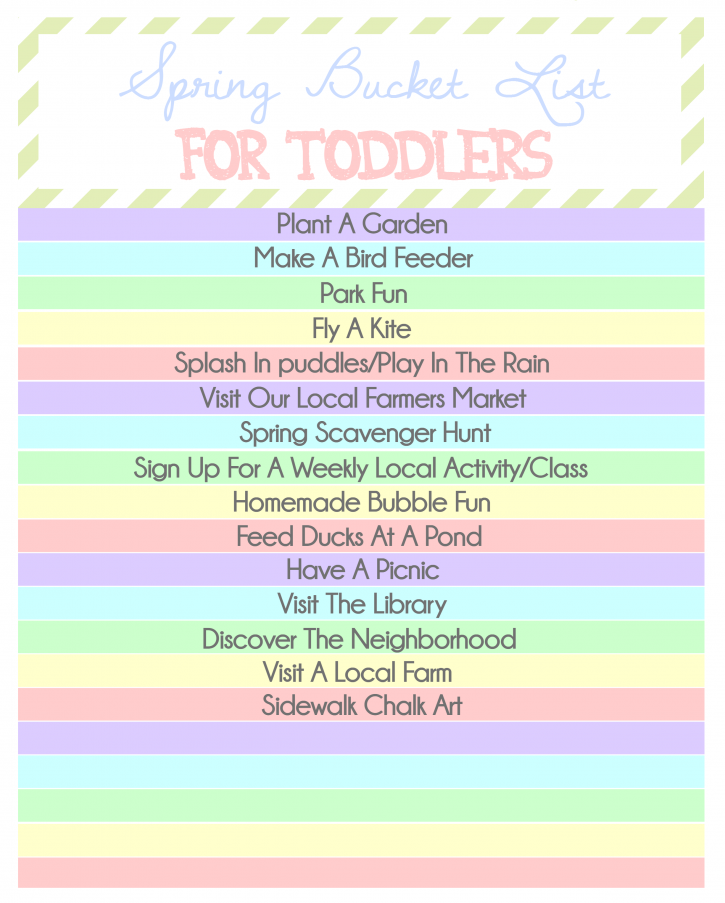 Click Here To Download The Spring Bucket List For Toddlers FREE Printable
Which Spring Bucket List For Toddlers activity from my list are you most excited about doing with your toddler?