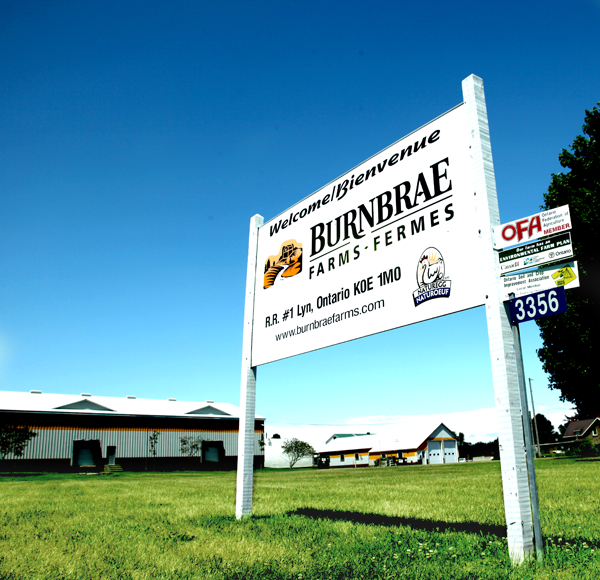 If you remember just a little over two weeks ago I told you about how EGGcited I was to be a part of an amazing group of bloggers heading to the lovely Burnbrae Farms in Lyn, Ontario to learn all about eggs, the different housing units for hens and much more during an exclusive blogger tour!
Well on Monday June 9, 2014 I was picked up by the lovely Sue Hudson to embark on the adventure. We met up with the other bloggers in Mississauga as some had flown in from other places to attend the blogger tour. I was so excited to meet all the other bloggers, but especially my two fav ladies Julie from Sober Julie and Stacey from This Lil Piglet. I have worked with both these ladies on a few occasions in the past and it was finally nice to meet these lovely ladies in person! We sat down for a quick breakfast at the hotel before heading to the Burnbrae Farms office in Mississauga to catch our PARTY bus to the farm.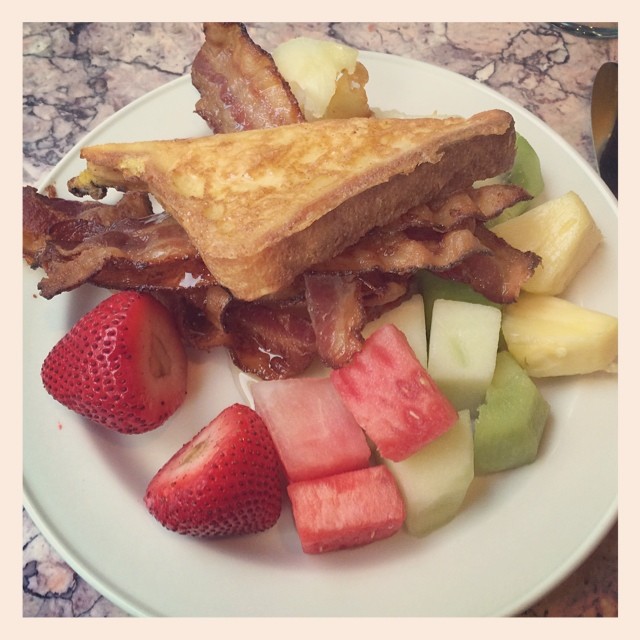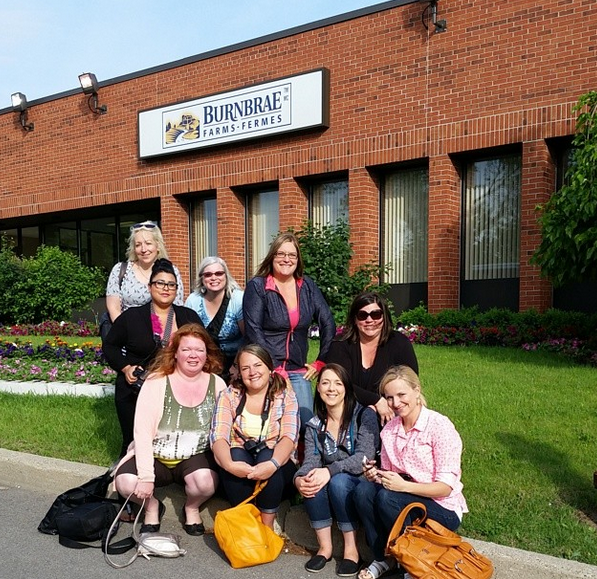 Let's just say putting this many women on a party bus was a blast, I made quick friends especially with that lovely Brunette Baker behind me. She may tell you while on the tour #Aimeebrokethechicken which was quite the inside joke and riot during the tour because every time I would walk into the barn this one chicken they had taken out to meet us would start clucking and going a wee bit crazy. BUT I now have solid proof (thanks to Julie) that #Jennybrokethechicken see for yourself below!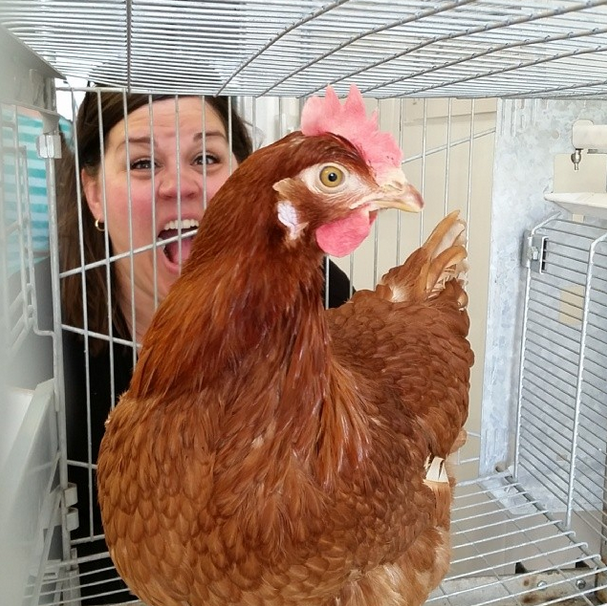 Upon arriving to the farm we were blown away with an amazing lunch made by the awesome folks at Brockberry Grill. They served up some amazing salads as well as delicious omelettes made with Burnbrae eggs of course and some yummy quiche! Let me tell you I have never had such a scrumptious omelette in my entire life, it was EGGceptional!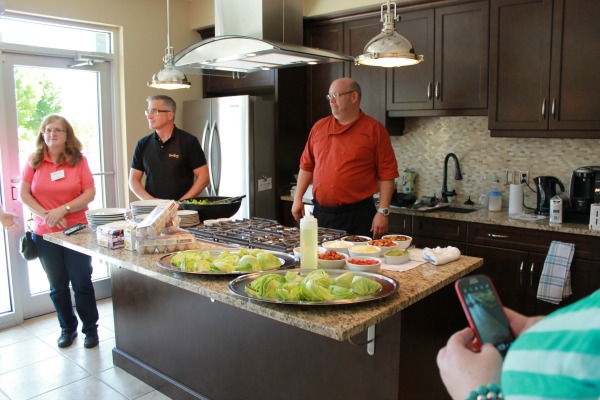 It was certainly a beautiful display of fresh food and delicious eggs!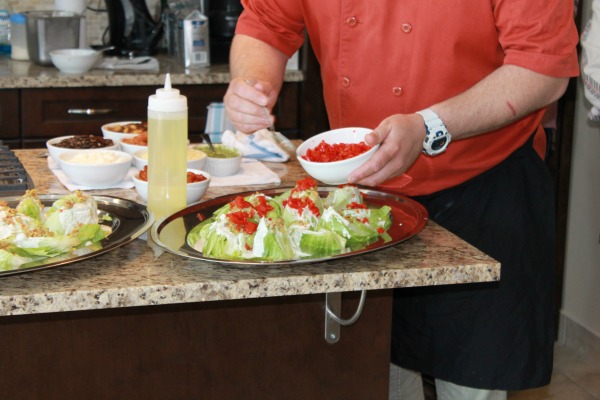 Working his magic on the salad!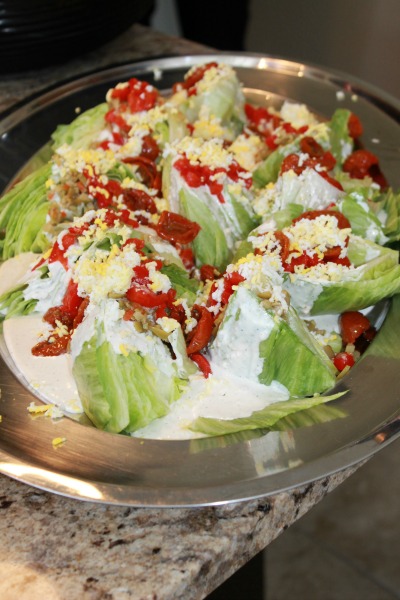 Finished product!
Those were literally drool worthy, my mouth is watering just thinking about how amazing they were!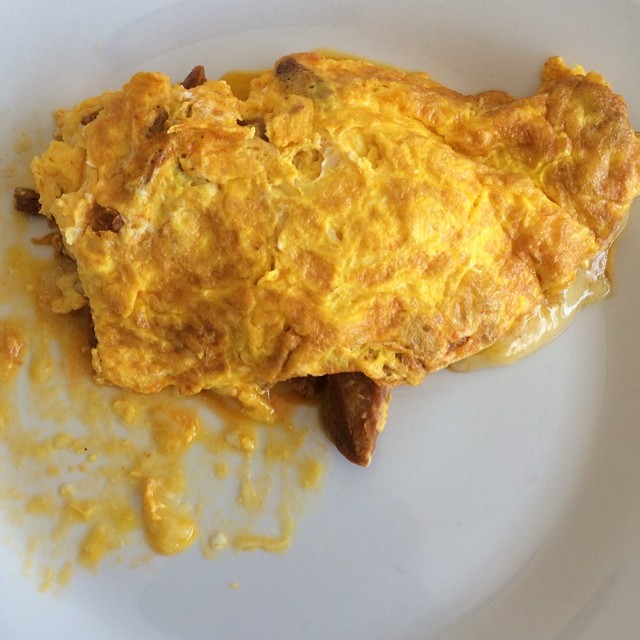 That was my personalized omelette, I had it made with Burnbrae Omega Plus eggs, chorizo sausage and some cheddar cheese!
Here are some more amazing shots from right inside the Burnbrae Farms Barns: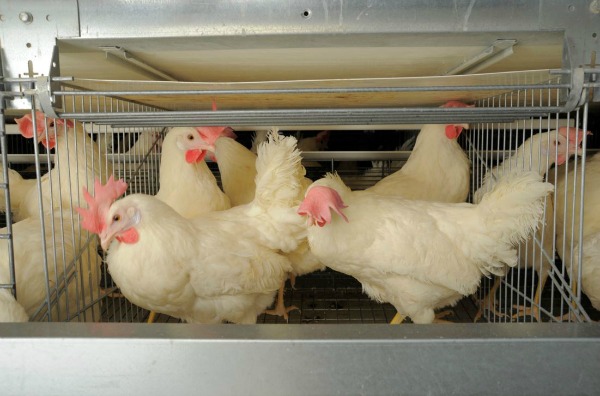 The above picture is of the conventional hen housing, from what many animal activists like to let people believe I totally thought I was going to see so many hens in one cage that they couldn't move but to be quite honest I always knew in my heart it wasn't true and I was happy to see that these hens looked just as happy as the ones who crammed all together in the free run barn were.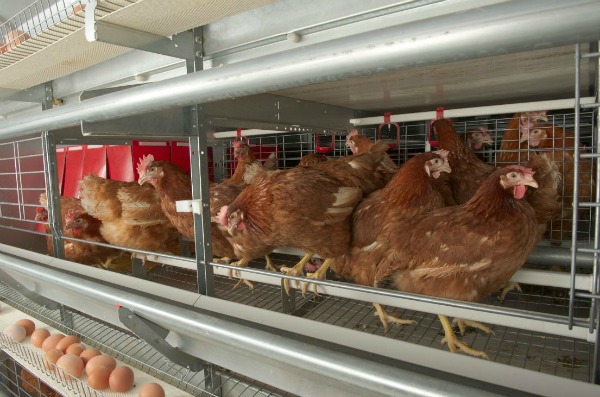 This picture is of the enriched barn, these hens have bigger cages and more room but as you can see they like to stay together vs being alone or far apart.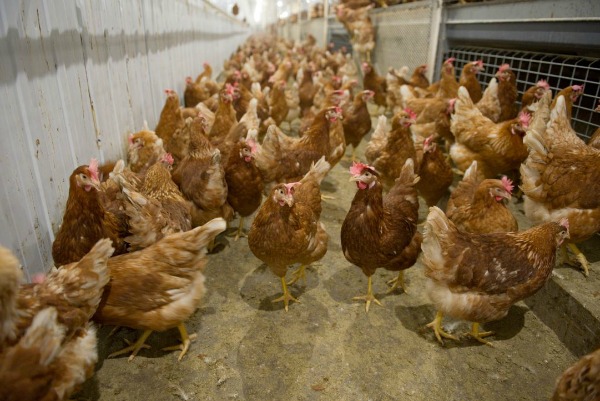 Above is the free run barn and as you can see these hens like to stick together as a flock, I didn't see much separation other than the odd ones that were up on the perches. I found in the free run I saw more dominant tendencies like the top hens aka the bullies lol pecking at others where in the enriched and conventional there was less of that going on.
We also got an inside look at the processes the eggs go through once collected before it ends up in your grocer's fridge for you to purchase: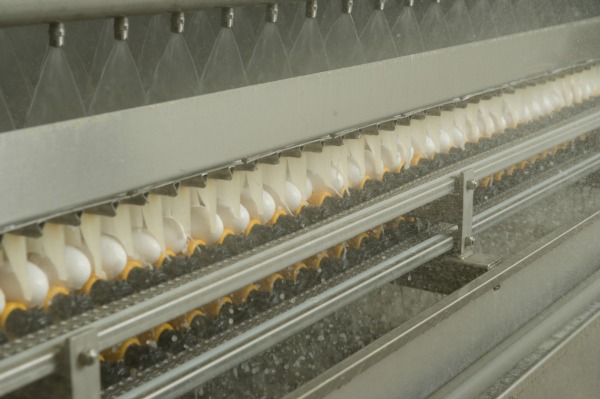 The eggs get a nice good cleaning, this is why we must keep our eggs in the fridge where other countries keep the coating that is on the egg there which enables them to keep eggs at room temperature without spoiling.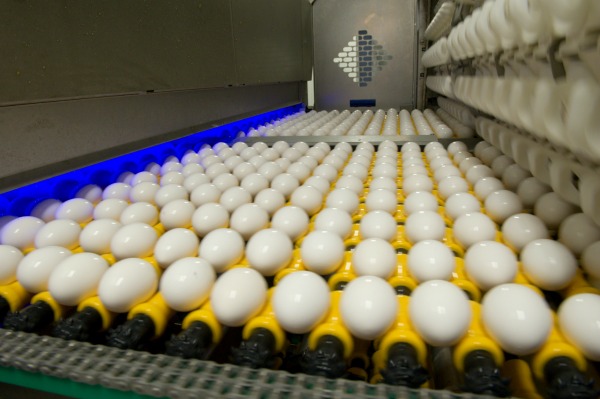 They also go through a special detector for leaks and any that are leaking get the boot.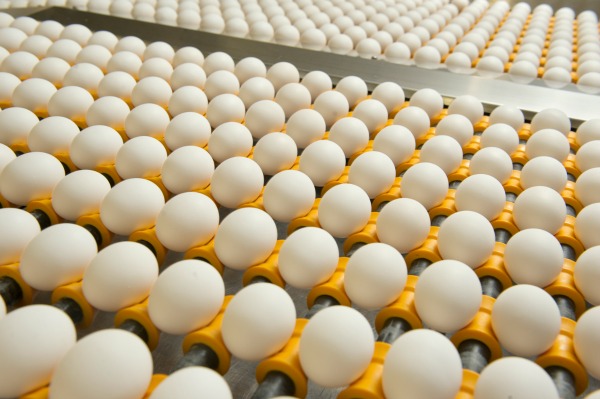 Once they are all nice and clean, dried off and checked for leaks or blood the eggs that pass the test are then sent off to packaging!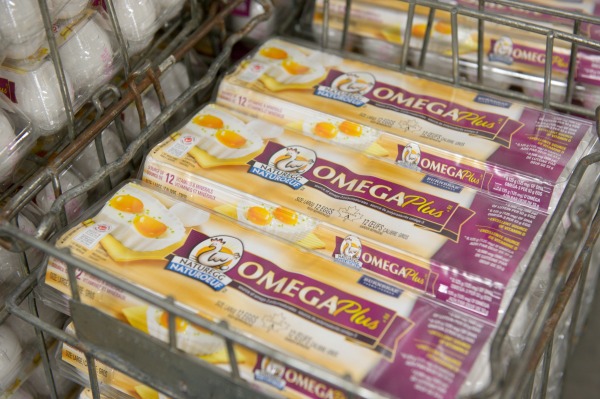 Look at that beautiful packaging, did you know it is recyclable? Burnbrae eggs plastic packaging is 100% recyclable so if you didn't know you do now and can start tossing them into your blue bin instead of the garbage!
After the tour was over the Hudson family opened up their home to us, they presented us with an amazing dinner, let us ride the horses and even had a bonfire with s'mores! I cannot begin to explain how humble, inviting and genuinely amazing the Hudson family was to us. From start to finish we were made to feel like family, I can certainly say that I have been missing the farm and hope to bring my family out to their Open Doors when Bella gets a bit bigger!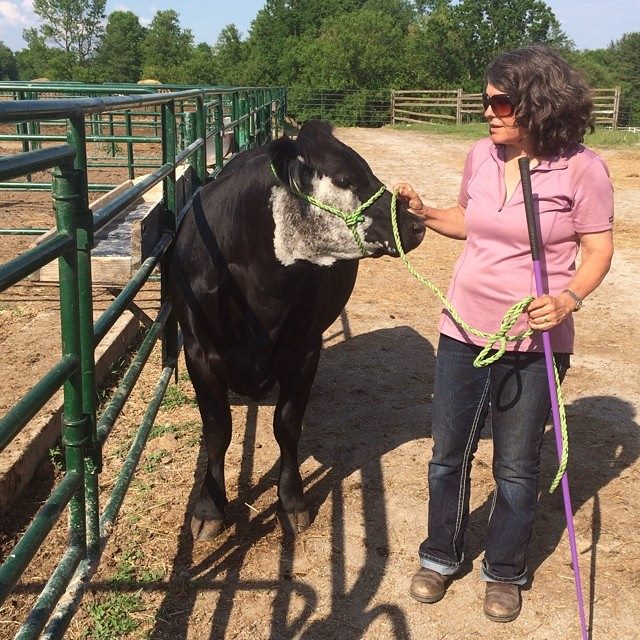 What a beauty, this black angus cow was! The white on the face is actually a birthmark – how cool and rare!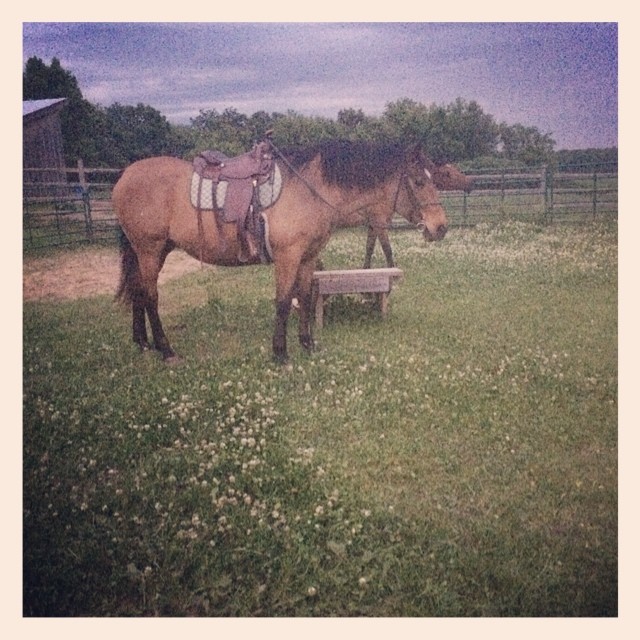 Awe, aside from the farm cat this horse was my bff. I got to trot around for some time, definitely brought me back to my younger years and reminded me just how much I love rural life. I will be making a serious effort to get out at least twice each year to horse back ride and enjoy the beauty of country life!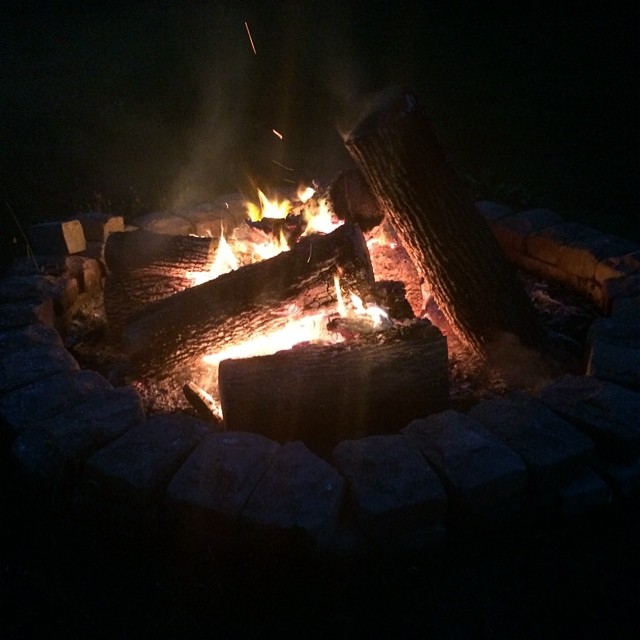 The end of our night was topped off by a roaring bonfire, that and "fat fingers & crazy eyes" <— Jenny that ones for you!
You can find out more about Burnbrae Farms on their Website and follow them on Facebook, Twitter, YouTube and Instagram too!
Want to find out what the other bloggers on the tour had to say about their time there? Check them all out below!
Stephanie from Spaceships and Laser Beams
Kim from Tales of a Ranting Ginger
Nancy from Whispered Inspirations
Shannon from Shannon's View from Here
Disclosure: I am participating in the Burnbrae Farms Blogger Farm Tour program as a guest of Burnbrae Farms and although this post has been sponsored by Burnbrae Farms, the opinions and language are all my own, and in no way do they reflect Burnbrae Farms. Any product claim, statistic, quote or other representation about a product or service should be verified with the manufacturer, company, provider or party in question.