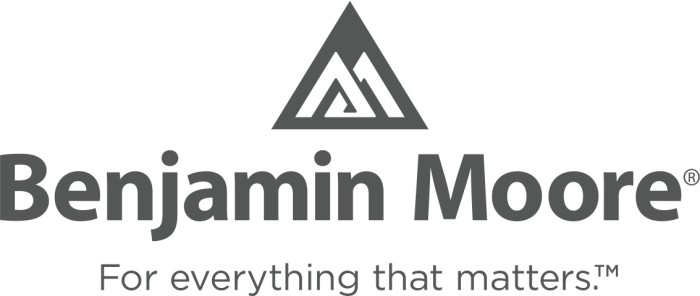 You've been watching my progress in the ever so fun task of giving my older two daughters; Abby and Hailee a room makeover over the last few weeks and the time has come to finally reveal what you have all been waiting for!
We moved into our home back in October of 2013 and I have been meaning to do something with their bedroom and furniture but with the unexpected early arrival of Bella things were put off. Then of course adjusting to life with a new baby and trying to get back to blogging things inevitably got put off and put off!
When I found the girls bedding my inspiration kicked in and I knew exactly what I wanted to do with their bedroom! Their bedding colours were the inspiration for the paint and decor I wanted.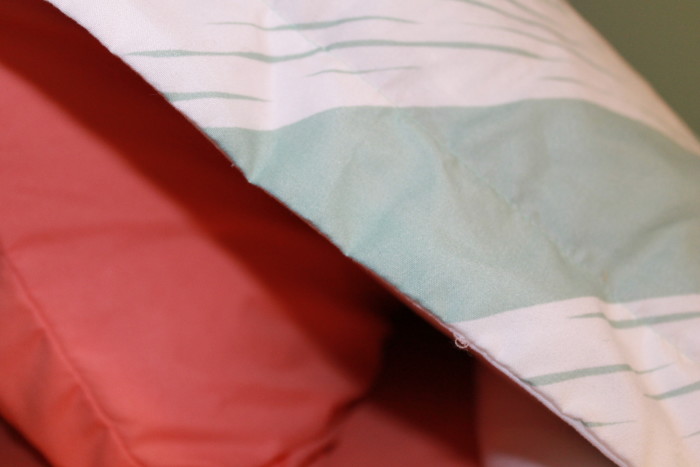 I just love how the teal and coral look so beautiful together, reminds me of a tropical retreat, one that I will just have to keep dreaming of as I clean their room. I also bought grey sheets to change things up from the coral which was another inspiration in the paint and decor colours!
When I heard about the Benjamin Moore ben & ME kit I knew it was finally time to get my butt in gear and actually get their room done, after all in less than a month we will have lived her for a year <– sorry girls!
The ben & ME bag contains:
2 gallons of premium paint with 1 quart for your trim
a sleeve roller, paintbrush, paint traydrop cloth, paint can opener and green painters tape
a super handy How-To Guide and even a playlist to keep that motivation up!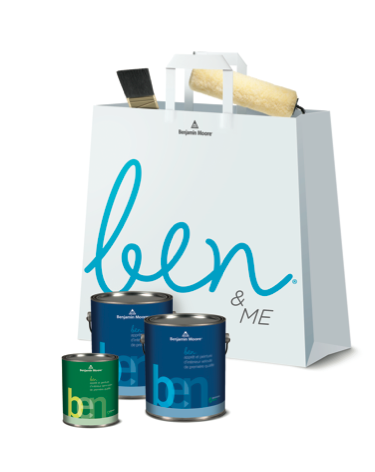 Let me tell you I am probably close to the world's laziest person, WOW that felt really good to say! I mean I won't even walk across the street to the store kind of lazy. I knew the girls room was a big task as they had mix-matched furniture. I wanted all their furniture to match their new dressers which were a black colour. So that meant stripping their bunk beds to paint as well as painting their bookshelf. I will fully admit after I stripped and sanded the bunk beds I was totally looking online for black bunk beds to purchase as I was feeling my lazy side fighting my let's makeover the girls room excitement. I managed to stay on task though and completed the tasks!
When I visited my local Benjamin Moore store I took along with me three pillow cases from the girls bedding; the teal chevron, the coral and the grey. I had never been to Benjamin Moore before, so I expected the same process as the other paint stores I have gone to where they run around grabbing a bunch of paint cards and try to match it up. Well I was pleasantly surprised that they have a machine where they placed my pillow cases one-by-one and it told them which paint colours would be the best matches. The lady then got those cards and held them up one at a time to each pillow case to ensure we had the best match. I honestly am still amazed at how insane the match was every single time I walk into their room and see it all done!
Benjamin Moore produces the highest-quality paints and finishes in the industry. There is always an excitement when transforming a room by adding a fresh new coat of paint. Whether you are a DIY enthusiast or more like me and you don't have many room makeovers under your belt, the Benjamin Moore "BEN in a Bag" paint kit that is part of their "ben & ME" fall promotion will really help the process of creating that "I-can't-believe-I-did-it-myself" space in your home! I am still in the "I can't believe it" phase every time I walk in there I feel super proud that I did that!
I really love the ben & ME bag as it gave me everything I needed to paint the girls room without me having to decide what brush to buy or which roller is the best, because lets face it I am no professional painter and because of my extreme need to save money I tend to buy the cheapest ones which end up to be absolutely horrible! The products in the ben & ME bag were superior quality compared to what I bought when I painted Bella's nursery.
The How-To Guide that is included really helped give me some great tips that made the task of painting their room much easier than I anticipated.
These are 3 of my fave tips that really helped this girl out:
Preparation – the girls walls had some minor work that needed to be done prior to painting and I would have never thought to wipe down the walls with a damp cloth after sanding down the rough patches to get any dust off.
Tape Trick – who knew rubbing the tapes edge with my finger would heat up the tape making it more sticky making it form a stronger seal to stop paint seepage <– this was amazing as I won't begin to tell you how much paint I had to clean off Bella's trim!
Defeat the Drips – this had to be the most amazing tip to my simple mind. I normally just dip my brush into the can and wipe it against the side of the paint can opening to get off the excess but Benjamin Moore's tip to put an elastic band around the can to form a band across the top of the can to wipe the excess off without it dripping all over my can <– MIND BLOWN people!
The one tip I didn't listen to and boy do I wish I had was the tip about taking off the tape while the paint is still wet. I left it up out of sheer laziness and when I did finally remove it you can imagine I took off some paint here and there. So I had more work for myself going around and touching up where I had ripped off some paint!
And the moment you have all been waiting for …. check out all the room makeover progress pictures below!!!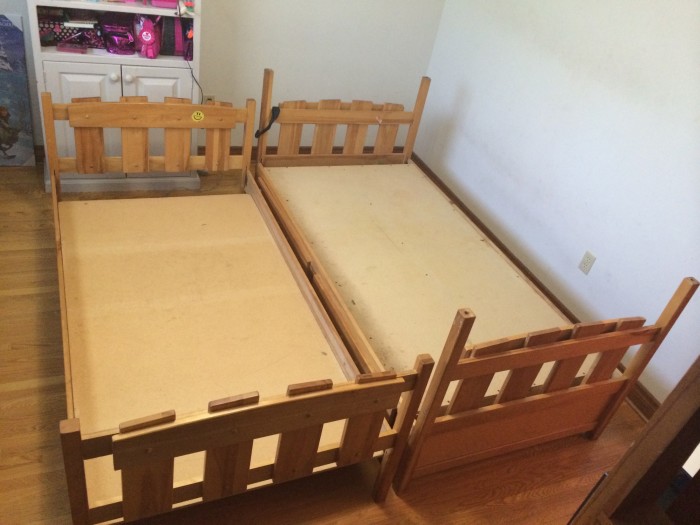 The bunk beds before stripping, sanding and painting!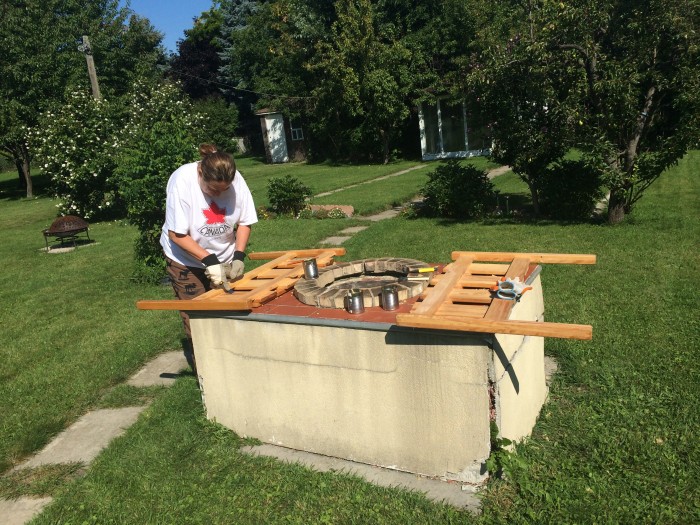 My mom helping me strip the bunk beds.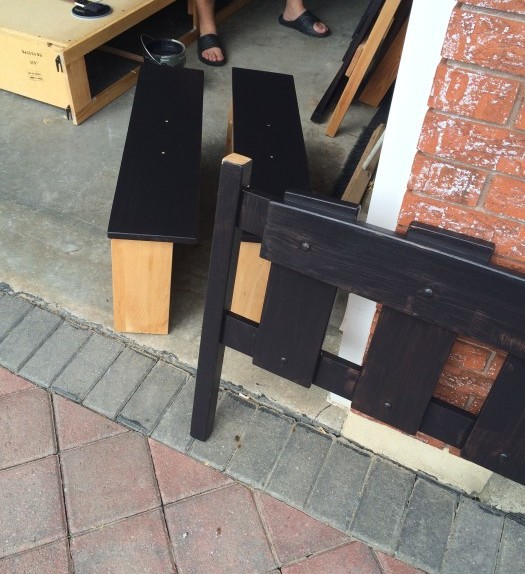 The first coat of paint on the bunk beds with some help from my step-dad who was down for a visit from up north.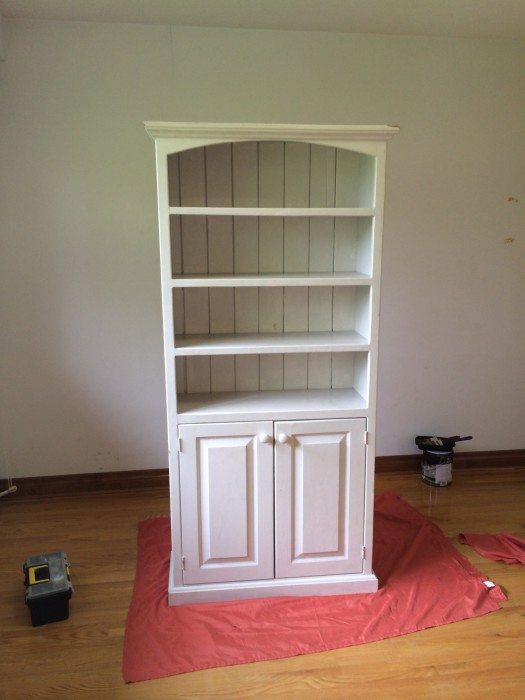 The girls old bookshelf ready for its makeover and no those aren't the girls new coral sheets LOL!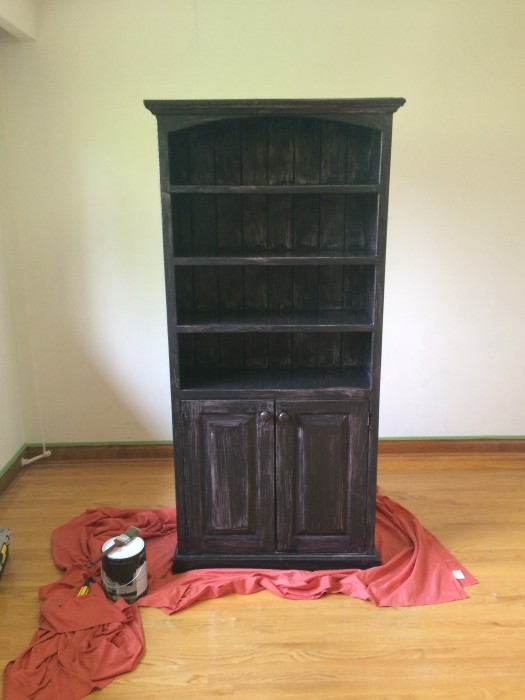 First coat on the bookshelf, I actually considered leaving it like that for a moment as I liked the vintage look but I didn't!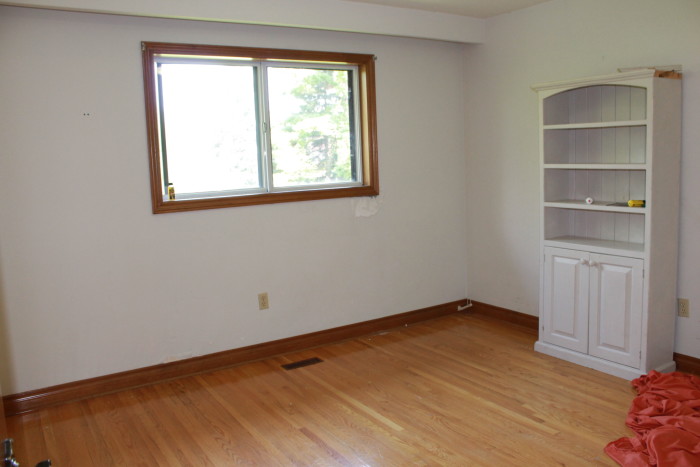 I had to do some work on the wall with the window as there was some cracks and damage that needed to be filled.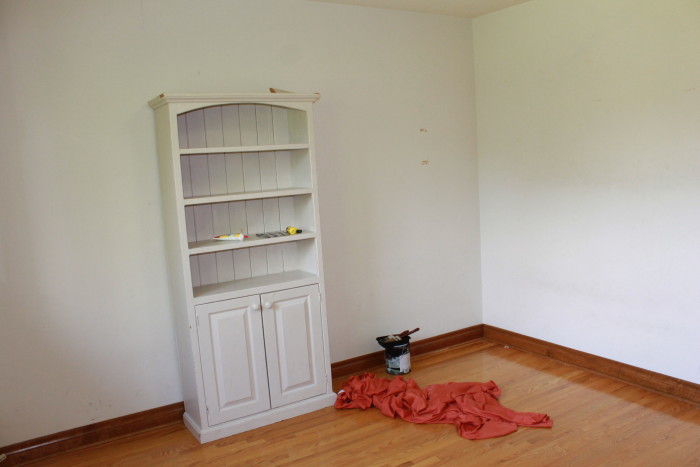 More work needed to be done to remove yellow sticker sticky stuff on the walls from last tenants.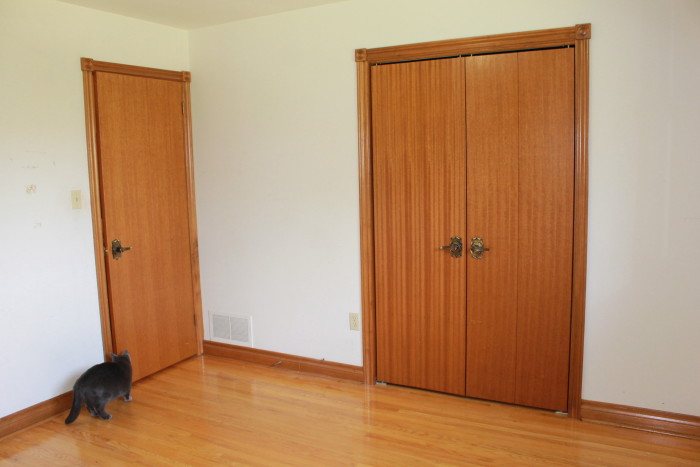 Reggie came to inspect the empty room!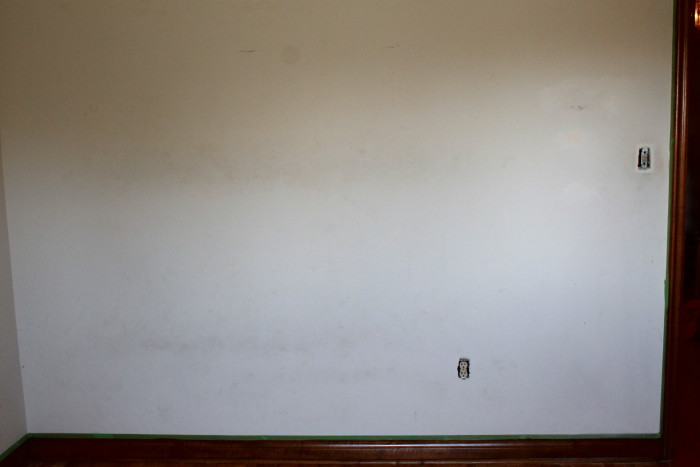 Walls have been sanded, wiped down and tape applied.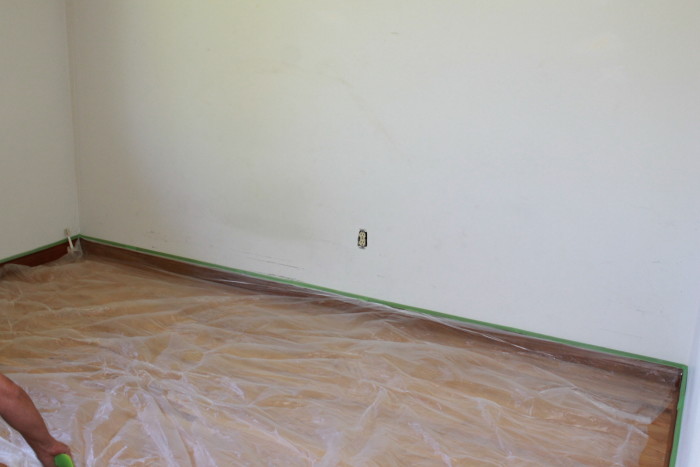 Can't forget the drop cloth since I am probably the world's messiest painter!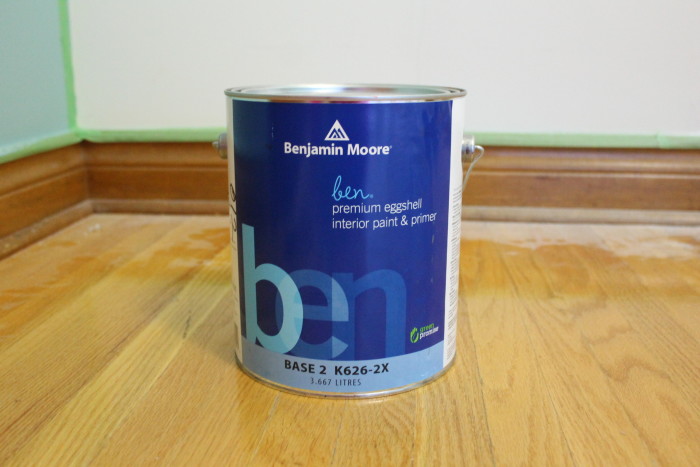 It's GO time!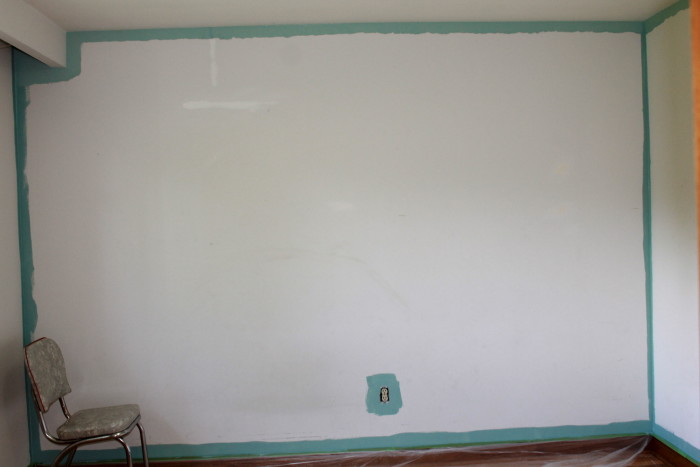 Getting the cutting down.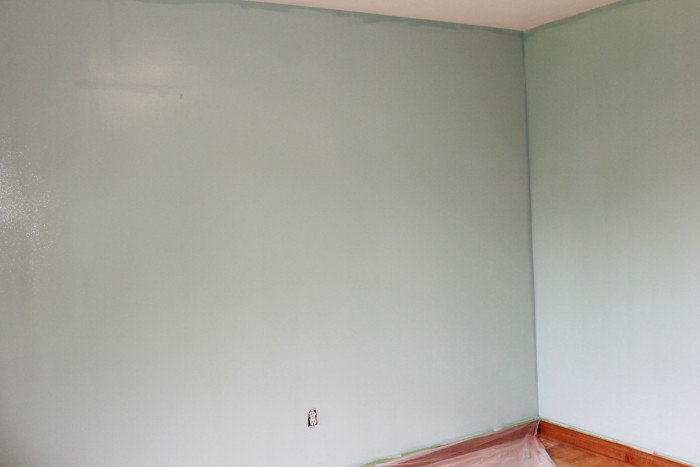 First coat is on the walls.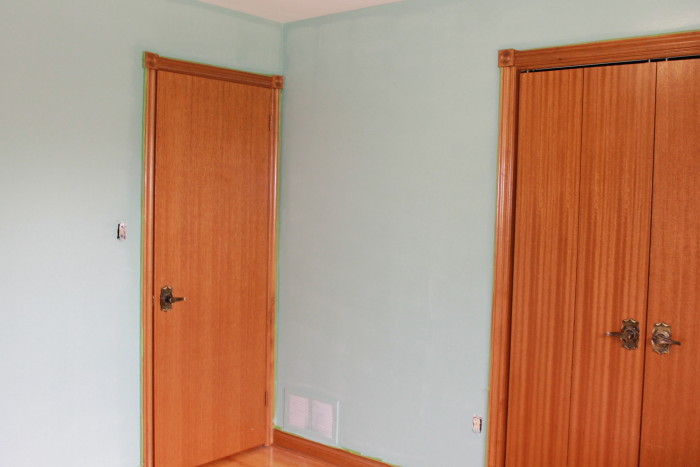 I really loved how easy this paint went on the walls and it dries quickly!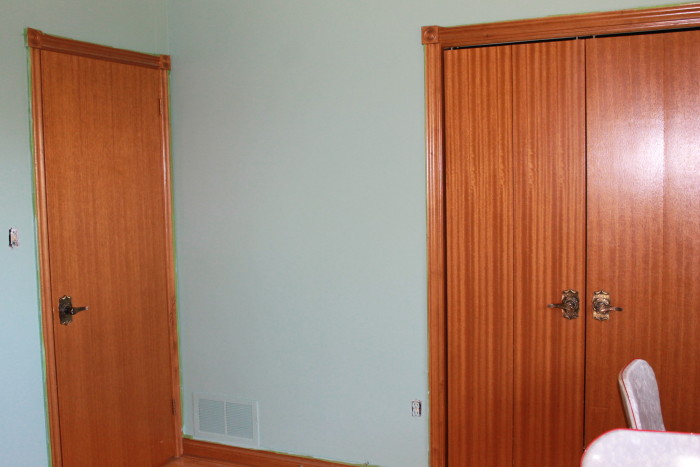 Second coat down!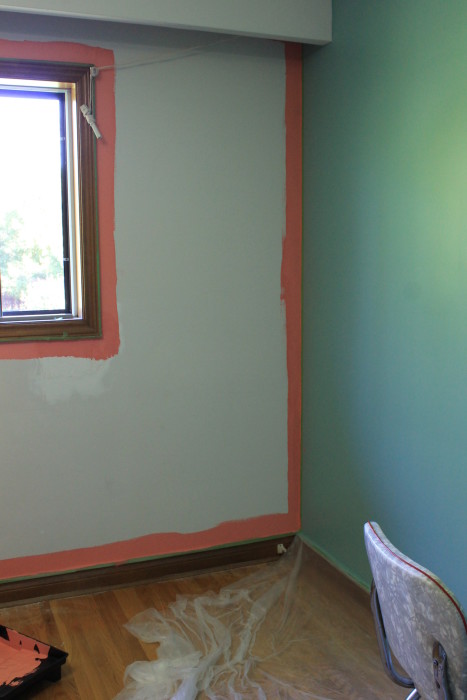 When I first put the coral on the wall beside the teal I squealed I was so happy it looked amazing!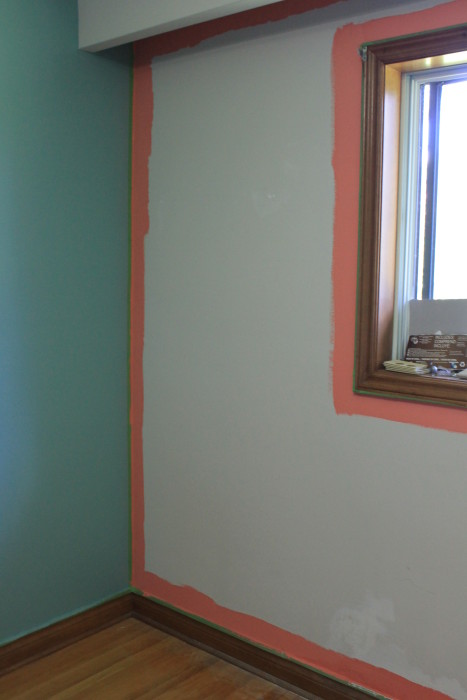 Getting all up in there was a fun task!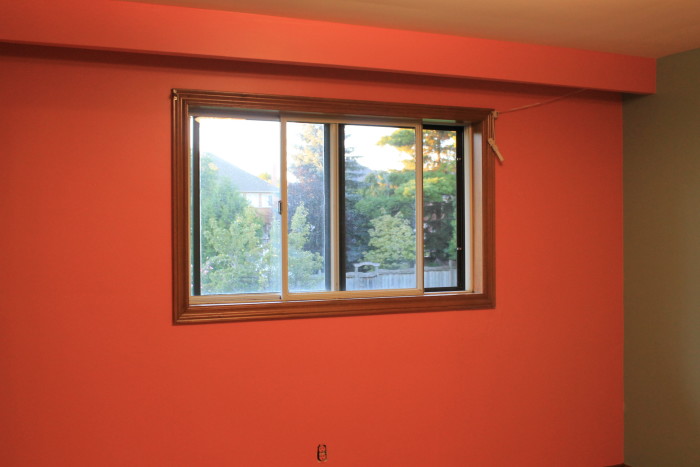 Second coat is done and just drying. This time I removed the tape early to avoid what happened with the teal LOL!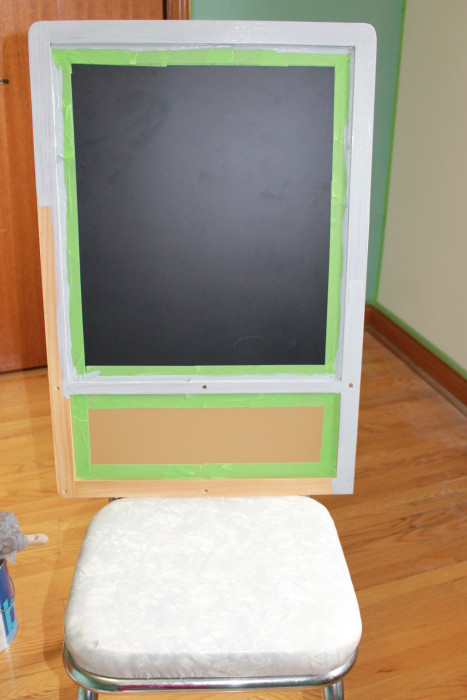 Since I do not own our home I didn't want to paint the trim in the room so I got the quart in grey to use for accents in the room such as this chalk board which we painted as well as their cork boards and bag rack.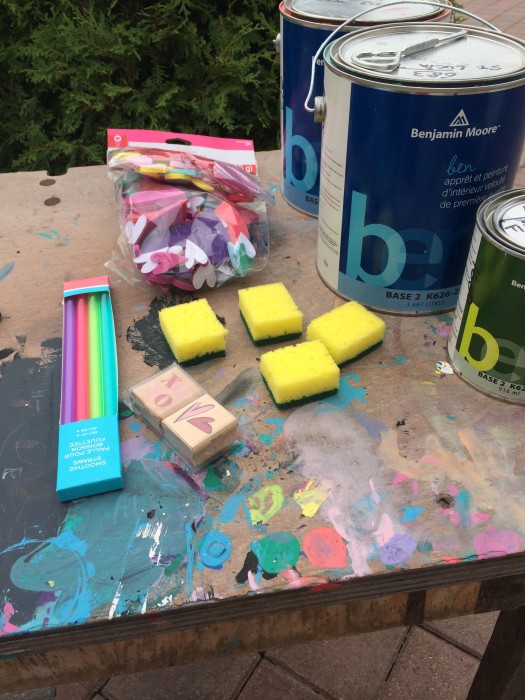 I had lots of paint left over so I decided to get creative and makes some wall art using the same colours we painted their room!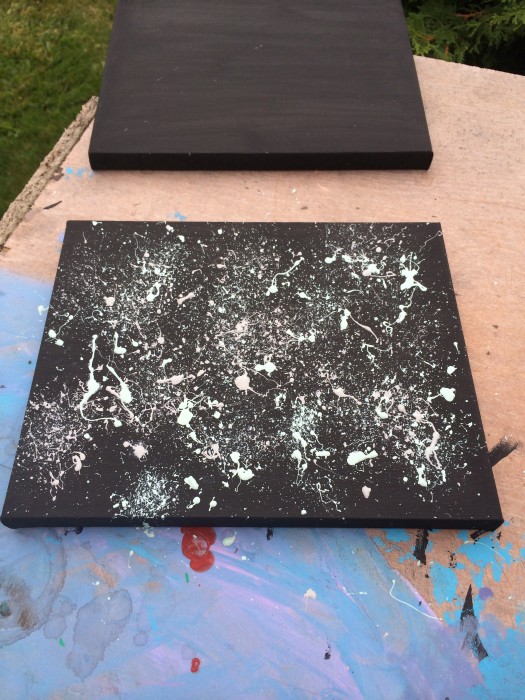 I painted a white canvas black then used straws dipped in the paint to create a "splatter" look.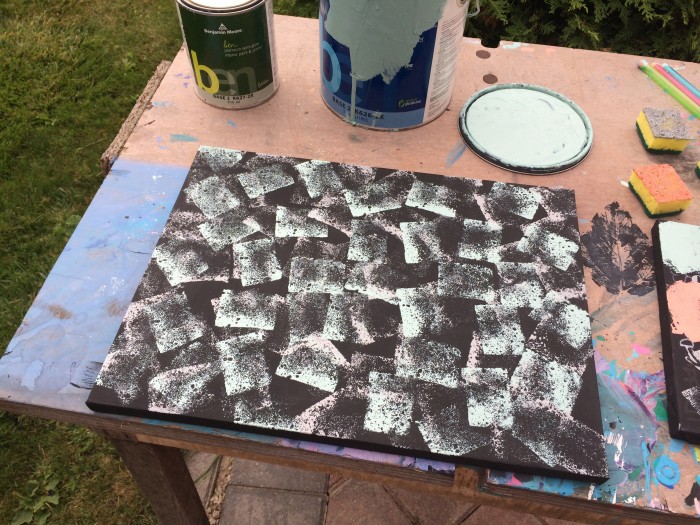 On the larger canvas I took dish sponges cut in half and created a really cool art piece.
AND HERE IT IS THE FINISHED MAKEOVER!!!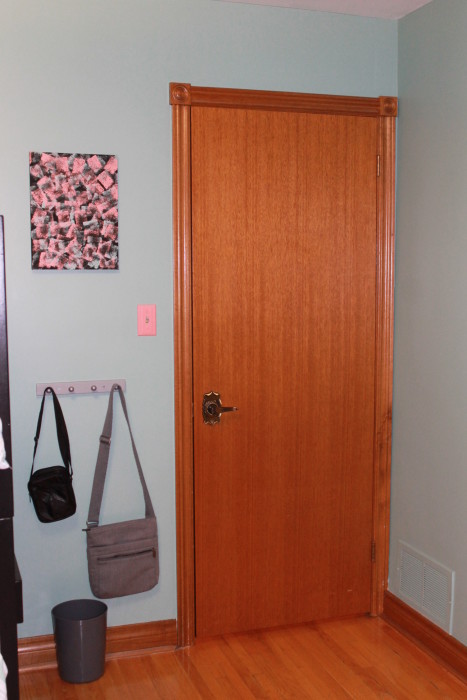 Their bedroom door wall with their bag rack and wall art.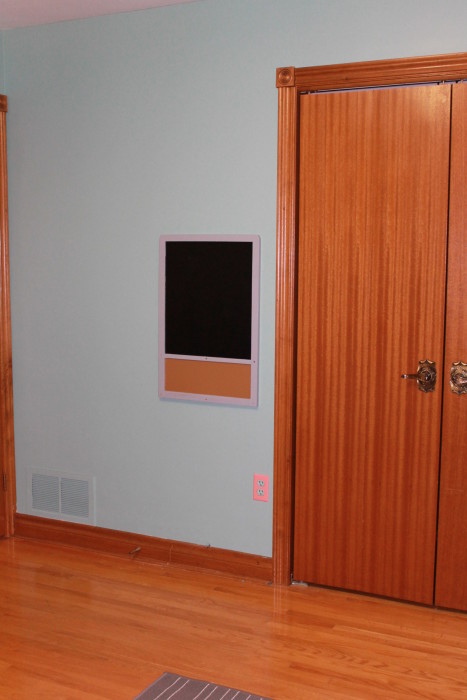 Their wall to the left of the closet with their chalkboard.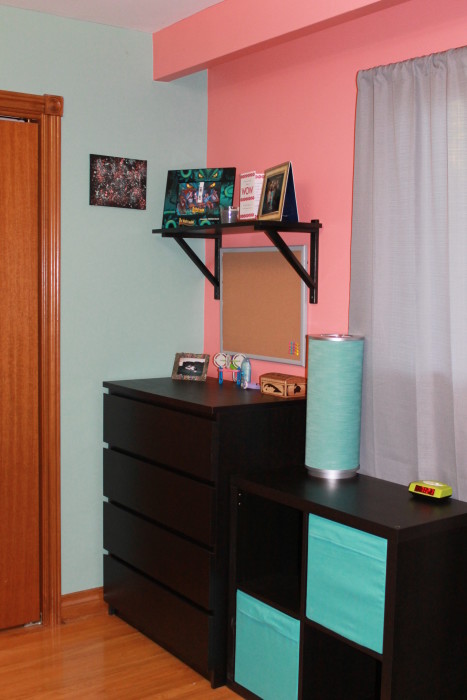 This is Abbys side of the room. I love how the cork boards turned out using the Benjamin Moore trim paint.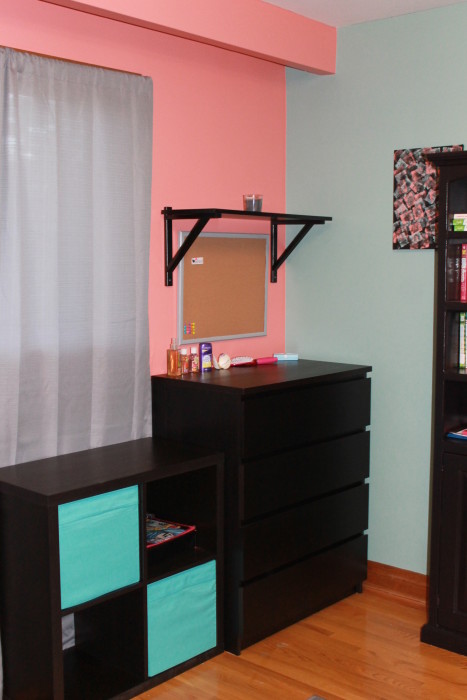 Hailee's side of the room for her things.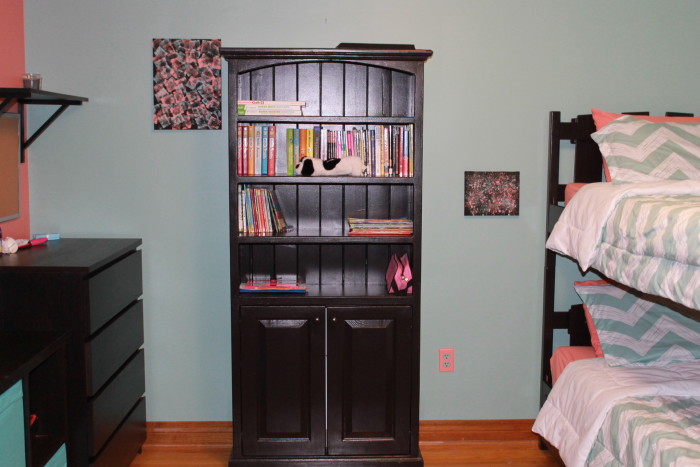 Their bookshelf all done and looking great up against the teal wall.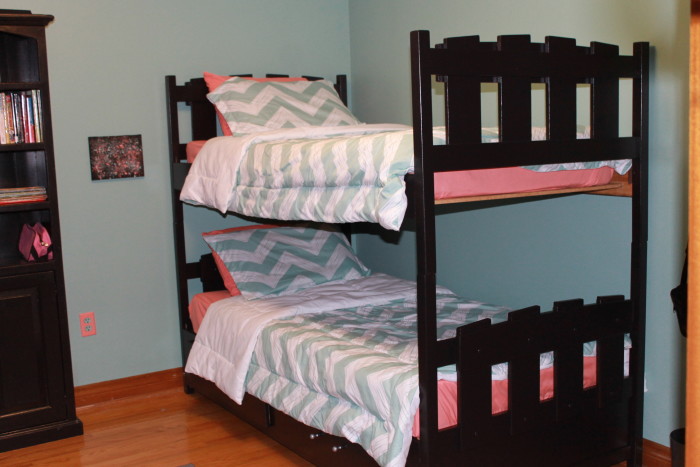 The girls bunk beds with their bedding which was the inspiration for this whole project!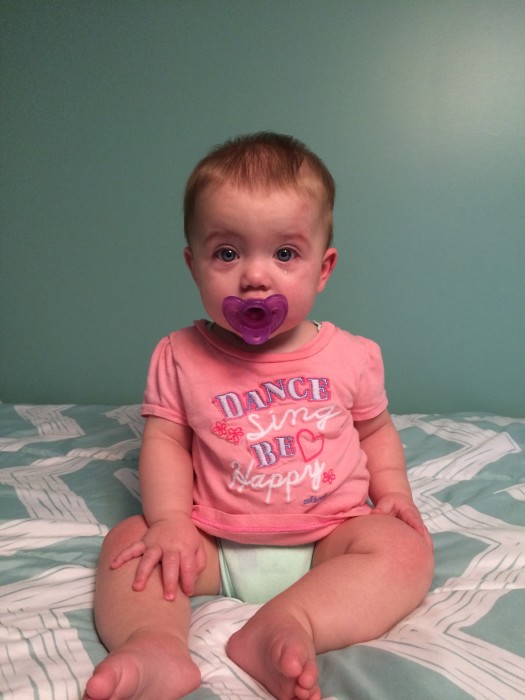 Of course Bella wanted to check out what all the excitement was a.k.a her sister's screaming with joy when I revealed their room to them. She was having a rough day of teething but wanted to join in!
Look at how amazing that colour match is – Benjamin Moore ROCKS!
Disclosure: Although this post has been sponsored by Benjamin Moore, the opinions and language are all my own, and in no way do they reflect Benjamin Moore. Any product claim, statistic, quote or other representation about a product or service should be verified with the manufacturer, company, provider or party in question.