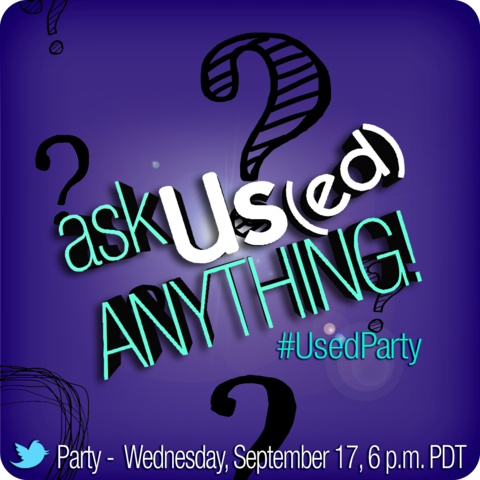 Over the summer months you may have caught my posts about UsedEverywhere.com telling you about the great BIG deal personality quiz which you can take, the contest to enter to win $500 or a Samsung Galaxy Tab as well as what my results were and how I have used my local UsedEverywhere.com site (UsedToronto.com) to hunt down the best deals!
I am so excited to announce they are having an AMAZING Twitter party which I am helping host!!! <– Who doesn't love a good Twitter party right? The party is happening on Wednesday, September 17 at 6:00 PM PDT which is 9:00 PM EDT or 10:00 PM for all my Atlantic friends!
Have a question about the UsedEverywhere.com sites? Wondering who they are, what they do? Maybe you want them, the pro's, to give you some buying and selling tips? Just leave a question for them in the comment section on the main Twitter Party info page HERE and they will do their best to answer it at the September Twitter party! All questions answered receive prizes, plus there will be #prizebombs that night (expect some questions flying your way too!).
Date: Wednesday, September 17
Time: 6 p.m. PDT (9 p.m. EDT & 10 p.m. ADT)
Hosts: @UsedEverywhere, @XtremeCouponMom
Moderator: @UsedEverywhere
Hashtag: #UsedParty
Prize: Swag, swag and more fabulous swag, plus a Fujifilm Instax Mini 8 Instant Film Camera!
Questions: Please leave your questions for us in the comment section over on the main Twitter Party info page HERE. If your question is chosen, you win a prize!
You still have time to take the quiz and find your BIG deal personality, when you do you will be entered to win a cool $500 or a Samsung Galaxy Tab!