Make Your Own Halloween Story Stones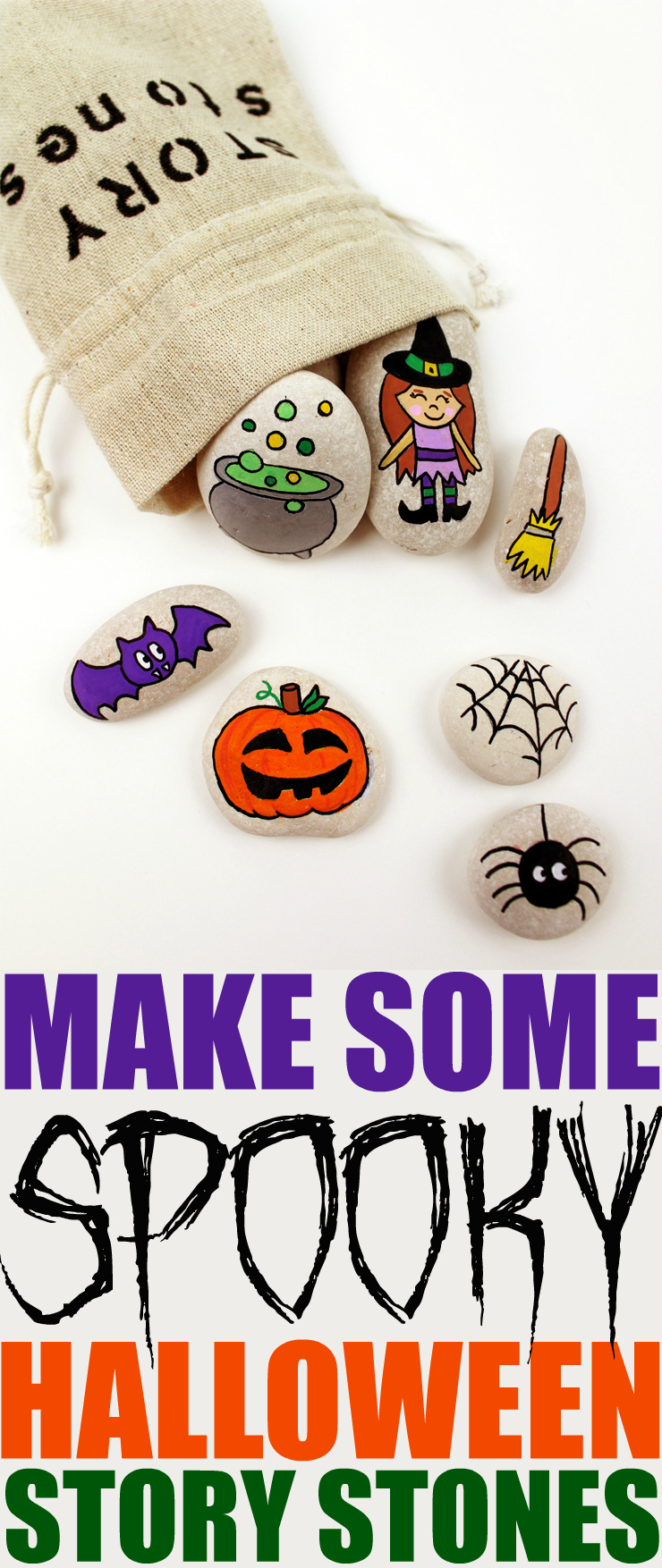 I can't believe Halloween is just a few days away.
October has been a crazy month for us, with Bella sick since starting school and Abby busting her ankle in fitness class, my schedule got away from me.
In the past week I have shared some amazing Halloween themed crafts and a recipe you could do with the kids, or alone … no one will judge you!
I was hoping to have shared this yesterday, but for some reason I need to sleep and there wasn't enough hours in the day. So, I am sitting here in my office on a Saturday afternoon, after taking Bella to swimming lessons, writing about these amazing Halloween story stones!
Halloween Story Stones
Let your child's imagination soar with these adorable Halloween story stones. Their creativity to develop stories using the stones will amaze you. Have them tell you a new spooky story or use the stones to retell their experience of Halloween!
What Are Story Stones?
Story stones are made from flat, smooth stones. You can collect them at your local beach or check your local dollar and craft stores for them.
Every stone has a picture on it. The pictures can be anything you'd like such as characters, objects like a sun for weather story stones, or animals.
There are many ways to make story stones. Our favourite so far has been to paint pictures on our stones. You can also use magazine cutouts, draw on them with permanent or paint markers, use stickers, or use fabric scraps to make your own unique story stones.
Ways To Use Story Stones
There are many ways you can use story stones for learning and beyond. Here are a few ways we like to use our story stones:
Story Telling Aides: 
Allow your child to choose a stone from the bag, and have them start a story based on the picture that is on the stone. Have them pick another stone from the bag, and continue creating a story incorporating the next picture into it.
If doing this in a daycare or school setting, pass the bag around allowing each child pick a stone one at a time and add their sentence to the story.
Sorting & Grouping:
Story stones are a great teaching aid aside from story telling.
Your little ones can sort and group all animals, people, food, etc into piles. To further the learning, have them count how many food stones they have compared to how many animal stones they have, and what the difference is using subtraction.
Creative Play:
Bella loves using her story stones for creative play. She often uses her animal stones in her play centres, and food stones in her kitchen. The educational and creative value of story stones is endless.
Decor:
You can create a set of story stones and place them in a shadow box frame for a baby nursery.
Story stones can also make a great anniversary gift. Create a unique story of your relationship over the years in stones. From how you met to special moments you have shared together, then you can place them in chronological order in a shadow box frame.
Make Your Own Halloween Story Stones
Get your creative pants on and make some spooky Halloween story stones for your little one.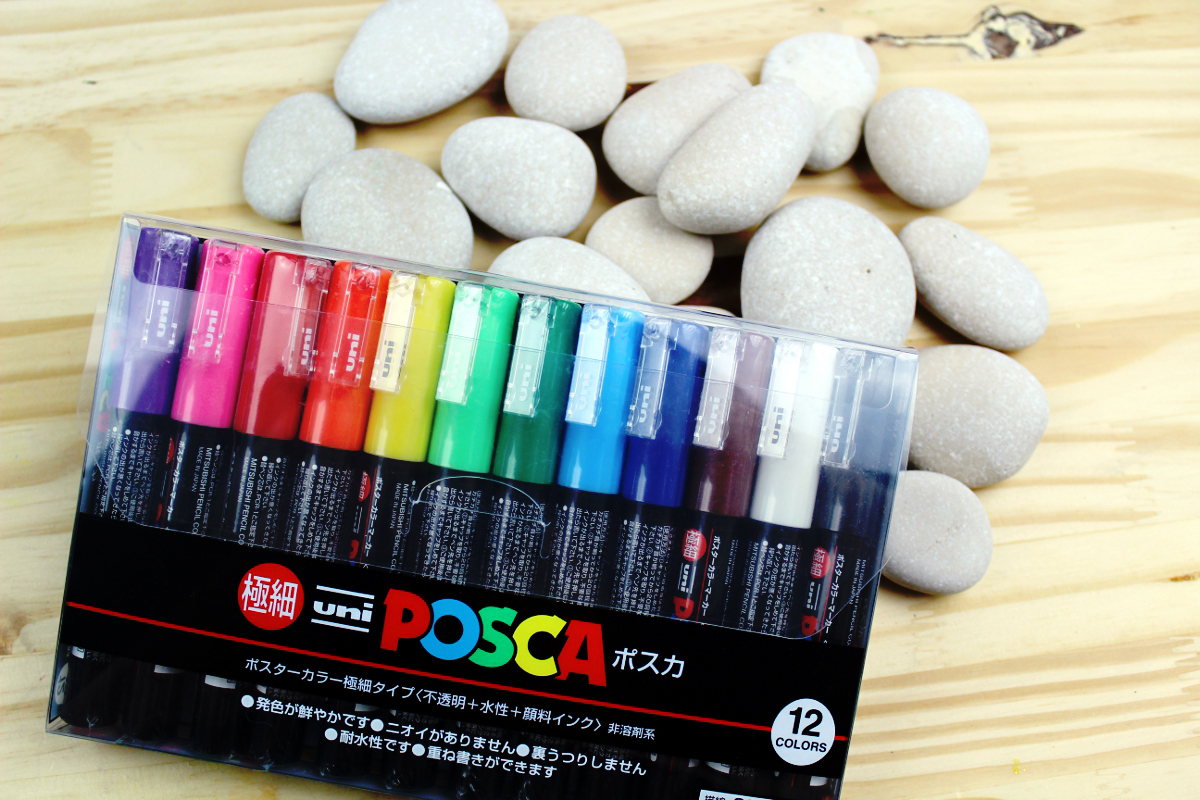 You will need permanent or paint markers and some flat, smooth stones.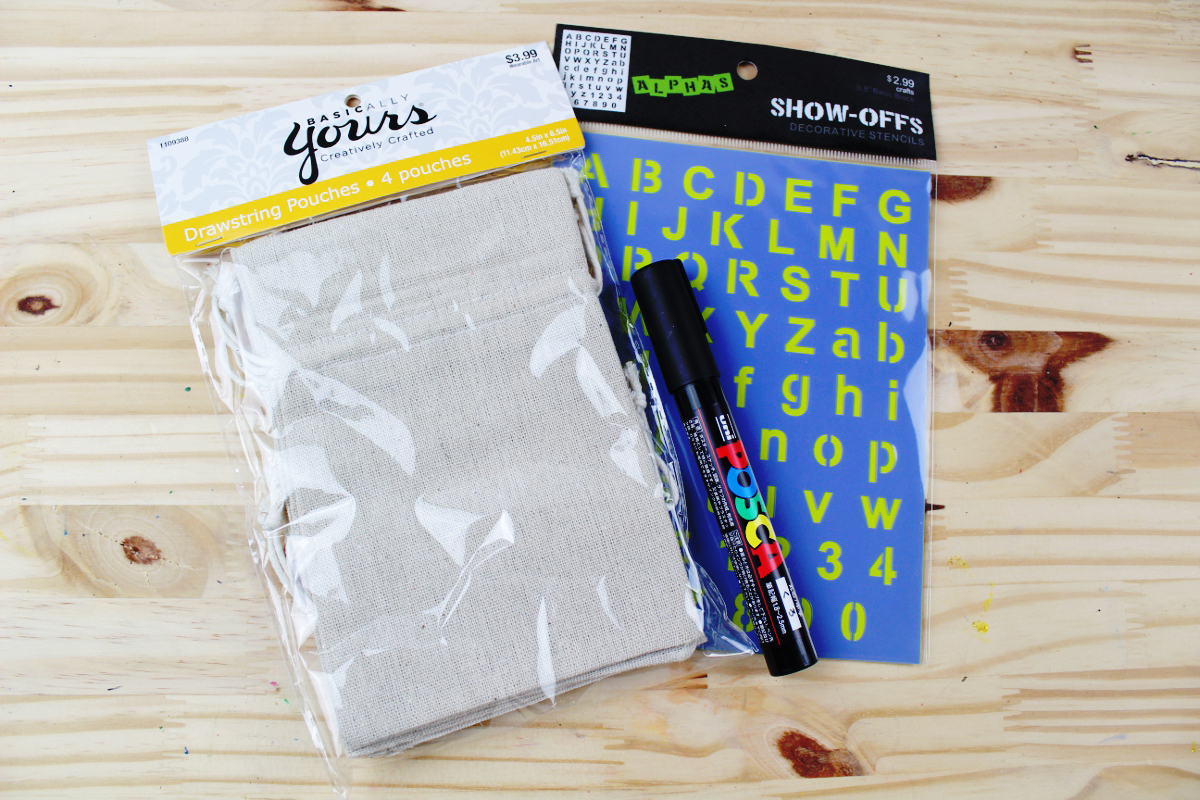 To create a bag to keep your story stones in you will need a bag and stencil.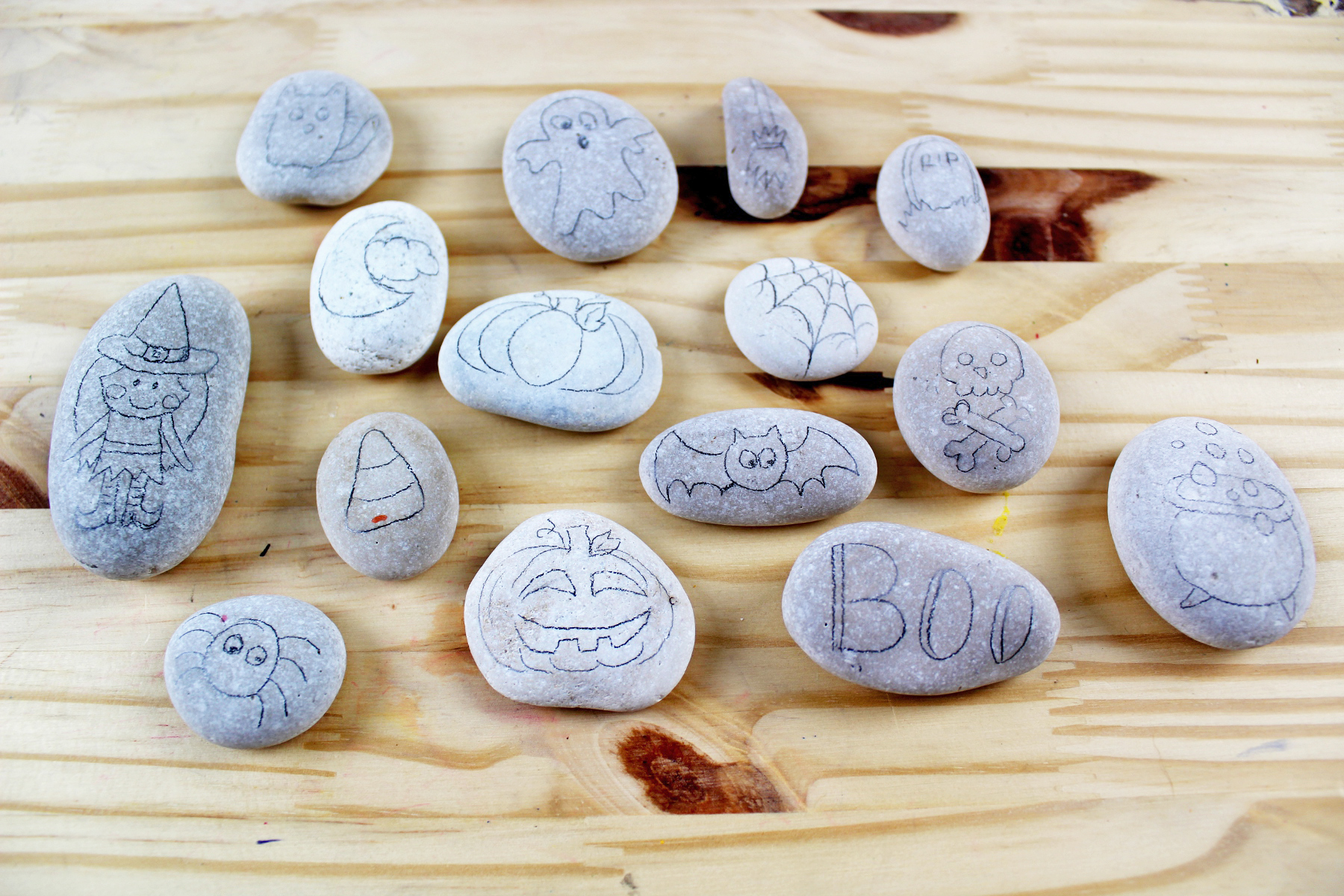 Draw Halloween themed characters and objects onto your stones with a pencil.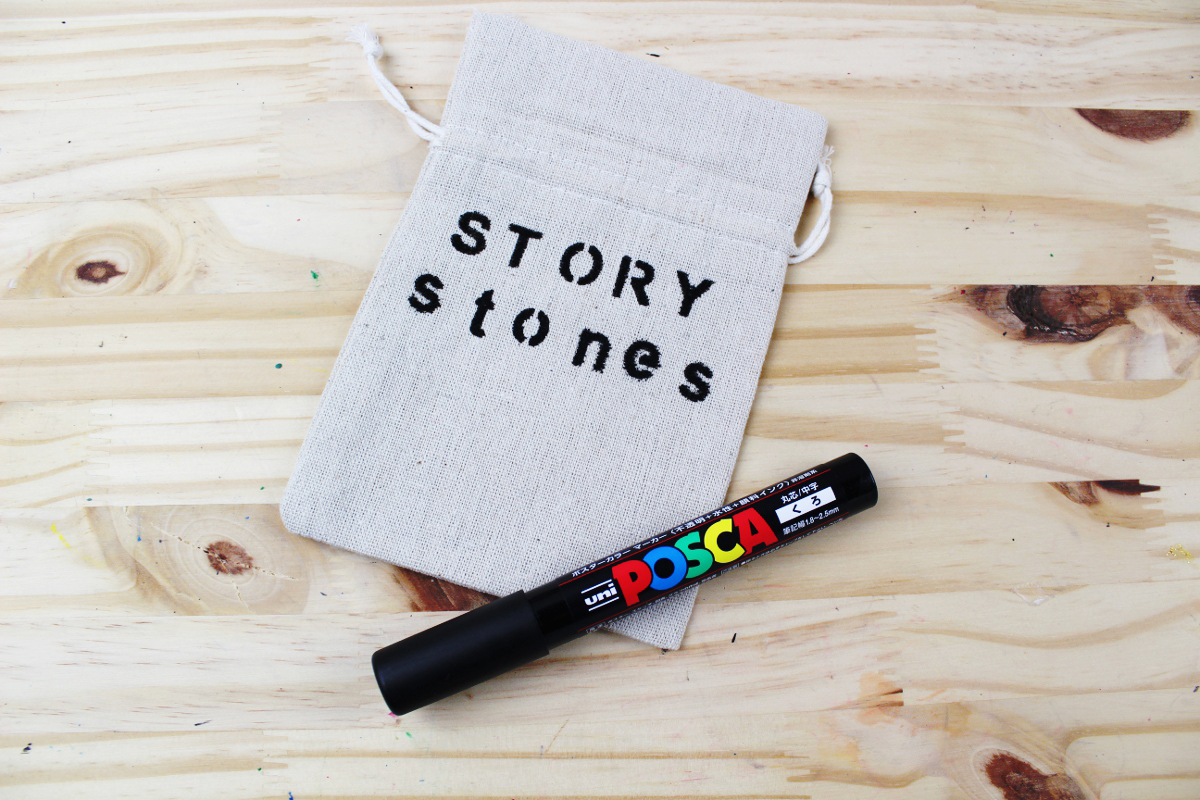 Use your stencil and marker to write a label on your bag.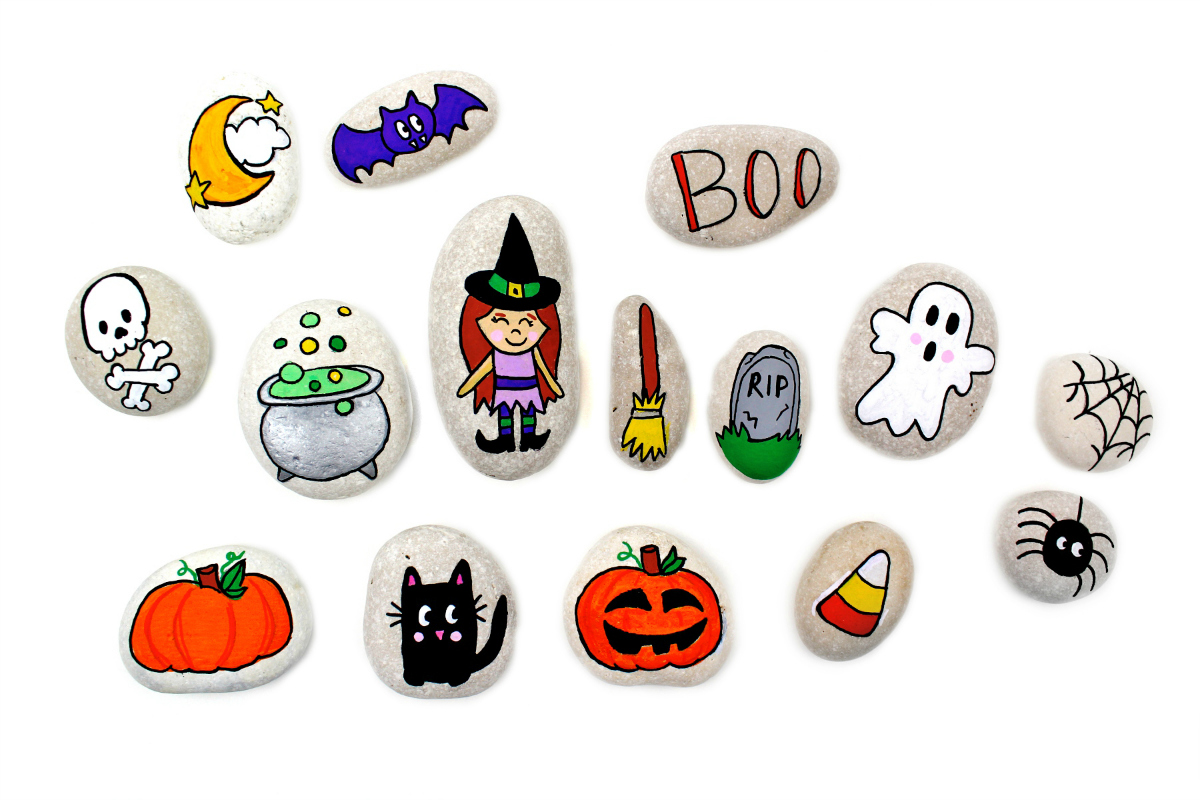 Colour your stones with markers and seal with a spray sealer or Mod Podge.
Print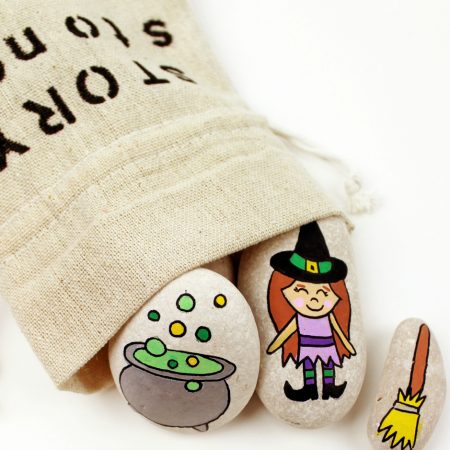 Make Your Own Halloween Story Stones
---
Author:

Prep Time:

1 hour

Total Time:

1 hour

Category:

Crafts
Ingredients Or Supplies
Stones

/Rocks
Pencil
Alphabet Stencil
---
Instructions
After gathering all of the supplies, you will first rinse the stones in warm water until all of the powder has been removed. Set the stones on a towel and allow them to dry completely.

Next, use a pencil to sketch the design onto the stone.

Colour your stones using paint pens or permanent marker.

Use a black paint pen to outline the painted stone.

Allow the paint to dry completely.

You are now ready to use your stones to narrate a story. You can even flip them over and write words on the back of the stones.

If you'd like, create a small canvas bag to store your story stones. Use an alphabet stencil to paint words onto the canvas bag. Allow to dry completely before storing your stones.

To protect your stones for many uses, use a spray sealer or Mod Podge.

Aimee is a suburban mom of 3 daughters and resides in Richmond Hill, Ontario. She enjoys sewing clothing for her small handmade clothing business, baking, DIY projects both big and small, travel, and finding creative ways to save her family money.

Latest posts by Aimee Geroux (see all)