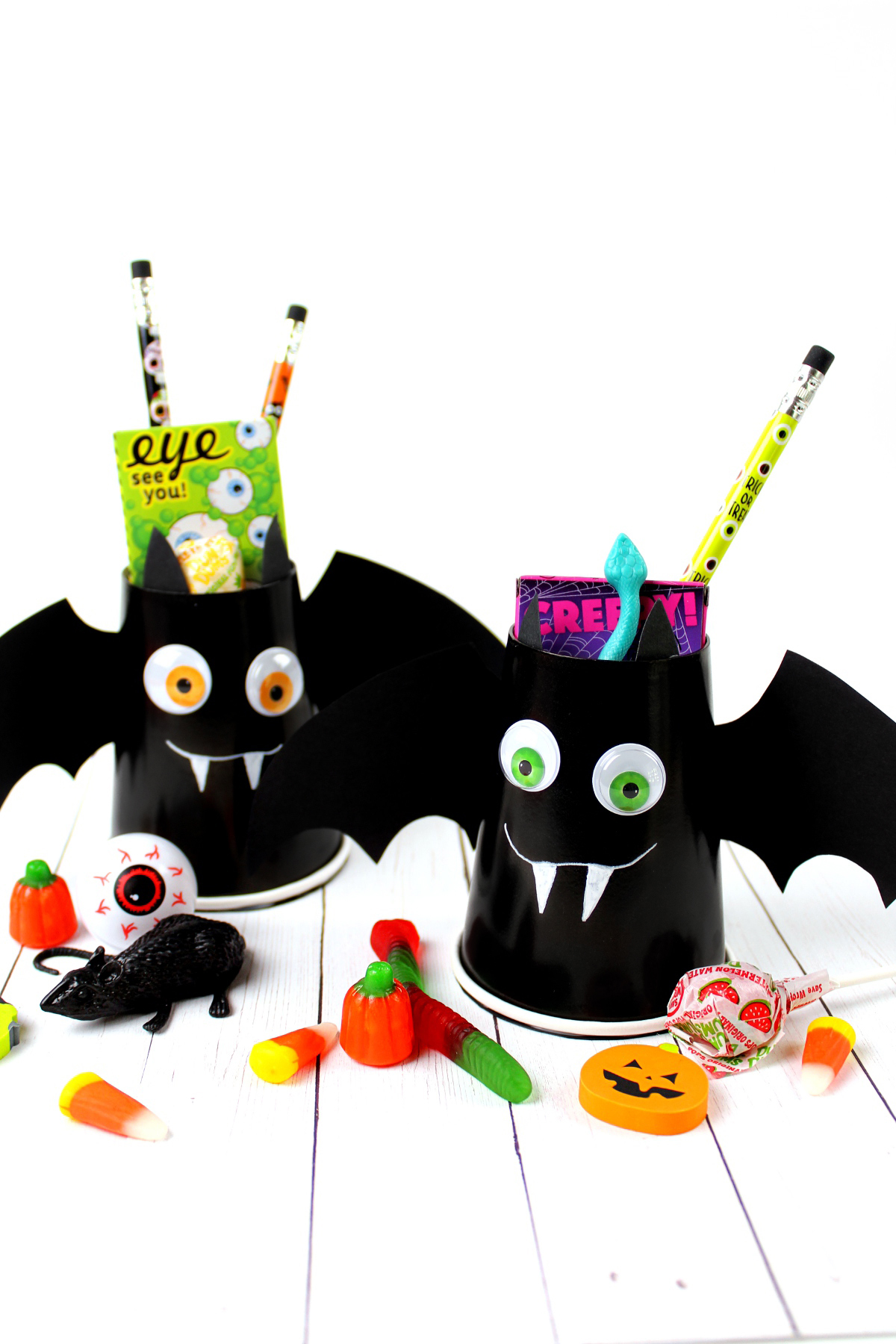 The final DIY Halloween treat cup craft from my series today is here, Halloween Bat Treat Cups!
They are the perfect match for this series, I mean what is Halloween without bats right?
If you missed the previous two, don't fret! You can check out both the Mummy Halloween Treat Cups and the Halloween Frankenstein Treat Cups at your leisure.
I think having all three versions of these treat cups would be the ultimate feature for any Halloween party!
Set up a spooky candy bar and let your guests fill up their spooky cups with treats.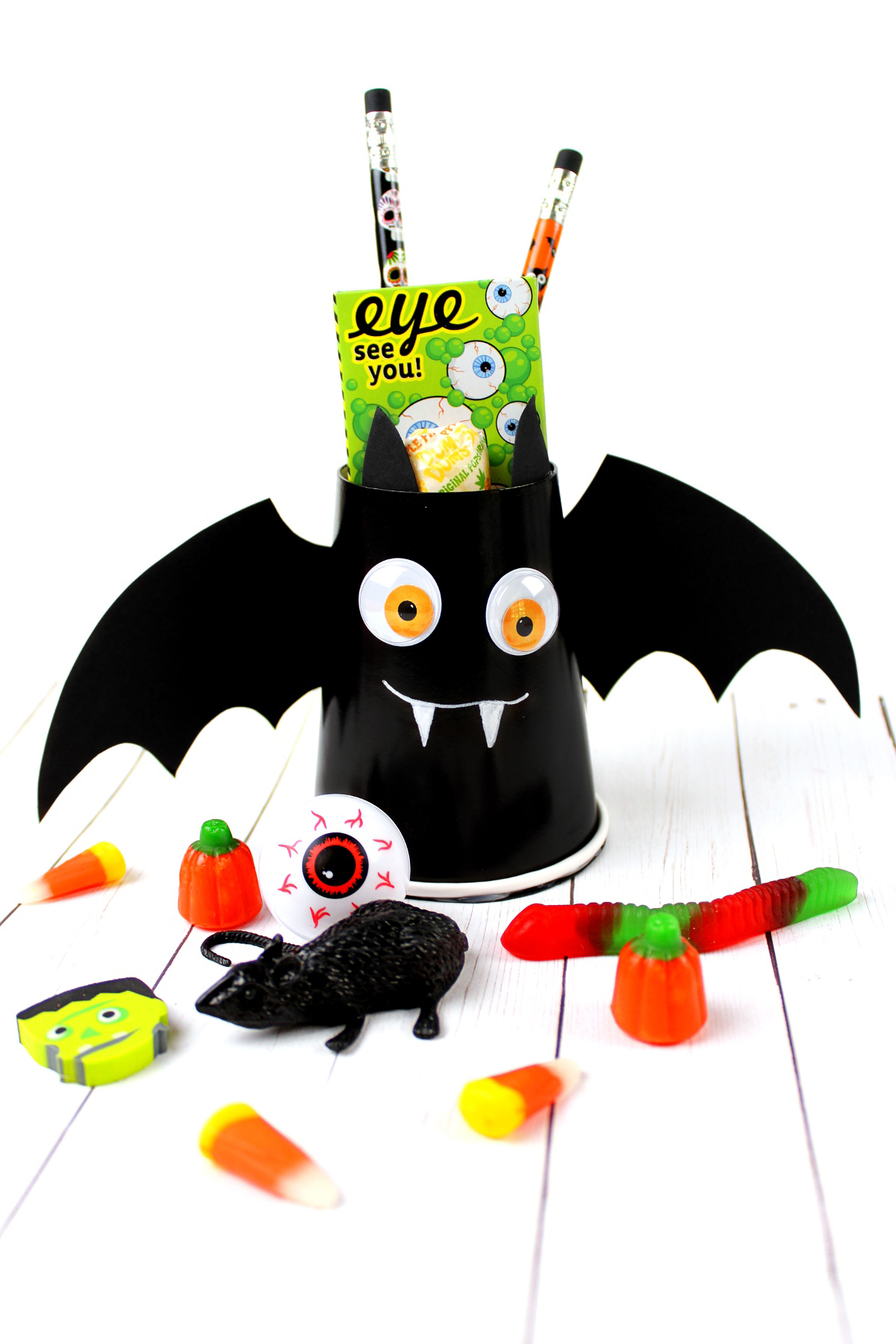 DIY Halloween Bat Treat Cups
If you like to send little holiday-themed gifts for your child's classmates, you can find great non-candy Halloween treats to put in these at your local dollar store.
Things like a pair of Halloween socks, pencils, erasers, tattoos, stickers, and more.
They are also a great way to limit candy intake after trick-or-treating!
Are you ready to make these easy DIY Halloween Frankenstein Treat Cups?
Make Your Own Halloween Bat Treat Cups
Scroll through the visual instructions and then find the full supply list and detailed instructions below!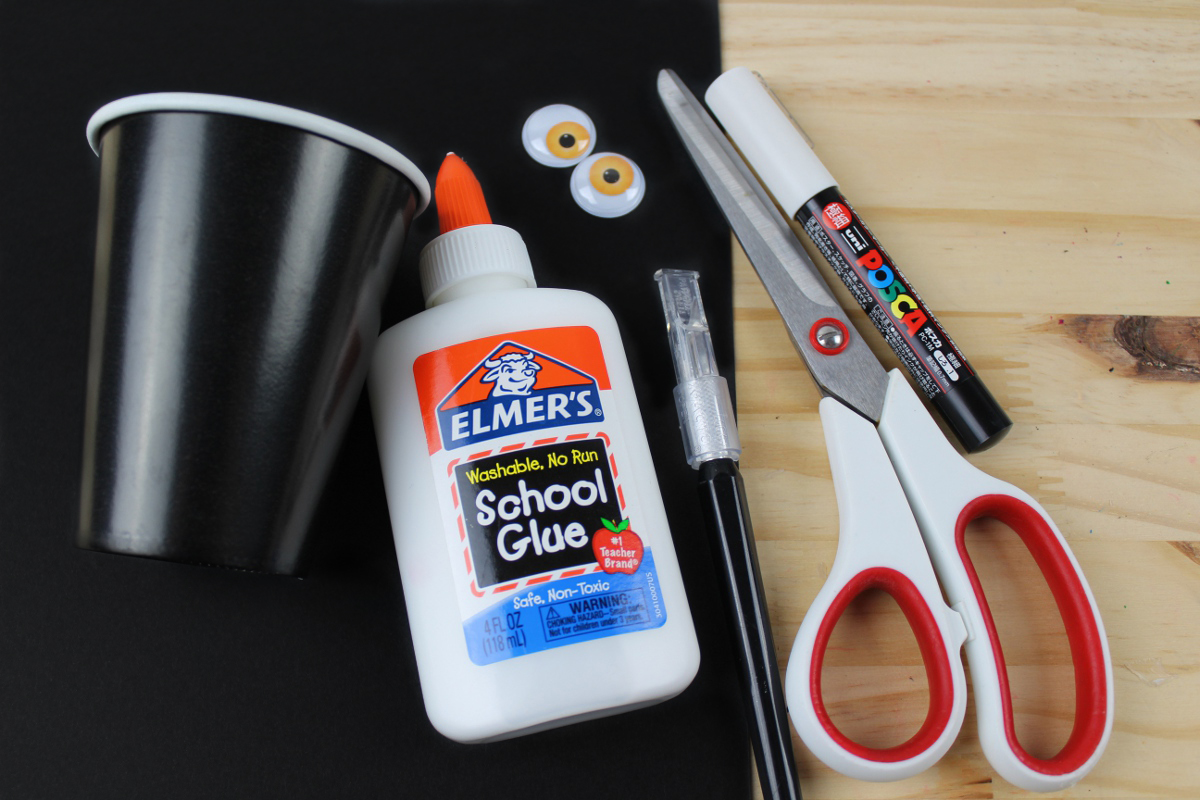 Get all the supplies you will need and put them in one spot.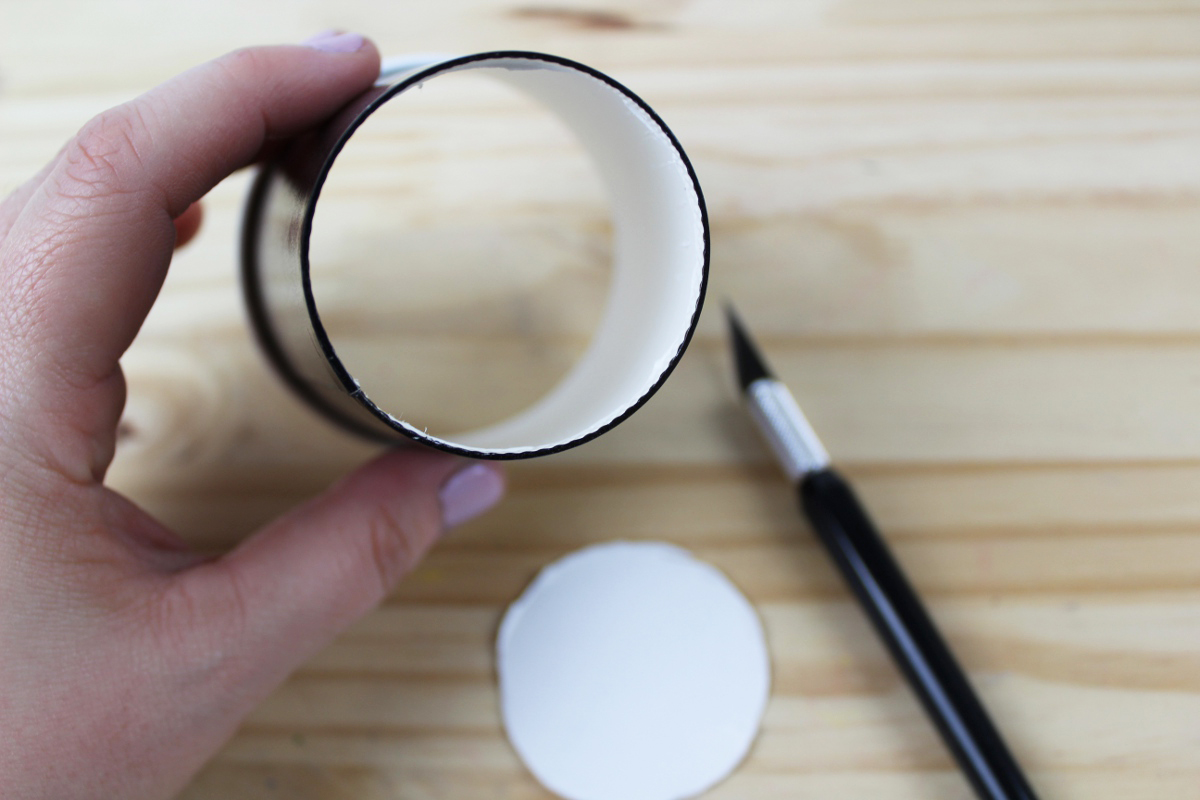 Cut the bottom out of the cups.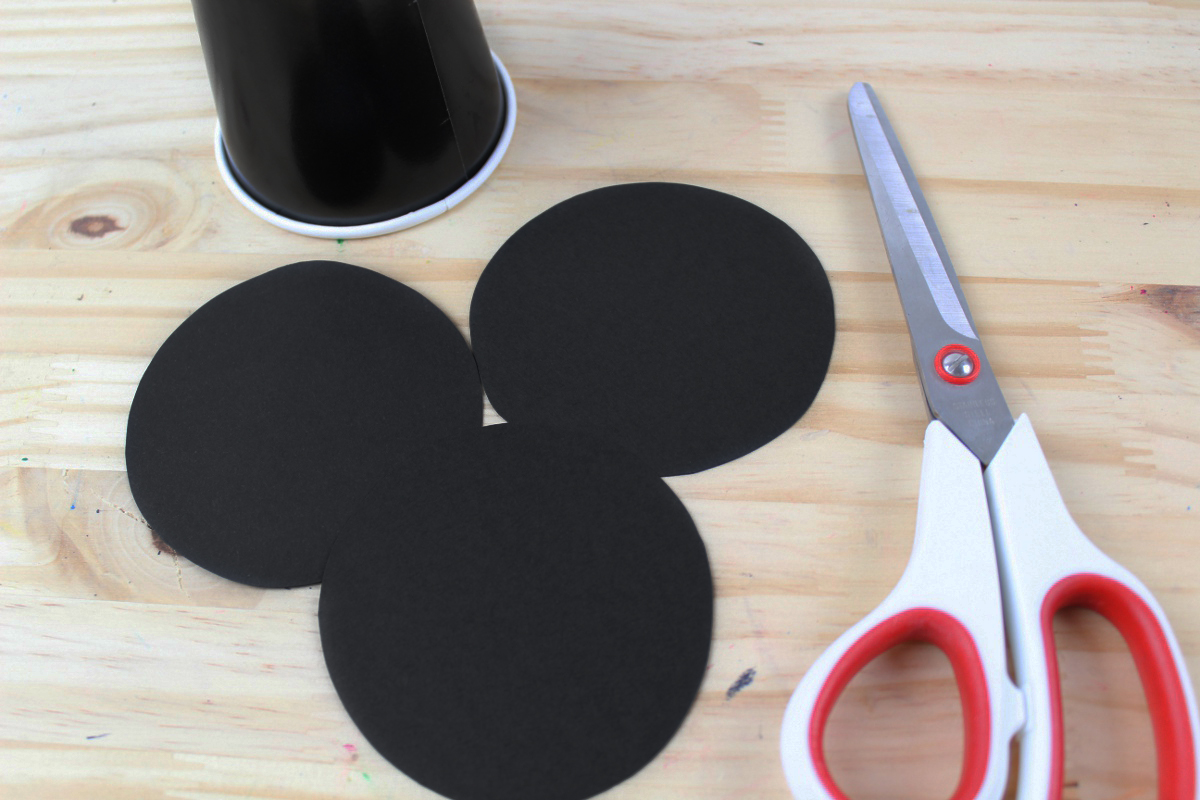 After tracing your circles using the wide opening, cut them out.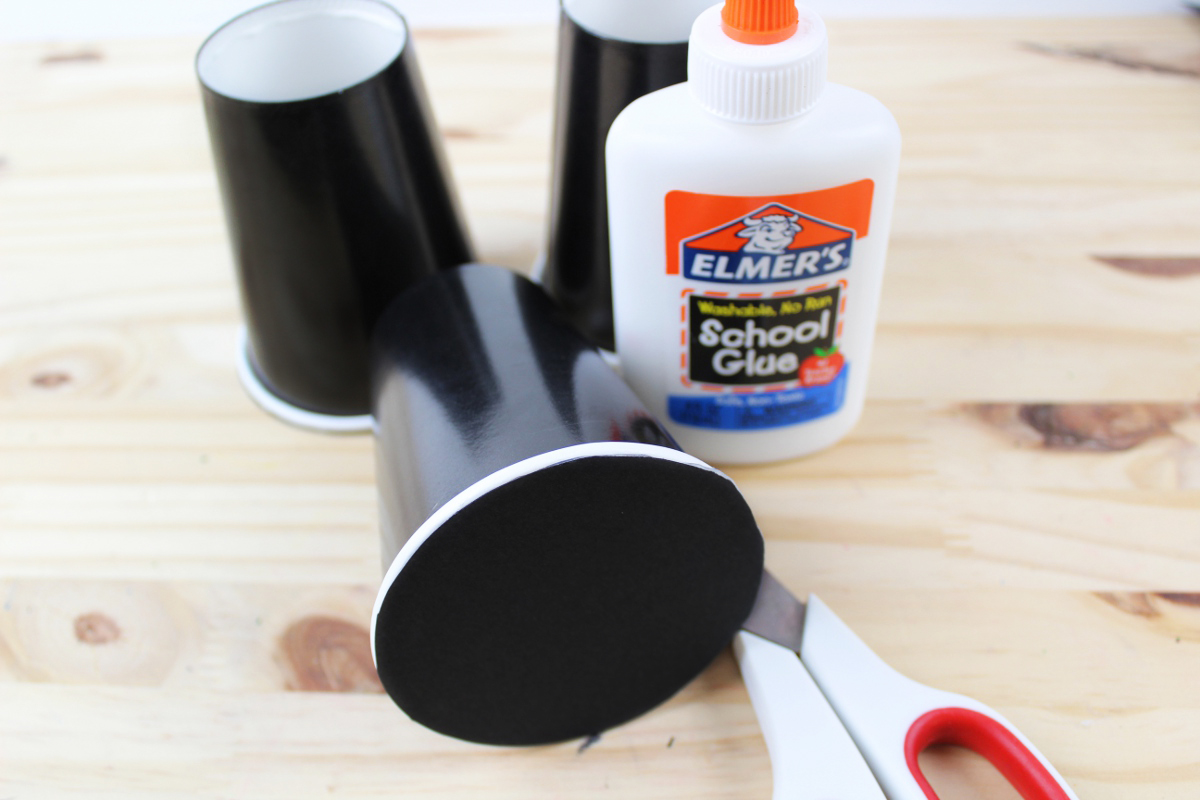 Glue one circle on the wide opening of each cup.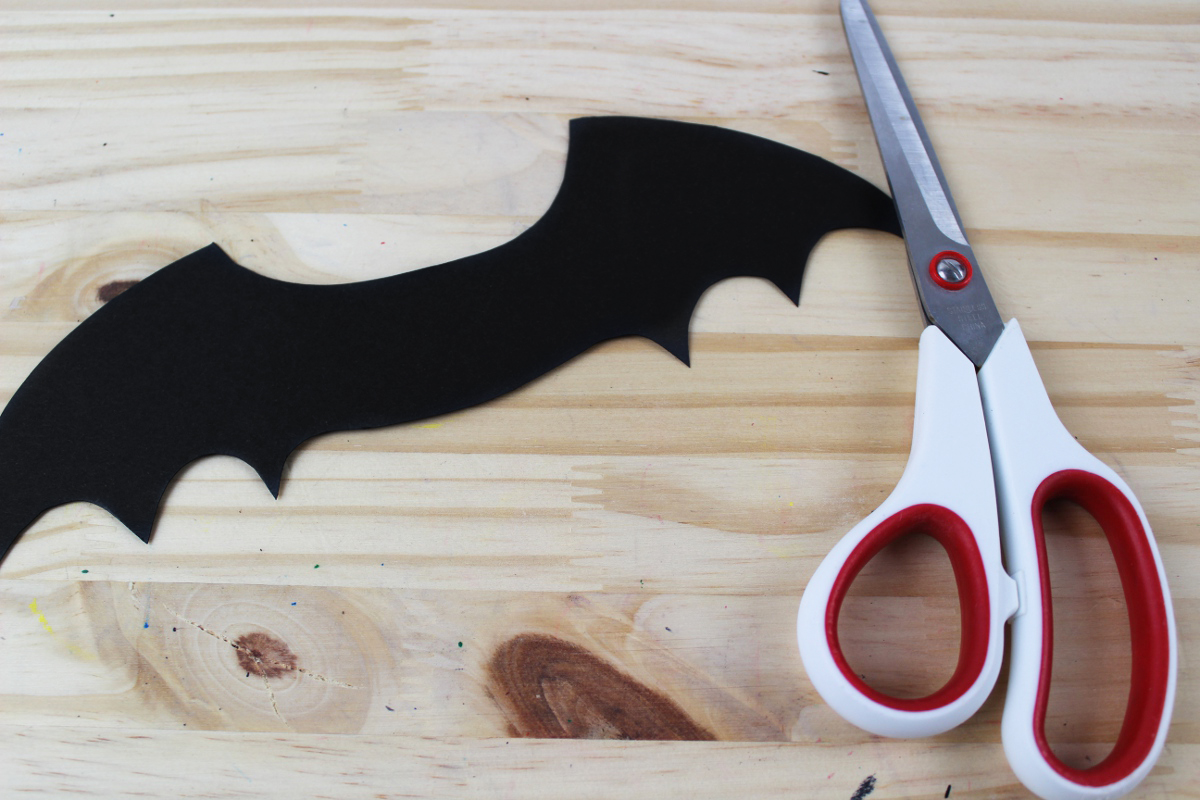 Print this template on white paper and use it to cut your bat wings and ears on black cardstock.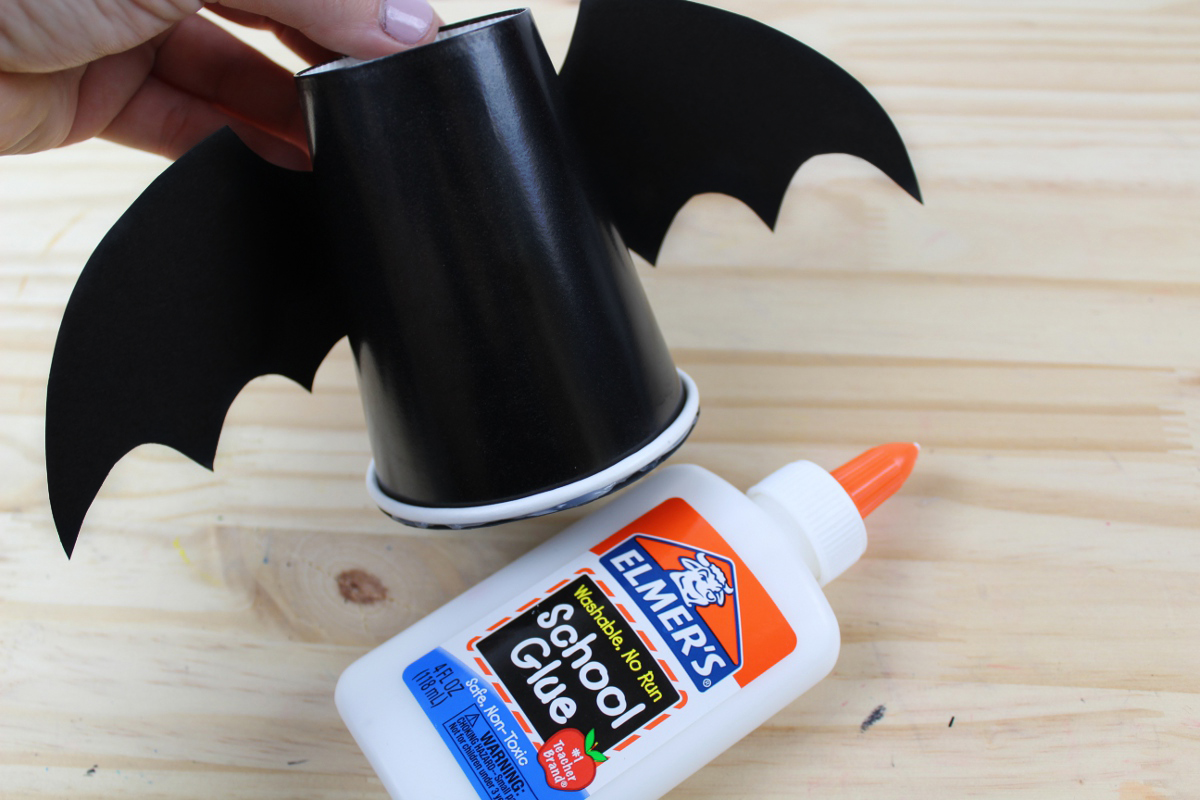 Glue your bat wings on the cup.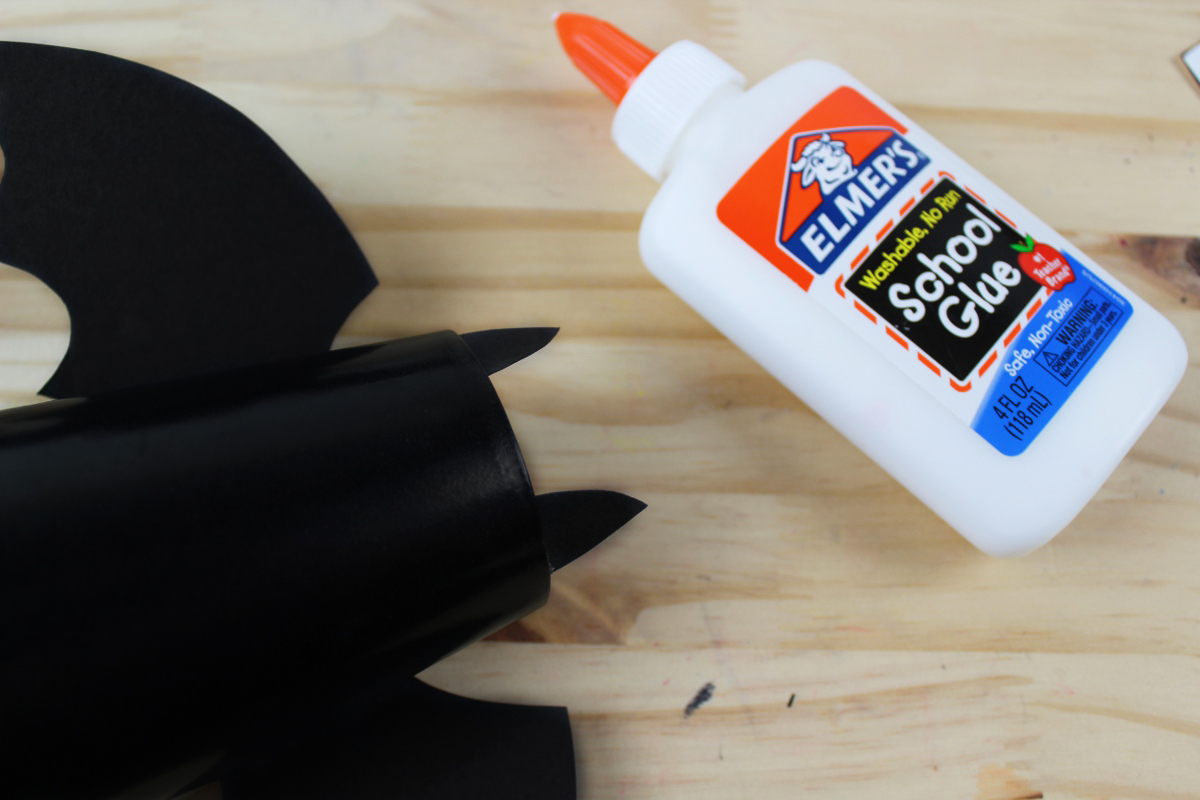 Next, glue the ears on the cup.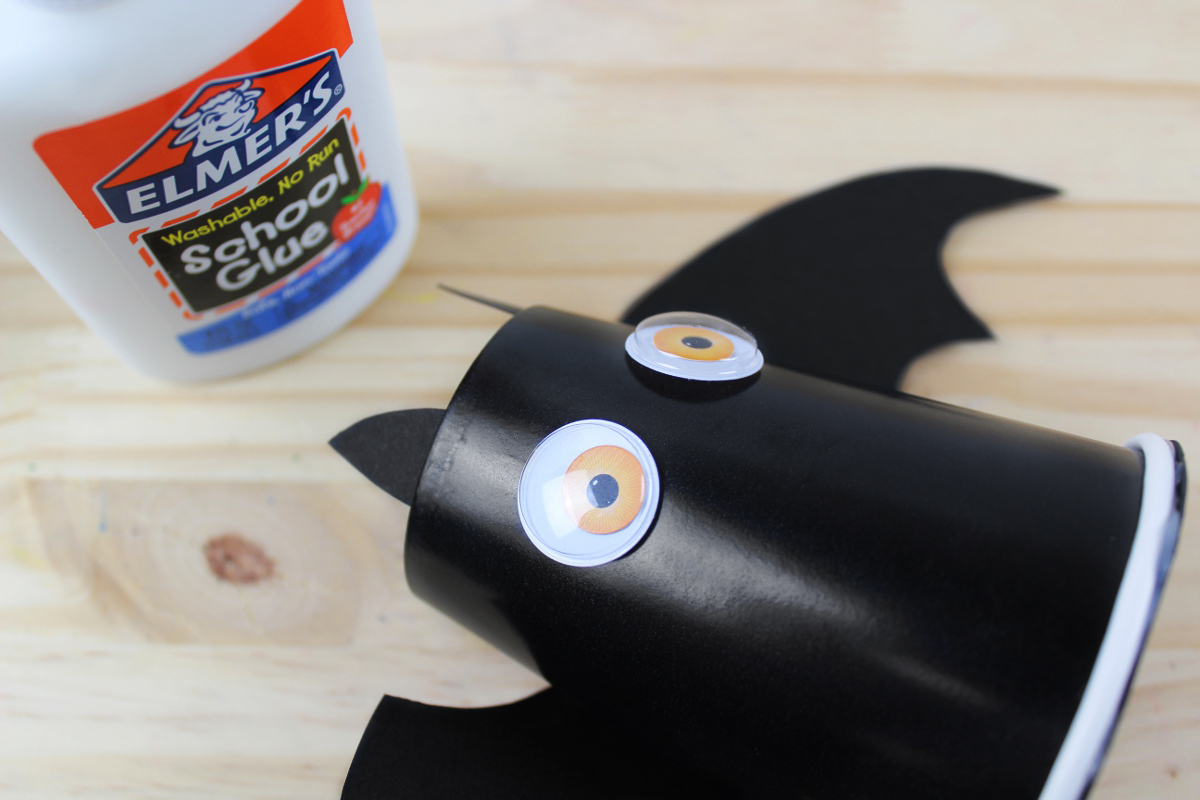 Take your googly eyes and glue them on the cup.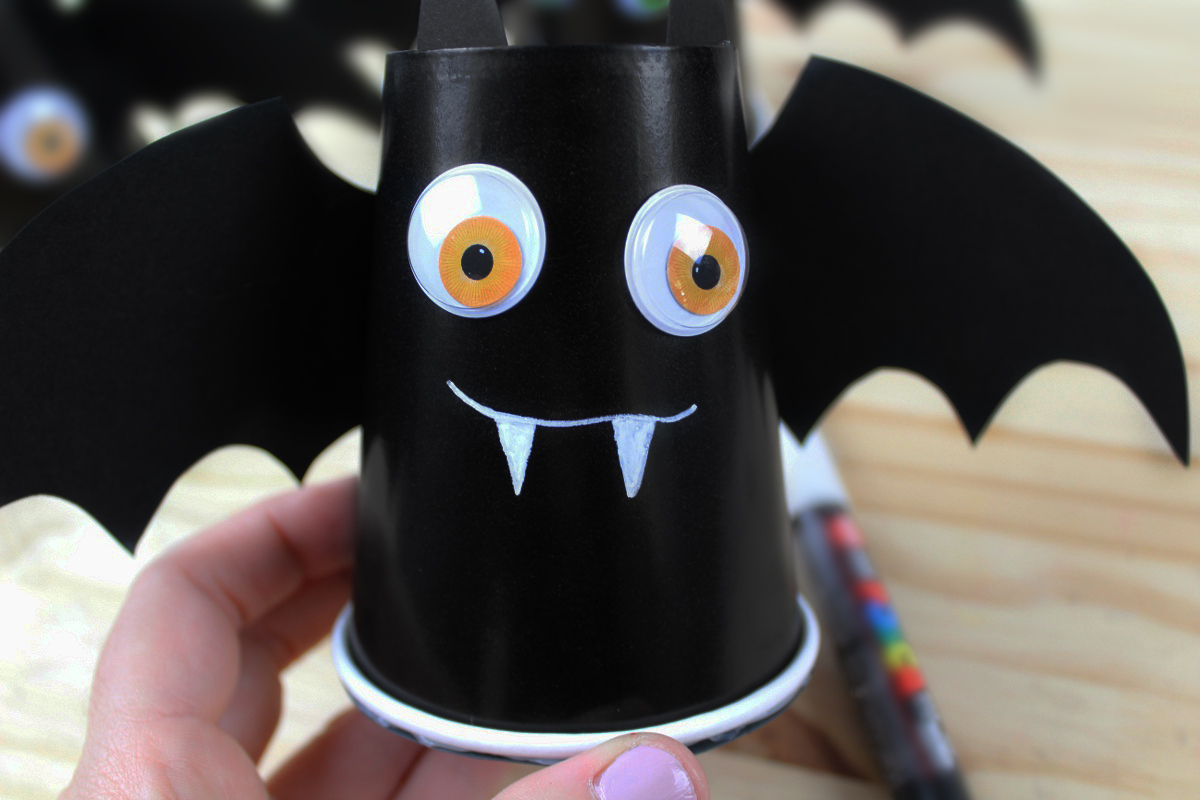 Using your marker give your bat a spooky mouth.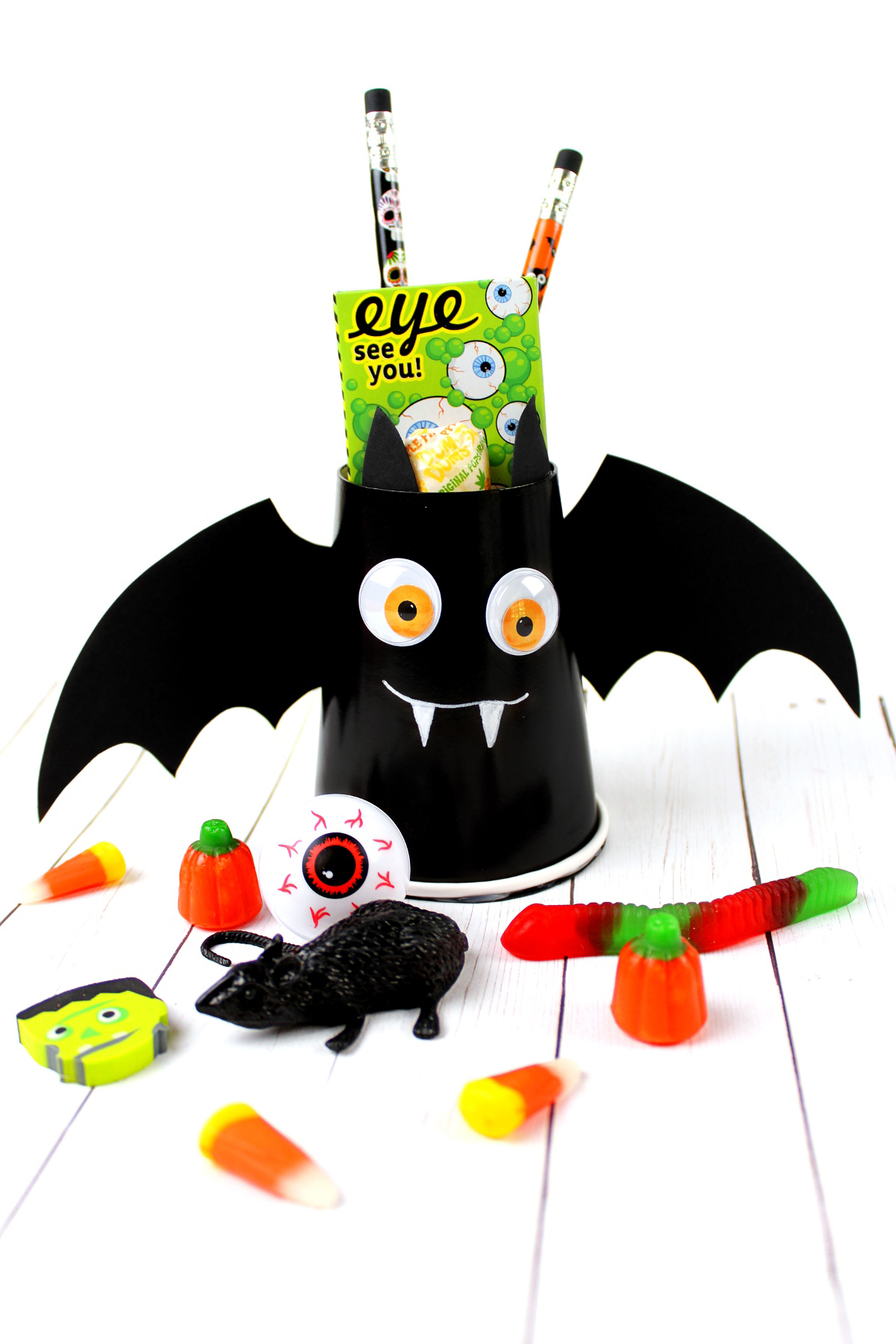 Fill your Halloween Bat Treat Cups up with some goodies and enjoy!
How To Make Your Own Halloween Bat Treat Cups
Gather your supplies listed below and enjoy making this spooky fun craft with your kids!
Supplies:
Black Paper Cups
Scissors
Xacto Knife
White Paint or Permanent Marker
Instructions:
Use an X-Acto knife to cut the bottom out of the black paper cup. (adult needed for this step)
Turn the cup upside down on a piece of black cardstock and trace around the cup.
Cut the circle from the cardstock and glue to the bottom of the paper cup. Trim off any excess.
Print out the bat template, cut out and trace on black cardstock. Cut out bat wings and ears.
Glue the wings and ears onto the paper cup.
Glue on googly eyes.
Use a white marker to draw on a mouth and fangs.
Add candy and small toys to the treat cups for a fun and spooky Halloween party favour!
.
If you'd like to add some Halloween treat bags to your crafting check out my Spooky DIY Halloween Treat Bags!