Hasbro Holiday Gifts For The Whole Family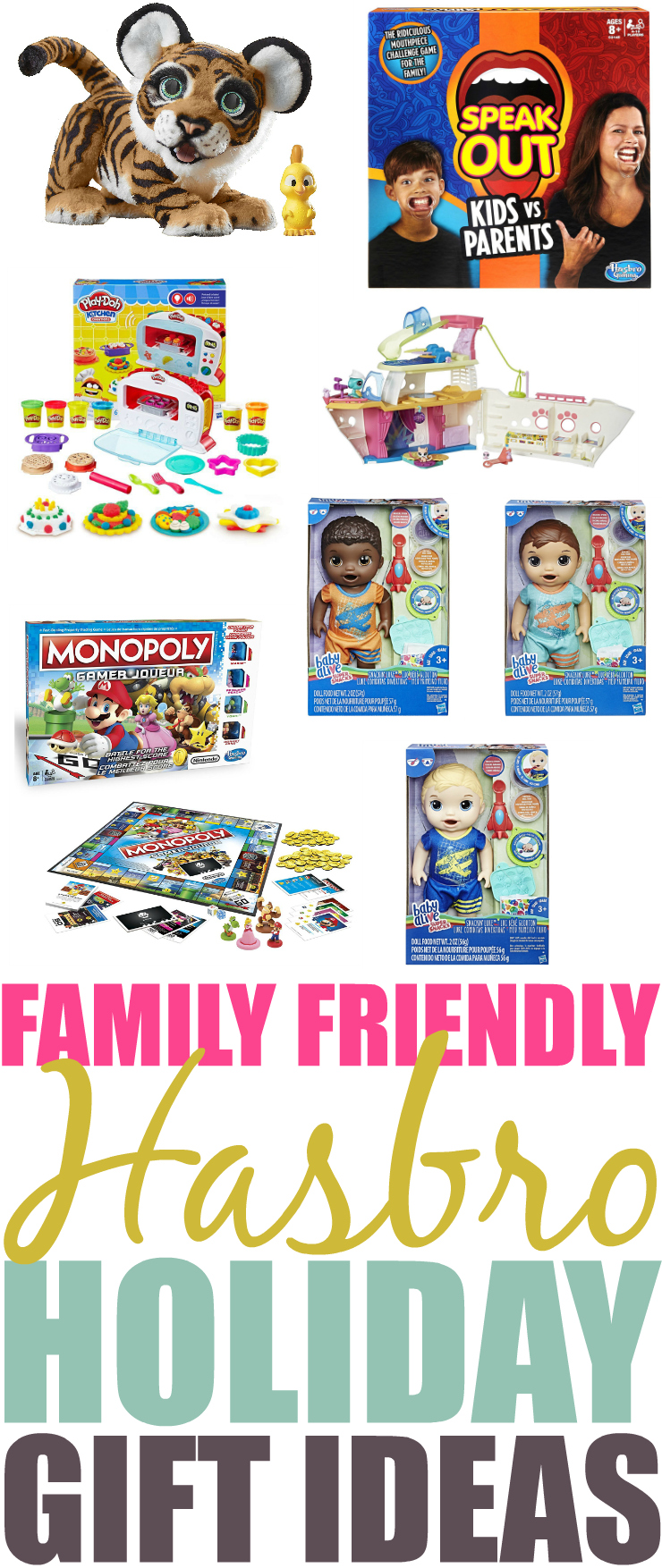 I can't believe it is November already and before we know it Christmas will be here!
If you are anything like me, finding the perfect gifts for everyone in your family is already on your mind.
Bella is pretty easy-going, this is actually the first year she is starting to ask for things. Other than the one big item she wants that is only sold in the US, everything on her wish list is going to be a breeze. I am still working on how I will get her most sought-after toy, but I will.
Abby and Hailee are getting older, so finding them personal gifts can get tricky. Thankfully though, they still write out a list that gives me some starting ideas!
Then there is our traditional family gift that Santa brings. It is a gift the whole family can enjoy together, something like a board game, or movie.
Hasbro Holiday Gifts For The Family
This holiday season I am sharing some of our favourite toys and games with you. From things to keep the curious little one's imagination running wild, to hilariously fun competition the whole family can partake in.
Hasbro has some amazing toys that I am sure will be topping many wish lists this year, and I am going to share some of our Hasbro favourites with you. Plus, at the end of this post, I am giving away a special prize so keep reading!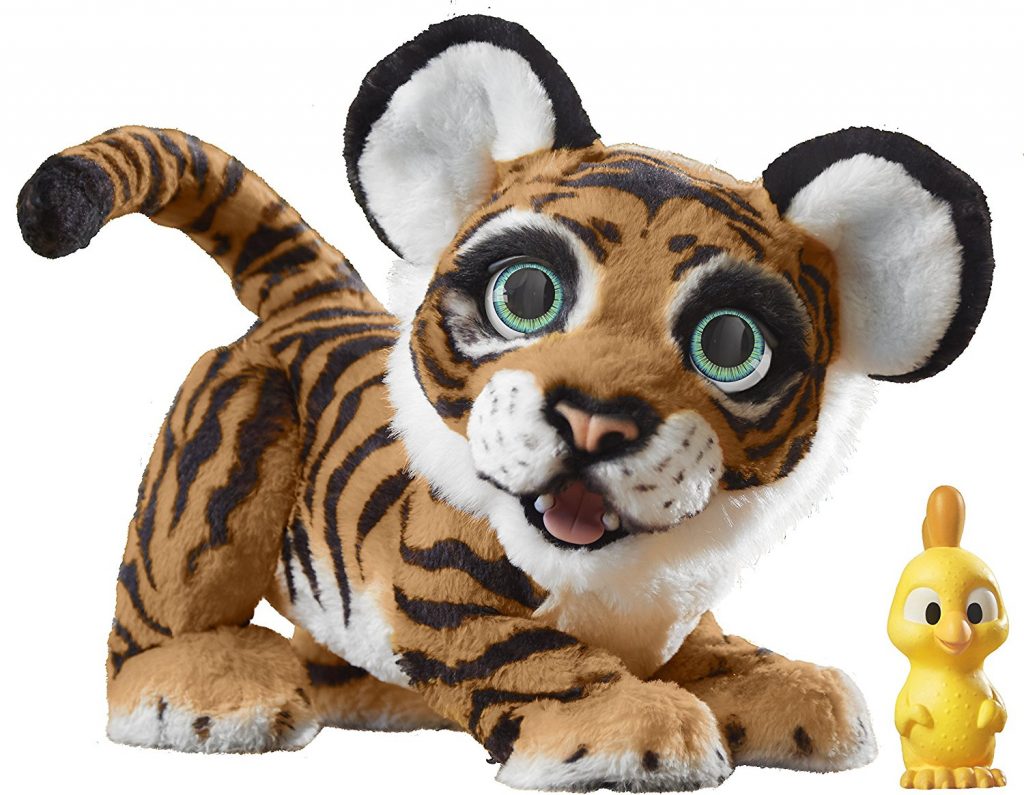 FurReal Roarin' Tyler
This is Bella's second FurReal pet. Last year her dad bought her Flurry the baby snow leopard for Christmas. She plays with her almost daily, even a year later!
When we received Roarin' Tyler the playful tiger she may have had a mini freak out session. She has watched many videos on YouTube about him and the look of surprise and joy in her eyes when she saw him melted my heart.
I was pretty surprised at how big he is compared to Flurry. Watching her pick him up has given me a few chuckles as he is the size of her torso LOL!
Bella has been exploring all the things Roarin' Tyler does over the past week. She really enjoys roaring at him to get him to roar back, she thinks it is utterly hilarious!
He responds to your child's sounds and touches with over 100 sound and motion combinations!
Roarin' Tyler comes with a little chicken toy that he reacts to when it squeaks. Bella thinks our cats will react like Tyler and tries to get them to play with his chicken.
You can buy the FurReal Roarin' Tyler on both Amazon.ca and Amazon.com.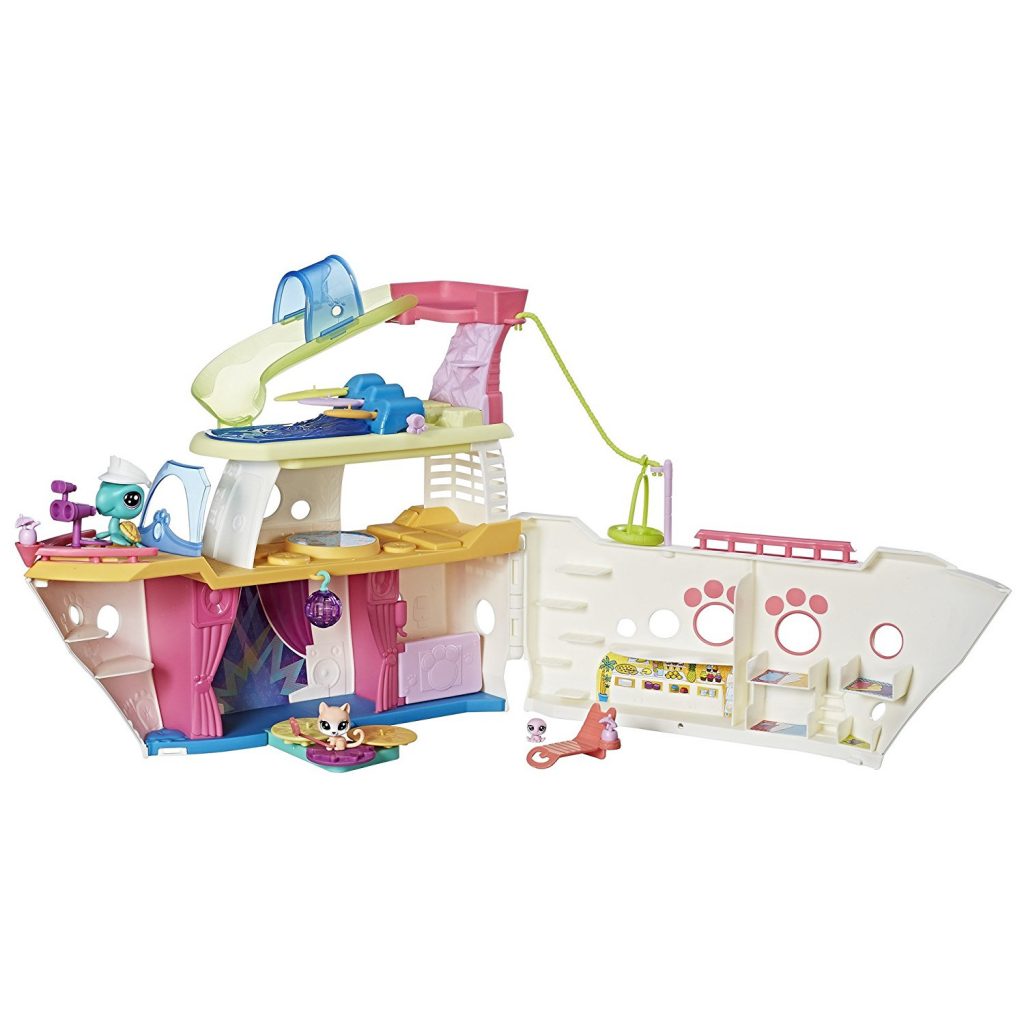 Littlest Pet Shop Cruise Ship
The Littlest Pet Shop toys have been a favourite in my home for many years. Abby and Hailee both played with Littlest Pet Shop sets and toys when they were younger, and many of those sets and toys I kept and now Bella has been able to enjoy them.
Just to put that in perspective for you if you are new to the blog, Abby is 15 and Hailee is 12. So those toys are a good decade old and are still in perfect condition. The quality of Hasbro branded toy is unbeatable!
The Littlest Pet Shop Cruise Ship is the first non-hand-me-down Littlest Pet Shop set for Bella. When she saw her brand new ship she couldn't wait to get it out of the box to check it out.
In true Bella fashion, she had to run to gather all of her pets before we could open the box. She could barely contain her excitement for this big new ship for all her Littlest Pet Shop pets.
A child's imagination is such a beautiful thing. Bella has such a wild imagination and watching her play brings me so much joy. When her pets set sail on their new ship in the ocean she warned them about the family of sharks in the waters. She then proceeded to sing the baby shark song to them.
While Bella is my last child and there will be no one to pass this down to in our home, I know I will be able to pass it down to someone in the future and that it will provide lots of imaginative play for years to come.
The Littlest Pet Shop Cruise Ship comes with 1 classic, 1 mini, and 1 teensie-scale pet, 8 accessories, sticker sheet, and instructions. The ship has a capacity to fit up to 30 of your child's favourite pets for one big Littlest Pet Shop vacation!
You can buy the Littlest Pet Shop Cruise Ship on both Amazon.ca and Amazon.com.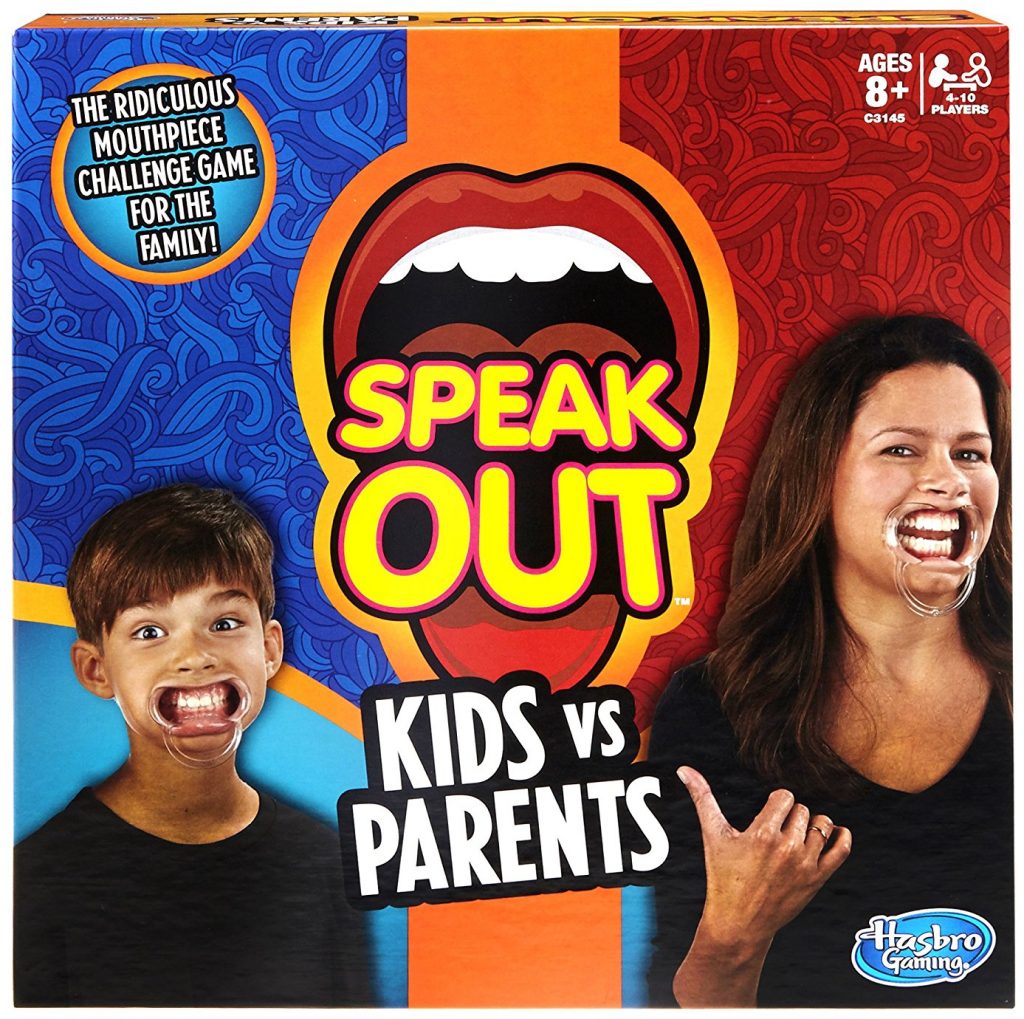 Speak Out Kids vs Parents
If you have never watched Joe Santagato's videos … what is wrong with you? Joking, kind of. Anyway, in 2016 he posted a hilarious video of him playing a game where you had to guess what the other person was saying. The person speaking had to wear a mouth guard of sorts.
Well months later he posted another video announcing he had teamed up with Hasbro to bring the Speak Out game to life, and hilarity ensued! The original game was rated 16+, so some of the sentences might not be totally appropriate for family game night with younger children.
Hasbro being a family go-to for family-friendly games came out with another edition, Speak Out Kids vs Parents, which is rated for 8+.
This game brings the whole family together for a night of belly busting, tear-inducing laughter.
So, if you are looking to bring some laughter to your family game night, Speak Out Kids vs Parents needs to find its way under your Christmas tree this year!
You can buy Speak Out Kids vs Parents on both Amazon.ca and Amazon.com.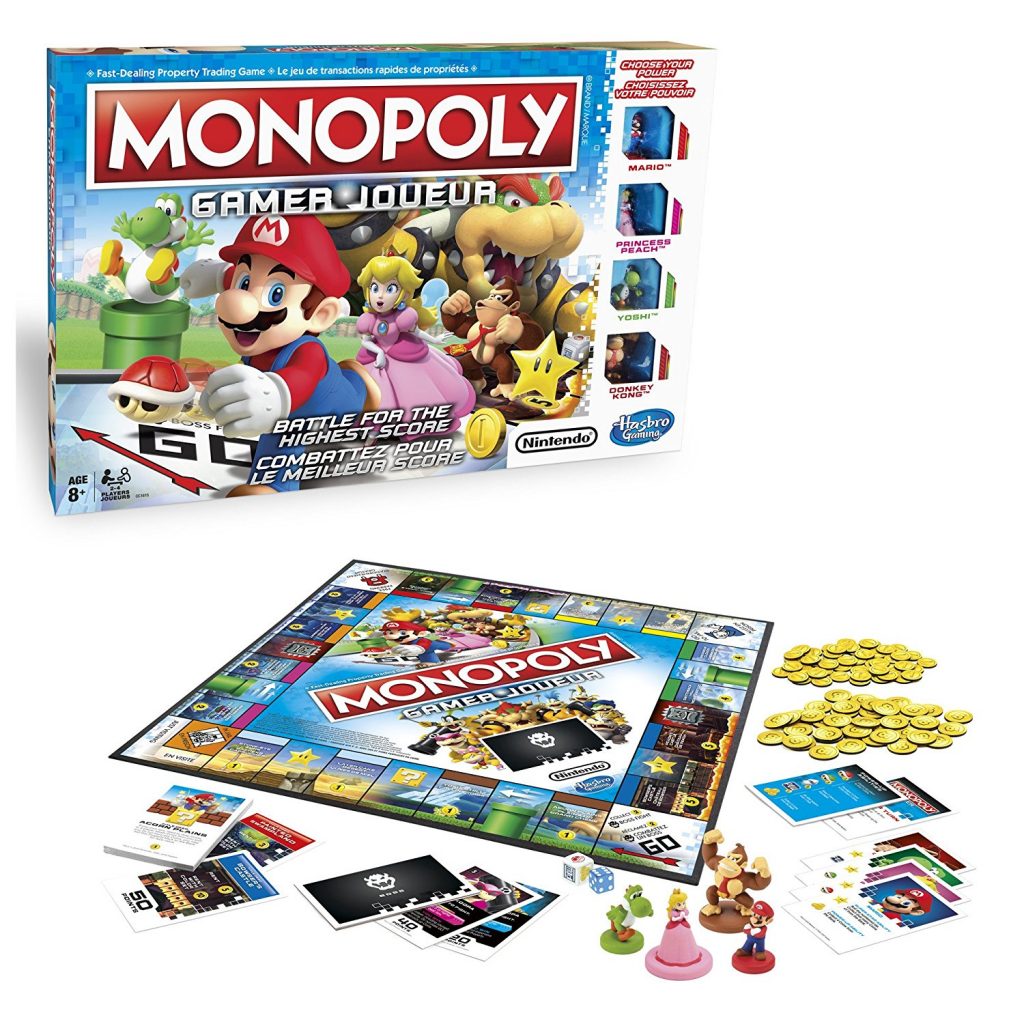 Monopoly Gamer
For as long as I can remember, Monopoly has always been a part of family game night in my family. Growing up as a child, my family would have a weekly family game night where we would pull out a game and battle it out. Nothing like some good ol' family rivalry to get siblings going right?
One year for Christmas Santa brought us the game Survivor and I instantly started crying. Not happy tears guys, I was not happy! Let's just say I didn't get along much with my siblings growing up, I was the rebellious child, and I knew I would instantly be voted off the island first.
But oh did my whole family try to convince me that they would not vote me out first so I would play. Can you guess how the first round went? If you can't, I was 100% voted out the first round and that might have been the end of game night for a while!
Back to Monopoly, it was definitely a brighter and happier game to play on family game night for me. I killed it and still do. Nothing made me happier than sending my family directly to jail, without stopping at GO!
When I had my own children and they were old enough, we started our own family game night. Monopoly has been the star on many occasions.
All three of my daughters love Super Mario, so do my nephews and niece. The Monopoly Gamer will be the perfect game for all the kids to play when they come over to visit.
You can buy the Monopoly Gamer on both Amazon.ca and Amazon.com.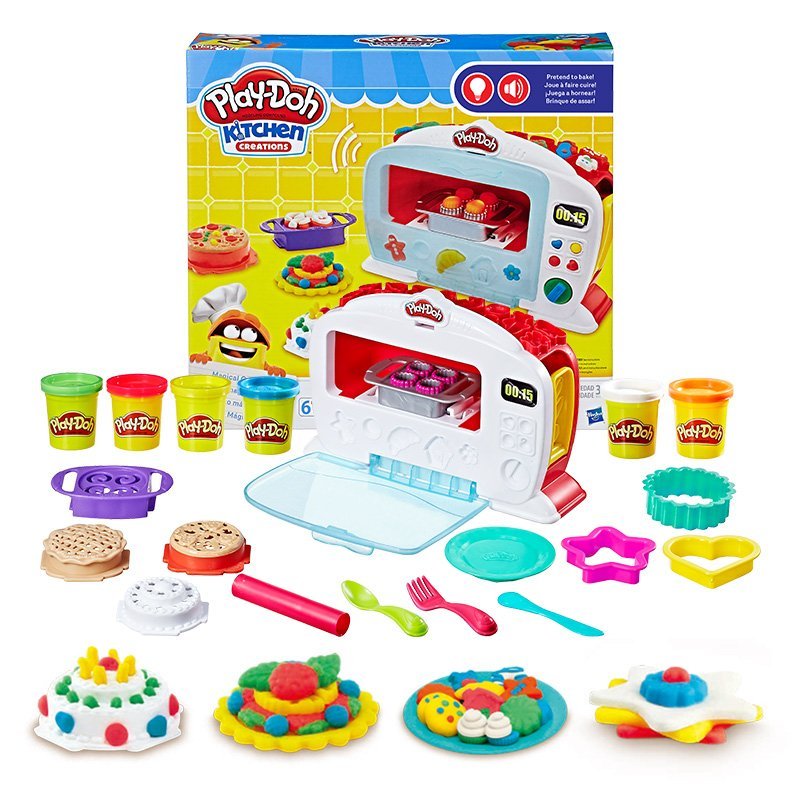 Play-Doh Magical Oven
I have yet to meet a child who doesn't like Play-Doh, and if I hand Bella some Play-Doh she is occupied for hours.
This classic has been around forever and watching the brand evolve and come up with some amazing new products over my 15 years of parenting has been magical!
It certainly brings back my own childhood memories, and I totally still play with Play-Doh … with the kids of course.
When Bella opened her Magical Oven she was so ready to bake me up some delicious treats. She loves playing pretend chef with her kitchen so this oven was a hit!
Before she started she had to go get her chef costume, you have to fit the part right? Needless to say, she loves the Play-Doh Magical Oven and it has provided hours of endless creations. Besides being so much fun, it is great for improving fine-motor and imagination skills too!
The Play-Doh Magical Oven Includes:
Oven
Five pretend food attachments
Three cutters
Roller
Knife
Fork
Spoon
Plate
Six cans of Play-Doh
Instructions and one creation card
You can buy the Play-Doh Magical Oven on both Amazon.ca and Amazon.com.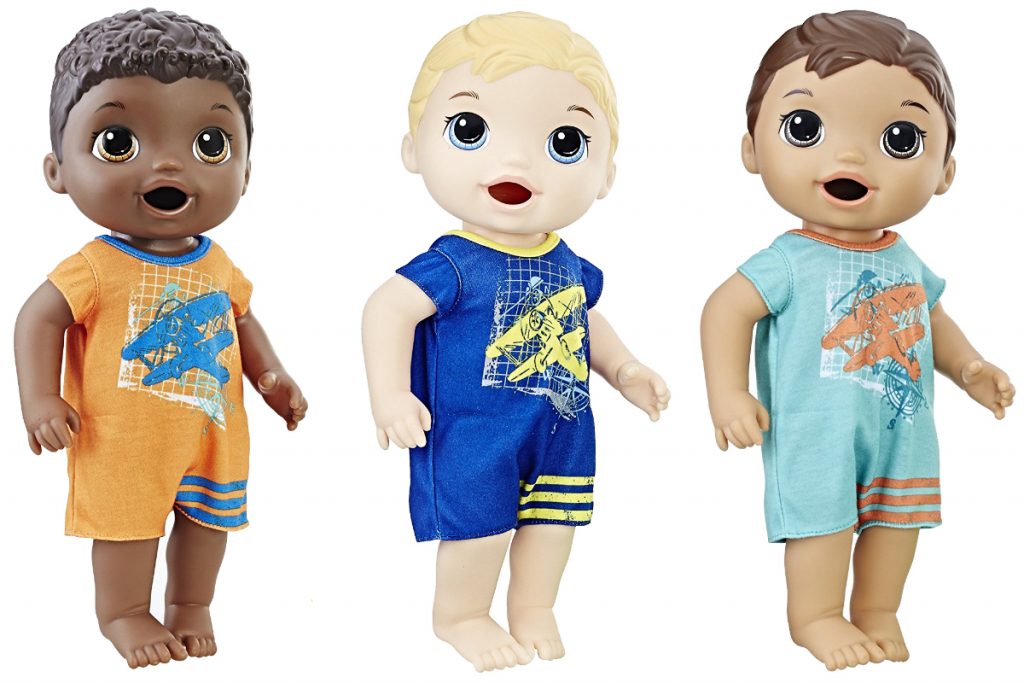 Baby Alive Snackin' Luke
I can tell you that many of my readers over the years have asked me to help them find affordable boy dolls for their sons and daughters. Another thing I can tell you is that prior to this year, this was no easy task.
Many of the boy dolls on the market in years past were either sold by small brands at outrageous prices, looked like a girl doll in boys clothing, or we not of great quality.
Parent's rejoice, Hasbro has come through for those of us searching high and low for an affordable boy doll option for our children.
Baby Alive Snackin' Luke is the first boy in the Baby Alive Super Snacks line.
Bella has loved making Luke all different kinds of pretend food with the reusable solid doll food and snack shaper. She loves to scoop them from his dish with his little airplane spoon and feed him.
This isn't Bella's first Baby Alive doll and she knows all about the need to change his diaper. After she feeds Luke she promptly tells him it's time to go potty so she can change his diaper and they can go to the supermarket. I love watching her play with toys that encourage her to use her imagination.
Baby Alive Snackin' Luke comes with an outfit, diaper, 2 one-ounce containers of reusable doll food, 3 accessories, and instructions.
You can buy all 3 versions of Baby Alive Snackin' Luke on both Amazon.ca and Amazon.com.
ENTER TO WIN
I have teamed up with Hasbro for this special holiday giveaway where one lucky reader will win a Baby Alive Snackin' Luke!
Prize:
Baby Alive Snackin' Luke Blonde (Value $29.99)
This giveaway is open to Canadian residents who have reached the age of majority in their province.
To enter the giveaway complete the mandatory entry options in the giveaway widget below. Once you have completed your mandatory entries you will be able to complete additional non-mandatory entry options. Complete those for additional ballots in the giveaway!
This giveaway will close on December 13, 2017, at 11:59 PM EST. The winner will be drawn from all eligible entries and contacted via email on December 14, 2017. The winner will have 24 hours to respond to the email and claim their prize. If they fail to do so a new winner will be drawn.
Please note that ALL entries are verified and if you submit an entry without completing it you will be ineligible to win
Disclosure: Although we were sent product for review consideration, the opinions and language are all my own, and in no way do they reflect Hasbro. Any product claim, statistic, quote or other representation about a product or service should be verified with the manufacturer, company, provider or party in question.