Limeapple 12 Days of Christmas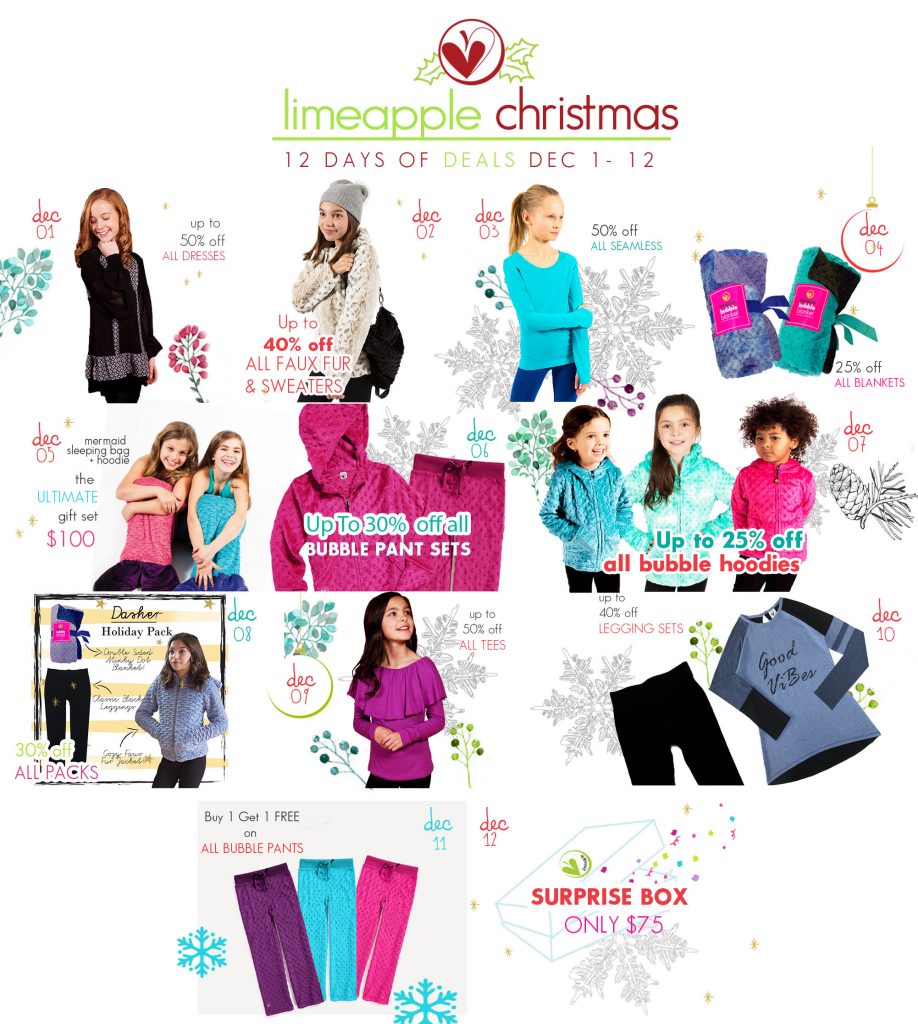 I am so excited to share with you another amazing promotion from one of my fave places to score athletic and fashionable clothing for Hailee and Bella!
Limeapple just launched their 12 Days of Christmas event and each day a new sweet deal is released.
If you are not familiar with Limeapple, they are a lifestyle clothing brand offering fun, practical, well made clothing for smart, confident, adventurous, sweet young girls.
They have everything from hip printed leggings to gorgeous colourful tops and dresses. You can find clothing and more for girls ranging from infant to size 14. Limeapple is sure to have something for every young girl!
They also have some bragging rights, in 2017 Limeapple won the Earnie Award for best swimwear!
Limeapple has been a regular staple in Bella and Hailee's wardrobe. Some of Hailee's favourite dresses are from Limeapple, and she loves their active wear.
My girls love Limeapple, Hailee wears their athletic wear for gym class and Bella has been wearing their yoga leggings since she was just an itty bitty baby. I honestly wish they came in my size, they are so soft and stretchy!
Limeapple 12 Days of Christmas
I'm pretty excited for the Limeapple 12 Days of Christmas sale happening December 1st to 12th. There is going to be great deals for 12 days straight on some of their best-selling fashion pieces.
I have my eyes on a few things for the girls and can't wait for their day they go on sale so I can order them!
Check out all the great daily deals happening during the Limeapple 12 Days of Christmas sale below!
Oh and just a quick note, Limeapple ships quickly. I never wait more than a few days for my order to arrive so you will be sure to get everything in time for Christmas, even if you order on the last day of the sale.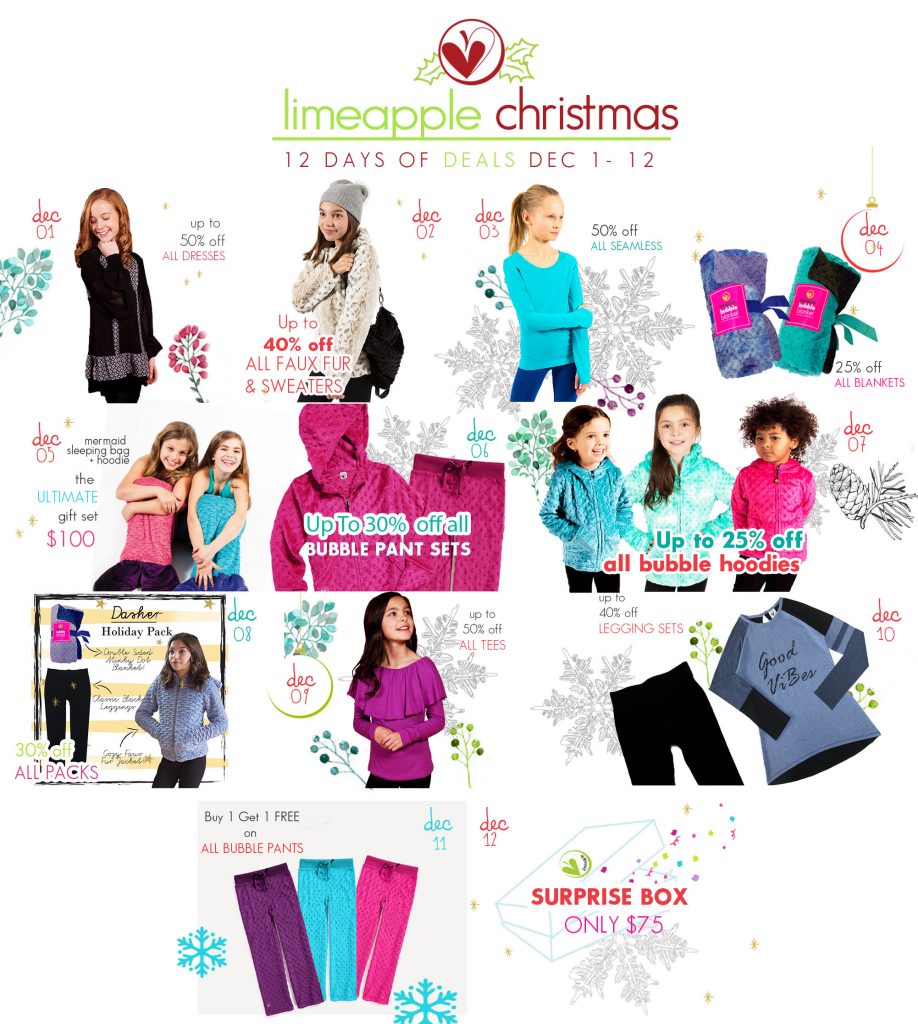 Friday December 1st
If you are looking for a unique, fashionable holiday dress for your little girl, don't miss Monday's deal. All dresses will be up to 50% off!
Saturday December 2nd
If style or comfort is your girls jam, Saturday's deal is for you. Save up to 40% off all faux-fur & sweaters.
Sunday December 3rd
On Sunday it is time to save 50% off all seamless clothing!
Monday December 4th
Get cozy with Monday's deal and snag some of the softest blankets around for 25% off.
Tuesday December 5th
You don't want to miss the Ultimate Gift Set on Tuesday. It includes one of their amazing mermaid sleeping bags (made with minky fabric so it is baby skin soft) and a hoodie for only $100!
Wednesday December 6th
On Wednesday you will save up to 30% off all bubble pant sets.
Thursday December 7th
Grab your girl a bubble hoodie (or two) and save 25% off on Thursday. Hailee loves these hoodies and shhh don't tell her but there is one already tucked away for her for Christmas!
Friday December 8th
Limeapple packs pack some serious saving on their own, but on Friday you will save 30% off all packs. This means you will save twice, cha-ching!
Saturday December 9th
I love Limeapple for unique tops for my girls and on Saturday you can score some for up to 50% off.
Sunday December 10th
Remember how I told you I wish their leggings came in my size because they are so comfy? Well they don't, but you can gift that comfort to your girl because on Sunday all legging sets are up to 40% off!
Monday December 11th
The deals just don't stop! On Monday all bubble pants are BOGO FREE.
Tuesday December 12th
Ok, I guess the deals do have to end sometime. Tuesday is the last day of the Limeapple 12 Days of Christmas sale and what better way to end an amazing sale than with a SURPRISE BOX for only $75. I can tell you, you will definitely get your money's worth and a complete surprise if you just wrap it up and stick it under the tree!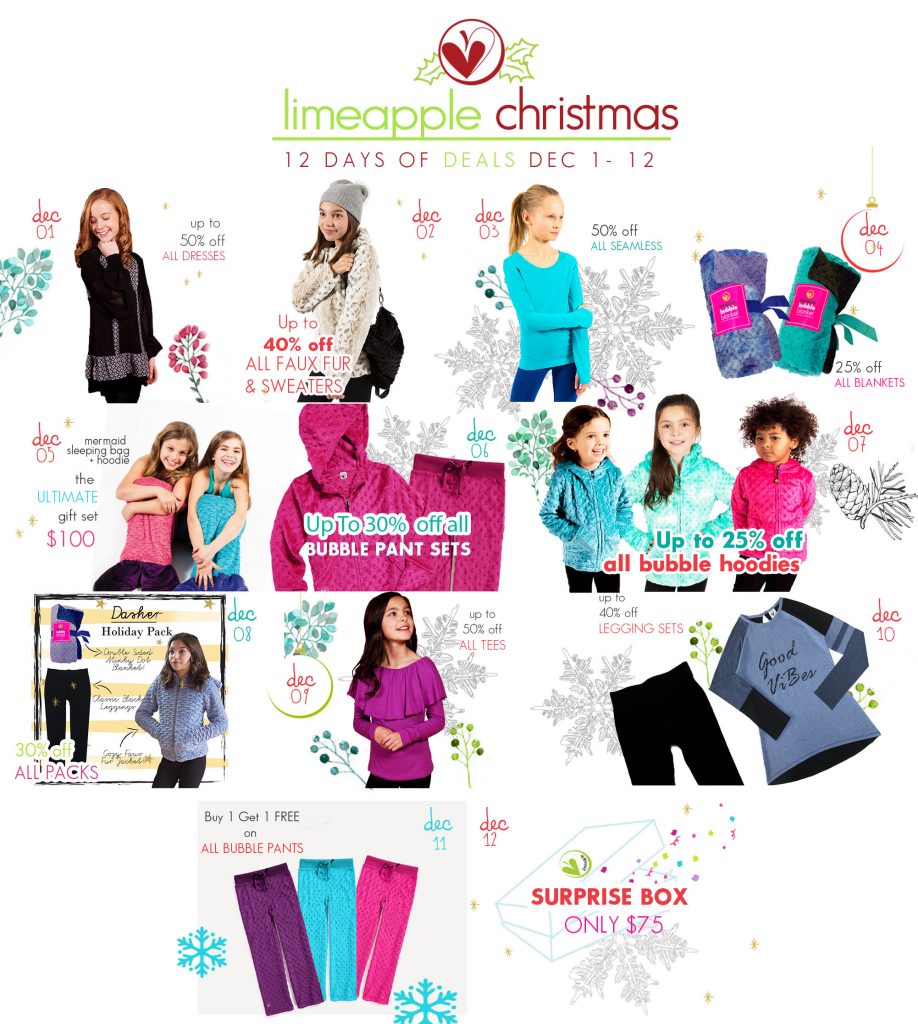 Shop The Limeapple 12 Days of Christmas Sale
So head on over to the Limeapple website to shop this amazing sale before it's gone.
If you'd like to stay in touch with Limeapple to be the first to know about amazing sales, follow them on Facebook, Twitter, Pinterest, and Instagram!
SHOP THE 12 DAYS OF CHRISTMAS SALE NOW
Disclosure: Although this post was sponsored by Limeapple, the opinions and language are all my own, and in no way do they reflect Limeapple. Any product claim, statistic, quote or other representation about a product or service should be verified with the manufacturer, company, provider or party in question.