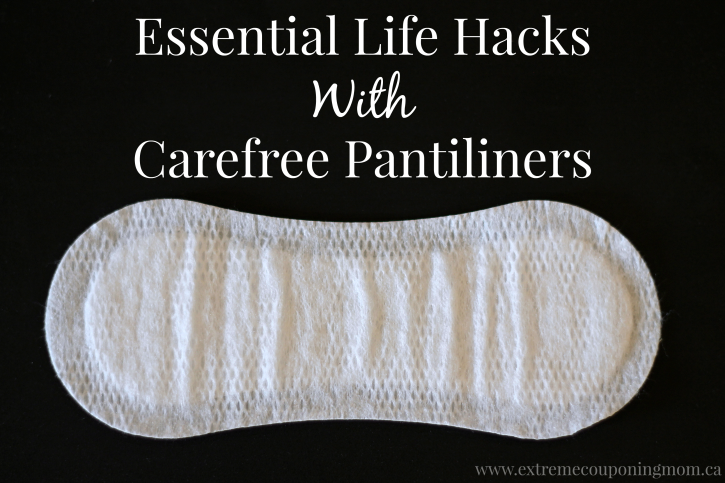 A couple weeks ago I shared with you some of my favourite life hacks using Carefree pantiliners. I had a few great ideas for alternative uses, who knew a panty liner could have so many uses! I wanted to pick your brains and I gave you a challenge asking you to share with me some if your life hacks. I received so many amazing comments with some awesome life hacks.
Carefree asked me to select my favourite life hack, it was difficult to pick just one. So I picked a few that I thought were pretty creative!
Jo-Anna: The last sanitary Gauze was missing from the first aid kit.. When one of the neighbourhood kids fell just outside my home, I slapped a pantyliner and first aid tape on his elbow and sent him home with the note explaining that I had no gauze. His mom saw me and yelled across the parking lot .."Genius !! "

Jana: Wrapping the pantyliner around the bra underwire as a temporary fix to help stop if from irritating your skin

Angela: My husband says that pantyliner's make good dash cleaners.

Courtney: I soak them in water and then freeze them in a glad bag to use as ice packs when my boys hurt themselves.

Jane: I stick one over my web cam on my desk top PC as a privacy guarantee
I loved reading all your life hack ideas, it has given me inspiration to find more ways to use different products other than their intended use!
We also had an awesome giveaway running in that post, the randomly drawn winners have been contacted and have confirmed their eligibility so without further delay here are winners of the 6 Carefree Everyday Kits, a perfect purse-sized pouch that contains Carefree liners and other must-have items to avoid style or beauty mishaps on the go:
Alexandra Y
Jacquie C
Courtney F
Robyn K
Lindsey S
Heather H
You can take the Pledge to Protect today and they'll send you some awesome free coupons for Stayfree pads and Carefree liners. Plus, amazing deals on the best products to help you survive your period. You'll get an email every other month and can unsubscribe at any time.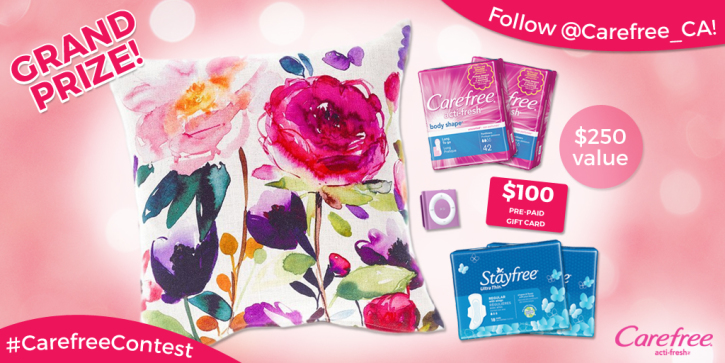 Don't forget to follow @carefree_ca and hashtag #CarefreeContest on Twitter as they are having a contest all month long and they actually have a contest being held RIGHT NOW until 2pm EDT!
Disclosure: Although this post has been sponsored by Carefree, the opinions and language are all my own, and in no way do they reflect Carefree. Any product claim, statistic, quote or other representation about a product or service should be verified with the manufacturer, company, provider or party in question.