How many people suffer from what I like to call ugly winter skin? What is ugly winter skin you ask, well I define it as dry, flaky and most definitely itchy skin and I deal with this each and every winter season. I have tried to intake more water because I heard that helps keep the skin hydrated but apparently the amount of water it seems I would have to drink to hydrate this skin of mine would probably kill me before my skin improved – or so it seems!
I can't remember a winter season that I fought with makeup application looking awful because of my dry winter skin. Or lets discuss why you will never catch me in anything but pants all winter long because my poor legs look like the Sahara desert. I will admit I have tried many products and some have improved things slightly while others have failed to do anything more than make my skin smell pretty.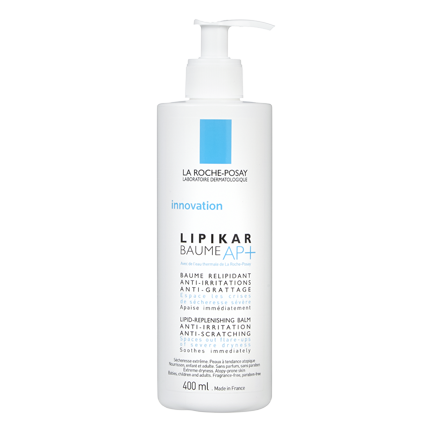 Of course Shoppers Drug Mart has always been my go-to when I've had beauty related questions as the Beauty Experts are very knowledgeable. It wasn't until last winter that I had finally had enough and headed for my local Shoppers Drug Mart to pick the brain of their staff. The lovely girl in the beauty department listened to my concerns and skin issues and suggested I try out the La Roche Posay Lipkar Baume AP+ as it was good for my face and body as well as babies and last winter I gave birth to Bella who had some skin issues as well.
I cannot tell you how much of an improvement I have seen in my skin since using this product on a daily basis. I use it all-year-round to ensure I maintain healthy skin. I no longer fight with my makeup as my facial skin, while it may not be perfect, it isn't dry or flaky. You might even see me in something other than pants and leggings during the winter because I am no longer ashamed of my severely dry skin on my legs too! I also use this cream on Bella every day after her bath and I love how soft and perfect her skin is after using it.
Shoppers Drug Mart has an amazingly wide selection of new skin care products to keep you and your family's skin healthy this winter + you can earn Shoppers Optimum Points on participating skin care products! Who doesn't love healthy skin and some points?
The Beauty Experts at Shoppers Drug Mart offer in-store complimentary skin care consultations using the beautyRx tool which I must say is super cool! The Skin Analysis consists of a Moisture Checker which measures your skins hydration levels. It also consists of a Video Microscope, which magnifies your skins surface by 30x to help diagnose your skin type. Based on your readings from the Skin Analysis the Beauty Expert will recommend skin care products accordingly.
If you are like me and hide your skin in the winter – don't! There is a solution out there to help you with your winter skin woes! Head in to your local Shoppers Drug Mart to check out the assortment of skin care products and receive a complimentary beautyRx Skin Analysis plus earn Shoppers Optimum Points on participating skin care products.

Disclosure: Although this post has been sponsored by Shoppers Drug Mart, the opinions and language are all my own, and in no way do they reflect Shoppers Drug Mart. Any product claim, statistic, quote or other representation about a product or service should be verified with the manufacturer, company, provider or party in question.