Mischievous Minions Popcorn Recipe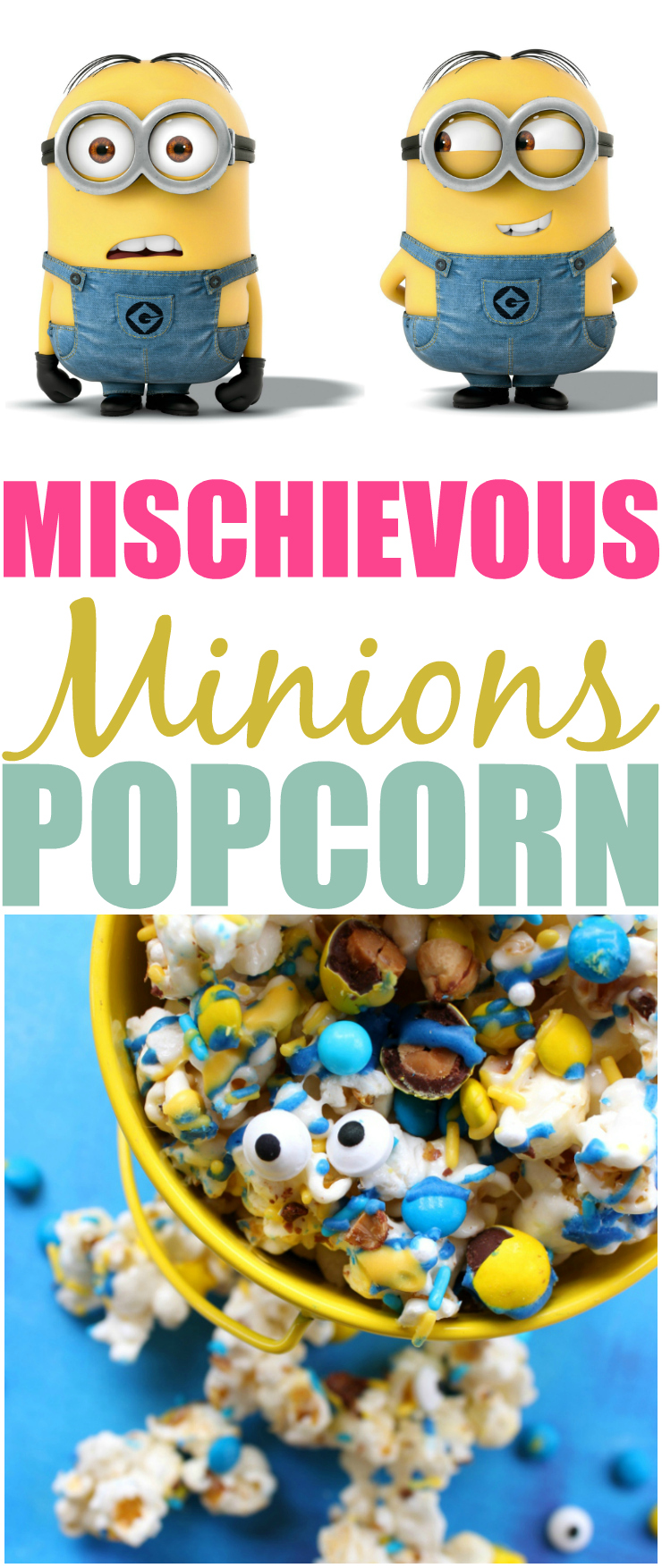 Alright folks, Despicable Me 3 is hitting theatres June 30th, and I am super excited! I may just love kids movies more than my kids do. I can recall when we took the kids to see Puss In Boots and they shhhh'd Steve and I. We were laughing so hard at some of the adult humour and the kids didn't get it.
The girls usually get passes at Christmas from my Aunt Cheryl so we have some to use up! To make it even more of a cheap movie night we will be mischievous like the Minions and sneak in some homemade popcorn. Not just any popcorn though, this delicious Mischievous Minions Popcorn!
Whether you head to the theatre to catch the movie or wait for it to come out on DVD this Mischievous Minions Popcorn recipe is a must. The kids, and us adults, will love this sweet and fun mix!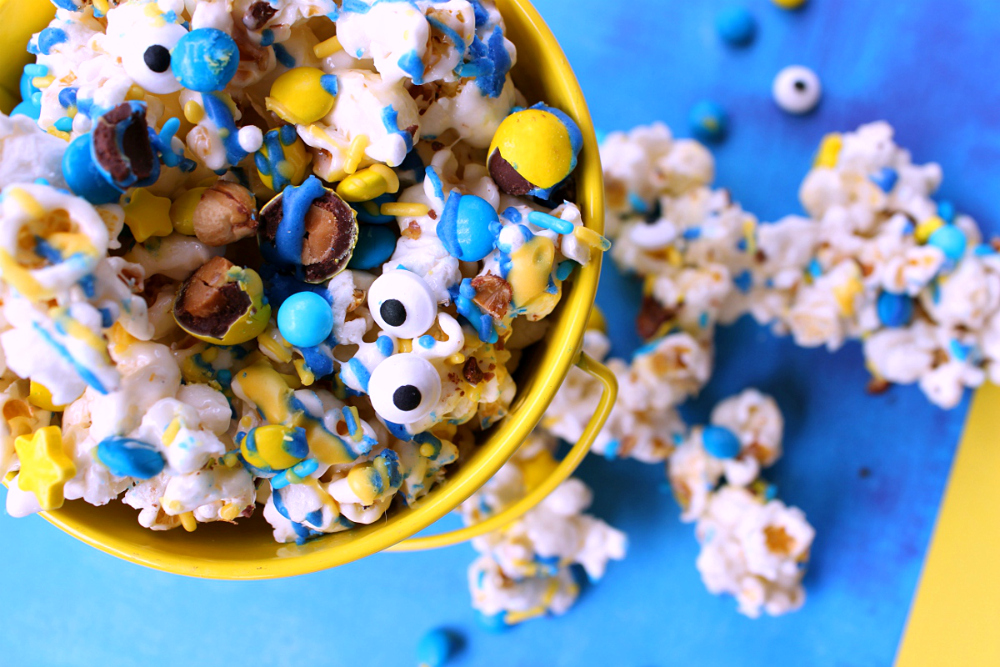 Mischievous Minions Popcorn
Watch those mischievous, fun-loving, goggled little helpers while munching on this incredible snack! Feel free to double the recipe or cut it in half to suit your family's needs.
Print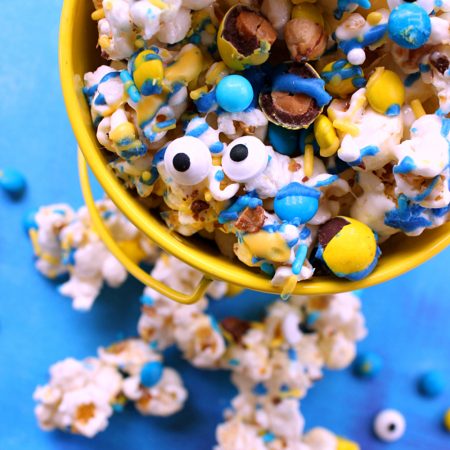 Mischievous Minions Popcorn
---
Author:

Aimée Geroux

Prep Time:

5 mins

Cook Time:

15 mins

Total Time:

20 minutes

Category:

Snack
Ingredients Or Supplies
6 cups Popcorn
16 oz White Chocolate
Yellow & Blue Food Colouring
4 cups Marshmallows
4 tbsp Butter
Sprinkles (yellow and blue)
M&M's (yellow and blue)
Candy Eyeballs
---
Instructions
In a microwave safe dish melt the marshmallows and butter together in 30 second intervals until melted. You will use 1 tbsp of butter for each 1 cup of marshmallows you use.
Once your marshmallow and butter mixture has melted pour it over your popcorn and stir until evenly coated.
Lay the popcorn and marshmallow mix on a wax paper covered cookie sheet.
Add on your M&M's and sprinkles while your popcorn is still wet. Mix the M&M's and sprinkles so they are evenly distributed.
In a microwave safe dish melt your white chocolate in 15-30 second intervals until melted.
Place half of the melted white chocolate into a separate dish. Using food colouring, dye one dish blue, and the other yellow.
TIP: If your melted white chocolate seizes up, add in a tablespoon of melted coconut oil or vegetable shortening to thin it down.
Next, drizzle the melted white chocolate evenly over your popcorn mixture.
Add in some of the candy eyeballs, let set for 10-15 minutes, and enjoy your Mischievous Minions Popcorn!
I also have an amazing Cars 3 popcorn recipe you should check out too!
Are you excited to watch the new Despicable Me 3 movie and try this amazing Mischievous Minions Popcorn recipe? Let me know in the comment section below!

Aimee is a suburban mom of 3 daughters and resides in Richmond Hill, Ontario. She enjoys sewing clothing for her small handmade clothing business, baking, DIY projects both big and small, travel, and finding creative ways to save her family money.

Latest posts by Aimee Geroux (see all)