Are you EGGucated? I feel I am pretty eggucated especially after visiting the Burnbrae Farm back in 2014 where I had the honor to learn all about eggs from the Hudson family. Not only did they make us feel like a part of their family they shared with us their extreme passion for eggs and their knowledge — which I can tell you is never-ending, they truly are eggceptional!
We learned a lot about eggs on our tour of the farm and that included learning the truths behind many egg myths, many which I believed before visiting the farm. You would probably be surprised how many myths about eggs there are but I am going to reveal the truth behind a few of them today!
For me the biggest myth about eggs I believed until I visited the farm was that eggs expired on their expiry date. I don't know if it is just the date on the package, or egg, that instantly makes my mind think they are bad but I would NEVER eat an egg if they were passed their date. Thankfully I know now that eggs can actually last up to three weeks paste the code date as long as they have been stored in the fridge at 0 – 8C. It is best if they are stored inside the fridge not in the door as the temperature is less consistent there. In fact older eggs can work to your advantage as the less fresh the egg the easier they will peel when boiled and being a lover of deviled eggs I can attest to this being true!
Another silly myth is that hens lay more eggs because they are fed hormones or steroids. Truth is egg farmers do not feed hormones or steroids to egg-laying hens. The use of steroids and hormones in egg-laying hens has been banned in Canada for over 50 years. Burnbrae has worked diligently to provide excellent hen care, which has improved egg production. Just ask Jenny from The Brunette Baker, I think she has a new job — they may have hired her to scare the eggs out of the hens. I still say she broke the chicken!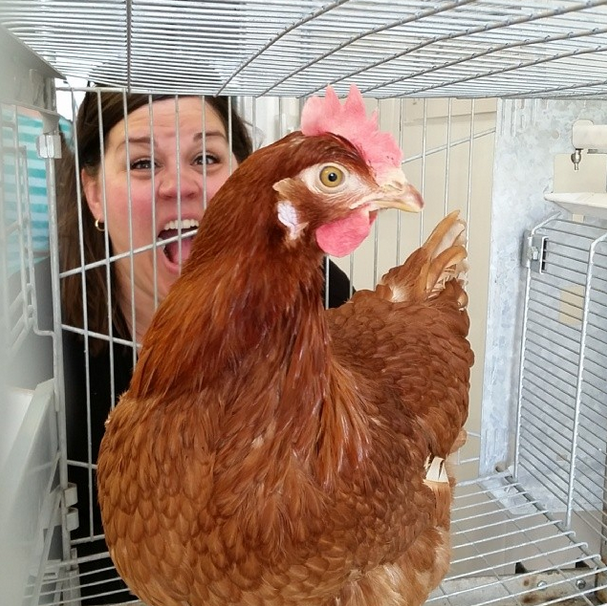 All joking and inside jokes aside the farmers feed their hens a balanced diet and keep a close watch on them daily to ensure they are healthy. You can learn more about hen care from Mike the Chicken Vet!
Some people also believe that eating an egg daily can increase the risk for heart disease and is unhealthy. This is definitely one myth you shouldn't believe because eggs are recommended for healthy eating, according to the new Dietary Guidelines for Americans issued earlier this year. The experts stated that cholesterol in diets is no longer a concern. Health Canada has recognized the evidence that dietary cholesterol has little impact on blood cholesterol for many years. Guidelines emphasize on reducing saturated fats and eggs do not contain a large amount of saturated fat. I have been making healthier eating choices for the last few weeks and one of my favourite things to eat for breakfast is eggs. I love poached eggs as well as omelets, they are a perfectly healthy meal!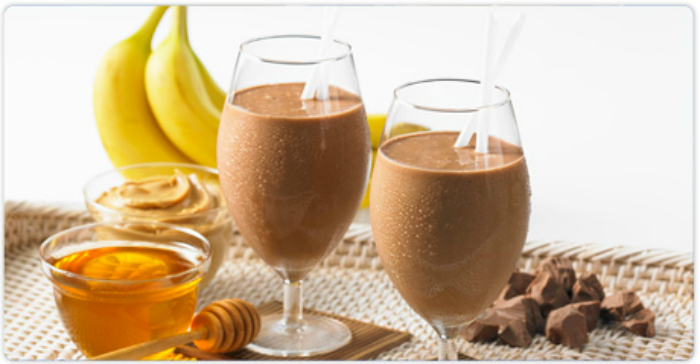 I also have been checking out the recipe section on the Burnbrae website, they have so many healthy and nutritional recipes for everything from breakfast to dinner, appetizers to smoothies like this DELICIOUS Cocoa Peanut Butter & Banana Smoothie! This would be perfect for a quick breakfast shake on days when I am up and on the run super early heading into the city to tape a segment for The Marilyn Denis Show and don't have time to cook a healthy meal.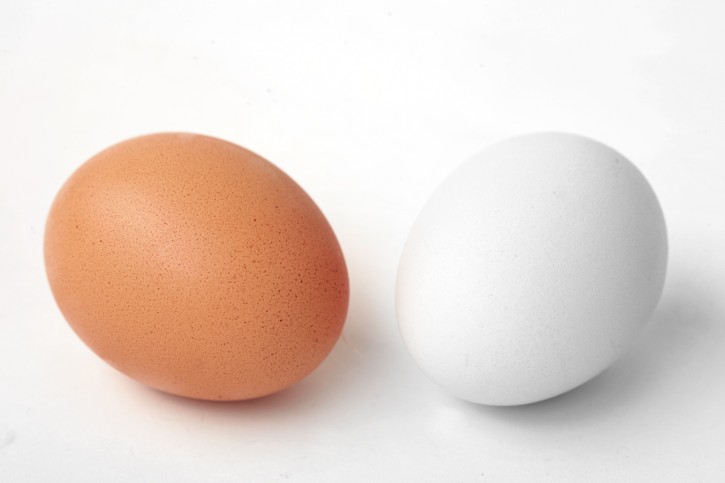 Did you know that there is no difference in nutrition content between a brown shell and a white shell egg? I totally thought brown eggs were 'healthier' for my whole life leading up to my eggucation at the farm! Flavour and cooking is also not affected by the shell colour! The eggs shell colour is determined by the breed of chicken. At Burnbrae, brown eggs are laid by the brown Rhode Island Red Hen and white eggs are laid by the White Leghorn. I bet you also didn't know that brown chickens are larger than white chickens and they require more food to produce eggs, which is why brown eggs cost more than white eggs.
Speaking about healthier, eggs are a complete protein source, containing a good balance of all the essential amino acids in amounts that closely match our body's needs. Every large 53g egg provides approximately six grams of protein – along with a variety of vitamins, minerals and important antioxidants like lutein. One really important thing for me is that they are low in sodium, trying to lower my sodium intake has been real work and I am happy to know one of my fave food choices is low in sodium! Burnbrae Farms is proud to offer a variety of egg types to meet consumer preferences. Whether conventional white, Free Run, organic or nutritionally enriched eggs, there is something for everyone!
It is pretty crazy how many misconceptions there are floating around about eggs, I will admit many of the egg myths I too believed but hopefully I have been able to crack some of the ones you may have believed today!
TWITTER PARTY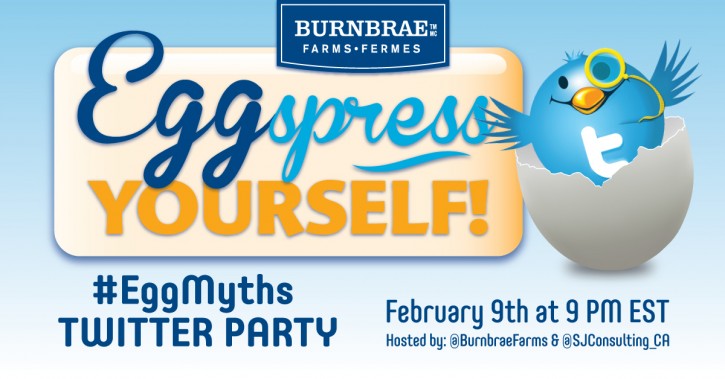 There are so many more eggcellent things to learn about eggs and more myths to be cracked! I hope you will join in on an amazing #EggMyth Twitter Party with the lovely Hudson family, myself and the whole crew of amazing Burnbrae Farm bloggers on February 9th at 9pm EST. RSVP below and I will see you there — I will be on vacation in Mexico but I could never miss an eggciting Twitter Party with y'all!
Join the #EggMyths Twitter party on February 9th at 9 pm EST!
Prizing:
     Grand Prizes 1 & 2:
1 of 2 – 16 GB iPad Mini's + $125 Burnbrae Farms gift Basket (ARV: $450/prize pack – total for both $900)
     Second Place Prize:
$250 spa gift card – pamper yourself with a day at the spa + $125 Burnbrae Farms gift basket (ARV: $375)
     Additional Prizes:
7 additional Burnbrae Farms gift baskets including $50 Visa gift card for groceries (ARV: $125/gift basket – total for all 7 prize packs $875)
     Grand total value of all prizes = $2150
Stay up-to-date with all the eggciting happenings by following Burnbrae Farms on Facebook, Twitter, Instagram, Pinterest, and YouTube!
Disclosure: Although this post has been sponsored by Burnbrae Farms, the opinions and language are all my own, and in no way do they reflect Burnbrae Farms. Any product claim, statistic, quote or other representation about a product or service should be verified with the manufacturer, company, provider or party in question.