When I was asked to head to Wendy's with my best girlfriend to catch up over lunch with their new salads I knew without a doubt who I was calling. I have a handful of very close girlfriends, some even hold the title of "bestie" but none compare to that of the best friend I have in my sister. Being three years apart, I like to pretend I am the younger sister, we grew up very close. As adults she has become the best aunt my girls could have and I the best aunt her son could have! Since moving out to the GTA in 2010 we don't get to spend as much quality time together as we use to when we lived in the same city. She is now expecting her second son in late May and this was a perfect opportunity to catch up on all things going on in our lives! We planned for a full day of sister time, starting off at Wendy's for a delicious salad lunch to try out their new salads followed up with some much needed retail therapy to buy uber cute baby things for Bella and her little bundle on the way.
Fun fact you may not know but Wendy's was the very first restaurant to bring the "salad bar" to quick service customers over 30 years ago – that is before my time! They are constantly indulging in popular culinary trends to add amazing flavour layering to their new Asian Cashew Chicken, BBQ Ranch Chicken and Taco Supremo Salads. These salads pack a bold punch in flavour and are bursting with beautiful colours. They have premium ingredients like Cashews and Edamame that you don't normally expect to see in quick service salads. These salads are 50% less fat, 29% less sodium and 61% less saturated fat! Wendy's is proving that innovative salads are never out of style with their three new delicious salads. I really enjoy that these salads are prepared fresh in the restaurant every day and the warm chicken or chili is added to order. Unlike many other quick service restaurants, Wendy's serves both half and full sized portions which I very much appreciate and they slice their tomatoes, cucumbers and red peppers by hand in the restaurant and use 100% premium all white chicken breast meat that is freshly grilled right there in the restaurant. They also have a salad spinner in every Wendy's Kitchen because they wash and hand chop heads of romaine and iceberg lettuce each and every day to mix it with a triple-washed leafy spring mix made with 9 different greens.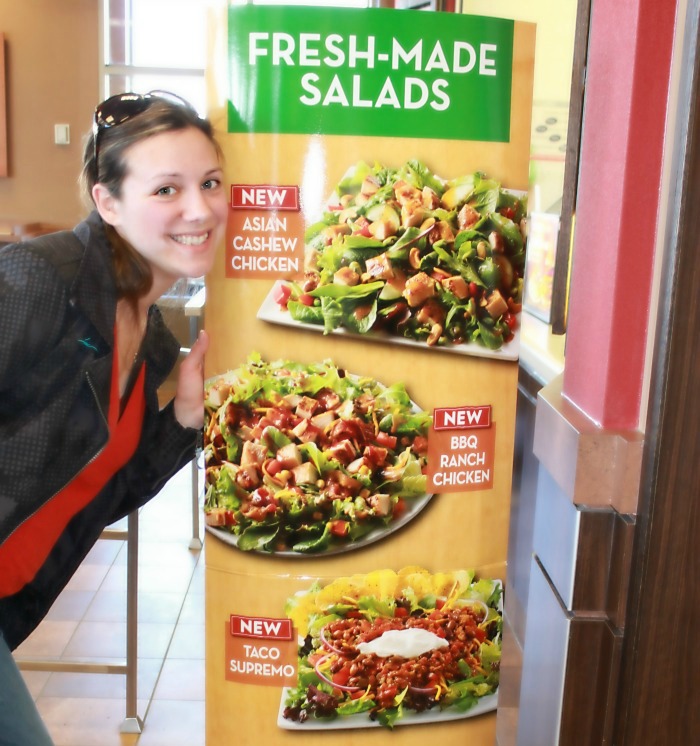 Whenever the two of us get together you can be sure we are up to our silly antics which include dancing and singing in the car to tunes of our younger years, totally causing other drivers and pedestrians to look at us funny. It is endless laughs and fun when we get together. When we arrived at Wendy's and took a look at the new salad's that are available I knew immediately she would go for the Taco Supremo Salad and I was ready to lasso the BBQ Ranch Chicken Salad. Our food was served very quickly which was super because we were both ready to chow down!
We chatted away about the new baby that will soon be joining our large family. I of course being the older sister I had to poke fun at her a little, reminding her of the joys of labor and we laughed saying we wish there was an "easy" button for babies, one we could just push and poof a baby would appear! No pregnancy, no morning sickness, no mood swings, no labor, just the pure joy of having the new baby without all the not-so-fun parts. We discussed names, but I have been sworn to secrecy because she wants a unique name for the baby and the last one she had picked out was quickly shot down when her OBGYN said "oh that's becoming a very popular name right now".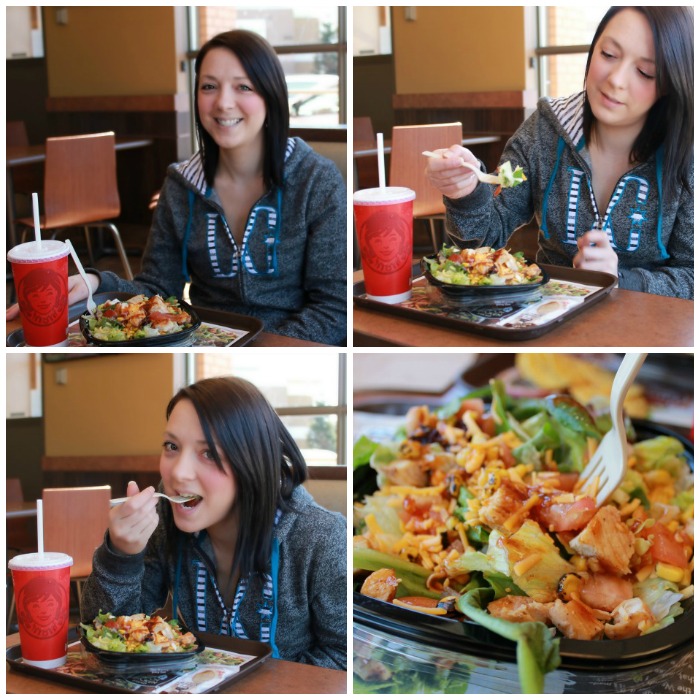 I was super excited to try the new BBQ Ranch Chicken Salad as I am a huge lover of all things BBQ. This salad is savory backyard BBQ in a delicious bowl, it is bursting with premium ingredients like fire roasted corn, freshly diced tomatoes, shredded sharp cheddar cheese, applewood smoked bacon (everything is better with bacon!) and a sweet delicious honey BBQ sauce. They serve this salad with a BBQ Ranch dressing which is made with real buttermilk, parmesan cheese, ancho chili peppers, honey and brown sugar. I was impressed with the absolute freshness of this quick service salad, the greens crunched and were full of fresh flavour. The chicken was tender and juicy which is a huge plus as sometimes I find chicken in salads to be dry. The BBQ sauce was perfect, it was tangy and gave the salad an edge. I didn't use the Ranch Dressing as I am not a huge fan of Ranch but I am sure like the rest of this salad it is superb!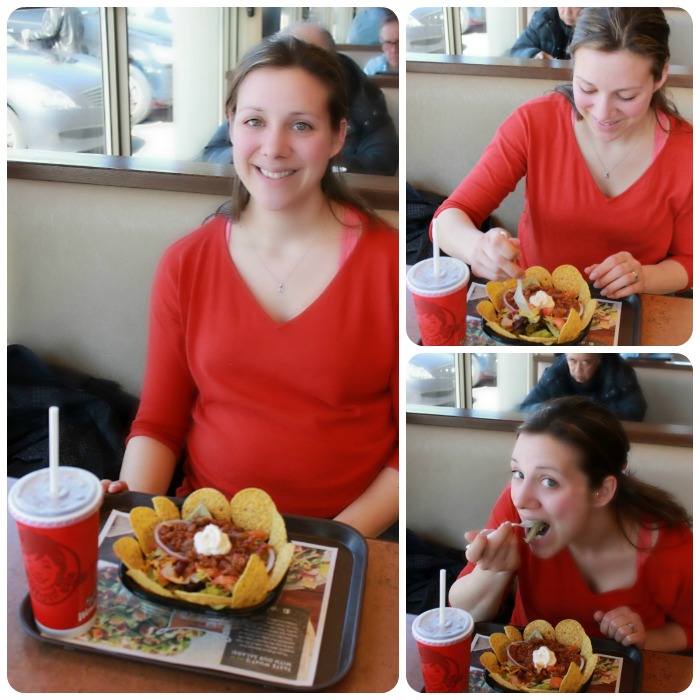 My sister went in for the Taco Supremo Salad which is a tribute to the freshness and world famous flavour profile of Mexican cuisine and is bursting with flavour in every bite! This salad uses fresh and delicious ingredients like diced tomatoes, tangy salsa, rich meaty chili, shredded cheddar cheese, crunchy taco chips and sour cream all served on a bed of crisp fresh lettuce. I don't think my sister spoke much once she started eating although I did hear a few "mmmmm's" from across the table. She finished her salad so fast she had to wait on me to finish mine. She said the combination of ingredients in this salad were perfect; and complemented each other. She said everything was fresh and mouth-watering and that we should have more Wendy's lunch dates.
My sister is by far my best friend in life and catching up with her is always fun-filled! If you haven't seen your bestie in a while why not pick up that phone and plan to head to your local Wendy's to chow down on one of their delicious salads, chat, laugh and just enjoy each other's company!
Check out this hilarious video about sharing bedrooms with sisters, this made me laugh because it reminds me of the years I spent sharing a room with that lovely sister of mine up there!
For more hilarious episodes of 'Girlfriends at Wendy's Eating Salads and Talking About Stuff' head on over to the Wendy's Youtube channel!
Disclosure: Although this post has been generously sponsored by Wendy's, the opinions and language are all my own, and in no way do they reflect Wendy's. Any product claim, statistic, quote or other representation about a product or service should be verified with the manufacturer, company, provider or party in question.