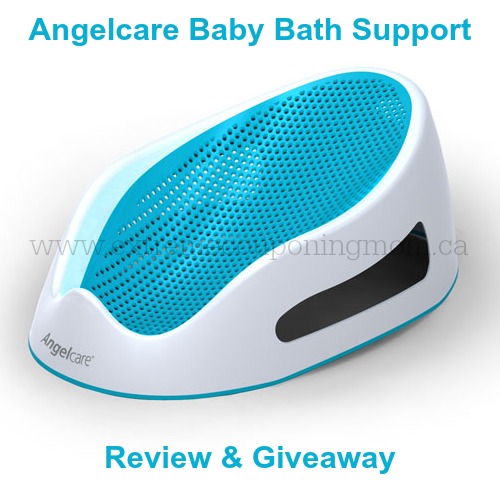 Mom's, dad's, parent's-to-be, aunt's, uncle's, grandparents and anyone who knows someone with a baby or who is having a baby I hope you read my review because today I am about to tell you about one of the most amazing products I personally believe every single parent needs – yup I said it, you NEED this!
As some of you may know (if not, you will now) I have three children; Abby is almost 12, Hailee is 9 and little miss Bella is almost 4 months old. So as you can tell I am somewhat of a veteran when it comes to parenting and products for babies as I have been there, done that, failed, failed again and with some perseverance I have succeeded in molding my kids into well-behaved, amazing okay, okay if they don't kill each other it's a good day around here!
I will tell you now when Abby & Hailee were little there were very few options for baby bathtubs, you pretty much had the standard white oval-shaped tub and a mesh inclined insert you would put into the baby tub so they didn't drown would be nicely supported and you could bathe them with ease.
Fast-forward almost 9 years from my beautiful Hailee and as Bella was baking in my belly I began the task of collecting items we would need when she arrived. I was absolutely amazed with the amount of products out there now especially the huge selection of baby bath supports. As a new mom this may be intimidating as you have never bathed a baby, you have never used one of these types of products, what works, what is best are probably the questions running through the minds of many first-time parents – I was there once, 12 years ago but I had less options so choice were easier!
One of my biggest pet-peeves about the old style of baby bath supports (those mesh ones) is eventually they get this nasty smell, now I wish I could insert a scratch and sniff here for you but I can't so I will best describe the smell as that of a dish cloth that has been on the counter for far too many days, or those towels you forgot you washed in the washer and they have been sitting there for a few days – yup that smell. I will tell you as an experienced mom, you will NEVER get that smell out of that mesh, wash it all you want it is stuck in the foam padding that covers the metal rails to make it comfier. I am sure some experienced moms have a huge smile (or a disgusted face) right now because you know I am telling the truth!
In comes that product I said every parent of a baby needs, the Angelcare Baby Bath Support! This amazing, innovative product is designed for comfort and will never smell like other products on the market. The Angelcare bath seat support is recommended for babies up to 6 months of age and the maximum recommended weight capacity is 30lbs. This bath support goes right into your tub and has an amazing slip-resistant grip on the bottom to keep it from sliding around while you are bathing your baby. It also comes in two colours; blue and pink!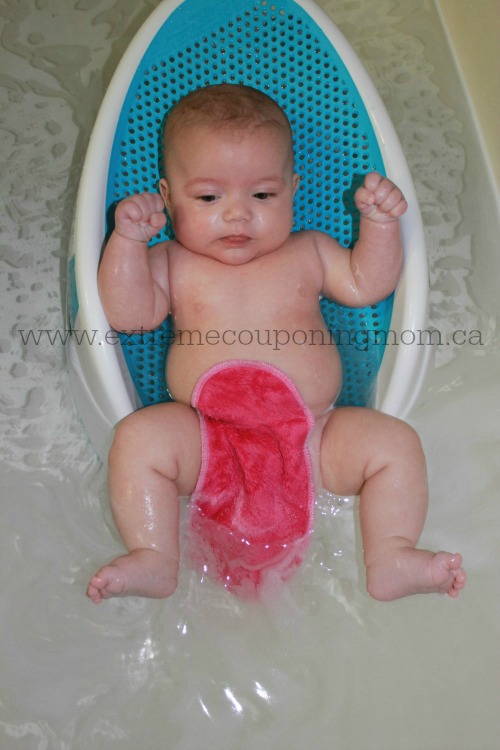 Bella absolutely loves bath time, every night around 8:00 she will start to get fussy and I look at her and say "does Bella want a bath?" She instantly smiles from ear to ear and starts getting excited. When she hears the bath water running her little arms and legs start going and I can't get her in the tub fast enough!
I find the Angelcare Bath Support has made bath time much easier, the mesh seating area and the fact it goes right in the tub has made getting all the soap off of Bella so much easier vs other bath seats we have used. I love the fact it cleans so easily and dries so fast.
Features:

Hygienic and Mildew-Resistant – The mesh material allows water to drain easily from the bath support and dries quickly.

Used Directly into Bath Tub – Easy to use on daily basis, you can place it directly into your bath.

Easy to Store – This baby bath support also has a handy loop at top so that you can hang it up for convenient storage.

Ergonomic Design – Ergonomically designed for your baby's comfort and safety, the Bath Support assures that your child's hygiene is maintained. Soft-touch material: Angelcare has used a soft mesh material that's gentle on baby's delicate skin.

Durable, Lightweight Plastic – The Angelcare bath support is designed to keep it shape over time.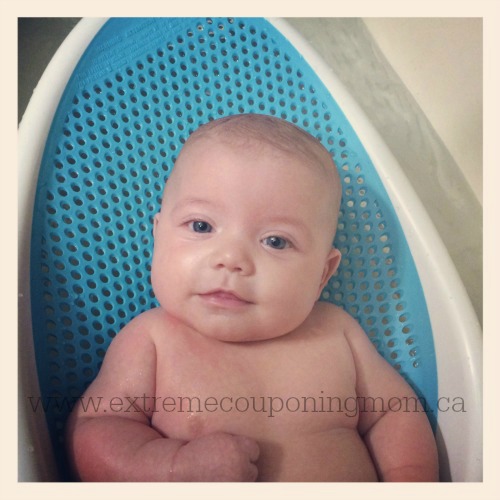 Bella agrees with mommy and we give this product two thumbs up! I also love that it has been awarded the PTPA Seal of Approval, to me this means real parents tested out this product and loved it just as much as we did and hopefully just as much as you will!
Check out this quick cute video that perfectly shows just how easy and amazing this product is!
Enter below for your chance to win your very own Angelcare Bath Support:
1. Open to legal residents of Canada who have reached the age of majority in their respective province
2. You must complete ALL mandatory entries to be eligible, then you can choose to complete any optional entries for additional chances to win
3. This contest is in no way sponsored, endorsed or administered by, or associated with, Facebook.
4. You are providing your information to Extreme Couponing Mom for the purpose of facilitating the giveaway, we will not sell or use your information other than to contact you should you be drawn as the winner
5. By entering you agree to have your name posted and announced as the winner, as well to have your information sent to Angelcare in order for them to ship you your prize
Disclosure: Angelcare provided me with the above mentioned product and prize in order for me to complete this review/post. Even though I was given a product for this review/post I always give my honest opinions, findings, beliefs, or experiences. The views and opinions expressed in this post are purely my own based on my research and experiences. Any product claim, statistic, quote or other representation about a product or service should be verified with the manufacturer, company, provider or party in question.