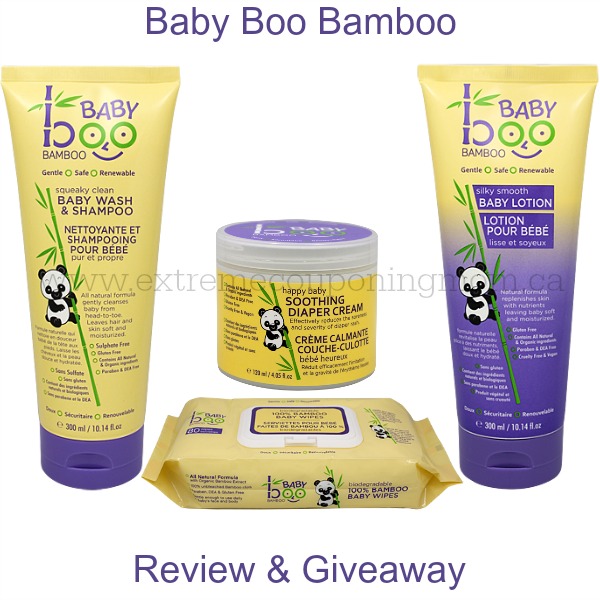 When I was approached to review Boo Bamboo's Baby Boo Bamboo line of products on Bella I was intrigued, I had just recently learned about them and had been wanting to try them out. I will admit I have never been a parent who is all about natural and organic products, to be quite frank when Bella was born I immediately turned to the brands and products I had used with my two older girls. Although I am not all about natural and organic products I believe in products that work and I wanted to see if these products would be better than what I was currently using with Bella.
As parents we all want the best for our children, knowing that the products I use on my children are safe and gentle as well as effective is now something I am going to try to be more conscious of.
Bamboo which is one of nature's fastest growing plants has been used in Boo Bamboo's collection of gentle baby products that will soothe and moisturize your baby's sensitive skin with ZERO harmful ingredients.
The Baby Boo Bamboo line of products is made in Canada from an all natural formula which contains certified organic bamboo extracts which is the richest known source of natural silica. These products are rich in minerals, silica and organic proteins essential to maintaining healthy hair & skin. Free of sodium lauryl sulfate, parabens, phthalates, sulphates, synthetic dyes & fragrances, formaldehyde, petrochemicals & common allergens. Amazingly these products are also cruelty free & vegan.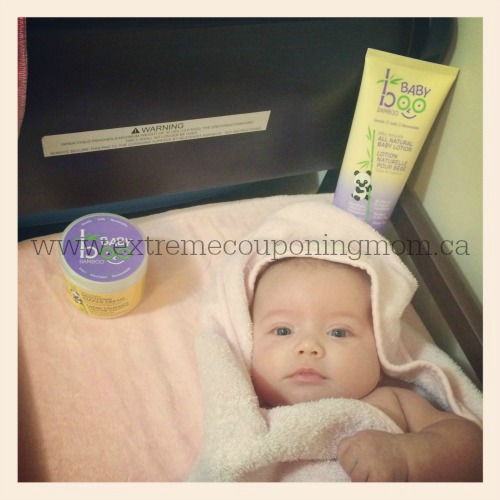 My most favourite time of the day with Bella is bath time, not only does she just light up with joy and excitement I love to snuggle her to the moon and back after her bath because babies always smell so delicious when they are all squeaky clean. We put the Baby Boo Bamboo Squeaky Clean Baby Wash & Shampoo to the test and I would first like to say after the winter we have experienced here in Canada the beautiful light scent of this wash reminded me of an island paradise. I may or may not have started using this product as a body wash for myself! It lathers up quite nicely and provides a very gentle yet effective clean for your baby's skin. Bella has just started to put her hands in her mouth so knowing there are no harsh chemicals in these products sets me at ease when I see a hand full of bubbles headed for her mouth.
After her bath we retreat to her nursery, the one she still doesn't sleep in (that is another story for another day) to finish our nighttime routine and get ready for bed. One thing I know after having three babies is the need for a good moisturizer, babies skin is not only sensitive but it can get dry and flaky if not properly cared for. Boo Bamboo's Silky Smooth All Natural Baby Lotion is honestly the best lotion I have used with any of my children. It has that same soft island scent and you can tell it works because it soaks right into the skin vs leaving the baby feeling greasy like other lotions can do. Bella gets dry, bumpy patches on her eyebrows as well as her cheeks and I have noticed both of these areas have been issue free since we started using this lotion. Knowing it is all natural means I am not worried about putting it on her hands knowing in moments those hands will be in her mouth.
We have also been reviewing the Happy Baby Soothing Diaper Cream and the 100% Bamboo Baby Wipes. Now those who have followed me since Bella's birth (or before) know that I posed a question one evening on our Facebook fan page as Bella had developed a really bad rash in reaction to her vitamin d drops she was taking. I was given so many suggestions after trying so many different creams and it did clear up thankfully. Now I have sat and wondered were my olders girls diaper issues caused by a cream I used on them because since starting using this diaper cream Bella has not had one area of redness at all. I only use the cream at nighttime when she will be exposed to a possible wet diaper for a long period of time as she is now sleeping through the night and I am just amazed that she has not had one rash. My older girls constantly had diaper area issues when they were babies and I wish I would have had this product back then.
The 100% Bamboo Baby Wipes are made of ultra soft, eco-friendly, 100% unbleached bamboo cloth and are biodegradable. These cloths safely and gently cleanse your baby's face and body using the highest quality, natural and organic ingredients. These wipes are enriched with Certified Organic Bamboo extract and vitamin E to help strengthen and protect baby's delicate skin. They are perfectly pH balanced to wipe away dirt without stripping natural oils, even for the most sensitive newborn skin and are gentle enough for daily use. These wipes also naturally biodegrade after use in 3 to 4 weeks. I believe using these wipes vs our other wipes has helped keep Bella's diaper area free of issues too as after some investigating I found a lot of chemicals in our other brand of wipes that can cause irritation to sensitive skin like that of a baby's. My only con if you can even call it a con is that I wish the wipes were sold in larger quantities like refill boxes that have two large packages filled with these amazing wipes. Other than that these wipes are hands down amazing!
You can find their products online at Well.ca or in your local Walmart, Organic Garage and Rexall Stores.
Boo Bamboo has generously offered to give away a prize package to one lucky ECM reader containing the products in my above review, enter below for your chance to win!
1. Open to legal residents of Canada who have reached the age of majority in their respective province
2. You must complete ALL mandatory entries to be eligible, then you can choose to complete any optional entries for additional chances to win
3. This contest is in no way sponsored, endorsed or administered by, or associated with, Facebook.
4. You are providing your information to Extreme Couponing Mom for the purpose of facilitating the giveaway, we will not sell or use your information other than to contact you should you be drawn as the winner
5. By entering you agree to have your name posted and announced as the winner, as well to have your information sent to Boo Bamboo in order for them to ship you your prize
Disclosure: Boo Bamboo provided me with the above mentioned product and prize in order for me to complete this review/post. Even though I was given a product for this review/post I always give my honest opinions, findings, beliefs, or experiences. The views and opinions expressed in this post are purely my own based on my research and experiences. Any product claim, statistic, quote or other representation about a product or service should be verified with the manufacturer, company, provider or party in question.