31 Fantastic Football Party Food Recipes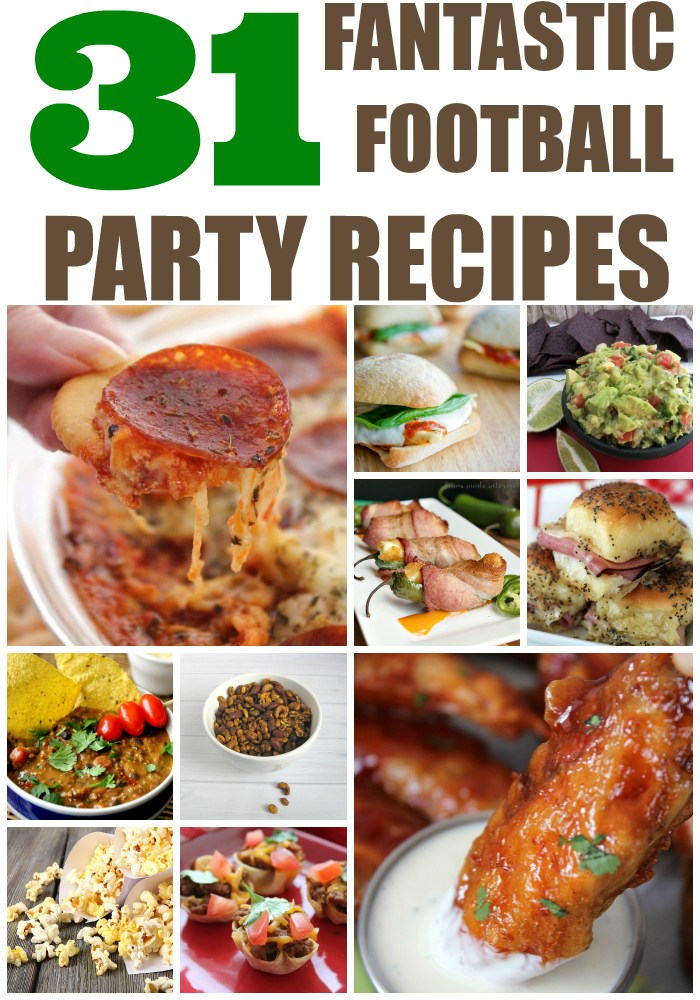 Football is a big deal in our home, my partner starts mock drafting in late April or early May.
He is also part of a Fantasy Football league with his buddies that holds a big drafting and super bowl party each year.
With Football season in full swing, Sunday's have taken on a new meaning in our home.
If you love hosting friends to watch some Football, or maybe your partner invites all his buddies over, then you need to check out some of these amazing recipes to wow your guests!
31 FANTASTIC FOOTBALL PARTY FOOD RECIPES
Be the King (or Queen) of hosting Football Sunday's at your home with these 31 fantastic, mouthwatering, amazing, Football party food recipes!
1. Easy Cheesy Pizza Dip – CincyShopper
2. Jalapeno Beer Queso – Growing Up Gabel
3. Best Ever Meatball Appetizers – Ninja Mommers
4. Cowboy Caviar – The Jenny Evolution
5. Bacon Ranch Cheeseball (Gluten & Nut Free) – the Thrifty Couple
6. Cheesy Black Bean Dip – Organized 31
7. Soft Pretzels & Pretzel Bites – Food Retro
8. Hot Beef and Bean Dip – In the Kitchen with Jenny
9. Glazed Chicken Wings – Organized Island
10. Buffalo Chicken Sliders – Home Made Interest
11. Mexican Beef & Cheese Dip – Kickin it with Kelly
12. Chili Cornbread Cups – Lavende & Lemonade
13. Potato Skins – Easy Appetizers – Thrifty Northwest Mom
14. Honey Chipotle Wings – CincyShopper
15. Chunky Guacamole – the Thrifty Couple
16. Baked Glazed Teriyaki Chicken Wings – Hot Eats and Cool Reads
17. Mini Taco Bowls – Passion For Savings
18. Quick & Easy Grilled Chicken Parmesan Sliders – Carrie's Experimental Kitchen
19. Buffalo Chicken Stuffed Mushrooms – Snappy Gourmet
20. Chili Mixed Nuts – Organized 31
21. Restaurant Style Salsa and Chips – In the Kitchen with Jenny
22. Slow Cooker Texas-Taco-Chili – Nibbles by Nic
23. BBQ Meatballs – Become A Coupon Queen
24. Best Popcorn Ever – Food Retro
25. 7 Layer Dip Cups – CincyShopper
26. Homemade Mac & Cheese – The Jenny Evolution
27. Easy Bacon Wrapped Jalapeno Poppers – Home Made Interest
28. Cheesy Crockpot Chicken Taquitos – Kickin it with Kelly
29. Creamy Easy Buffalo Dip – Organized 31
30. Pull-Apart Pizza Bread – the Thrifty Couple
31. Ham & Swiss Sliders – CincyShopper
Which of these will you be making? Let me know in the comment section below!