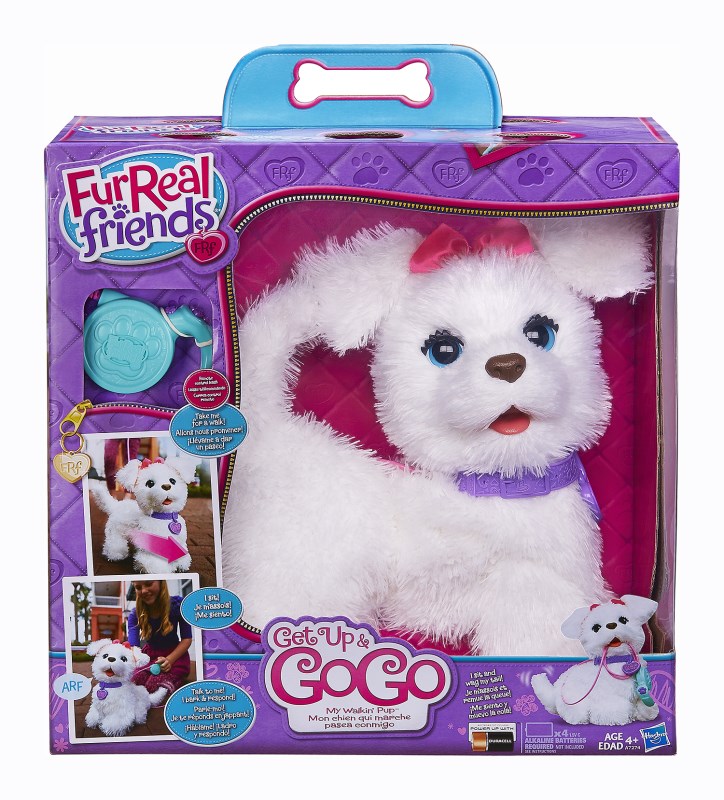 Growing up as a child I always had pets. Whether it was hamsters, fish or our many birds including a parrot, I always had a furry or feathered friend to play with. When we got a little older we were lucky enough to get two dogs; Spike and Toby. I can remember coming home from school and enjoying the time spent with our dogs. My children have also grown up around animals. Spike and Toby were around for a few years after I had Abby and Hailee so they too got the joy of the dogs I had grown up with. They also have had two dogs at my fathers home; Tia and Gizmo. Sadly their sweet Tia had to go to doggy heaven but the girls still see Gizmo when they visit. On Abby's 10th birthday we bought her a dog which she named Dash – boy does he really suit that name, if he happens to "dash" past you and out the door you will be chasing him around the neighborhood for a while until he finally gives in and comes for a treat. Hailee, my 9 year old, absolutely loves animals. She grew up with Tia who was my fathers Jack Russell and Gizmo, he is a Shih Tzu as she frequently went to his home to spend weekends with him and his wife. When Hailee came home from school and saw her new FurReal Friends Get Up & GoGo My Walkin' Pup she was thrilled. She immediately ran to our battery drawer and insisted we get her pup up and running!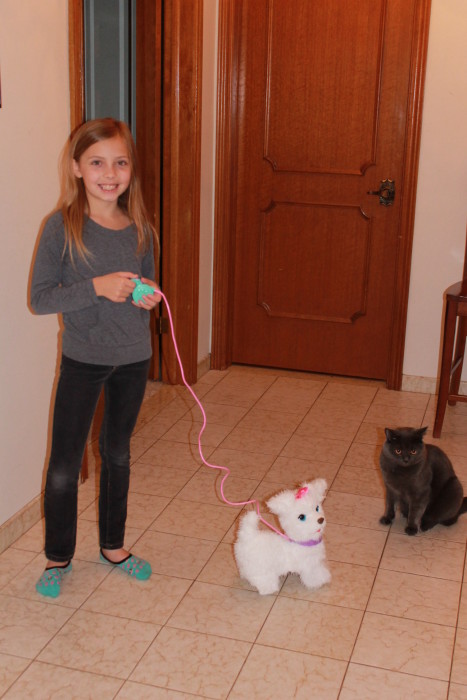 Even Reggie, our cat, is interested in our newest family member. FurReal Friends plush pets are all about rich, life-like pet experiences! Their exciting, engaging, and interactive play help to encourage care-giving, forge lifelong friendships, and create unforgettable memories! She's so adorable with her poseable head and wagging tail, your little one may want to take her everywhere you go!
Features:
Walk her using her attached leash controller.
She sits when you pet the top of her head.
She responds to your voice with sweet puppy sounds.
She talks back and forth with FurReal Friends Pom Pom, My Baby Panda (item #A7275, sold separately).
She is the star of the new, free FurReal Friends app.
Recommended for Ages 4 and up.
Requires 4 CC batteries (not included)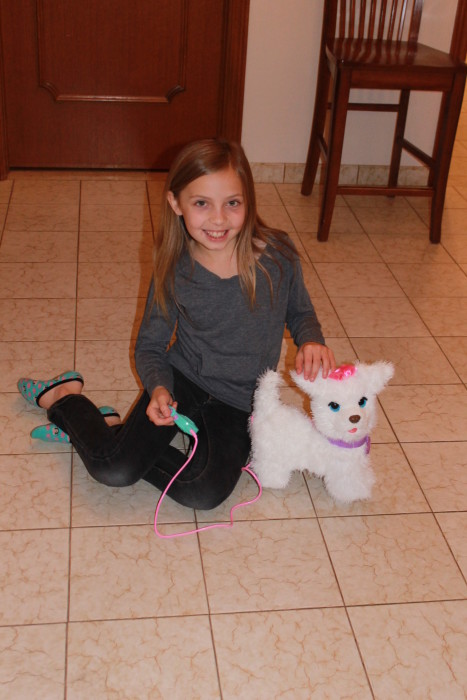 Hailee had such a blast interacting with her new pet. It really is every little girls new best pet friend. Just a single press of the button on her leash makes GoGo walk for a short period of time. Pressing and holding the button down will make her walk until the button is released. GoGo will also walk when a loud clap is heard and even comes to you when called! To make this cute furry friend sit all you have to do is pet GoGo's head in front of her bow, she will sit down turn her head and bark at you. Just like most pets (and kids) when you stop playing with GoGo and walk away she will start begging for your attention by howling – how cute!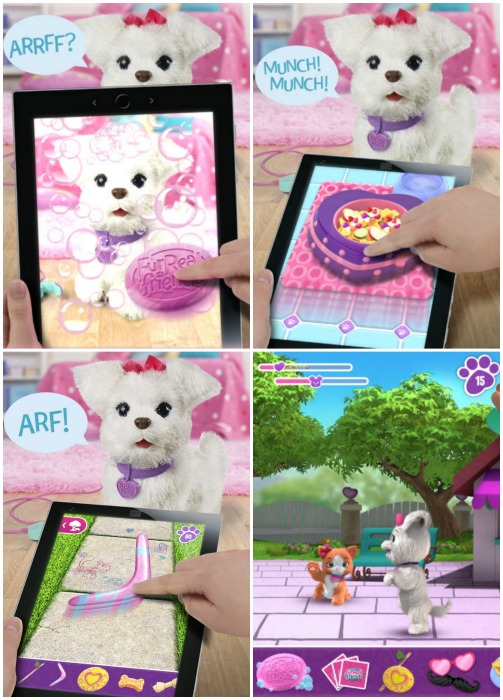 There is a great new Get Up and GoGo My Walkin' Pup APP (not required but super fun) so your little one can virtually take care of their pet! The app also allows you to play with GoGo My Walkin' Pup which was one of Hailee's favourite parts. GoGo responds to the on-screen app action with cute movements and adorable barks! Snap a photo of your furry friend in the app to give her an adorable makeover, feed, groom and even play fetch with her too, it is super cool! The app is available for download on both iTunes and Google Play. Hailee gives the FurReal Friends Get Up & GoGo My Walkin' Pup two thumbs up and says we should get one for Bella when she is old enough to play with it.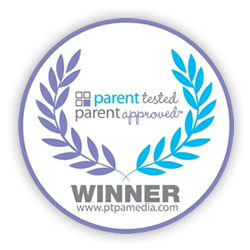 Disclosure: I am part of the PTPA Brand Ambassador Program with Hasbro and I received compensation as part of my affiliation with this group.  The opinions on this blog are my own.