I honestly can't, well I kind of can, believe it is already November! Less than 8 shopping weeks left until the big man in red sneaks into our homes and leaves the perfect gifts for the kids!
Christmas is one of my most favourite times of the year. Aside from the snow and that crazy ice storm last year, which I can totally do without, I absolutely love getting together with my very big family and extended family to celebrate the holidays.
I am always excited to see the abundance of great and inspiring gift ideas Shoppers Drug Mart has each year for all those who have made my nice list this year – yes even Reggie somehow sneaks onto that list! This year they have made it even easier with their new gift finder which is available online. They really have become a great place to find fabulous fragrances, gorgeous gifts, yummy treats and the latest toys and electronics. Shoppers Drug Mart has GIFTS MADE EASY for everyone, so easy I need to be careful that I don't go overboard!
I normally am a very organized shopper when it comes to the holidays. I really have to be organized because I have a LOT of people to shop for. I have my own three children as well as my sister's five children, Steve's sister now has a little one and next year tack on yet another little one because my big brother and his wife are expecting their first little peanut in March! That doesn't include my partner, my evil cat Reggie who most certainly only deserves coal for all the attacking he has done to me year round, the dog, my parents and well, the list goes on!
Of course on the very top of my list are the kids, after all the sparkle in their eye when they open the 'BEST GIFT EVER' from Mom or Auntie Aimee is priceless! Thankfully Shoppers Drug Mart's GIFTS MADE EASY has my back. I have already spotted some great gift ideas for the little's in my life.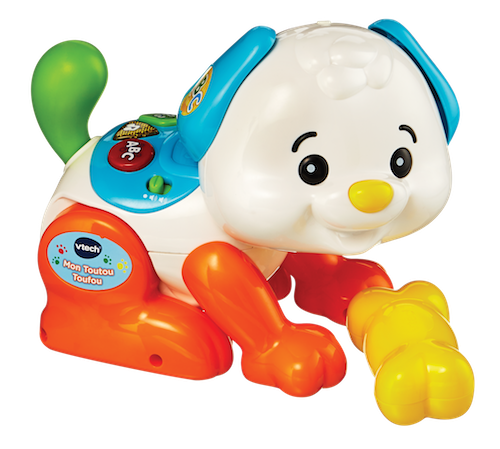 This super cute V-Tech Shake & Move Puppy is something that Bella would absolutely love. She is moving around like a wild woman lately and I think this would keep her entertained for hours with all the sounds and movements!
Interact with the puppy and develop motor skills by shaking the rattle or pressing the buttons
40+ playful songs, melodies, sounds and phrases
Shake the yellow bone to watch the puppy do tricks and learn the concept of cause and effect
Puppy runs, stands up, lays down and turns around
Three shape buttons introduce shapes and colours when pressed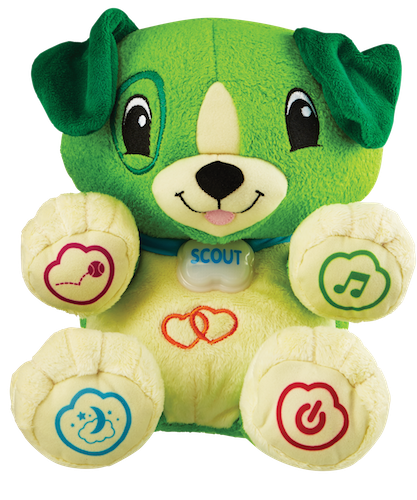 The LeapFrog My Pal Scout would be a perfect gift for my newest nephew Luka. He will be 7 months old come Christmas and I think he would love listening to the music and this is a great toy that will grow with him.
Scout connects to the computer so you can customize the music and personalize the learning with your child's name and favourite food, animal and colour. Scout comes with 5 pre-loaded songs, or you can select and download your choice of learning tunes and lullabies from an online list of 30 songs. Press a paw to play music, learning songs or games! Parents can connect to the online LeapFrog Learning Path for customized learning insights and ideas to expand the learning.
Learning Skills:
First words
Daily routines
Early number sense
Feelings and emotions
Animals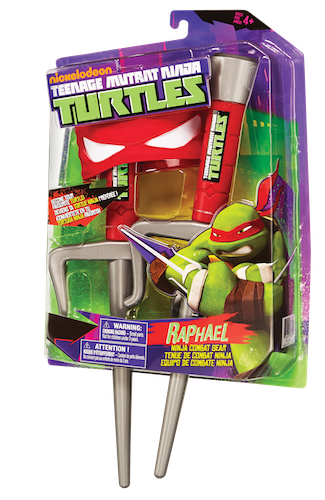 My nephew Chase loves all things TMNT! This Teenage Mutant Ninja Turtles Combat Gear would probably win me the 'Best Aunt' award for sure! Maybe I should get one for myself too so I can battle it out against the evil Shredder (a.k.a Uncle Steve) with him when he comes to visit.
Of course Shoppers Drug Mart's GIFTS MADE EASY doesn't stop at amazing gifts for the wee ones in our lives. They have amazing gifts for everyone on your shopping list.
Gifts for that Modern Man in your life, everything he needs from fragrance – to keep him smelling irresistible to grooming essentials like the Gillette ProGlide Holiday Pack to get rid of or tame that Movember growth so many of our men are currently starting to sport.
If you have a party to attend don't forget to bring the 'Entertainer' some holiday sweets. Shoppers Drug Mart has a variety of chocolates that are perfect for friends, co-workers or even just your sweet tooth!
Shoppers Drug Mart has created an online destination that allows you to filter through hundreds of gift ideas by price, categories or even the type of person you are looking to buy for. From November 12th right up until December 25th (for all you last minute shoppers) each location has super exciting in-store promotions and exclusive holiday gift sets! Don't forget you can earn Shoppers Optimum Points on almost every purchase and most stores are open late too.
Holiday Gift Guide Launches:
Give Beauty, beautyBOUTIQUE by Shoppers Drug Mart – Available now
Get Set for the Happiest Holidays – November 15th
Join the conversation and see what everyone is talking about at #giftsmadeeasy. Also keep an eye out for 3 additional gift guides/beauty books available in late November and December.
Unwrap to Win Game
From December 1st to 24th visit the Shoppers Drug Mart website for a chance to win fabulous prizes ranging from beauty, fragrance, skin care sets to toys, electronics and gift cards.
Shoppers Drug Mart will be giving away 15 great prizes each and every day (360 in total) and one could have your name on it!
Retweet to Win
Join the #SDMHolidays retweet to win contest for a chance to win 1 of 10 $100 Shoppers Drug Mart gift cards.
Contest ends November 21st at 9:00am EST
So visit the Shoppers Drug Mart Holiday website to browse all the fabulous GIFTS MADE EASY this holiday season and to enter their contest for a chance to win gifts!
Plus make sure to do the super easy Retweet to Win contest too for your chance to win 1 of 10 $100 Shoppers Drug Mart gift cards right before the holidays!
Disclosure: Although this post has been sponsored by Shoppers Drug Mart, the opinions and language are all my own, and in no way do they reflect Shoppers Drug Mart.

Aimee is a suburban mom of 3 and resides in Richmond Hill, Ontario. She enjoys sewing clothing for her small handmade clothing business, baking, DIY projects both big and small, travel, and finding creative ways to save her family money.

Latest posts by Aimee Geroux (see all)