Younique Cosmetics: Fail Or Holy Grail?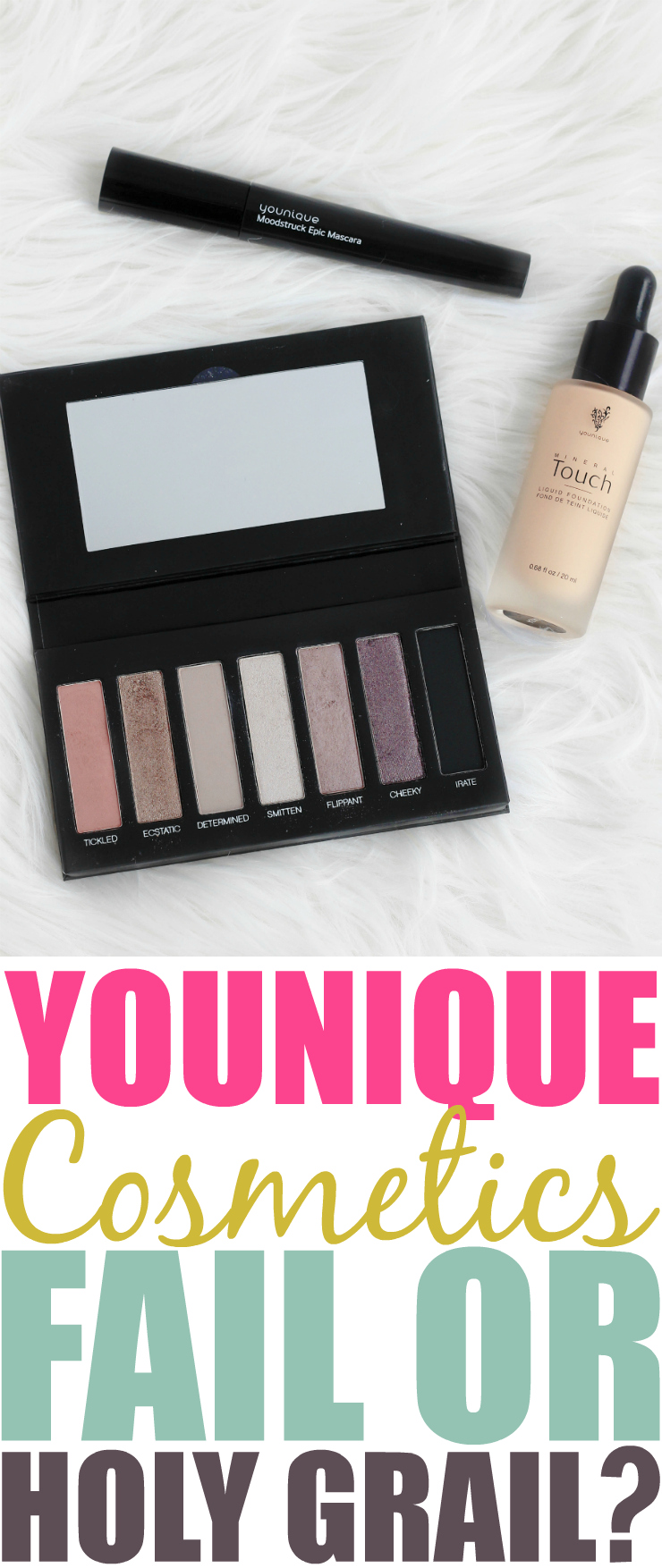 As many of you may know, I have ridiculously sensitive skin. I have written about my battle with hormonal acne, and how many products end up causing skin irritation or breakouts.
The aftermath of my hormonal acne left me with dark pigmented scars. Those scars are mainly on the lower right side of my face near my chin.
For years I have been trying countless brands of foundation to mask the scars. It is one of two things I have been self-conscious about in my life.
About two years ago I found Dermablend. I was happy that it was a full coverage foundation that actually covered my scars.
With that said it is heavy on the face and is most definitely not long wearing. After wearing it for a few hours I would start to notice it getting cakey, and if it was the summer time it would literally start melting off my face.
While I still love its ability to cover every mark on my face, I don't love that it highlights dry areas on my face or that it doesn't look flawless for long.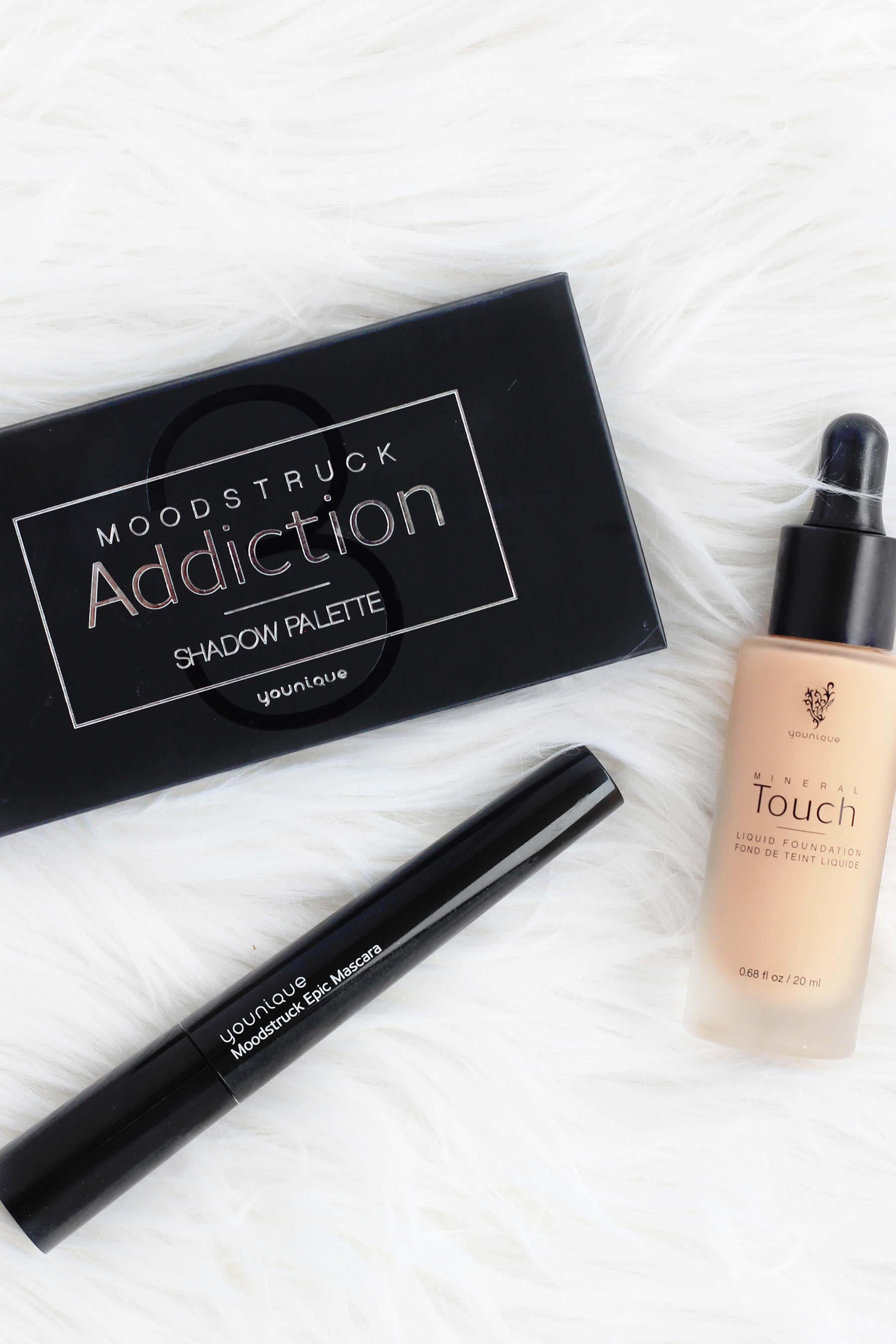 Younique Cosmetics
When I was approached by Amanda, a Younique presenter, to test out some Younique Cosmetics products I was extremely skeptical. The biggest thing running through my mind was, if this brand is so amazing why isn't it in stores like Sephora or Shoppers Drug Mart? I also didn't have the greatest experience in the past.
Years ago I tried their fibre lash mascara and my eyes were so angry with me. They were irritated, watering, and I got those fibres everywhere! But I decided I would give them another chance and I agreed to try out a few of their products.
Back in December I received the Touch Mineral Liquid Foundation, MOODSTRUCK EPIC™ Mascara, and the Moodstruck Addiction Shadow Palette 3.
I wanted to put these products through a lengthy testing period to ensure they a) wouldn't cause breakouts and b) would not irritate my sensitive skin/eyes.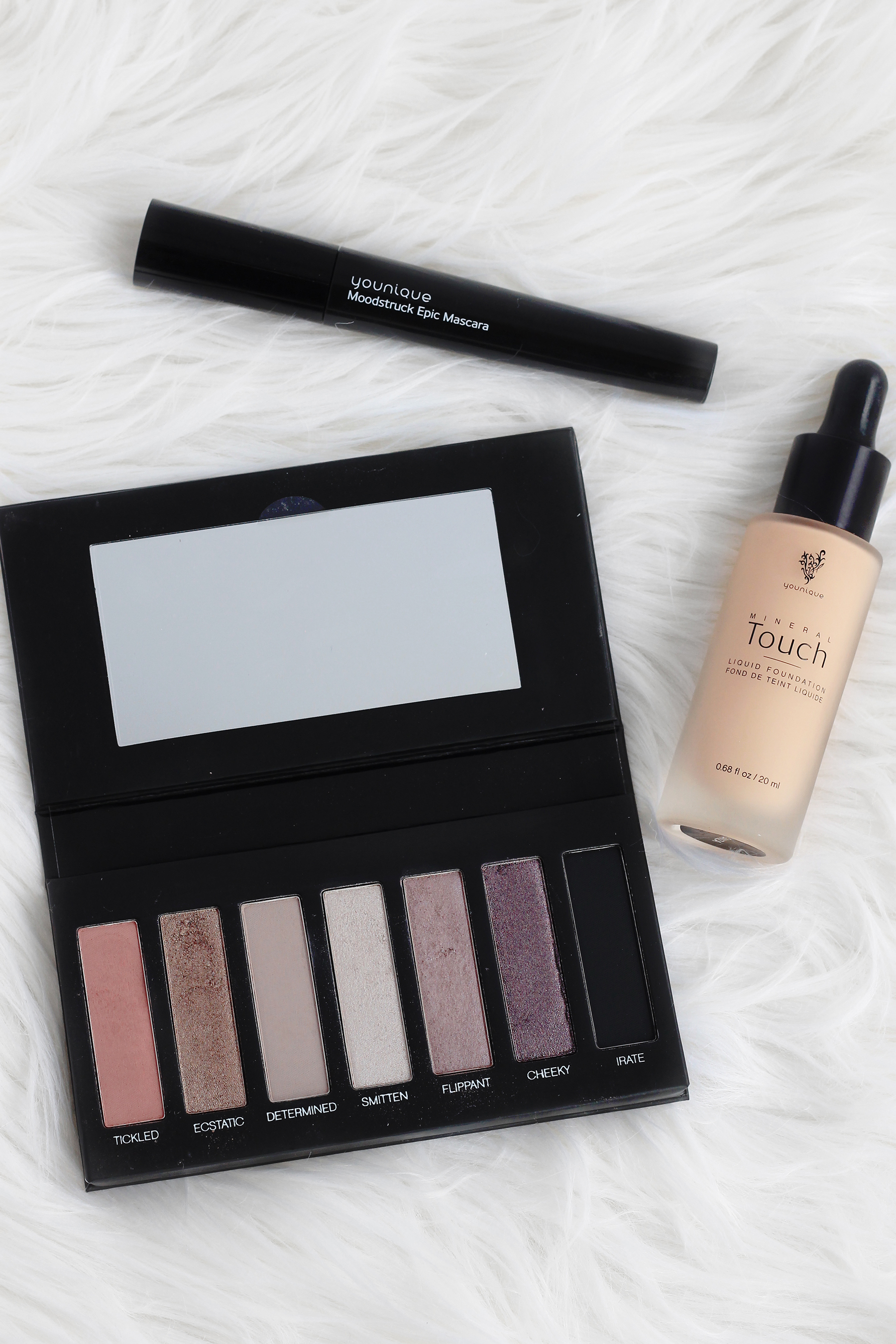 Younique Cosmetics: Fail Or Holy Grail?
I'm a straight shooter, if I don't like something I will never say I do. I also know that not every product will work for me or suite my taste, but that it can for many others.
So were the Younique Cosmetics products I tested out a fail or holy grail? Let's dive in to my thoughts on each of them now!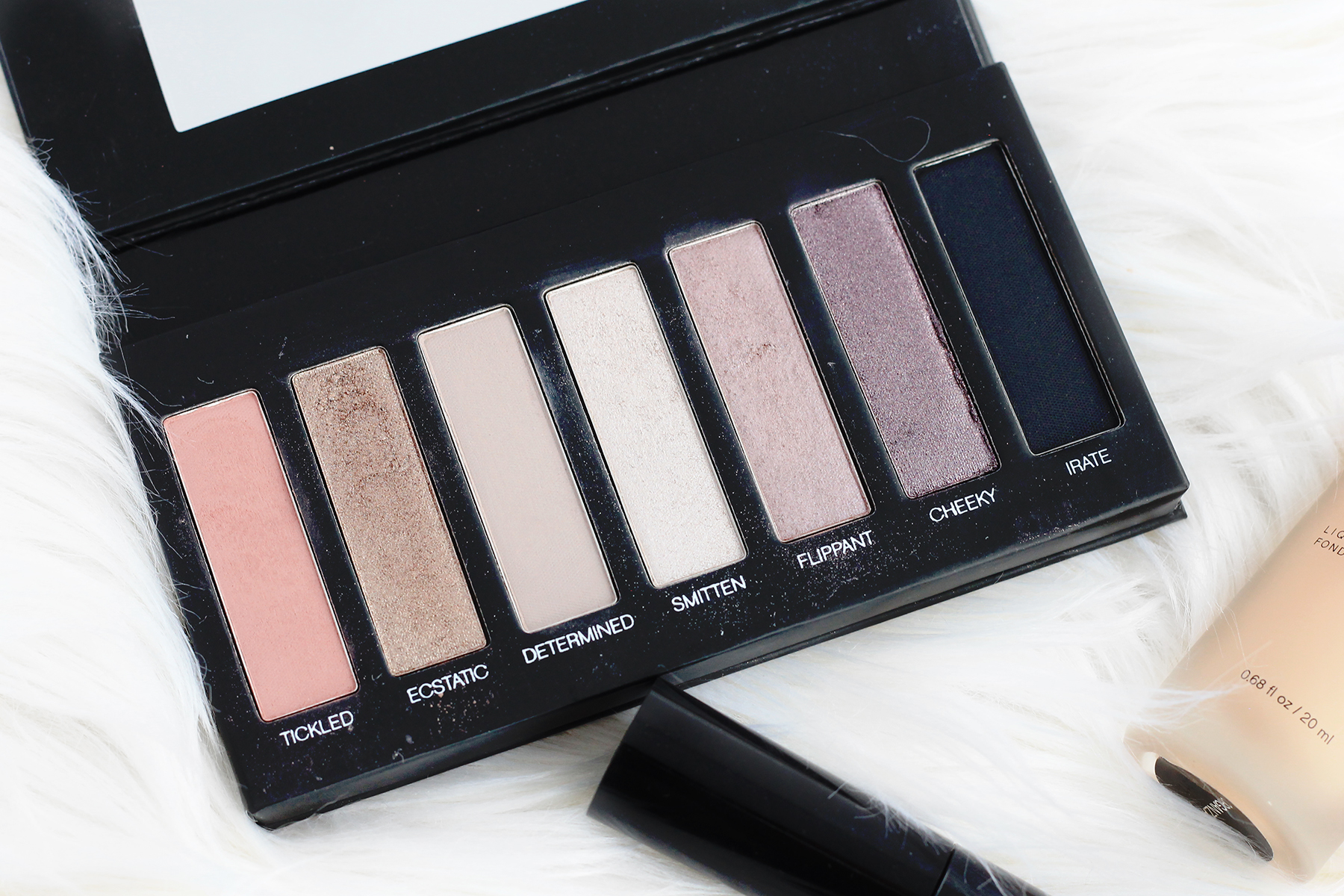 Younique Moodstruck Addiction Shadow Palette 3
As you can see from the photo above I have been using this palette up to Irate. I don't know why but dark shadows scare me!
I probably sound like a broken record but I tend to favour a more natural look with my makeup vs a more glam look. That is probably because I suck at makeup and have no idea how to go glam.
Either way, this palette is amazing and has quickly become my fave over my Stila Cosmetics palette I have been using for the past 4 years LOL!
If I had to pick my faves from this palette for a day look, it would be Tickled and Ecstatic. For a night look I love Flippant and Cheeky. Smitten is perfect for under your brow, and I like to use Determined as a base on my lid. It really helps to make my lid colour pop!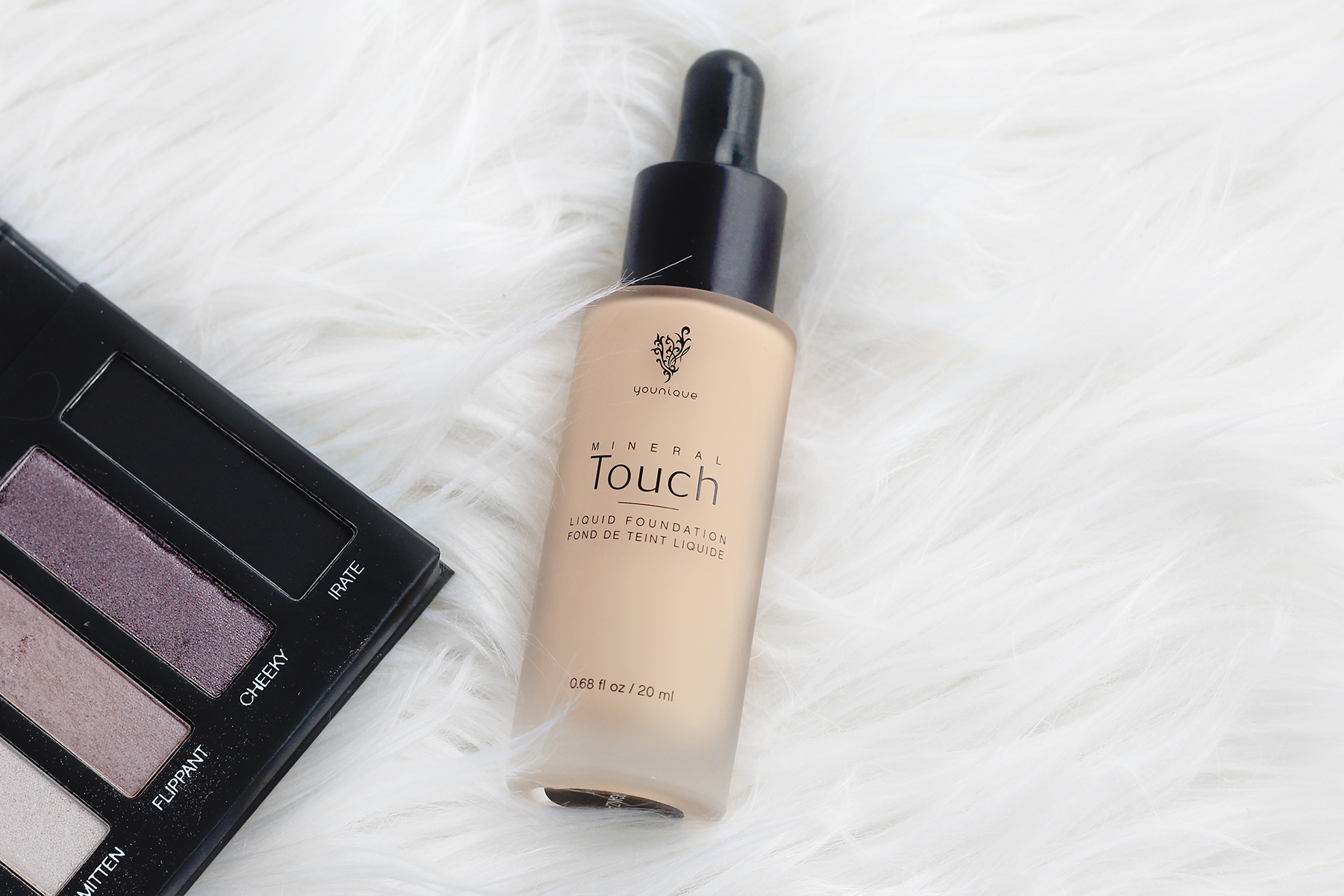 Younique Touch Mineral Liquid Foundation
I'm a pretty simple woman when it comes to makeup. Lets be honest here, I work from home and have three kids, so my big adventures out usually consist of grocery shopping.
Before I would never leave the house before putting on a full face of makeup, including heavy full-coverage foundation.
If I am going to be totally honest, there have been times where I would get my face on, get in the car, and halfway down the road look in the mirror and tell Steve to turn around and go home.
Wondering why? Well, when  I would look in the mirror I could still see my scars or breakouts, even after a full face of makeup, and I couldn't stand the thought of being out in public like that.
Lately I have started to be less self-conscious of the scars that my hormonal acne left behind, and often run out with not a stitch of makeup on.
Watch my video below to see the transformation using the Younique Touch Mineral Liquid Foundation, Moodstruck Addiction Shadow Palette 3, and MOODSTRUCK EPIC™ Mascara.
I was blown away with the buildable coverage that doesn't look or feel like you have put on layers and layers of foundation.
One thing I was waiting for was for this foundation to cause breakouts. Almost all foundations I have tried, including Dermablend, have caused me to breakout after wearing them. After wearing this foundation 4-5 times per week since December, I am happy to report it has not caused one breakout!
I can never pick the right shade for myself and lets just say I didn't hold my breath that Amanda would be able to either.
I sent her a photo of myself with no makeup on and in natural daylight and she matched me bang on. So if you suck at picking the right colour don't worry, Amanda will be able to help you!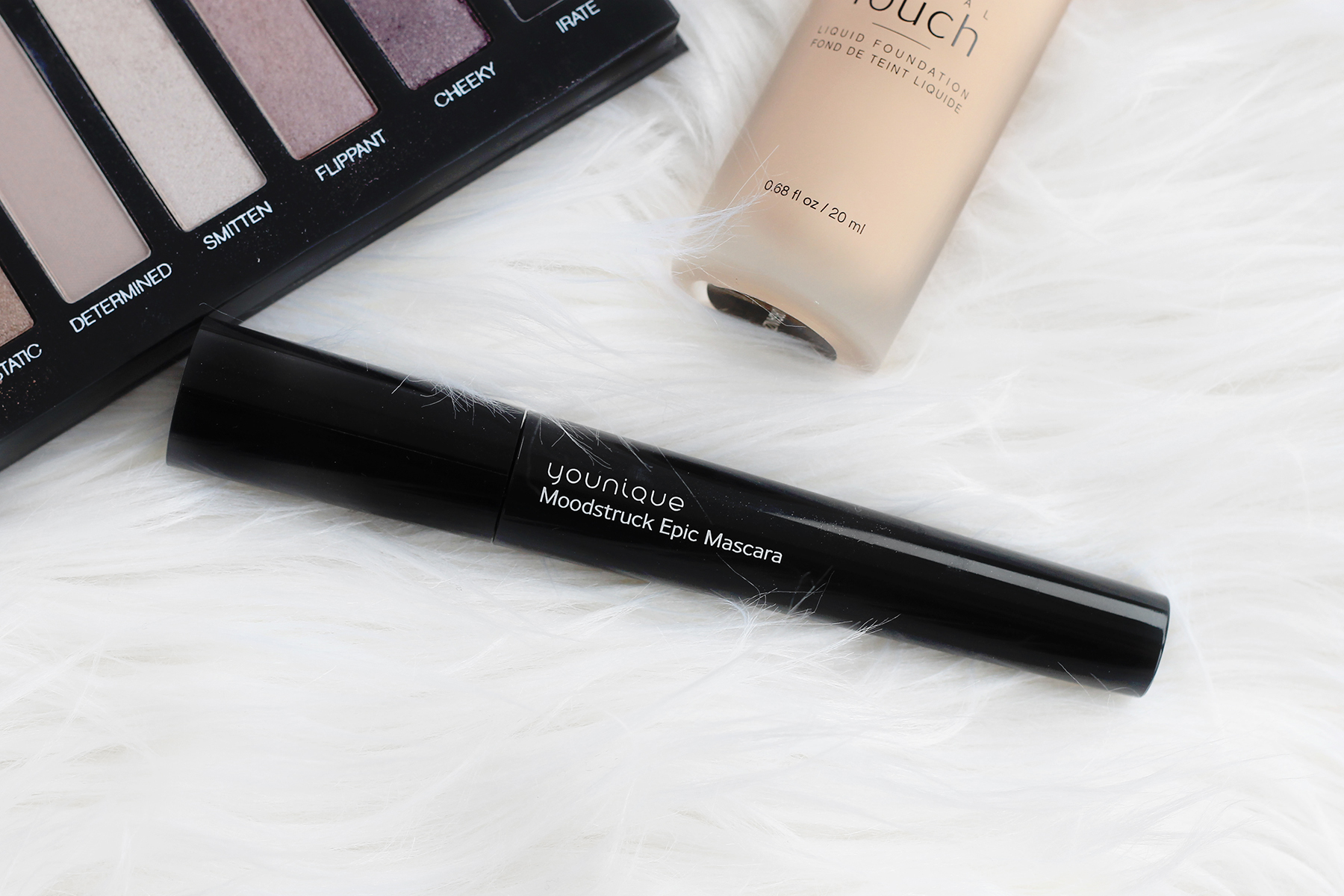 Younique MOODSTRUCK EPIC™ Mascara
I had to save the mascara for last because it is just unfreaking real!
If you ask my lash extension tech she will tell you I have the worlds tiniest lashes. Honestly, it takes her longer to do my lashes than any of her other clients due to how itty bitty my lashes are.
Like I mentioned before, years ago I previously tried the old formula of Younique Cosmetics 3D FIBER LASHES and didn't have a great experience. I know others who love it, but for me the fibres went everywhere and my eyes got really irritated. With that said they have reformulated it so I am interested in giving it another try one day!
This product had me the most worried, I feared it would irritate my sensitive eyes. I also was a tad skeptical that it would actually give me long lashes without those fibres as this is just a one-step mascara.
If you watched the video above you will see just how incredible this product is. I show you my barely there lashes with nothing on them, with one coat on, and then after two coats!
So if you have tiny lashes like me this is hands down my new favourite mascara for when I don't have my lash extensions in!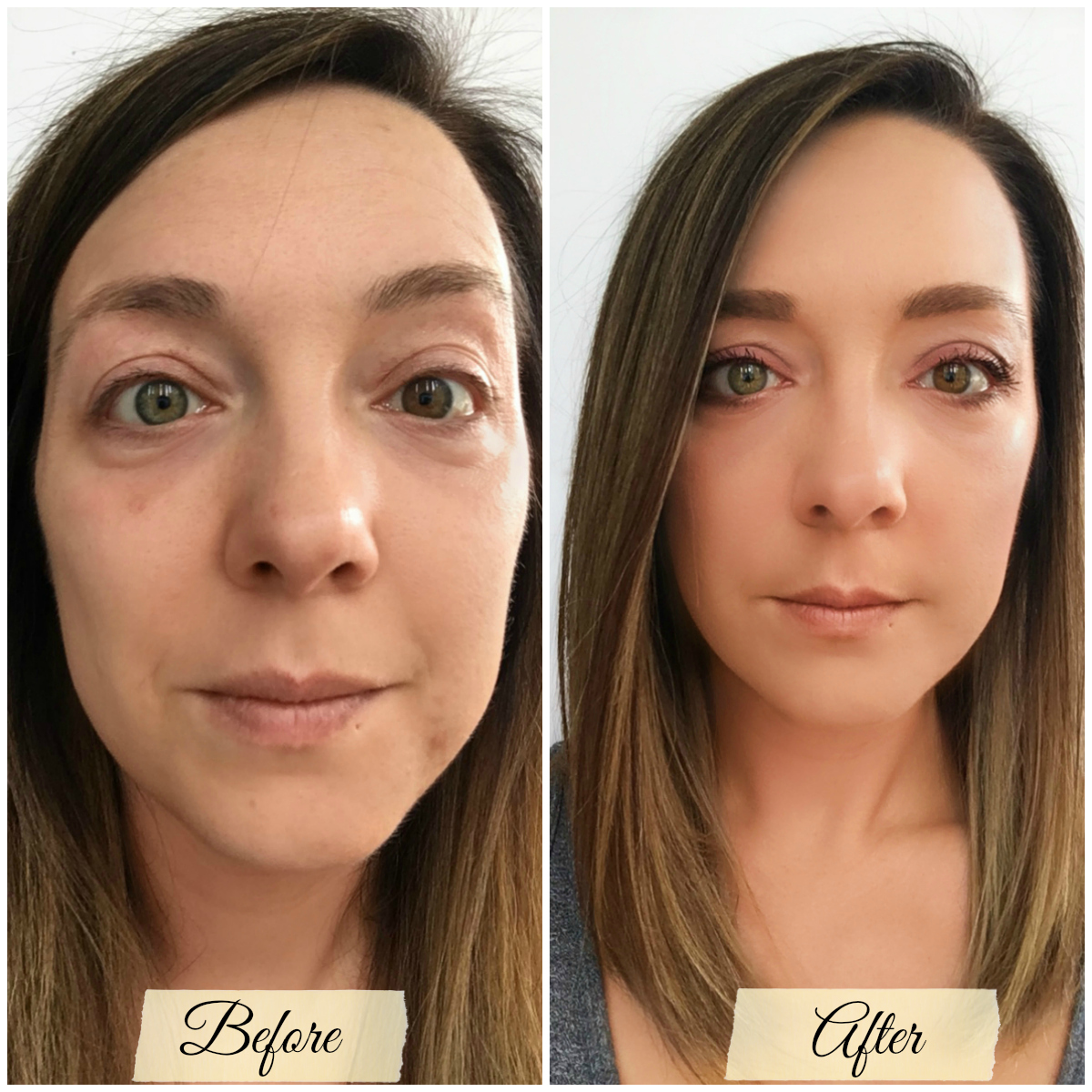 SHOP MY LOOK
The products I used to get my after look from Younique Cosmetics are:
I also used a few of my own products from my makeup bag to finish my look:
CONNECT WITH AMANDA
Amanda is a Younique Presenter who can help match your foundation, coverup, and help you pick the best products for you. She also has great tips, how-to's, deals and more to share with you!
If interested in any of the products I have reviewed you can purchase them directly on Amanda's website via the links above, or you can contact her if you have any questions.
You can also find Amanda on Facebook and Instagram!
ENTER TO WIN
Because I loved these products so much I decided I would host a giveaway to give you the chance to try one out!
That's right, I am buying 3 lucky winners the Younique MOODSTRUCK EPIC mascara.
Prize:
1 of 3 Younique MOODSTRUCK EPIC Mascara (ARV $29)
This giveaway is open to Canadian residents who have reached the age of majority in their province.
To enter the giveaway complete the mandatory entry options in the giveaway widget below. Once you have completed your mandatory entries you will be able to complete additional non-mandatory entry options. Complete those for additional ballots in the giveaway!
This giveaway will close on February 27, 2018 at 11:59 PM EST. The winner will be drawn from all eligible entries and contacted via email on February 28, 2018. The winner will have 24 hours to respond to the email and claim their prize. If they fail to do so a new winner will be drawn.
Please note that ALL entries are verified and if you submit an entry without completing it you will be ineligible to win
Disclosure: Although I was sent product for review consideration, the opinions and language are all my own. And in no way do they reflect Younique Cosmetics or Amanda. Any product claim, statistic, quote or other representation about a product or service should be verified with the manufacturer, company, provider or party in question.
What is your biggest beauty concern? Let me know in the comment section below!