Couponing 101: Where To Find Coupons!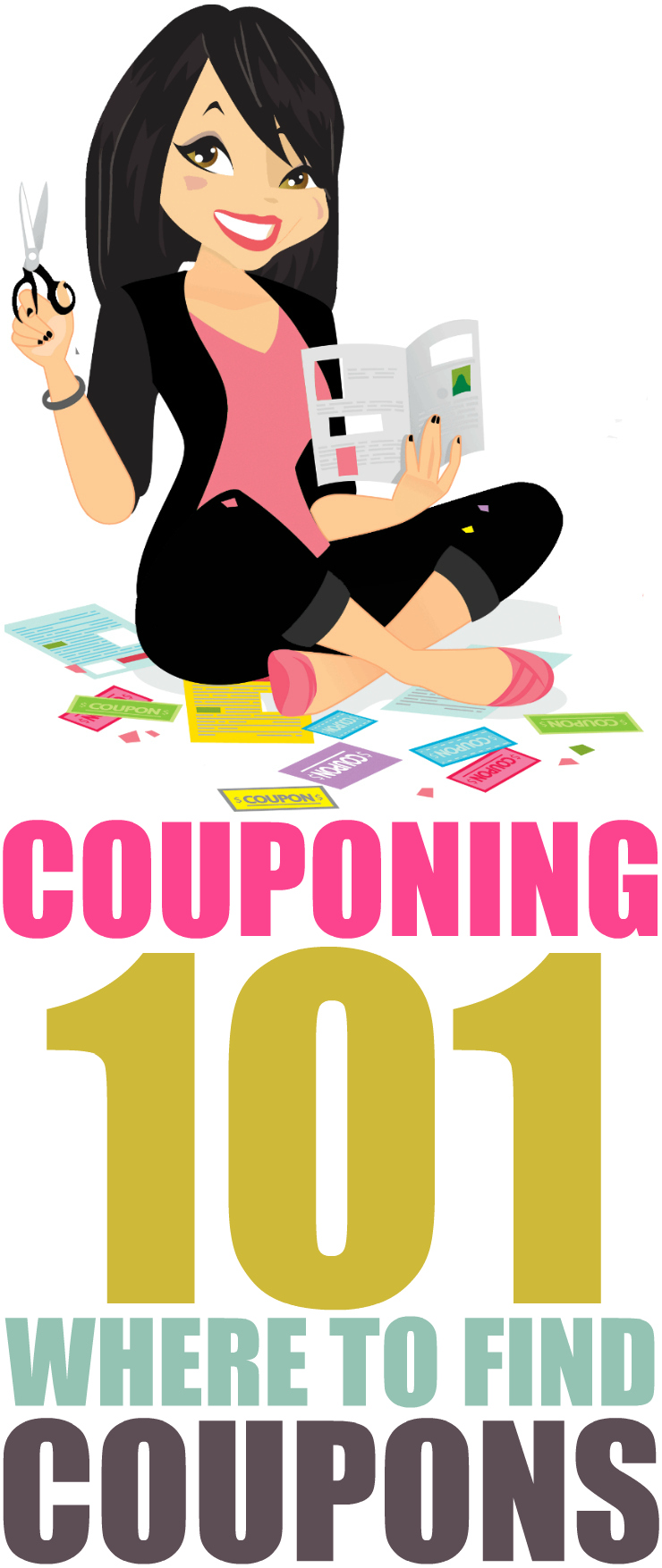 One of the questions I get asked most is, where do I find coupons. In this article I am going to let you know where to find coupons that will help save you money!
Coupons are a great way to cut spending when shopping for almost anything. I use coupons on date nights, when buying clothing, toys, travel, and more.
If you were to ask me what I use coupons on the most though I would have to say grocery items. I shop far more for food, cleaning supplies, and hygiene products, than I go out on dates or travel.
Where To Find Coupons
I've been couponing for 8 years now, wow I can't believe it has been that long!
While couponing has evolved since I started, that just means there are more ways to save money now.
Below I am sharing all the places I find coupons to save money off my grocery bill!
Mail To Home Coupons
Mail to home coupons are great because they are 100% cost-free to you.
There are however fewer and fewer mail to home coupons in the last few years. Due to companies look to cut costs, we are seeing a decline in mail to home coupons.
Some sites that you can order mail to home coupons from are:
Printable Coupons
Printable coupons are where you will find the majority of coupons nowadays.
When I first started couponing it was so hard to get a store to accept a printable coupon. Fast forward 8 years and it is the norm and it's hard to get our hands on mail to home coupons.
So invest in a good printer that is low-cost. I own two laser printer as the toner is much cheaper, and lasts much longer, that inkjet printers.
To save on ink, print your coupons in black and white.
Amazon often has great sales on printers and always purchase generic toner for your printer – no need for the name brand!
EXTRA TIP: check the Canadian version of a brands website for any printable coupons. If they don't have a Canadian version, check their website as often they have both US and Canadian printable coupons available.
Some sites that you can print coupons from are:
Insert Coupons
Insert coupons are awesome for scoring great coupons. You will usually find insert coupons in your weekly flyers or weekend newspaper.
If you have no shame, you can ask neighbours if they don't use them to drop them off to you.
These inserts often come out on a schedule, however, only SmartSource and RedPlum share their schedules with bloggers.
EXTRA TIP: There are also from time to time special surprise inserts such as Walmart and Unilever. Be sure to keep your eyes out for those in your weekly flyers or newspapers.
Keep your eye out for the following regular inserts:
SmartSource
RedPlum
P&G Brandsaver
In-Store Coupons
In-store coupons are a great way to get more of a certain coupon if your family purchases that product often.
When you are shopping, keep your eyes open for tearpads throughout the store. Tearpads are a pad of coupons which are normally near the product that the coupon is for.
Product Packaging Coupons
Another great way to get coupons is right on the products you are buying.
Often cereal will have coupons on the back for fresh fruit, milk, yogurt or other breakfast friendly foods.
Many products will have what are called peelies. Those are coupons that are stuck on the product. You can peel it off to use during that shopping trip, or wait to peel it off at home and use it later on a better sale.
PLEASE DO NOT PEEL OFF PEELIES UNLESS YOU ARE PURCHASING THE PRODUCT – THIS IS A NO-NO!
You can also find hang-tag type coupons which are normally hanging from the neck of a product. I find hang-tag coupons on cleaning products, laundry detergent, pickle and jam jars etc.
Always keep your eye out for coupons on packaging, and be sure to purchase the ones that have coupons vs packaging that doesn't.
Newsletters & Mailing Lists
Signing up for brands newsletters or mailing lists are great ways to score coupons. Many brands will send exclusive coupons to those that subscribe to their newsletter.
I suggest going through your pantry, freezer, and fridge to make a list of brand/products your family uses. Once you have a list I would go online and take an hour or so to visit all those brands Canadian websites and join their newsletter. This will allow you to be alerted to any coupons or samples should they be offered.
You can also try emailing them using their contact form letting them know how much your family enjoys their product. Within your email, ask if they had a few money savings coupons they could pass along to you. Be sure to include your full mailing address in the body of your message as most companies will not even respond but will just mail out coupons.
EXTRA TIP: I do suggest opening a new email account you will use just for the purpose of couponing, newsletters etc so you don't overload your general email account.
Samples & Freebies
Often when I fill out a form for a free sample, when it arrives it comes with a coupon. Sample boxes from companies like SampleSource often add coupons in the package with the samples too.
Be sure to follow your favourite brands on their social media accounts as they generally will offer samples, freebies and coupons on their social channels to their followers.
Trading Coupons & Coupon Trains
When I first started couponing, trading coupons and coupon trains was huge. There were tons of forums and groups to trade coupons in or start/join trains.
However, I found over the years the more couponers were out there, the harder it became to trade. People were becoming extremely greedy, and nearly wanted your first-born in exchange for a $1 off coupon. I stopped trading with strangers and now only trade/exchange coupons with close friends.
I am sure there still are groups and forums out there to trade coupons if you are interested in looking into it.
Do you know of any other places to find coupons? Let everyone know in the comment section below!