Stress Free School Mornings
Right now I am pretty lucky as my school-aged children are old enough to get themselves up and off to school with little to no help from me. Next year however will be the start of Bella's school career and the days of me needing to get her ready and out the door on time.
I think over the last 11 years of school with my girls I have learned a few things that made mornings a lot less stressful for everyone. Things to help ensure mornings ran smooth, the kids didn't miss their bus or be late for school, and I didn't need a straight-jacket once they were gone.
Even with younger children there are many things they can help with that in the long run will teach them responsibility and how to be more self-sufficient. Don't underestimate your child's ability to do certain tasks. Even if they need your direction or assistance, over time they will be able to complete these small jobs that are a huge help on their own.
Tips For Stress Free School Mornings
…
Bedtime & Wake Up Time
One of the most important tips for stress free school mornings is consistency. If you are putting your children to sleep late they are going to be harder to wake up, grumpy, and uncooperative. Sleep is a very important part of life and children who are well rested do much better in school. Set appropriate bed and wake times for your child's age and stick to them. A lot of children have a hard time adjusting from their summer schedule to school schedule so I also suggest beginning your school sleep and wake time routine a few weeks before the start of the school year.
Clothing & Lunches
As much as we all are tired after a long day at work (or home) preparing your children's clothes and lunches the night before is essential to smoother mornings. This is something your children can certainly help with or do on their own depending on their age. I always ensure my girls pick out their outfit and place it neatly on their dresser for quick access in the morning. It alleviates your children from trying on 101 pieces of clothing or saying the famous "I have nothing to wear". The same goes for lunches, while my girls have been making their own lunches for years now I always ensure they prepare them the night before so all they have to do in the morning is put their lunch bag in their backpack.
Breakfast
A healthy breakfast is certainly the most important start to any child's school day. Healthy breakfasts don't have to be a pain in your side or cause unneeded stress in the morning if you plan ahead. You can opt for a Sunday prep of breakfasts for the week or make them the night before. I have made fully cooked breakfast style tv dinners that we freeze on Sunday evening for the week. Then all the kids have to do is pop it in the microwave for 30-60 seconds.
A few of my favourite breakfast options for stress free school mornings are:
Chores
Morning chores can pack on the stress before school, not only for your kids but yourself. I keep my girls morning chores to a minimum and only request that they make their bed and put their pj's in their hamper. Once your children get into the routine of making their bed and placing their pj's into their hamper it will be a quick morning chore that establishes responsibility.
Have A Printable Schedule
Many children need reminders and us parents don't want to feel like we are constantly nagging our children to do what is expected of them. Having clear, visible schedules printed around the house can really help keep everyone accountable. Having an evening and a morning routine schedule printed for your children to see will help them (and you) stay on track.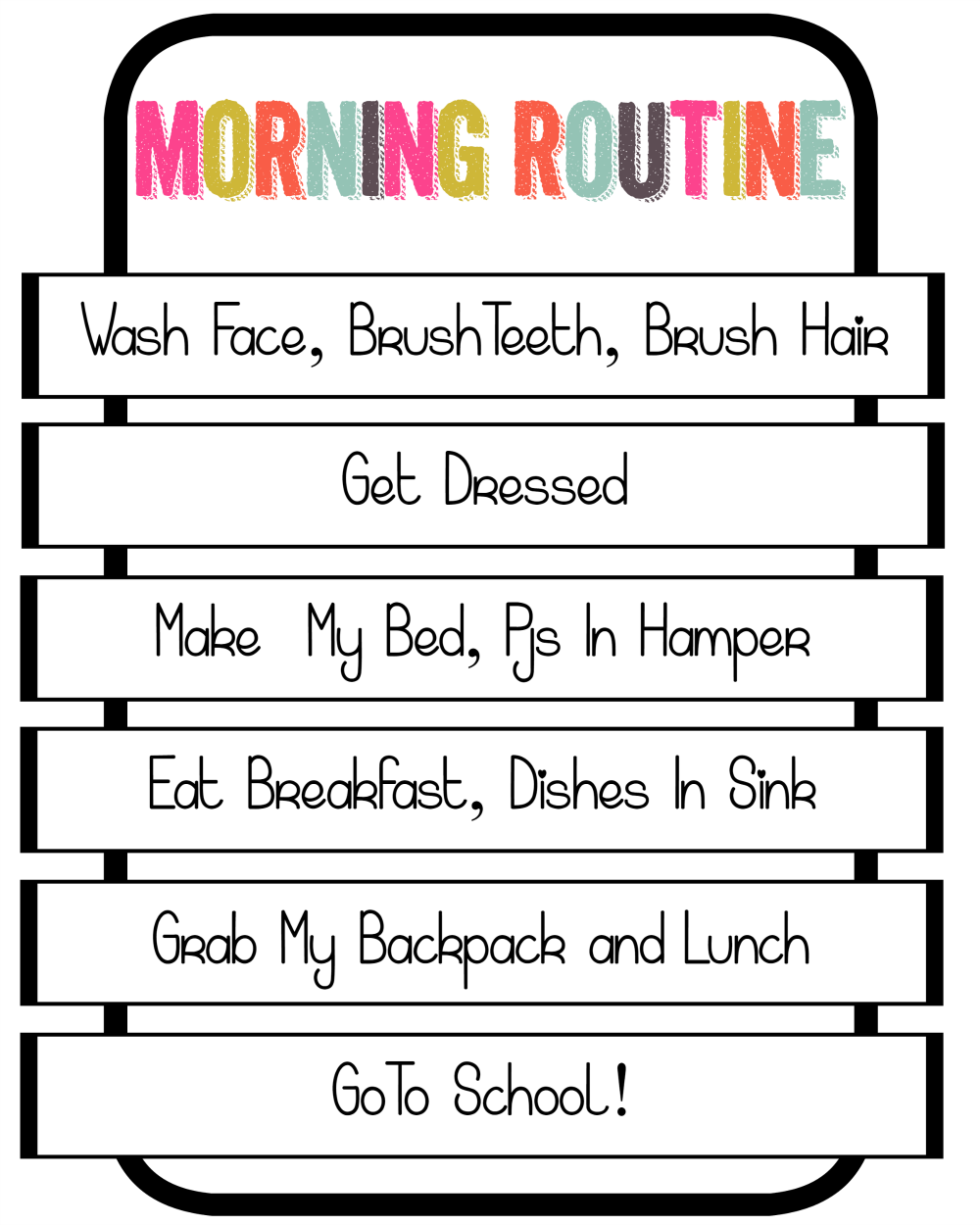 Our morning routine schedule.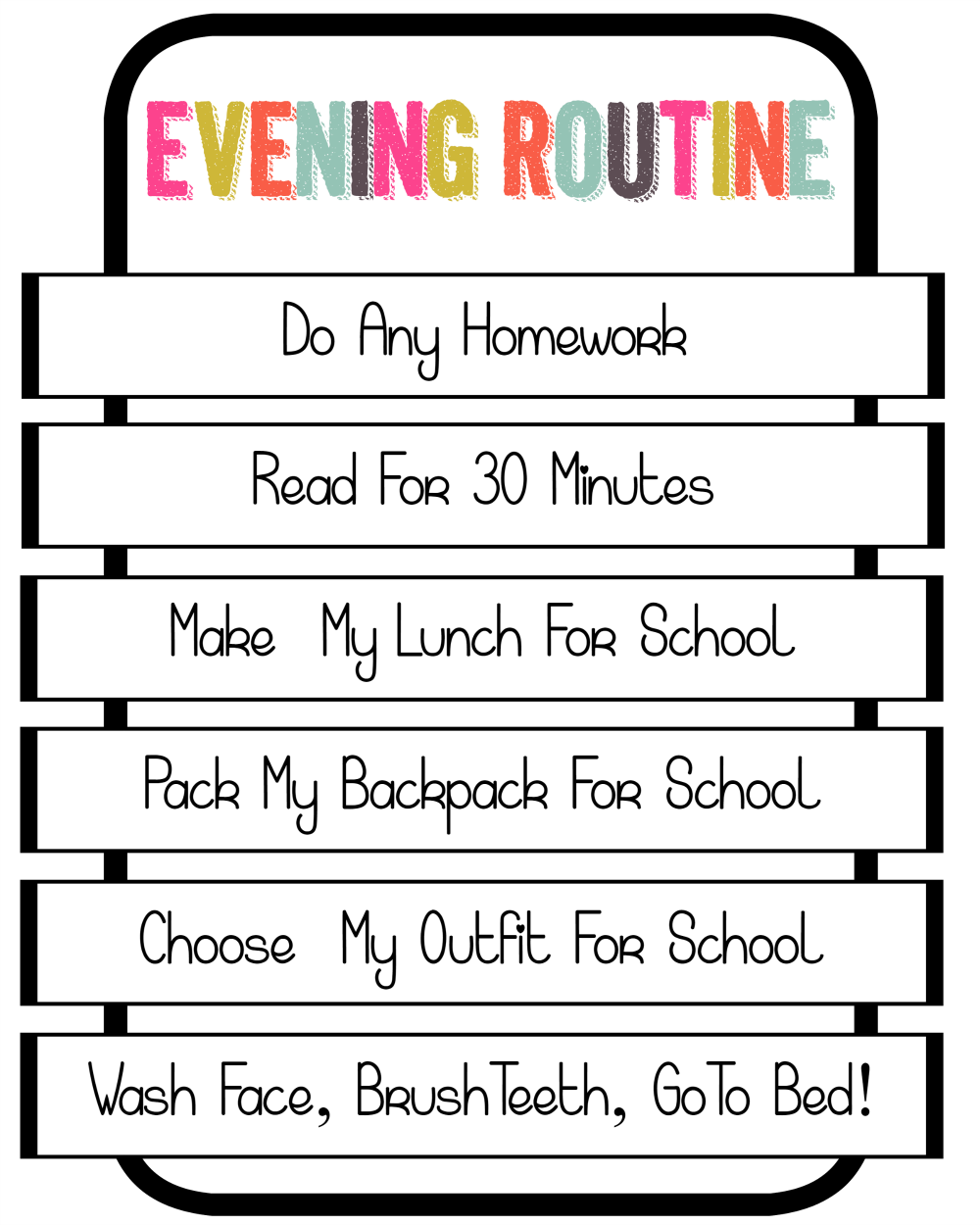 Our evening routine schedule.
I created both morning & evening routine charts that you can print for FREE and hang up in your home to help your family have smooth and stress free mornings before school. There are two options for both in the file, pre-filled out charts or blank charts that you can fill in.
DOWNLOAD AND PRINT THE MORNING & EVENING ROUTINE SCHEDULE
What other tips do you have that help you have stress free mornings before school? Let me know in the comment section below!