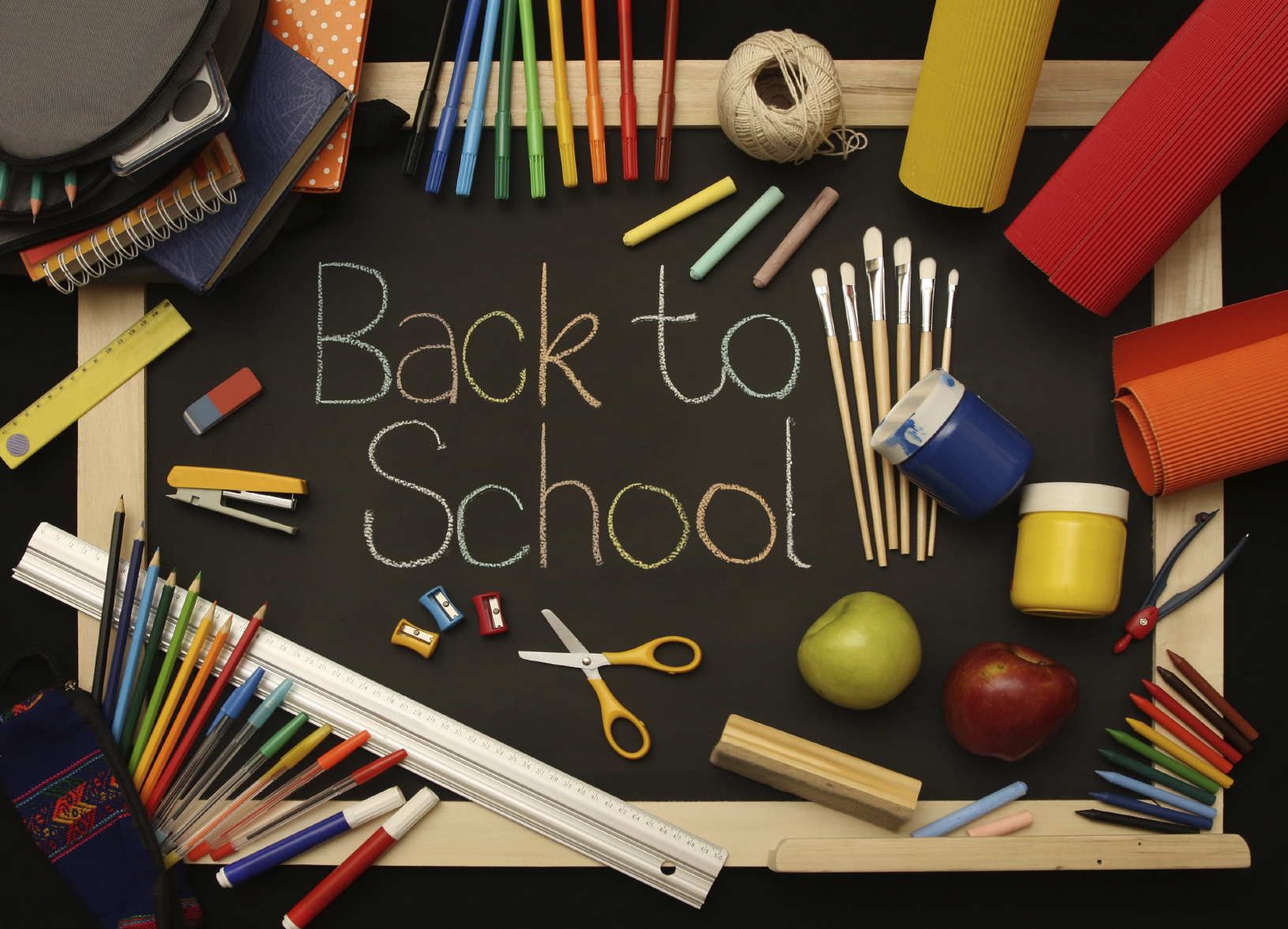 For many parents today is the day our little ones head back to school! Some may be heading back in a few days as younger grades stagger in the kids in groups to make the transition into school easier on them and the teacher. While some may already have gone back last week!
For all us stay-at-home-mom's (even those with little ones still not yet in school) the bigger kids going back to school brings a sigh of relief as we may actually get some work done, clean a room without it being destroyed instantly or just be able to go to the bathroom without hearing "MOOOOOOOOOM". As a stay-at-home-mom and blogger I cherish the school days as it allows me time to get the house work done and work on the blog done without worrying if the eerie quiet means one of my girls is smothering the other with a pillow – not really but if you are a mom you know silence isn't always good when the kids are home! This however will all change for me come January as we will be welcoming baby #3 and I will have to learn to juggle the blog, the house work and a new baby – lord help me!
Even though back to school means no more "what can we have for a snack", "mom shes copying me" and earth shattering screams, I have to admit I am just a tad sad that my girls are yet another year older and in another grade – they grow up too quick!
It really hit me while back to school shopping for the girls as Abby (11) and I went into Aeropostale to grab some shirts and sweaters for her as she has been fitting into all my old extra small tops from there for some time now. I saw a few pairs of size 00 (double zero) jeans on the clearance rack and thought what the heck lets see if they fit her seeing as they were reg $50.00+ on clearance for under $10.00 and sure enough they fit and a little piece of my heart broke. My first-born, my little girl was not so little anymore and is becoming a young lady too fast for my liking! Her preferences have changed too, no more "fun" backpacks and lunch bags she wants more sophisticated and grown up ones, ones with no characters and BLUE *tear*
I still have my little Hailee (8), although she was not with us to shop as she spent the summer with my Dad and Step-Mom I know her style and was able to still shop all the cute and colourful things for at least one of my children! A bright neon backpack from Children's Place with animal print and hearts all over it – she loves hearts! Cute little graphic tees with owls and girls on them. oh my heart was a little unbroken.
Today I woke up early and made a homemade breakfast for the girls just like my mother did for me and my siblings when it was our first day back to school. I also made them their favourite lunch, chicken nuggets, which I cook fresh in the morning and place in their lunch bags along with fresh fruit, snacks and some juice. I placed their clothes out for them (no fighting this year YAY!) and straightened Abby's hair – she has seriously wild hair from who knows where!
Then it was time, I brought out the "First Day Of 3rd Grade" and "First Day Of 6th Grade" laminated printables I made up this morning while they slept. Abby gave me a glare and said "You are NOT doing that at the school are you" to which I replied "Well I hoped to but we can just do it here I suppose". I am sure you can guess who won that battle – Abby! So off to the balcony we went (our apartment is upside down as I start packing and purging for our move) and we took some quick photos before we headed off to the school. My girls normally walk themselves to and from school but I always walk them on the first day as it is a zoo over there trying to find their teacher on the field!
Here are some shots from this morning: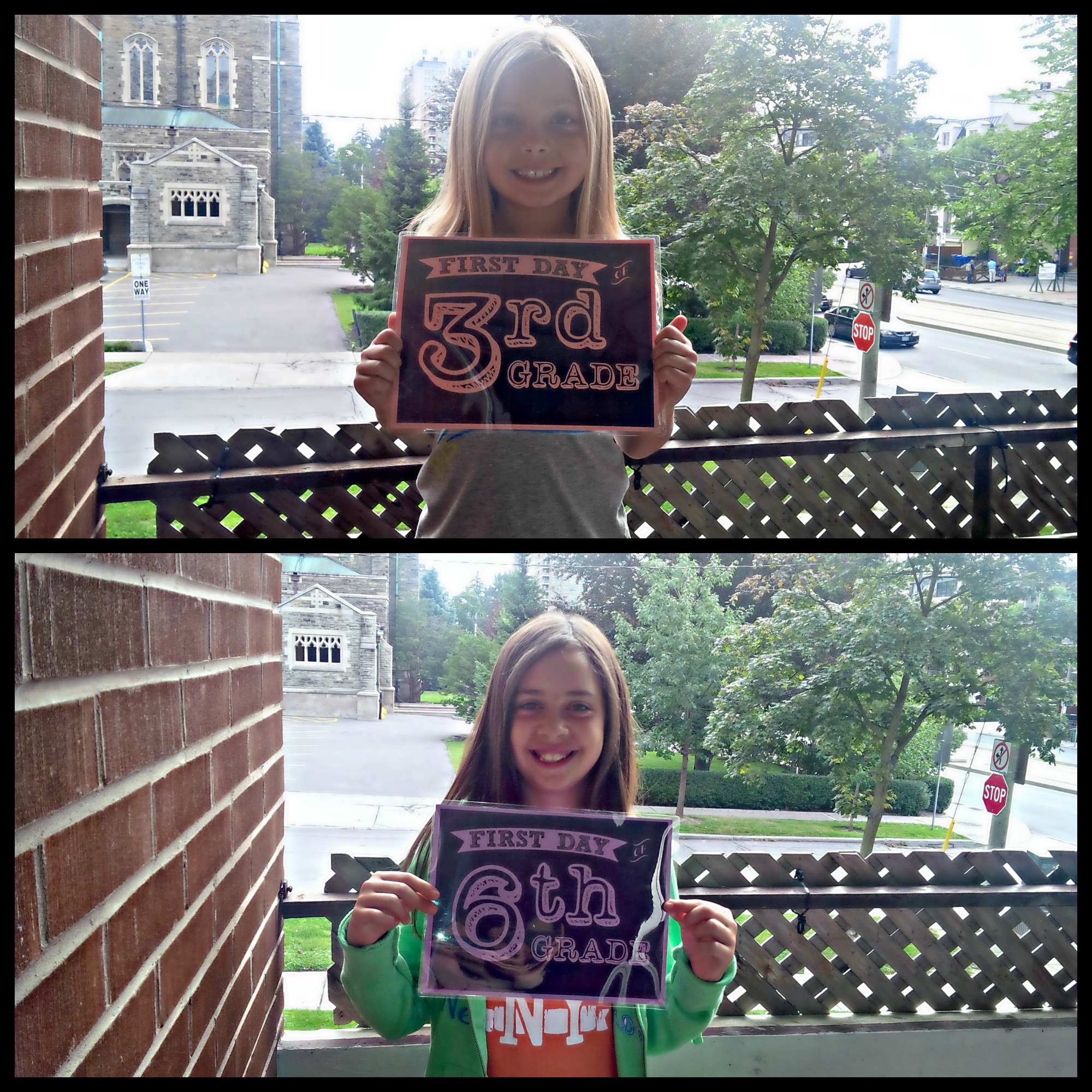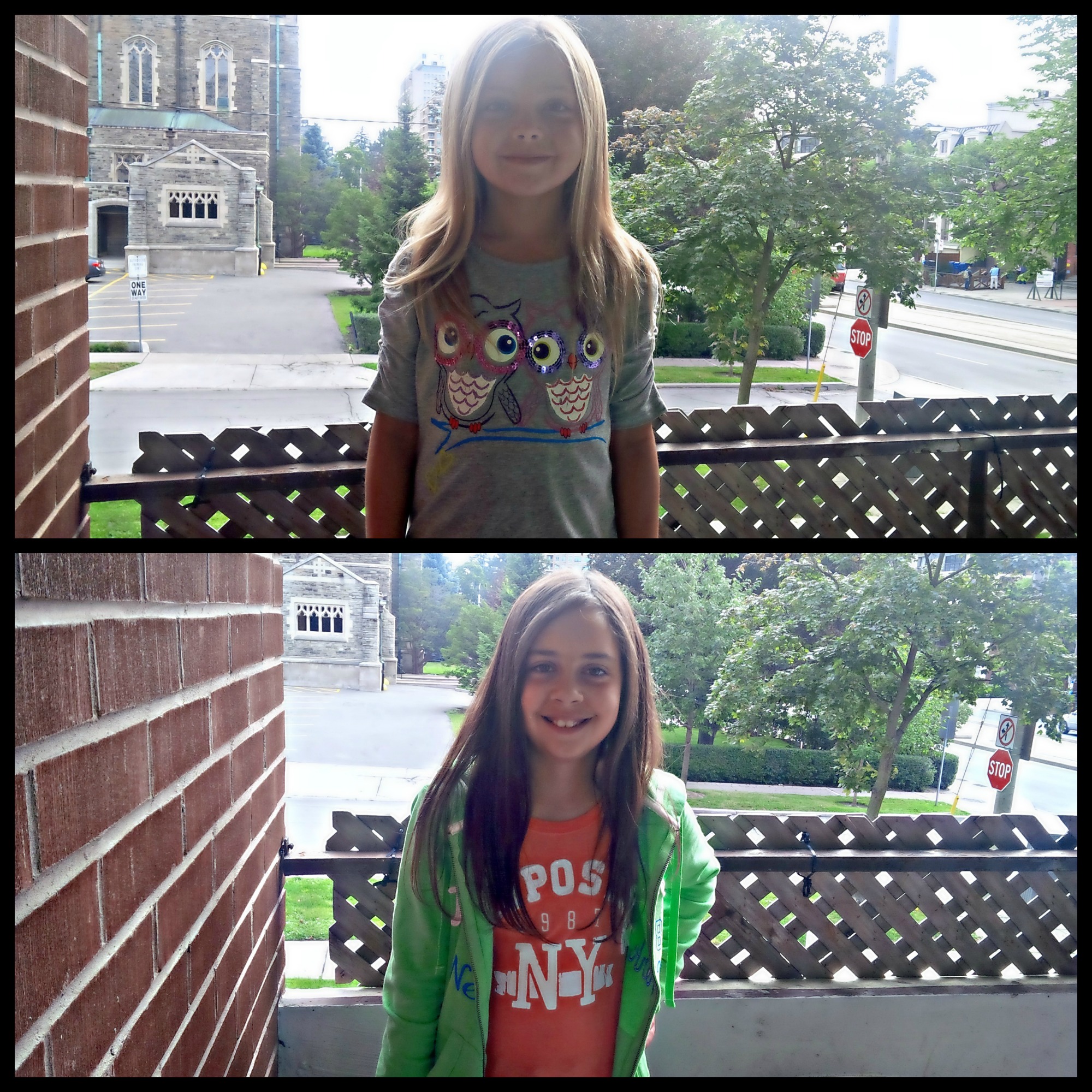 As much as I wish I could keep them small forever I know I can't and am so proud of the little women I am raising!