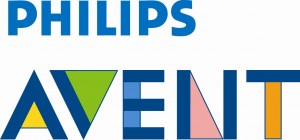 When we found out we were expecting we were excited, scared and nervous. Any family expecting a new member will share some of those same feelings!
If you have been following my Pregnancy Journey posts or if you have been around long enough to hear me talk about my two daughters you may know that my last "baby" was over 8 years ago as Hailee tuned 8 this past February! This means I have absolutely nothing for a baby anymore as it has long been donated/sold to other moms. The excitement of getting prepared for a new baby can be overwhelming especially for new moms who may not have the experience with certain baby products or brands. Luckily for me I have 2x the experience (3 if you count my nephew), although some things have changed in the last 8 years (prices, look, products) I know what brands worked well for my girls!
As a mother of two who didn't breastfeed either of my girls (I bottle fed them), I tried many brands, many types of bottles and through trial and error fell in love with Philips AVENT for my girls. I plan on bottle feeding our new baby and the first brand that popped into my mind when thinking of the bottles we will need to purchase was Philips AVENT.
Whether you are strictly bottle feeding or breast-feeding having a great bottle system is key. Breastfeeding moms may need to leave their child in the care of someone or give dad the opportunity to feed and bond with the new baby is where having a great bottle system comes in handy.
Philips AVENT is a leader in parenting and baby products. The Philips AVENT product range includes breastfeeding, bottle feeding, toddler feeding, baby monitors and newborn gifts. Pregnancy and early parenthood is an exciting and challenging time, when it's good to know there is expert advice on hand to help take care of you and your baby. AVENT has been designing and manufacturing products since 1984 that are inspired by nature and have been developed through extensive research and clinical trials.

The Philips AVENT Advantage

Choosing Philips AVENT means you have the assurance of superior quality products, designed with you and your baby's needs in mind. Philips AVENT products work effectively together to give you the flexibility to care for a growing baby.

The Philips AVENT superior quality products help to support the choices you make, whether breastfeeding, bottle feeding or combining the two. Then as your baby grows their interchangeable design features mean they can be adapted to meet your baby's developing needs.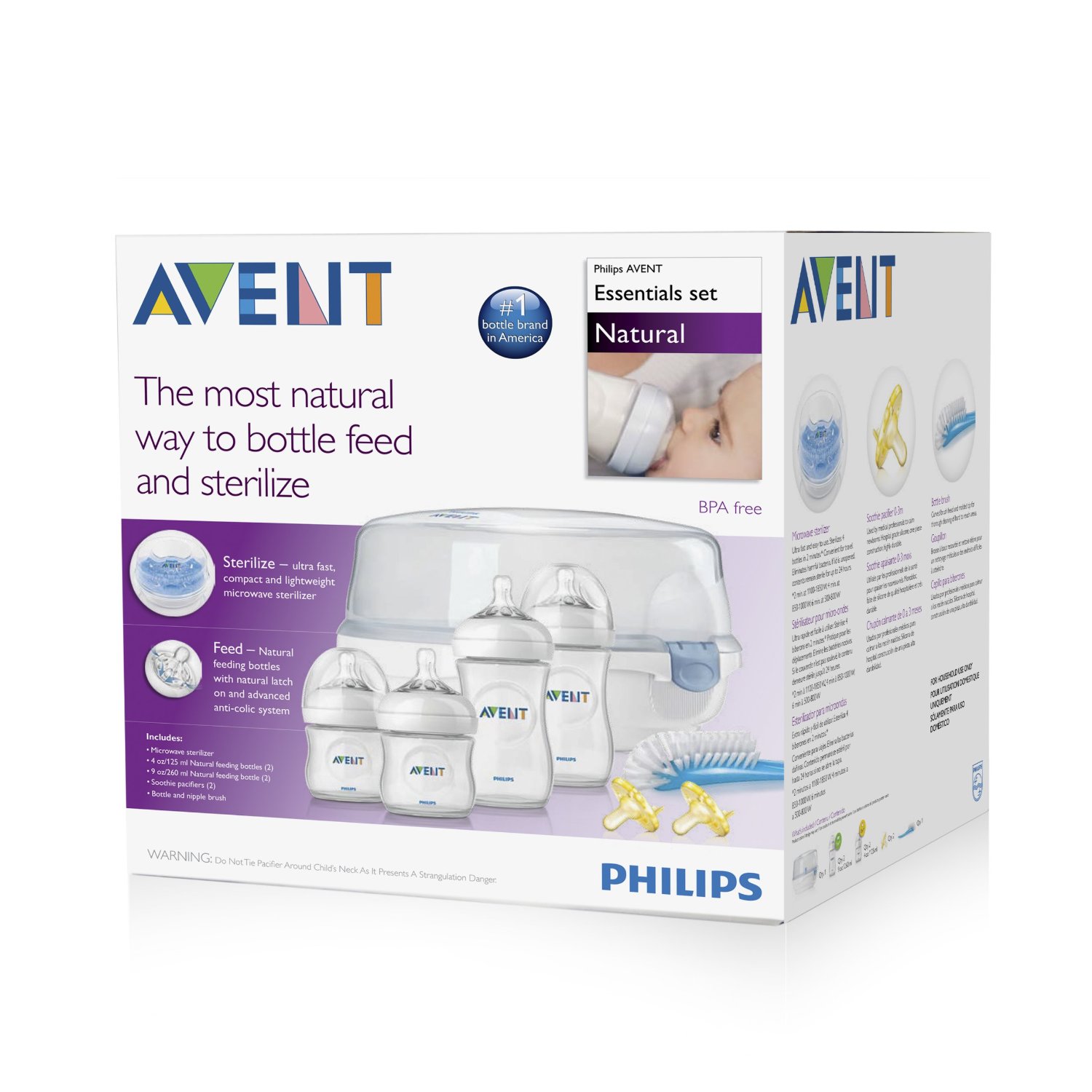 I was lucky enough to be accepted into the Canadian Avent Moms and was sent the Philips AVENT Natural Essentials Set. I have already tested out the sterilizer and love how easy it is to use, this is going to come in handy with a new baby as time-management is key. I never used soothers/pacifiers with either of my girls only because they never really needed one as they were quite content but having these two on hand makes me feel at ease just in case our newest addition isn't as content as my other two were. I really love that this set comes with a bottle brush, one can never have too many (as I recall having hoards with the girls). I love using brushes to get the bottles and nipples super clean before sterilizing.
The Philips AVENT Natural Essentials Set provides the help parents need for safe, easy feeding and sterilizing. This set includes two 4-ounce and two 9-ounce BPA-free bottles featuring a clinically proven anti-colic valve within the nipple that reduces colic for less air in baby's tummy and a more comfortable feeding experience. The set also includes an express microwave sterilizer which cleans bottles in just two minutes. Finally it includes two newborn silicone Soothie pacifiers to calm newborns while respecting the shape of their growing mouths and a rounded-head bottle brush that helps clean every inch of baby's feeding supplies.
All pieces in this set are BPA-free, and the bottles and nipples are interchangeable with other Natural Philips AVENT bottles or nipples.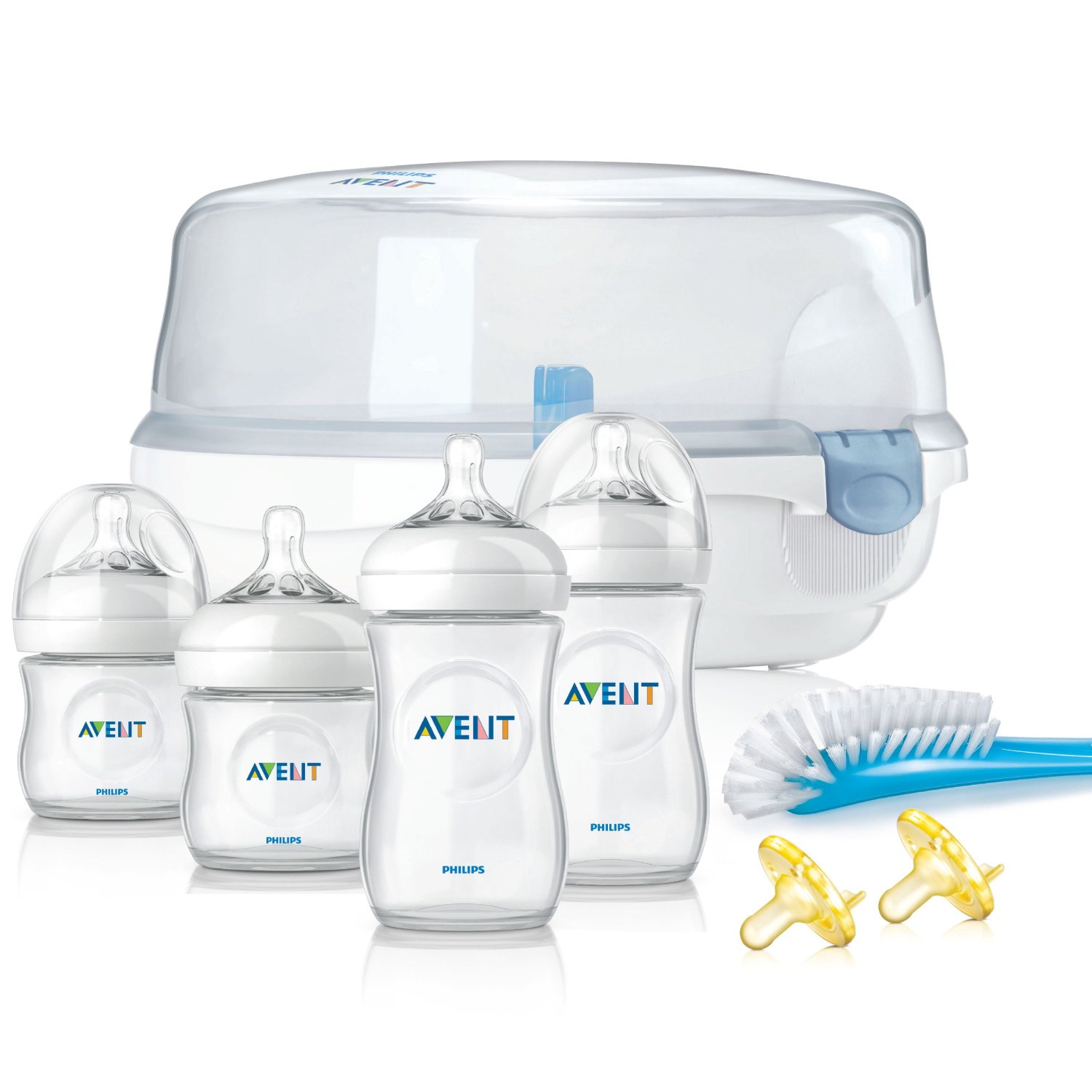 Product features include:

Breast-shaped nipple has comfort petals makes feeding more comfortable

Twin anti-colic valves keep air out of baby's tummy

Wide, curved bottle is easy to fill and hold

Pacifier has an orthodontic shape for baby's growing mouth

The microwave sterilizer is an easy-to-use system that eliminates household bacteria with natural steam, not chemicals.

Its compact size makes it ideal for travel

Bottle brush helps clean inside bottles and nipples

All pieces are BPA-free and easy to sterilize

Suggested Retail Price: $69.99

Available at Amazon.ca
ENTER TO WIN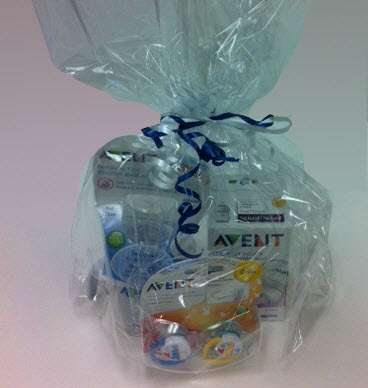 One lucky Extreme Couponing Mom reader will win a Philips AVENT prize pack valued at $31.00 ~ Enter via the widget below for your chance to win!
**Please note you MUST complete ALL mandatory entries to qualify, non-mandatory entries will be shown once you complete your mandatory ones and you can choose to complete those for extra chances at winning**
Disclosure: As an AVENTMom Philips AVENT provided me with a Natural Essentials Set and prize package in order for me to complete this review/post. Even though I was given a product for this review/post I always give my honest opinions, findings, beliefs, or experiences. The views and opinions expressed in this post are purely my own based on my research and experiences. Any product claim, statistic, quote or other representation about a product or service should be verified with the manufacturer, company, provider or party in question.