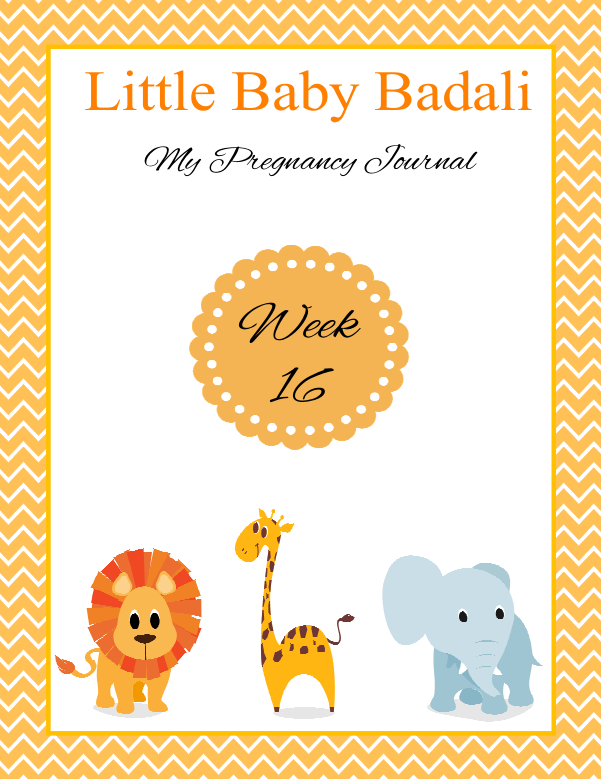 Trying to catch up here as I missed posting my 16 week update last week. Hectic life of gearing up for my two girls to go back to school plus the stresses of finding our new home as we are set to move October 1st and the better half's birthday made last week one that flew by before my eyes!
Ahh officially 4 months pregnant and I can only imagine the next 5 will fly by as fast as these 4 months have. With moving, two older children, work and a bazillion other things on my plate I have to really organize my time to prepare for this baby because at this rate he or she will be here tomorrow, or so it seems!
I have started collecting baby items and already have a Baby Bouncer (got it FREE brand new in the box from another mother in a Toronto mom group I belong to ~ thanks Bonita), a year or more supply of Huggies Baby Wipes (17 boxes of 400+ wipes) which me and my mother have picked up combining the Fortinos sale of $13.97 and a $10.00 off coupon making them only $3.97 plus taxes per box, some baby boys clothing (fingers crossed this little bundle is a boy but if not I will be posting them for free in the mom group I am in), Philips Avent Essentials Set (was sent to me free from Philips Avent – keep your eye out for my blog post on this where you can win a great prize) and a few odds and ends. I still need so much as my last baby is now 8 years old and everything I did have was donated to others as I didn't expect to be having anymore babies!
How Far Along: 16 weeks, 4 days

Maternity Clothes: Yes.

Total Weight Gain/Loss: At my last OBGYN appointment I was 132.2 lbs and not having a scale at home my weight gain is hard to track by week but I will find out the next time I have an appointment what my weight is! So as of that appointment I had gained 22.2lbs plus whatever else I have now gained since!

Stretch Marks: Still none! I was lucky to not get any with my previous two pregnancies so I am hoping the luck continues.

Symptoms: None anymore!

Have You Started To Show Yet: I have been showing almost since the day I found out and just the other day my better half came home from work and said "Did you get more pregnant while I was at work" referring to my nice large bump LOL!

Sleep: I am still not sleeping great, trying to get my hands on a Snoogle free or as cheap as I can get it but alas the search for one continues!

Anything Making You Queasy Or Sick: I have to say the only thing that makes me queasy on a daily basis is the rancid smell in our apartment hallway. I am not sure who's apartment it is coming from but I gag every time I step out in the hallway to go someone or am coming home. Honestly I think I have used like 20 cans of Febreze trying to nip the smell in the butt but it always returns. This is one thing among many that are making me say "I can't wait to MOVE".

Happy Or Moody: I have been extra moody this week and I think it is just everything piling up on me between trying to get all the girls back to school stuff while being high risk and not being able to carry much I had to take Abby along with me for muscle and all the "finding a new home" stress it has taken a toll on my hormonal state.

Food Cravings: Still loving Tang popsicles and sour keys. I was really craving a McFlurry one night and when the better half went to McDonalds the machine was broken which broken my heart. I was so bummed out.

Food Aversions: Still can't eat Caesar Salad but I will not give up and will keep trying, one of these days I am bound to like it … hopefully!

Best Moment This Week: Umm geeze its been a rough week and I really can't say there was a "Best Moment" for me this week!

Movement: The baby moves quite a bit, still to subtle for the better half to feel but I can feel the movements and it is one of the greatest things about being pregnant!

Labor Signs: None and if all goes well I won't have to feel labor signs as I will have a scheduled c-section prior to my due date.

Gender: We won't have our next chances until September 11 and 12 as I have two back to back ultrasounds for full fetal anatomy (due to being high risk) so hopefully one of those two days this little one will be kind to its mommy and let me know, I have planning to do and so does the family *Auntie Kristen needs a reason to shop*

Belly Button In Or Out: Still an inny and sadly this week I had to remove my Belly Button ring as it was starting to get itchy and painful. I guess it is a blessing in disguise as I doubt I will be 80 years old with a belly ring so eventually it would have had to come out, just a little sooner than I had planned!

What I Miss: Relaxation, this past week has been busy as you know what and I just want one of those days where I can plop my behind on the couch with a bag of chips and a container of dip and veg out ALL day.

What I Am Looking Forward To: Finding out the sex of the baby, I don't think this will change much until I do find out haha!

Weekly Wisdom: Find out how to clone myself so one of me can do all the work while the real me relaxes … Okay I know it is never going to happen but a girl can dream right?
If you are also 16 weeks pregnant below is some information on how your baby is growing!
How your baby's growing:
In the next few weeks your baby will begin a tremendous growth spurt doubling its weight and adding inches to its length. Right now your baby is about the size of an avocado (4 1/2 inches long – head to rump and 3 1/2 ounces). Your baby's legs are much more developed, its head is more erect, your baby's eyes have moved closer to the front of their head and your baby's ears are close to their final position. Your baby has even started growing toenails! Your little ones heart is now pumping about 25 quarts of blood each day and this amount will continue to increase as your baby continues to develop. Your baby may have already discovered their first toy ~ the umbilical cord, which they enjoy pulling and grabbing on. The circulatory system and urinary tract are in full working order, and your baby is inhaling and exhaling amniotic fluid through their lungs.
Sometimes when you move suddenly you may a feel a slight pain in your sides as the ligaments on each side of your uterus and pelvic walls are stretching as your baby grows. It's normal to feel some pain, but if it continues for a few days or escalates, talk to your doctor about it.
Are you expecting? Feel free to take the pregnancy survey and leave your answers in the comment section below to share your pregnancy journey with us!