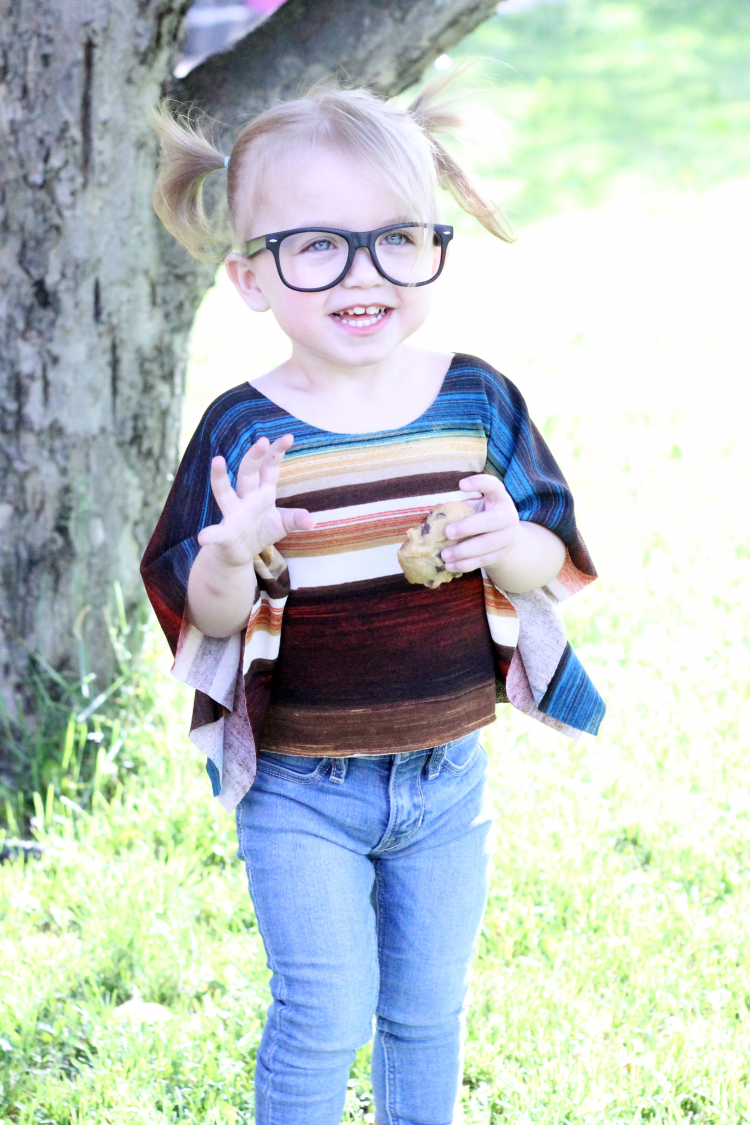 Can somebody tell me where the last two and a half years have gone? Honestly, I feel like I blinked and Bella went from a tiny preemie, fighting for her life, to a rambunctious toddler tearing up my house at every chance she gets.
Potty training. As I sit here I shake my head remembering those days with my older two girls. We are just starting to embark on this stage with Bella and even after potty training two children, well if I am being 100% honest I really didn't potty train either of my older girls, I am a little worried.
I purchased a super cute potty as well as a soft potty seat like the one you can get for 1000 points through the Pampers Rewards program for those times when we are out and she will need to use the bathroom. There is nothing scarier than a massive adult toilet seat you feel like your little body will fall right into. I also have a growing stockpile of Pampers Easy Ups too!
My oldest daughter, Abby, refused to potty train. When I say refused I mean I tried every.single.thing in this universe to get that girl on the potty and she was just having none of it. It was the summer before she was to start JK, yup she was over 4 years old and still not daytime trained. Well I knew I could not send her to JK in training pants so I did the only thing I knew to do, I called my mom! I packed Abby a little suitcase and shipped her to my mom's house for a week. She came home potty trained. I was defeated. I don't know how my mother got her trained in a week when I had been trying for over a year but she did and I was forever grateful that my daughter wouldn't be going to school in training pants.
Fast forward to Hailee, my middle child, this time I didn't have to call in backup. I actually didn't have to do anything at all. I think second children do everything faster than first children especially if their older sibling is close in age. Hailee crawled, walked, talked, and potty trained earlier than her older sister and I can only attribute it to her wanting to be a big girl just like her sister. Hailee was under two and we were hanging out at home on a rainy weekend when I grabbed her as she ran passed me to change her Pampers Easy Ups. The funny thing was when I took off her shorts she had nothing underneath. I can remember asking to her "Hailee why do you have no training pants on?" to which she replied "mom I a big girl, I pee on the potty". I honestly thought she was being silly and had recently took it off so we walked down to the bathroom and sure enough there was her potty with quite a few pees in it. She had potty trained herself, thanks Hailee!
Embarking on this stage with Bella is exciting, sad, and scary all at the same time. I am excited for her to be potty trained because lets face it 2+ years of changing poopy diapers is long enough, but at the same time I am sad because my baby is growing up way too fast. I am also scared I am not going to be able to potty train her, I mean I have yet to successfully potty train a child. However should it come down to it my mother now lives with us so I could always ship Bella downstairs for a week with my mom.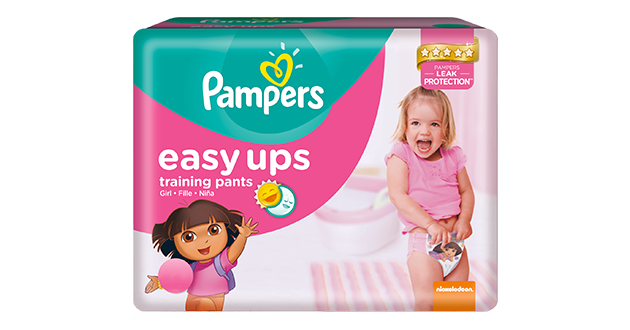 I will say that Bella loves wearing her Pampers Easy Ups, especially because they have Dora on them which just happens to be one of her fave shows on TV right now. I love them because I can always score a great deal when pairing great store sales with money-saving coupons and rebates.
You can also visit Pampers.ca to get some great potty training tips and advice, I know I will be heading there to check out their tips soon!
Pampers Savings
I am excited to share with you some great savings on Pampers products that when paired with some great sales can really add up!
Download the Checkout51 App and save on Pampers products.
SAVE $1 to $3 off Pampers products by downloading and printing some money-saving coupons at pgeveryday.ca and pampers.ca
SAVE $3.00 when you buy any ONE Pampers Easy Ups or ONE Pampers Wipes 320ct or higher at Loblaws, Real Canadian Super Stores and Shoppers Drug Mart. Coupons available in-store while quantities last.
Also check out our SmartSource coupon portal for even more Pampers product printable coupons!
Do you have any potty training tips you can share with me to make training Bella easier? Let me know in the comments below!
Disclosure: I am a Pampers Savings ambassador. As part of my affiliation with this group I have been compensated to share deals and test diaper subscription services. The opinions and language on this blog are all my own, and in no way do they reflect Pampers. Any product claim, statistic, quote or other representation about a product or service should be verified with the manufacturer, company, provider or party in question.