Potty Train Without Losing Your Mind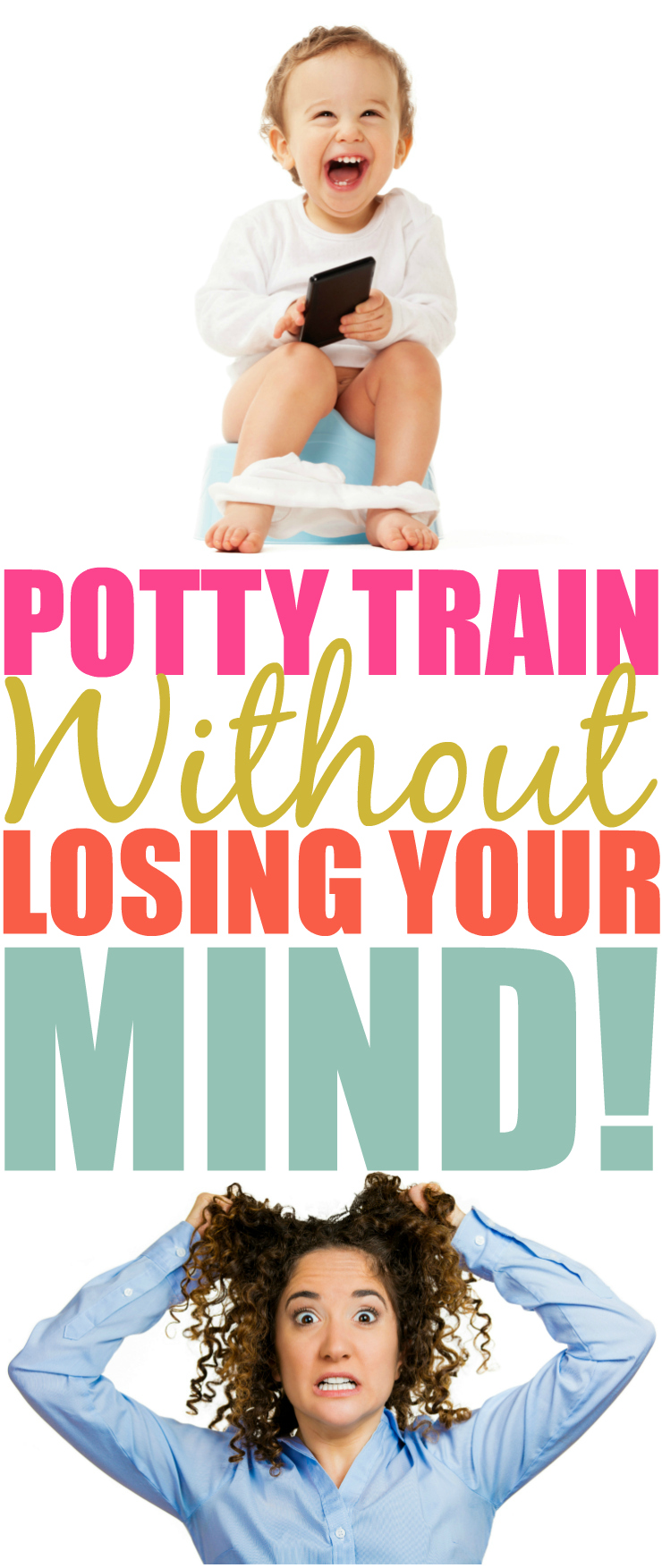 Fewer things are as cringe-worthy as the thought of potty training your child. This endeavor can make the most headstrong and confident parent weak in the knees, especially if you are not finding glorious success in your child's willingness to visit the porcelain throne.
My first daughter, Abby,  potty trained the summer before she started school. She was 4 years old. I don't quite remember if it was her being defiant or me being a first-time mom that delayed her training. I was pleasantly shocked when my second child nearly potty trained herself before she was 2. Now 11 years after my first potty training rodeo, here I am again with Bella.
What caught me most off-guard with Bella was my previous potty training experience with her older sister Hailee. I mean, Hailee potty trained. Even though that was 10 years ago, it is my most recent potty training memory.
Bella potty trained with #1's fairly quickly. She didn't have too many accidents. However, #2's have been another story. While we have had success, it comes and goes. Even though it is frustrating at times, I know she won't poop in her pants forever. We don't make her feel bad when she does, but at the same time we don't pretend like it is ok. We take her to the bathroom, show her where it needs to go, and let her know that next time she needs to do it in the potty.
Potty Train Without Losing Your Mind
It doesn't matter if this is your first child or your 5th, potty training can bring you to the brink of parental insanity. However, it doesn't have to. Here are a few tricks that some sage parents know so that you can potty train without losing your mind.
Prepare them for potty training
When you are entering the potty training stage you will want to prepare your little one for the task at hand. Before you begin you should talk about potty training with them. Explain on their level of understanding what potty training is and what they will need to do. A great way to do this without getting too technical or over their head is to read books about potty training. You can also watch fun videos on YouTube about potty training too. Bella really enjoys the fun songs.
It's all about the clock
What do clocks have to do with potty training? Timing. Plain and simple. Little bodies are designed to process food and liquids in a relatively short time frame. Without a lengthy biology lesson, all you really need to know is that about 30 minutes after a meal or snack, you need to head to the bathroom. When you get there, a timer can work wonders. Set the timer for between 5-7 minutes and have your child sit on the potty for this time frame and try to "go."
In addition to mealtimes, watch the clock so that no more than 2 hours pass before you head back to the potty for another trip, you may feel like you are spending your entire day I the bathroom, but sometimes that is what it takes to get the ball rolling.
Let it be Rewarding
Let's face it, kids love to be rewarded, and potty training is no different. One easy and fast way to do this is with a small candy item they like but won't send them into a sugar tailspin if you give them off and on throughout the day. Skittles and M & M's are great for their diminutive size. The reward can go something like this; 1 candy for pee, 2 candies for poo, all on the potty of course. You can also do a reward chart with stickers and once they get a set number of stickers they get a small prize.
Let your boys stand for the occasion
Teaching little boys to go can be a bit messier, but it can also be easier because games are fun. If you teach your little man to step up to the throne using a step stool, because of course, those chubby little legs make it a little difficult, and aim at a Cheerio that has been tossed into the bowl, they may just surprise you. Keep in mind that you will eventually have to wean little mister from this game, and you just might have to keep Cheerios in your purse for outings as well. The Mommy's Helper Step Up Potty Seat or this Frog Potty Training Urinal are great for little boys.
Patterns are crucial
Remember that tip about the clock and mealtimes? Well, it goes a step further into patterning your day. If you go somewhere, familiarize your little one with the potty as soon as you get there. Yes, this even means stores, friend's homes, restaurants and the mall. As soon as you get to your destination, head to the bathroom. This pattern will start to acquaint your child with the expectation to go, and go regularly. You will also learn valuable information, the bathroom location in every place that you frequent.
This process takes time, but if you realize this simple fact, you are really training yourself; it will go so much more smoothly. Once you can effectively meet your child's need to know when and where to go, you will have this thing mastered, and all without a trip to a padded room.
If you've yet to purchase a potty, Amazon has a large selection of potty seats including one with a built-in toilet paper holder!
Do you have any potty train without losing your mind tips to add? Let me know in the comment section below?