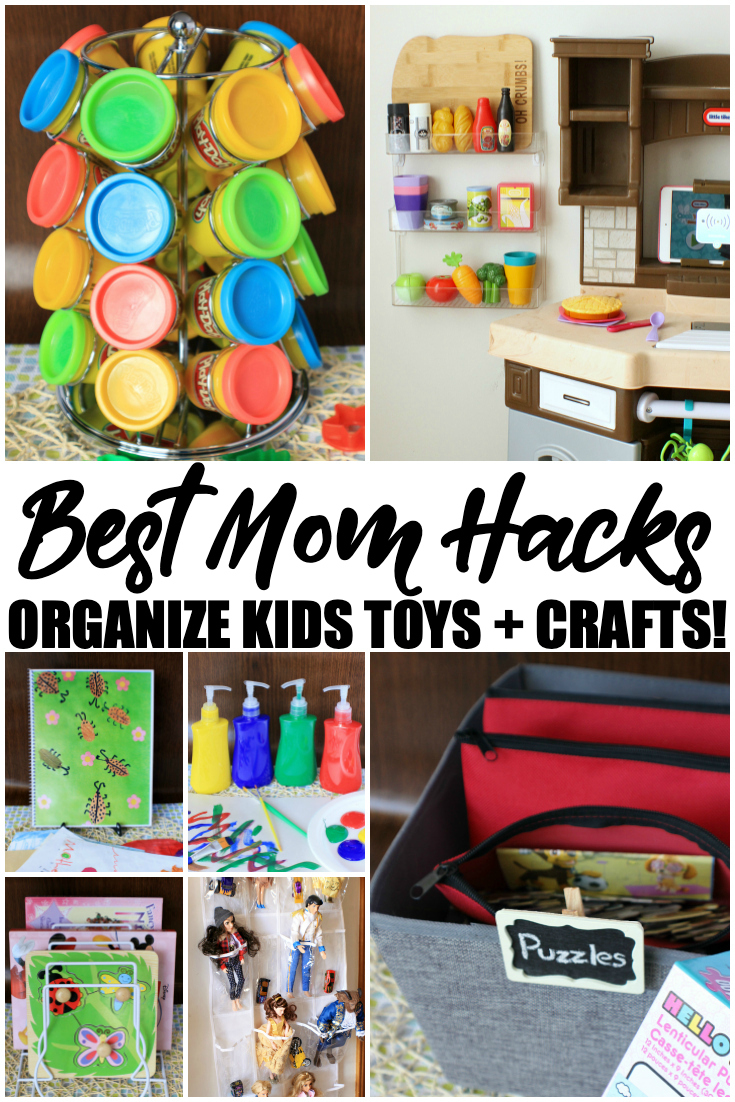 Today I am sharing some of my favourite Amazing Mom Hacks To Organize Your Child's Toys And Crafts.
As a mom of three kids, I can tell you I have had my fair share of trying to organize toys.
I love re-purposing and finding alternative uses for everyday items around our house.
These amazing mom hacks have helped us trim the number of toys we own while staying organized.
Aside from clutter, having too many toys can overstimulate your children.
The downfall to overstimulation?
Your child not being able to focus on playing because something else is always catching their eye!
There is no better time than now to ditch the clutter!
I always suggest tackling one room at a time so you don't overwhelm yourself.
Go through everything, and I mean everything, making piles for selling, donating, and keeping.
Once you have sifted through all of the toys, it is time to organize the ones you are going to keep.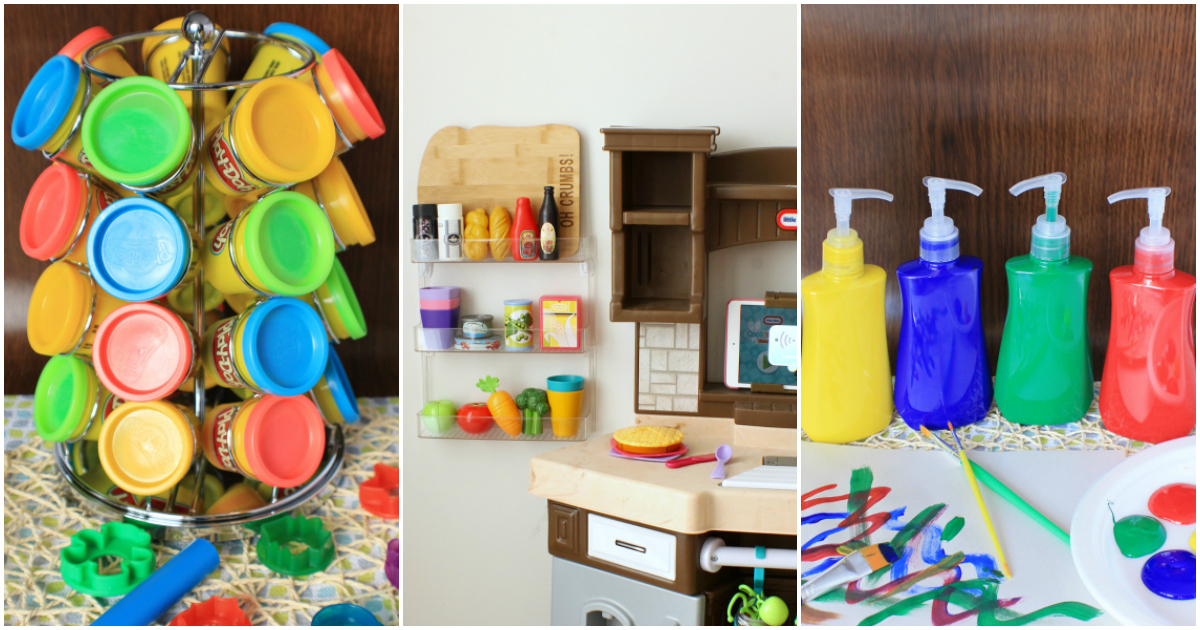 Mom Hacks For Organizing Toys & Crafts
Today I am sharing these mom hacks up close with you.
Get ready to become more organized and give your little ones a bit of independence and responsibility!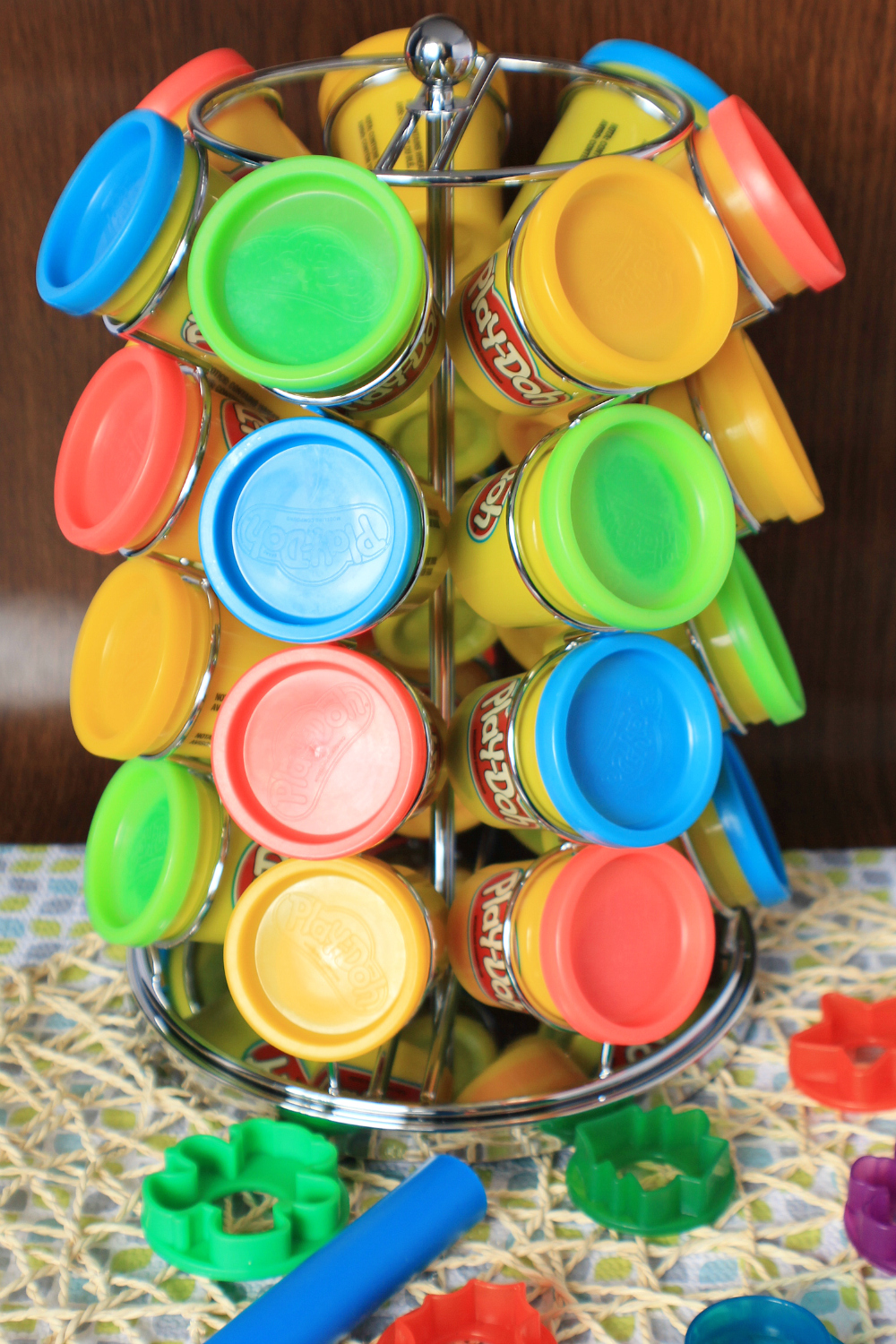 Play-Doh Containers Fit Perfectly In This Coffee Pod Carousel
Bella loves Play-Doh, however, the containers everywhere drove me crazy.
I like to buy the smaller containers of Play-Doh and they fit perfectly in a coffee pod carousel I purchased on Amazon.
This helps keep everything organized and in one place.
It also allows our little one's independence, they can access the Play-Doh as well as tidy it up easily.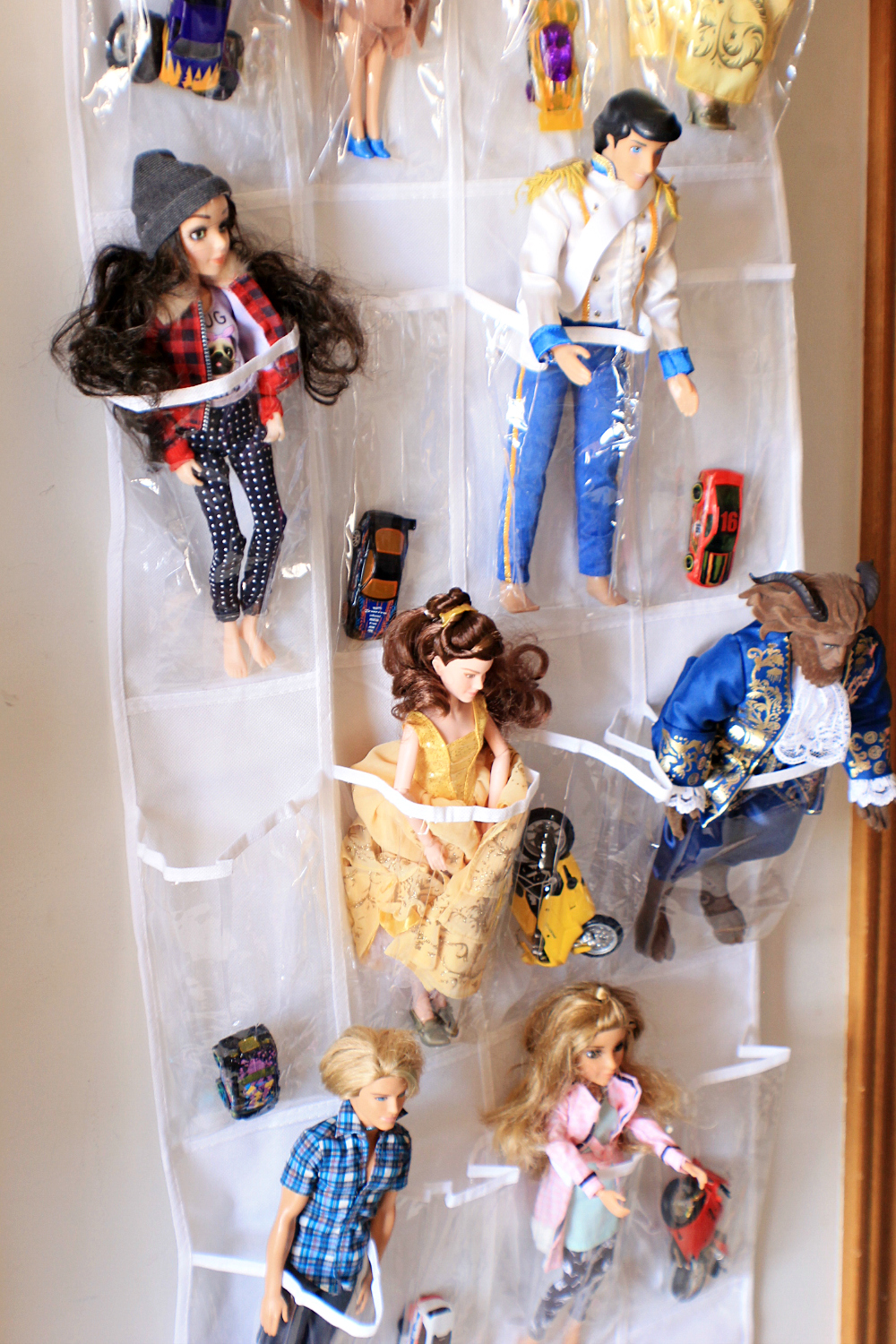 Over-The-Door Shoe Organizers Keep Dolls & More In Check
If you are a mom to even one girl you know how many dolls they can collect.
In the past 14+ years, I have had more than my fair share of dolls.
When my older kids were little I used a storage bin for them all, however, I found that made them out of sight out of mind for my kids.
Over-the-door organizers are amazing.
Come to think about it, I don't think I have ever actually used one for shoes.
The slots are the perfect size for dolls and their accessories.
Use Command Hooks to adhere it to the wall or back of the playroom door down at your child's level.
Get creative, the pockets are perfect for storing these and many other toys too!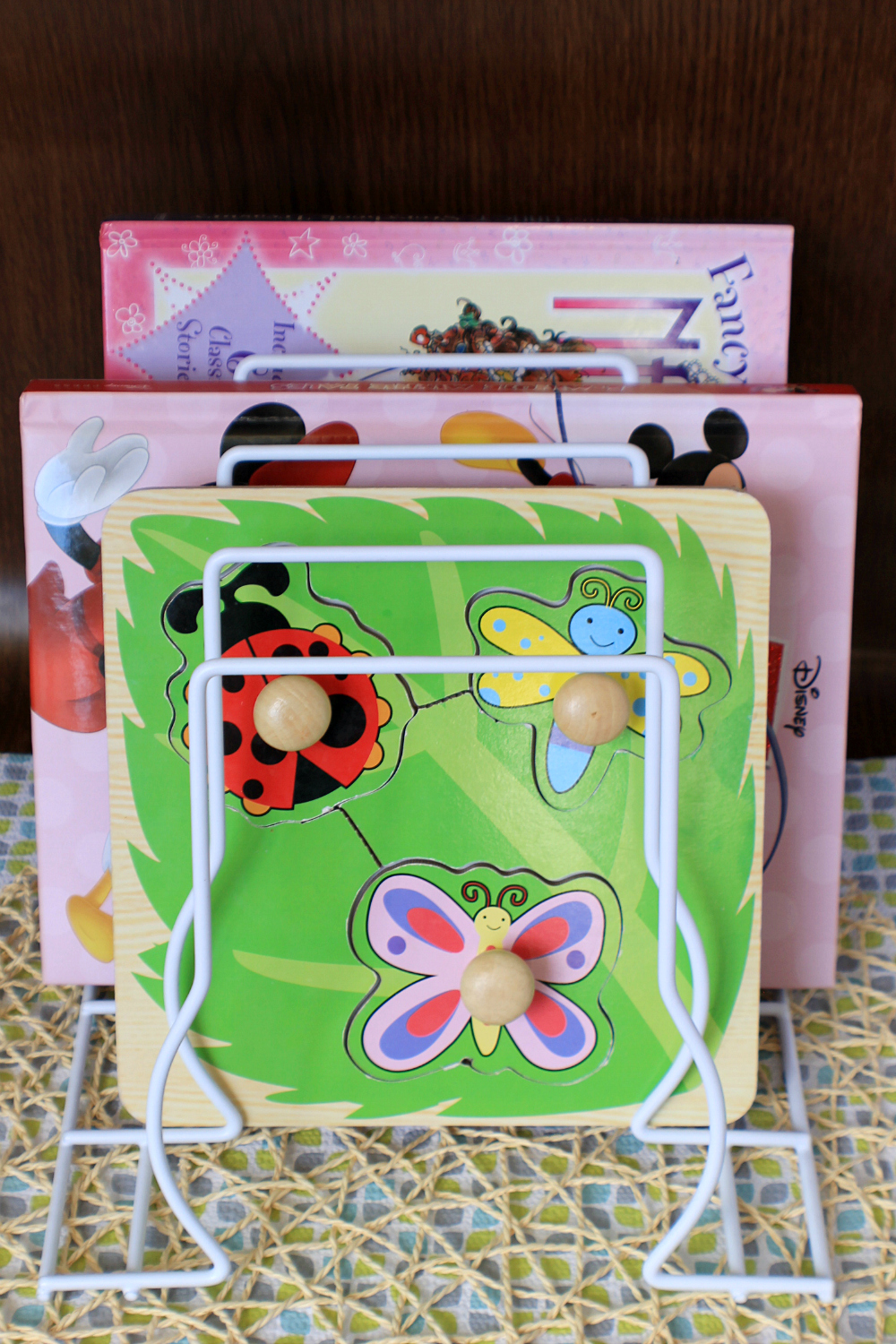 Plate Racks Are Perfect For Organizing Books And Wooden Puzzles
This is my favourite of all the mom hacks.
I found this plate rack at a local dollar store for only $3.
I bought two, one to store wooden puzzles, and the other to offer a few books daily that she can read.
Rotating books is key and this hack allows you to offer a few each day so your child doesn't get bored from the same books.
If you can't find one at your local dollar store, there is always the Melissa and Doug Puzzle Rack on Amazon which holds more puzzles.
We keep the rest of her books and puzzles in her room, changing out the racks each day with new ones.
This helps cut down on having piles of books and puzzles everywhere so your child isn't overwhelmed by so many books or puzzles to choose from.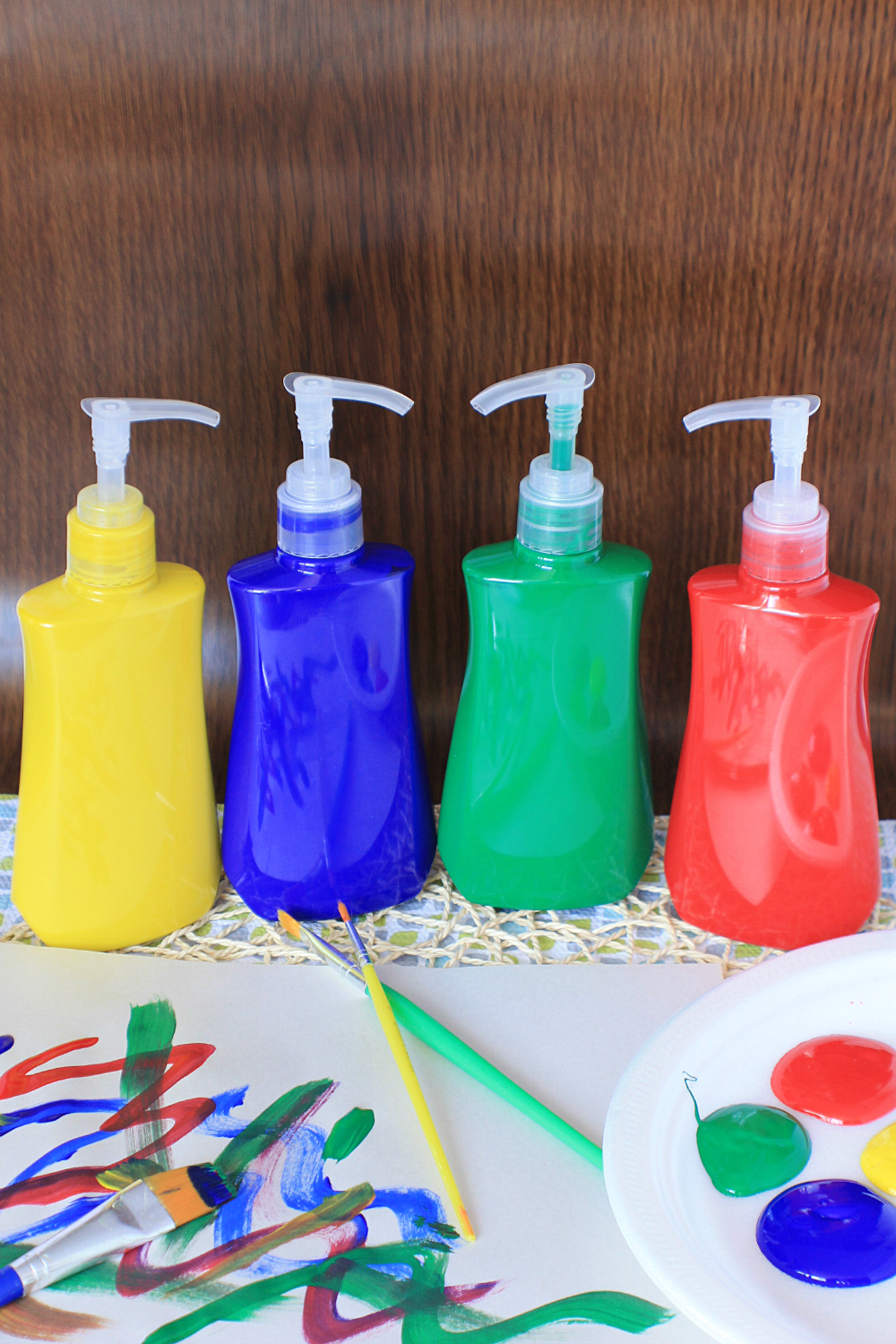 Give Your Little One Independence With This Paint Storage Hack
Creative play is imperative for kids, especially the little ones.
It helps their minds grow and improve their fine motor skills.
Being a work-at-home mom has its perks and disadvantages, especially when I had a toddler that most days refused to nap.
In order to ensure Bella wasn't off painting masterpieces on my walls and furniture, I had set up a craft spot in my office to keep an eye on her.
This mom hack was a total game changer for us.
Storing Bella's paints into these empty soap pumps allows her to get more paint on her own.
It also ensures we have no more dried out paint because there are no lids to forget to close!
If you are looking for great paint, I love these 16 oz bottles of Sargent Paint.
They generally fill up our containers twice, so they last a really long time and are non-toxic!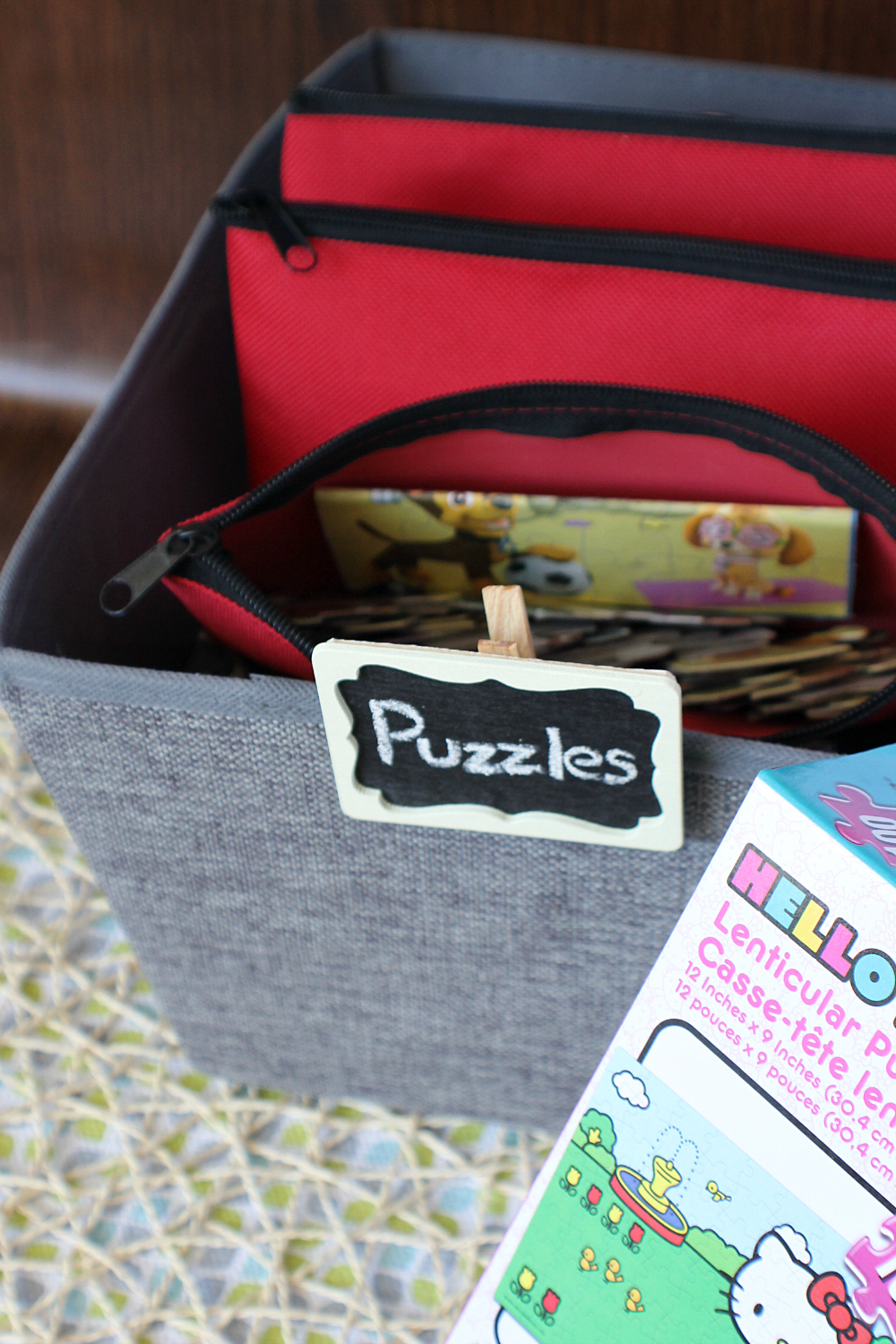 Recycle Broken, Bulky Puzzle Boxes With This Easy Solution
Puzzles, I have a total love/hate relationship with them.
The thing that drives me absolutely batty is when I am nearing the end of the puzzle and realize pieces are missing!
Bella inherits that trait from me and it has caused more than one meltdown during puzzle play.
I am not blaming the kids, wait, I totally am, they are the worst for losing puzzle pieces.
Tossing the stacks of bulky puzzle boxes and organizing them into pencil-case pouches or even clear Ziploc bags works for us.
Whenever we get a new puzzle we cut out the picture, take out the pieces, and place them all into a pouch.
I can easily tuck the fabric bin on a shelf at the end of the day and it matches my home decor theme!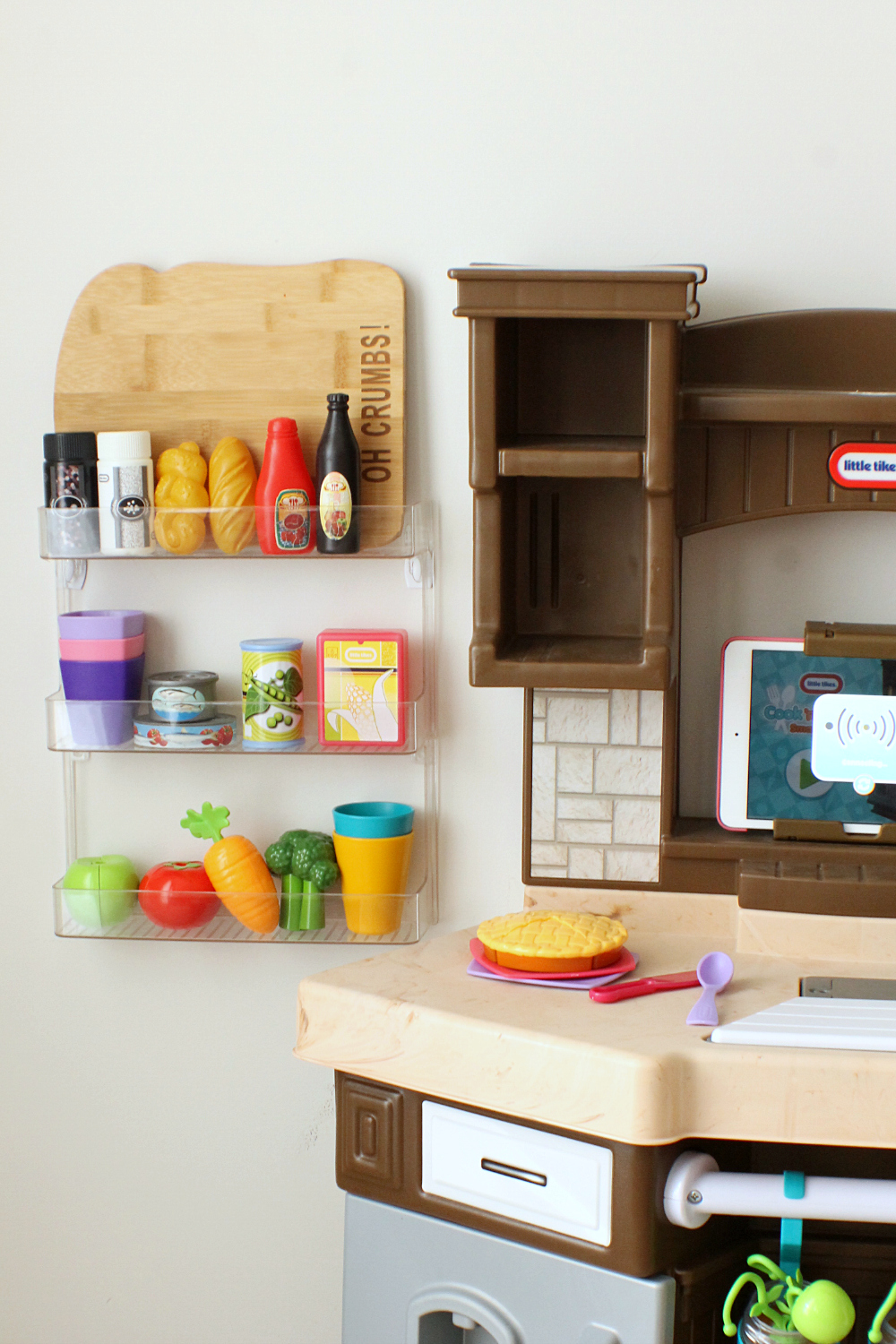 Plastic Spice Racks Are Perfect For Play Food
Ever since Bella got the Little Tikes Cook 'N Learn Smart Kitchen she has been cooking up some yummy meals for us all.
While I love that she loves her kitchen the play food was overwhelming.
There was play food here, play food there, play food everywhere!
This would end with her getting frustrated when she wanted to cook something specific but couldn't find the food she needed.
Storing her play food where it was visible & easily accessible for her was a top priority.
While her kitchen has great storage for the dishes and food that came with it, it didn't have extra storage for all her other food and dishes.
How genius is this plastic spice rack for tackling this organizing job?
Using Command Hooks, we put up one 3-tier rack on either side of her kitchen on the wall.
I am actually surprised at how this has helped her become more responsible in cleaning up her toys.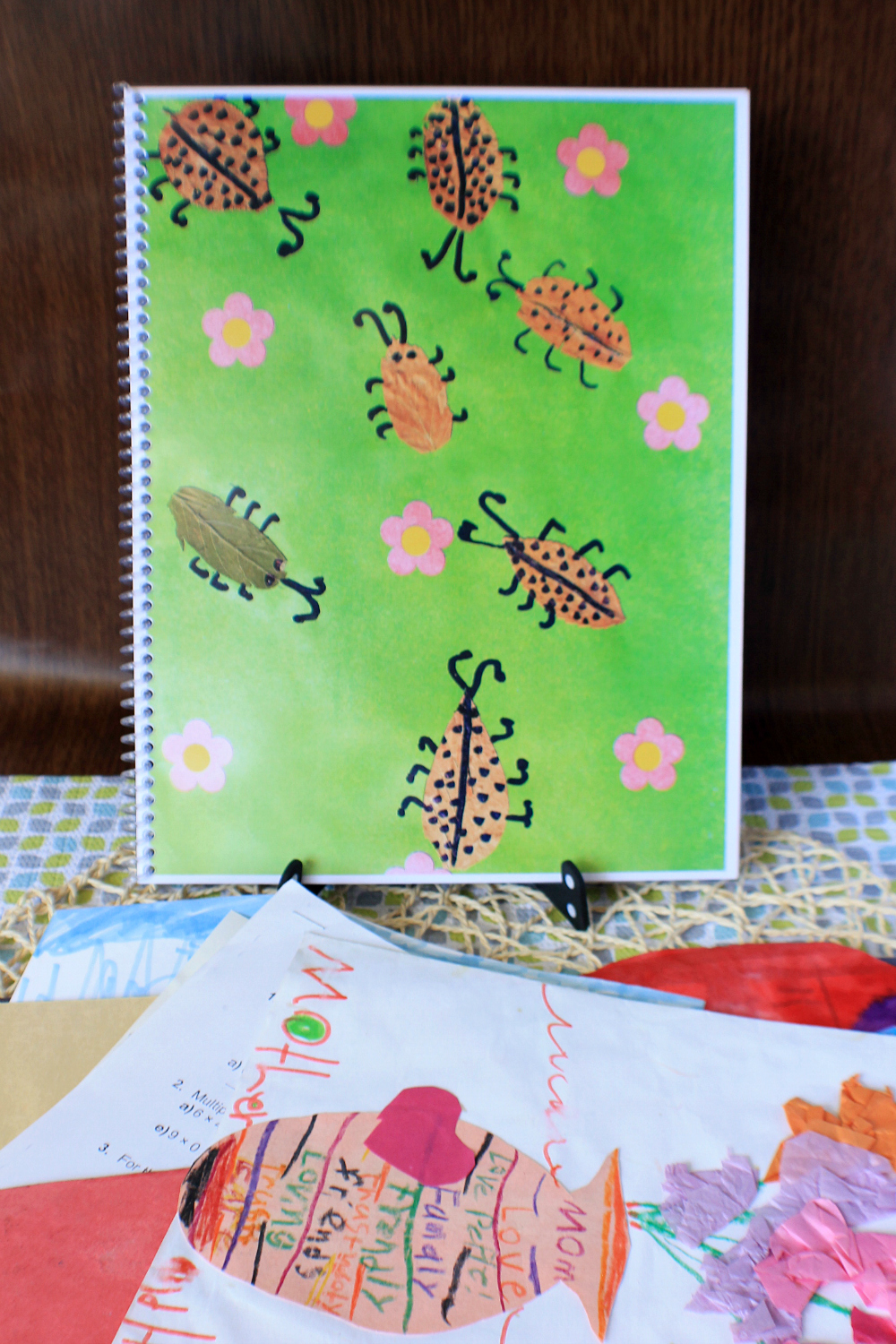 Turn Your Children's Art & School Work Into Photo Books
Listen, you don't need to save every single piece of school and artwork your kids bring home.
They are in school and children for a long time, can you imagine the heaps of papers you will accumulate if you attempt to save it all?
Well, I can tell you how much because my mother saved everything!
No joke, I have massive storage bins full to the tits of my school work, crafts, drawings, and certificates.
Having three kids of my own, I noticed I was becoming an art and school work hoarder. I was saving everything my kids made.
Recently I realized storing it was not the best solution, things started to get bent, the paint had started to peel off, and it was multiplying at an insane rate.
Photo books are affordable and perfect for preserving those memories without the clutter. They are much easier to store and are less likely to get ruined!
Of course, you are not going to be able to make photo books with everything they make.
You will need to go through everything and pick out the ones that spark an emotion, a feeling, a memory, and use those.
Get as creative as you like or simply do yearly photo books highlighting the best from that year.
WagJag is one of my favourite places to find deals for huge discounts on photo books.
Organizing doesn't have to break the bank folks. I get most of my organizing products from our local dollar store or second-hand.
Which of these mom hacks is your favourite? Do you have any other creative ways to tame the toy mess?