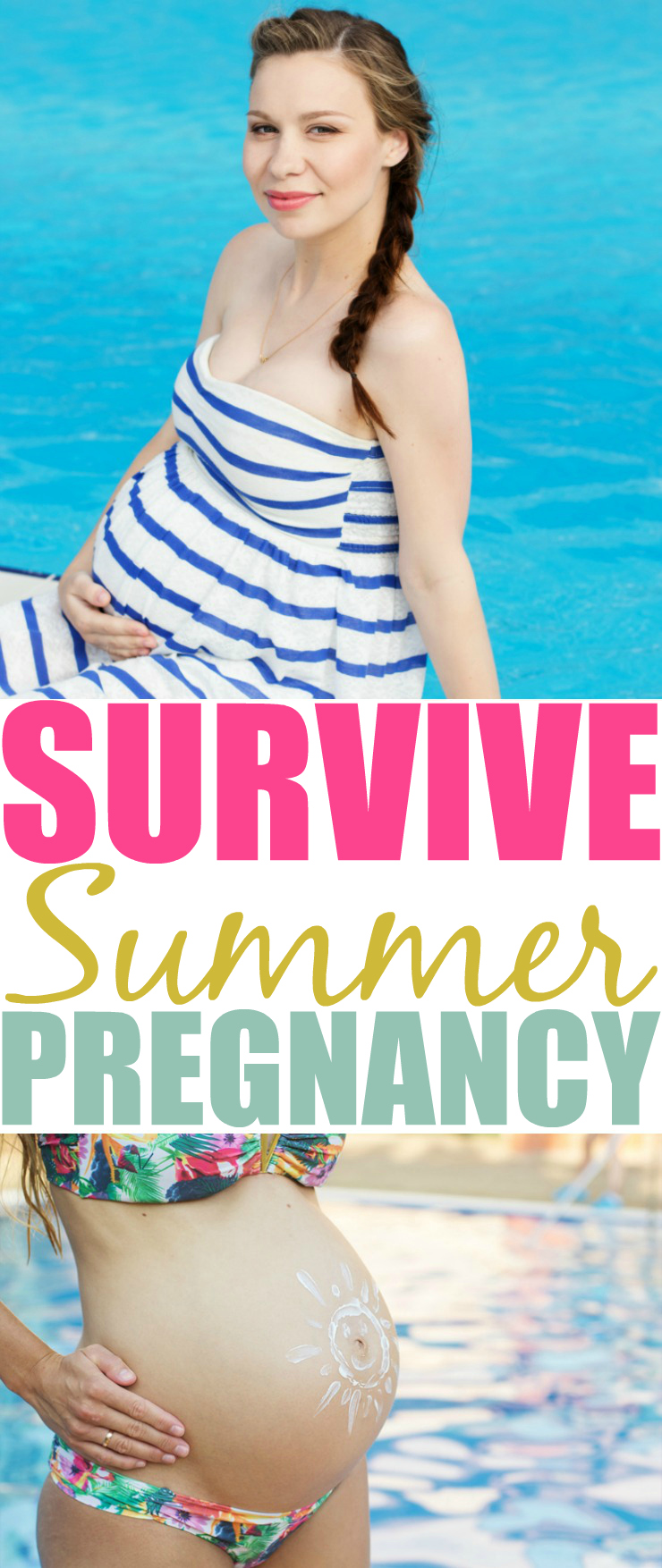 Any mother that has ever been pregnant during the summer will tell you how miserable it can be.
If you spend your first trimester pregnant in the summer count yourself lucky because the summer heat just adds to the discomforts of pregnancy.
There are many things you can do to make it more bearable so you can fully enjoy both the summer, and your pregnancy!
How To Survive A Summer Pregnancy
If you are in your last trimester during a brutally hot summer these tips to survive a summer pregnancy will make life so much easier.
Planning will be your best friend
Plan your day so that you are in air conditioning between noon and 2 PM when the sun and temps are often at their worst.
Even better, plan so you can use that time to take a nice long nap.
Run errands early in the day before the heat rolls in. This is really important for chores that will force yourself to strain yourself like loading groceries into the car.
Keep hydrated
Get a good water bottle that can go everywhere with you. I love my S'well water bottle, it keeps cold drinks cold for 24 hours, and hot drinks hot for 12 hours!
While on the subject of water bottles, stock your freezer with bottles of water. This is a great way to reuse empty bottles around the house.
When going out or even fighting the heat at home, take a frozen water bottle and rest it against you to help your body stay cool.
Choose clothing wisely
Adjust your wardrobe. Look for light fabrics in light colours to help keep you cool. Don't be afraid to wear shorts and other comfy clothes.
Don't forget to invest in a maternity swimsuit that makes you feel great too.
If you have to go out in the sun take a tip from ladies of the past and bring an umbrella so you can have your own shade wherever you go.
Protect your skin
Get a good sunscreen, I personally love Sun Bum for both myself and the kids.
While you may not be the type to burn normally, pregnancy has a funny way of changing things and you may find yourself resembling a lobster after a short time in the sun.
Fuel your body (and baby)
Be sure to load up on water based snacks.
Summer pregnancy is the perfect time to eat watermelon and other juicy fruits and veggies.
Not only are you getting healthy, nutrition, rich food into your system, but you are keeping your body hydrated too.
Be cautious with foods
When enjoying summer cookouts be careful of items that contain raw egg or mayonnaise.
While ideally you would avoid these your entire pregnancy to prevent food poisoning, summer parties present a whole new issue. Summer heat can help bacteria grow and make these food more of a risk.
Remember to take it easy. The summer heat is draining for everyone but, pregnancy makes it even worse.
I learned to love afternoon naps during my summer pregnancies. If you can not nap look for a few moments of quiet to gather a bit of energy.
If you are looking to capture every milestone of your pregnancy, even in the summer heat, check out these FREE printable pregnancy milestone stickers!
Did you have a summer pregnancy? What tips do you have to share, leave them in the comment section below!