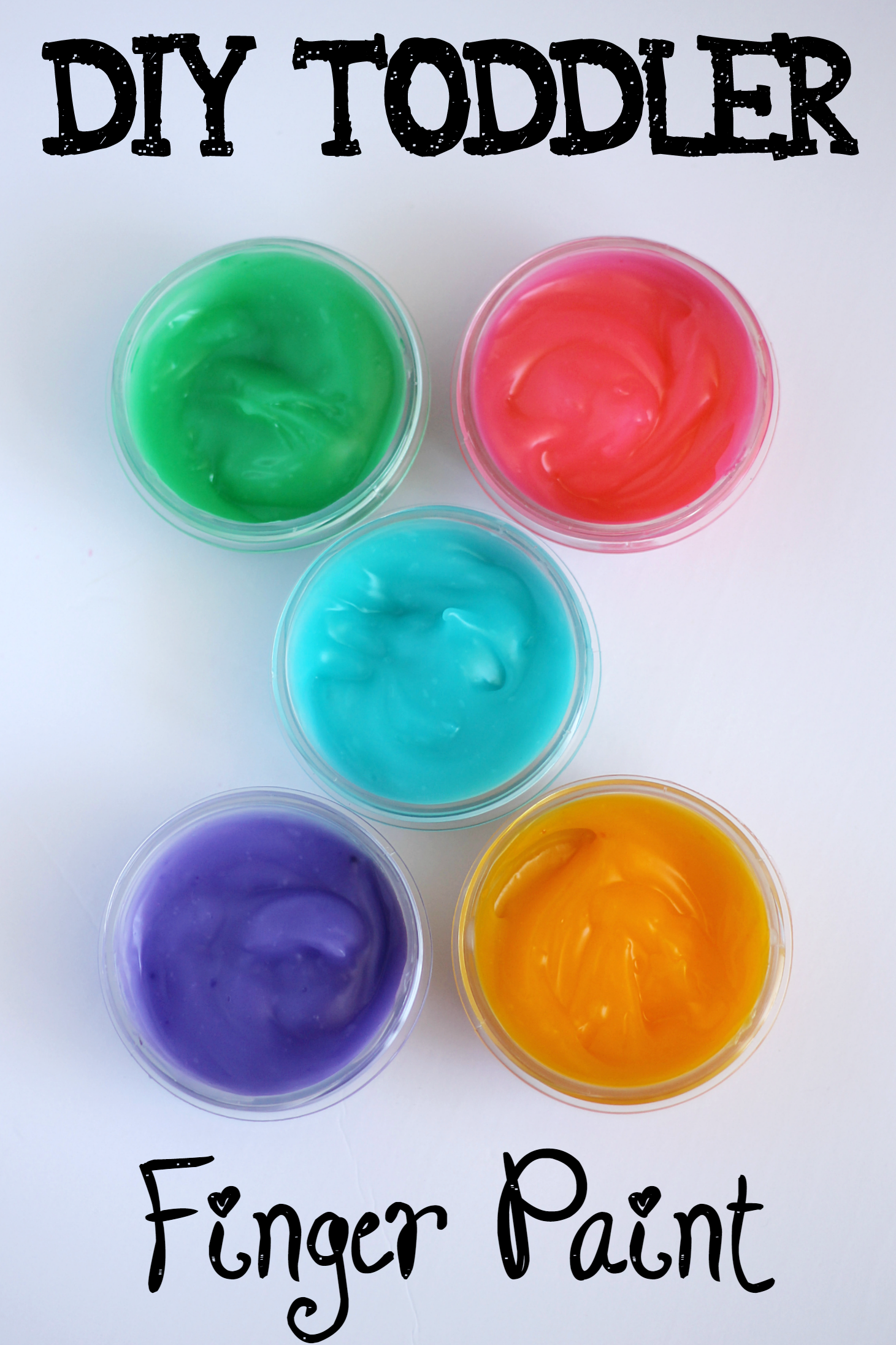 Today I thought it would be fun to make some homemade toddler finger paint with Bella. We have tried finger painting a few times since she was able to sit up in her high chair but she has issues with getting her hands dirty. Let's just say her 1 year cake smash didn't go as planned, she wouldn't touch the cake … I had to put her hands in the cake and even then she was not impressed.
I have come across many recipes over the years for finger paint and many either stain the children's skin or are unsafe if the child puts it in their mouth. This recipe I am sharing today I came up with knowing it was completely safe for babies and toddlers if they were to take a taste. It also would not stain their skin if they were more adventurous than my sweet Bella and actually used their fingers.
I use Wilton Icing Colour gels instead of food colouring liquid and it has not stained any children's skin that have used this paint, I have yet to see the colour ever transfer onto the skin at all. I always recommend having the child in play clothing and an art smock just in case any gets on clothing as I can't guarantee it won't stain clothing. We also threw down a plastic tablecloth from the dollar store on the floor so it's an easy clean up.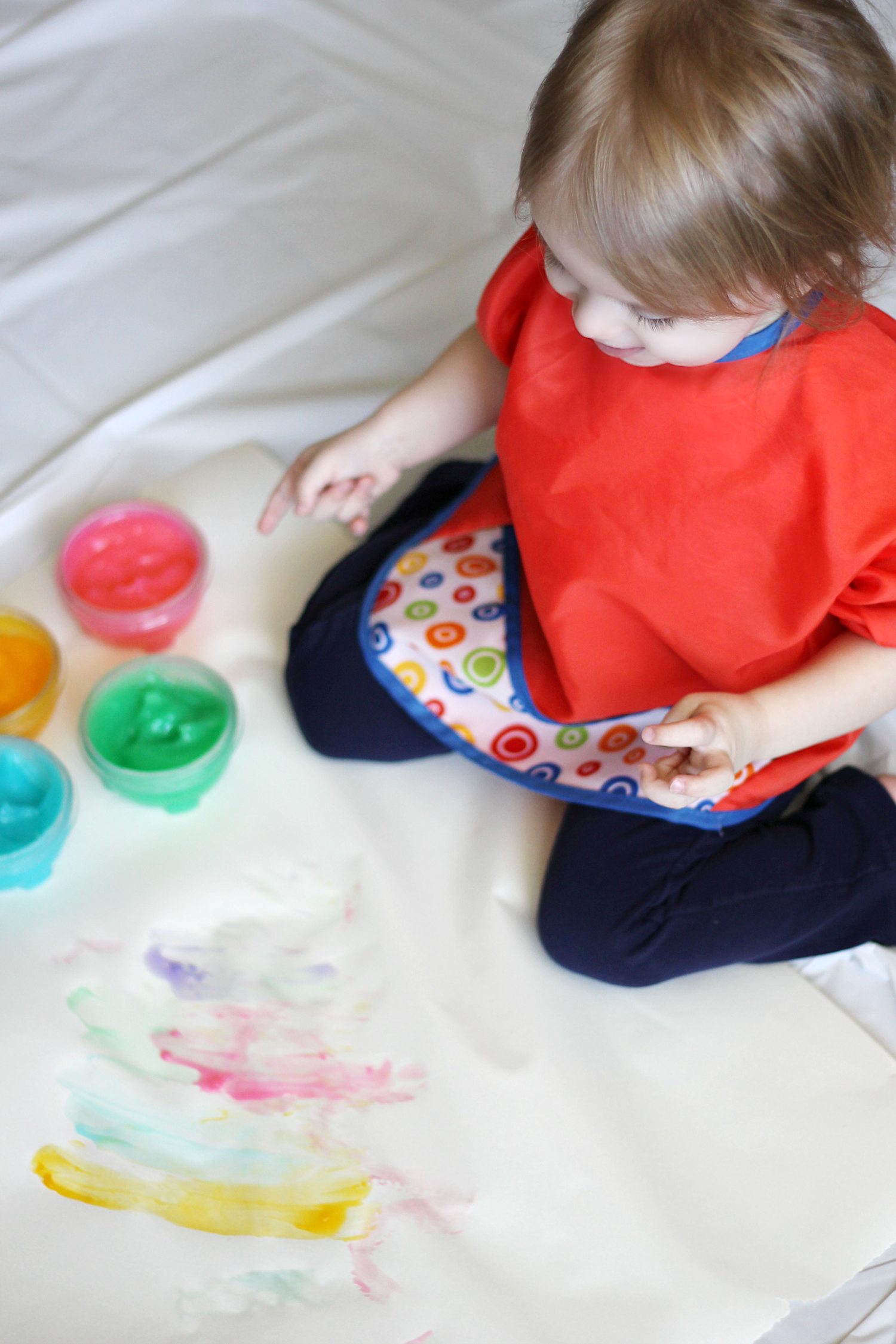 I started off by showing her how to finger paint, sticking my finger in each of the paints, and swirling them around on the paper. Bella was intrigued …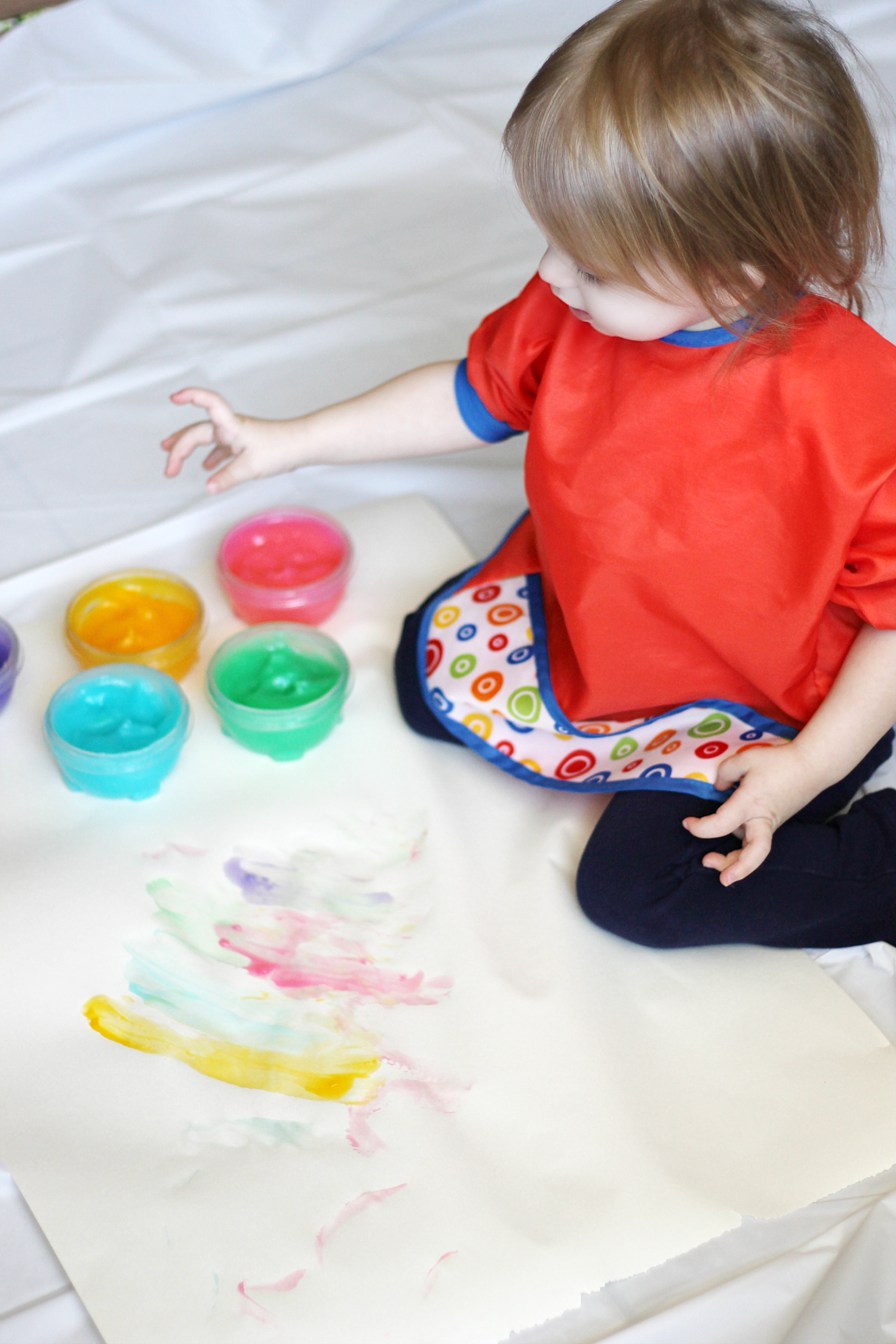 She gave it a go for a few minutes but really didn't like the fact her hands were getting gooey. The only time Bella doesn't mind her hands being messy is when she is eating!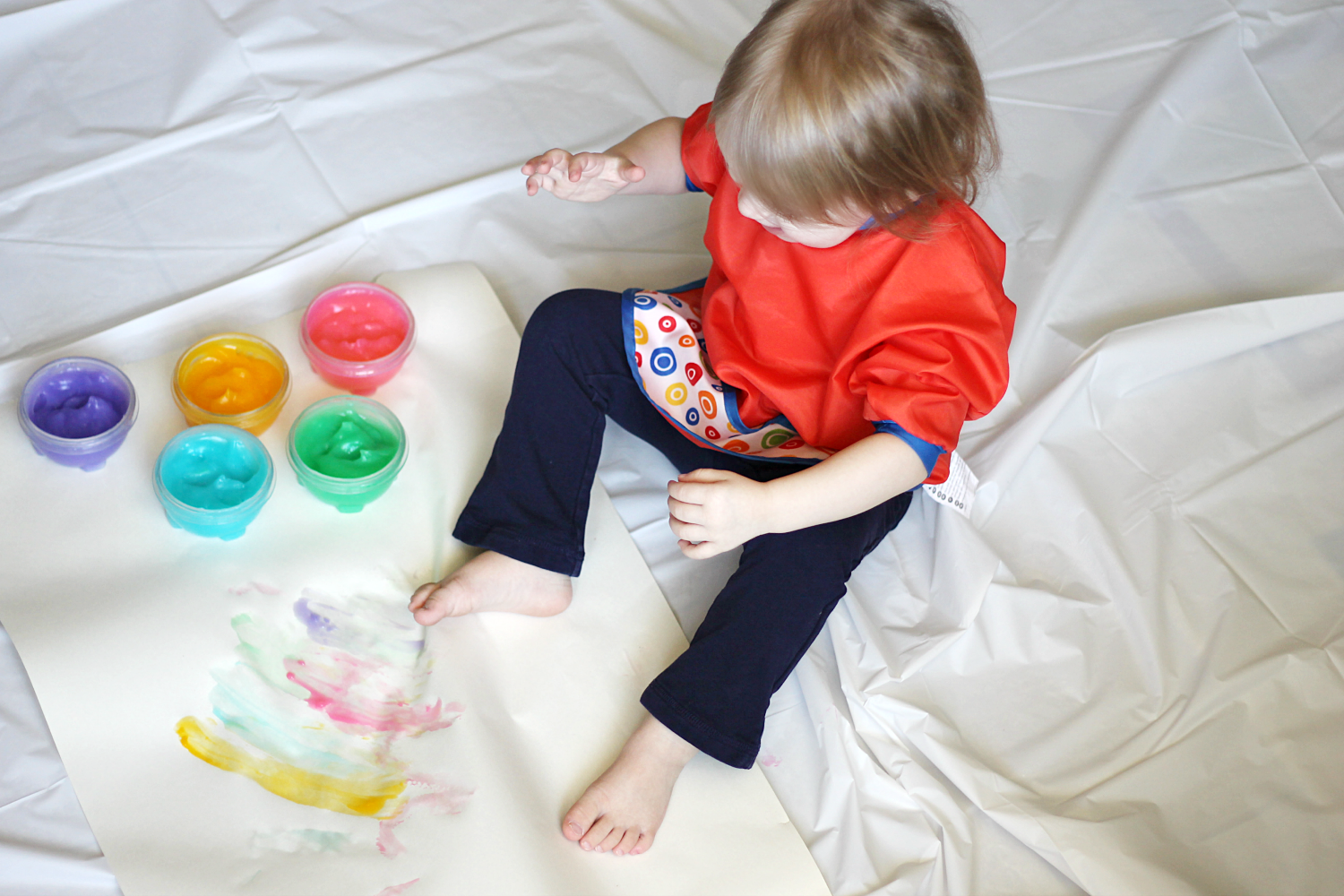 Toe painting anyone?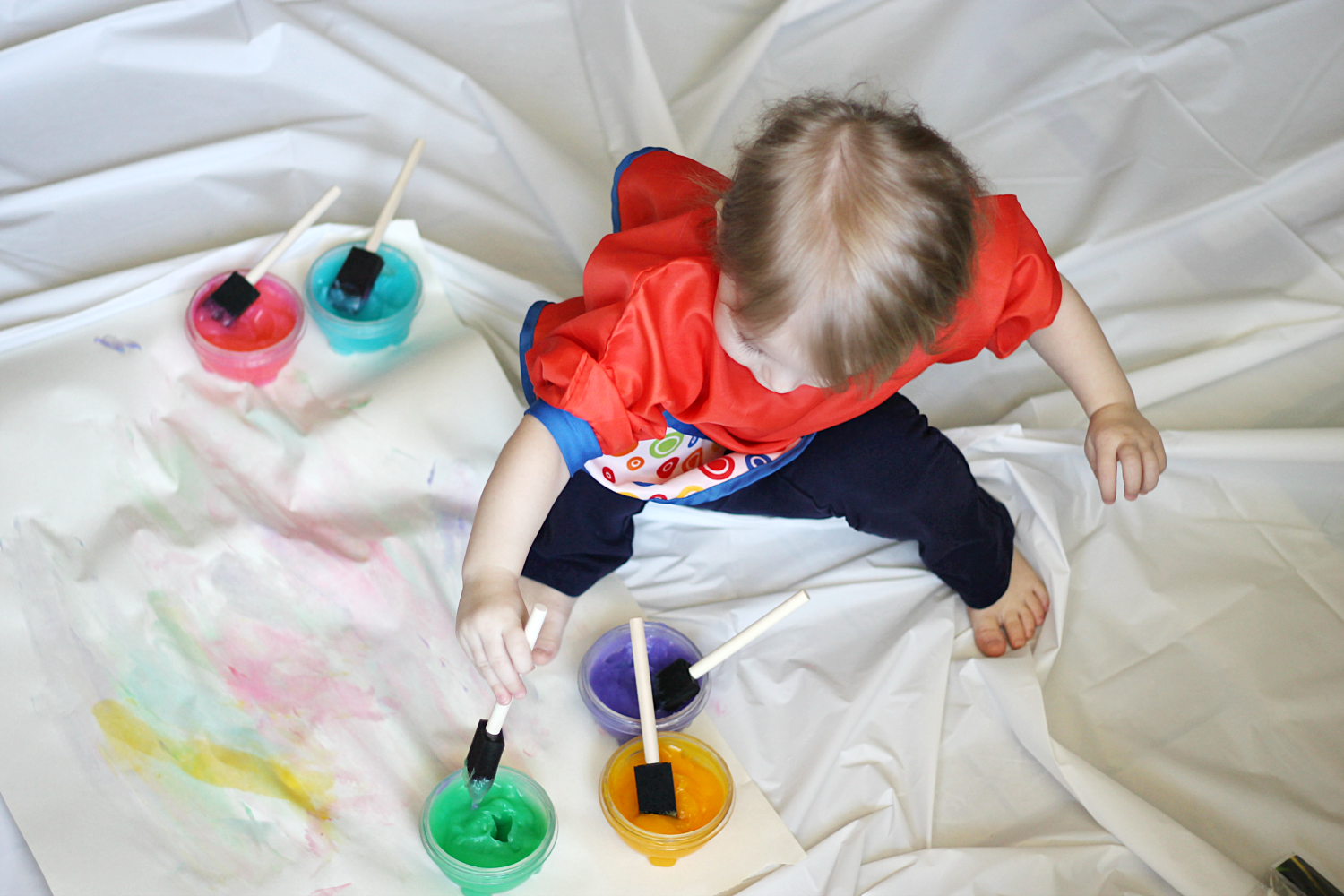 I realized I was losing the battle of the finger painting so I pulled out the sponge brushes I have in our craft supplies because I knew she would paint with those. She was happy and went to town painting a masterpiece.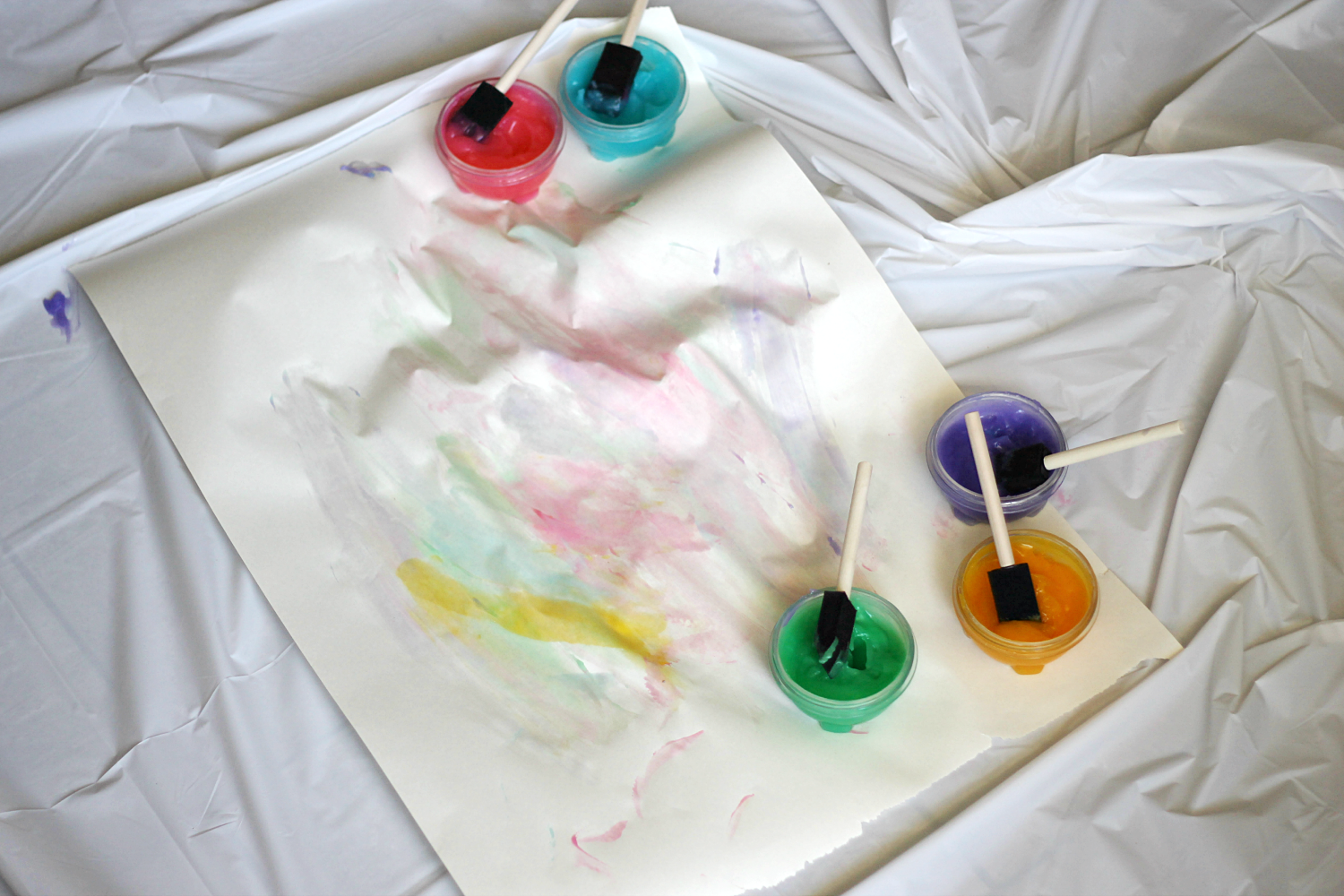 Bella really enjoyed painting.
Print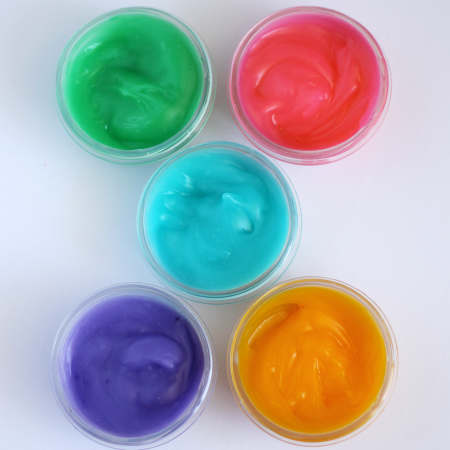 Homemade Toddler Finger Paint
---
Author:

Prep Time:

5 mins

Cook Time:

10 mins

Total Time:

15 minutes

Yield:

36 oz

Category:

Arts & Crafts
Ingredients
4 cups water
1 cup cornstarch
6 tbsp granulated white sugar
1 tsp salt
Containers – I got my containers at Dollarama, they come in a 3-pack for $2 and they are stackable.
---
Instructions
In a medium-sized sauce pan add all your ingredients and whisk until combined.
Cook on medium heat, stirring constantly until your mixture thickens.
Turn off your stove and remove from the heat.
Separate into your containers, one container for each colour you would like to make.
Using a toothpick add a very small blob of the icing colour gel and using a spoon stir until the colour is fully mixed in.
Let stand until cool before use or closing lid to store.
What is your child's favourite craft to do at home? Don't forget to come back and let me know what you think if you try the recipe!