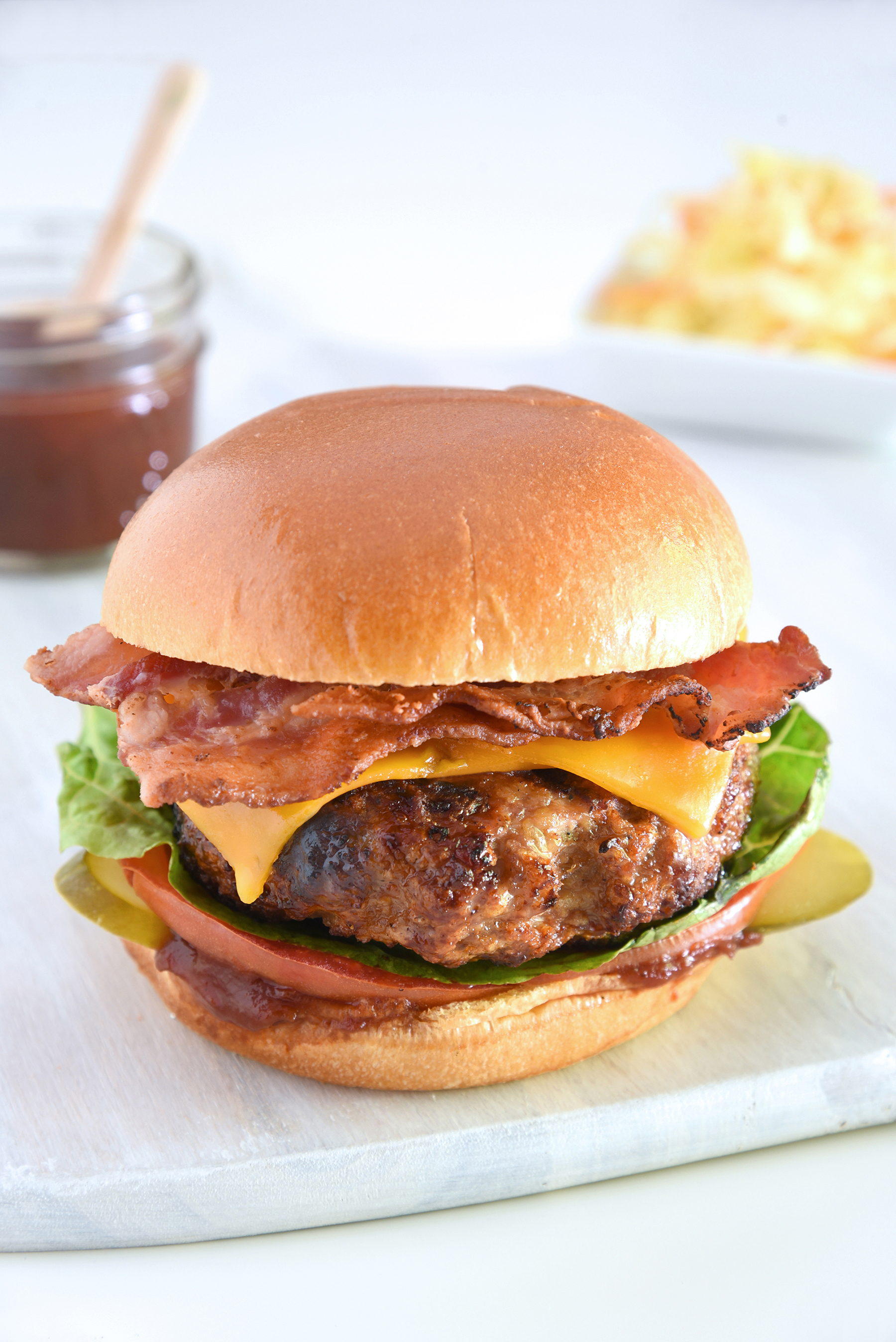 Summer isn't over just yet and these Great Canadian Turkey Burgers are the perfect burger to grill this weekend!
Our BBQ has been going strong all summer long.
Actually, we grill all year long around here!
We Canadians are tough cookies and no amount of rain, sleet or snow will stop us from firing up that grill.
I've teamed up with Canadian Turkey to bring you this amazing Great Canadian Turkey Burger recipe, some amazing tips, how to build a better burger and an amazing giveaway so keep reading!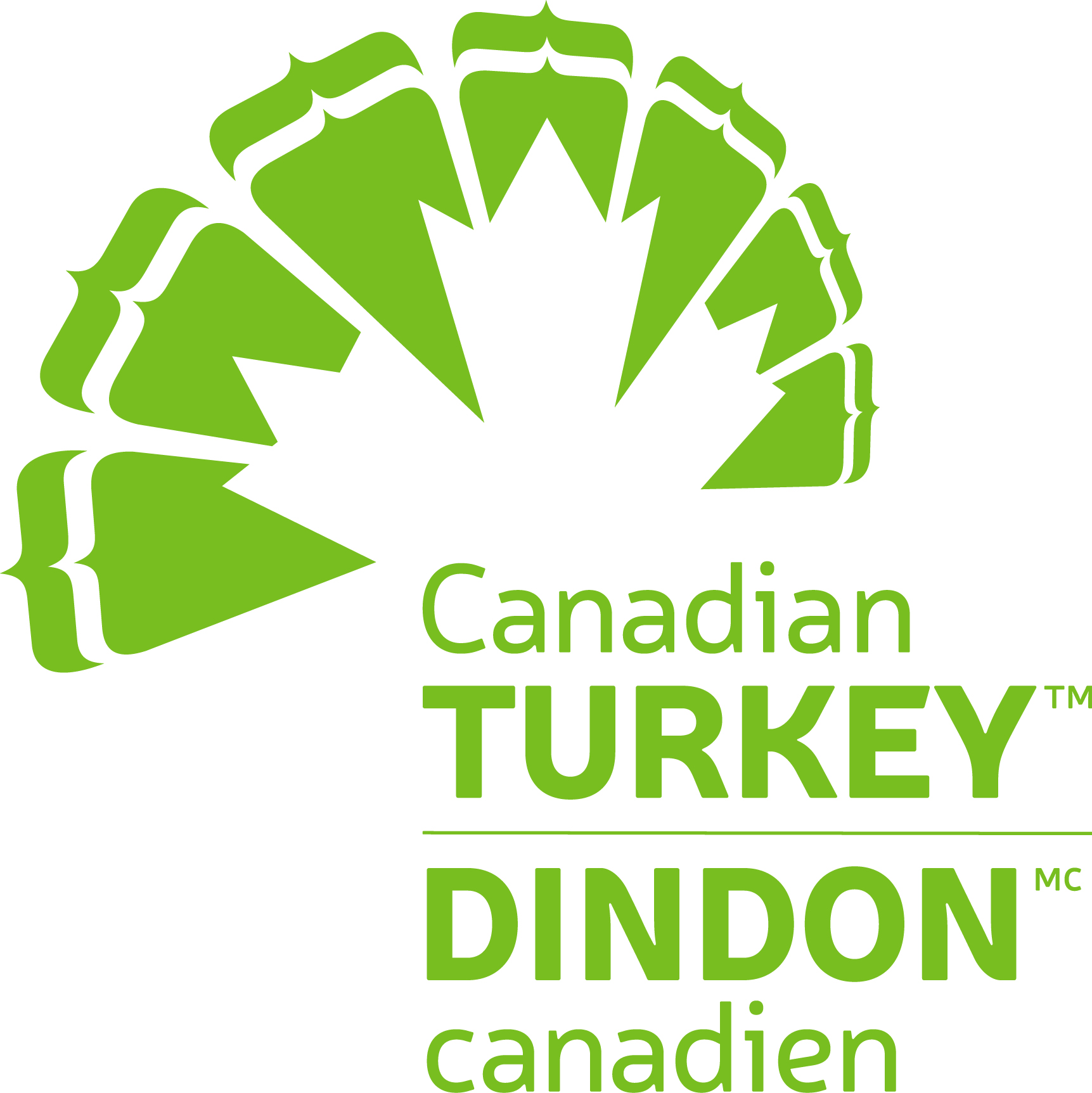 Canadian Turkey
This summer (and all year long) I want you to Think Turkey on the grill and make your favourite everyday BBQ recipes featuring Canadian turkey!
Everyone knows that the BBQ can be your best friend.
Grilling up a tasty meal can be the best way to get a quick dinner on the table during a busy weeknight, or entertain a larger group of family and friends on the weekend.
With Canadian Turkey's BBQ Bootcamp recipes and tips, you have everything you need to fire up some Canadian Turkey on the grill!
Finding easy-to-prepare but healthy recipes can be a lifesaver, especially when the family is busy with outdoor activities, sports or just hanging out having fun.
Did you know that Canadian turkey's low-fat, high-protein content makes it your perfect partner for summer grilling?
This is the time of year Canadians like to get outside and there's nothing more satisfying than preparing a delicious and healthy meal featuring Canadian turkey that you know your family will love.
Upsize the amount of turkey you buy to cook, and you're one step closer to a second bonus meal made with the protein-packed leftovers!
Think turkey next time you fire up the grill.
It's a versatile choice, with so many cuts of both dark and white meat to choose from.
Visit your local grocer or butcher to see the variety of cuts available at the meat counter, including ground meat, legs, drumsticks, thighs, breast steaks, breast rolls, breast roasts, drummettes, wings, sausages, and burgers.
With so many choices available, you can easily substitute turkey into any of your favourite BBQ recipes.
Turkey burgers and sausages are a great lean alternative to regular sausages and burgers without any compromise on taste.
Turkey pairs well with a large variety of flavour profiles, including your favourite spice rubs and marinades.
And it's simple to prepare – just swap turkey for the meat protein in any grilling recipe and you're on your way to a delicious dinner!
The lean fat content of turkey also reduces flare-ups on the grill, so you'll feel good knowing you are preparing a healthy BBQ meal.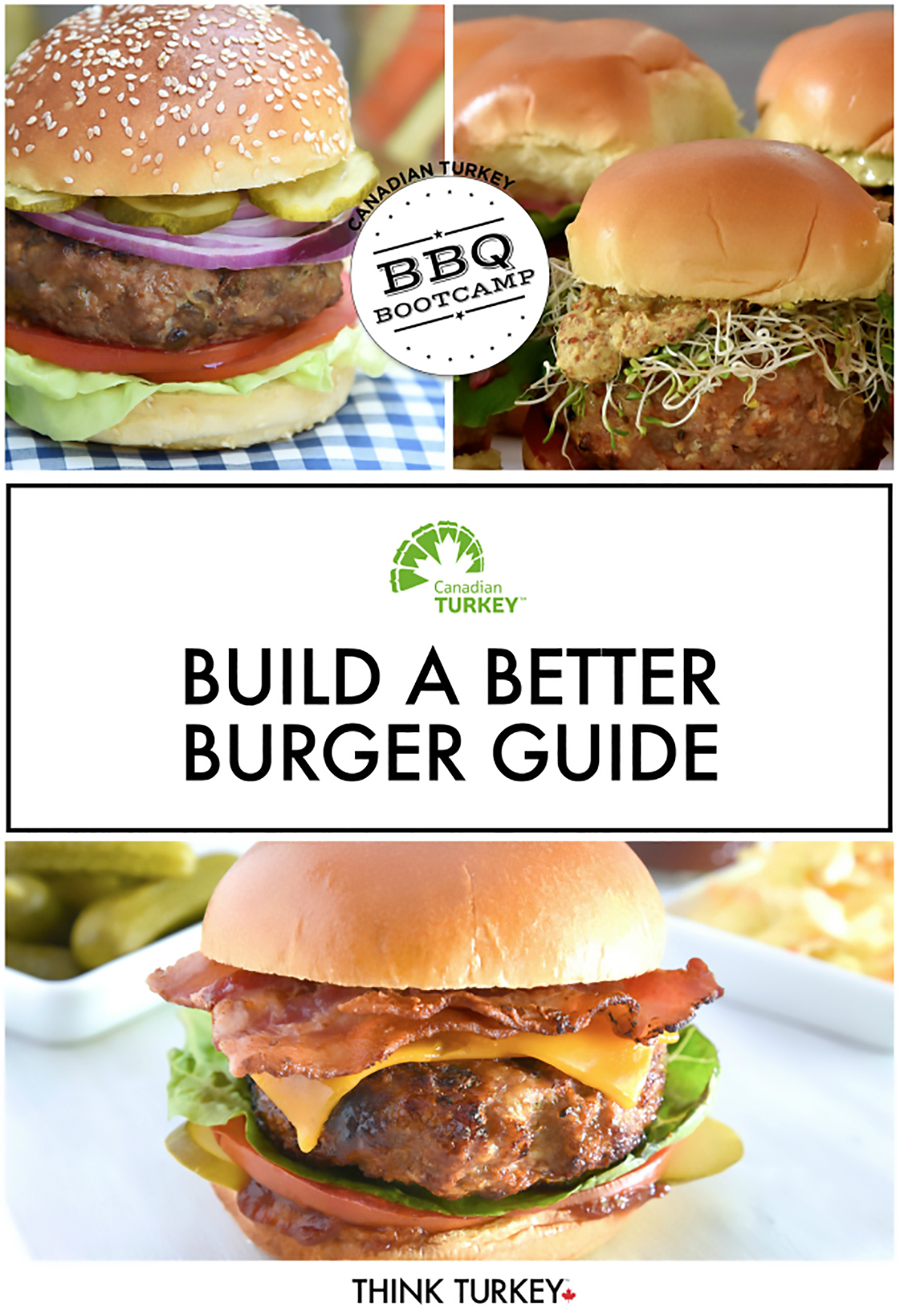 Check out this guide for more turkey burger recipes, tips and more that will have you cooking up delicious burgers any night of the week.
.
10 Pro Turkey Tips to Build a Better Burger
These pro turkey tips will ensure your readers cook up juicy, tasty burgers every time!
1. Perfect Patties
Start with a tennis ball size scoop of meat, roll gently between two hands and flatten to a 1-inch height.
When forming your patties, make an indent with your thumb or the back of a spoon in the middle of your burger to avoid creating a domed shape while they're cooking.
2. Gentle Touch
Use a light touch when mixing your ingredients and making your patties.
Overworking the meat will lead to a tough burger.
3. Clean and Oil
Make sure you oil your grill to ensure your burgers don't stick and are easy to turn.
Clean your BBQ so it's free of any debris before you grill.
This will ensure your burgers don't stick and release smoothly when they're ready.
4. Chill It
Chill your burger mixture for at least 30 – 60 minutes before grilling to let burgers set up and prevent them from falling apart on the grill.
This will also allow your seasonings to mingle and really absorb into the meat.
Ground turkey loves spices, sauces and big, bold flavours.
5. Don't Scorch
Don't shock your meat by cooking directly on a scorching hot grill.
This will toughen up meat fibres.
Make sure you pre-heat your grill and cook your patties over medium heat for tender, juicy burgers.
6. Leave it
Only turn your burgers once!
Let your burgers cook halfway through, 4 – 6 minutes, before turning and continuing to cook on the other side.
Resist the urge to flatten your patties with a spatula.
This will squeeze out all the precious juices from your meat that keep your burger moist.
7. Cook it
Use safe grilling practices and always use a thermometer to check the meat to make sure it is cooked thoroughly.
Burgers should reach a temperature of 165°F before you remove from the heat.
8. Brush up
If you're applying a glaze or cheese to your burger, do it in the last 3 – 4 minutes to avoid any burning or charring.
9. Take a Break
Let your burgers rest for 10 minutes once taken off the grill.
This will allow the juices to re-absorb and let the flavours shine.
10. Don't Forget Your Buns
Toast your buns while your burgers are resting.
A little crust will ensure your bread doesn't fall apart when you start loading up on toppings.
Great Canadian Turkey Burger
Looking for a tried and true winning burger?
Swap out your regular burgers for this Great Canadian Turkey Burger the next time you fire up the grill!
Yield: 6 Servings
Great Canadian Turkey Burger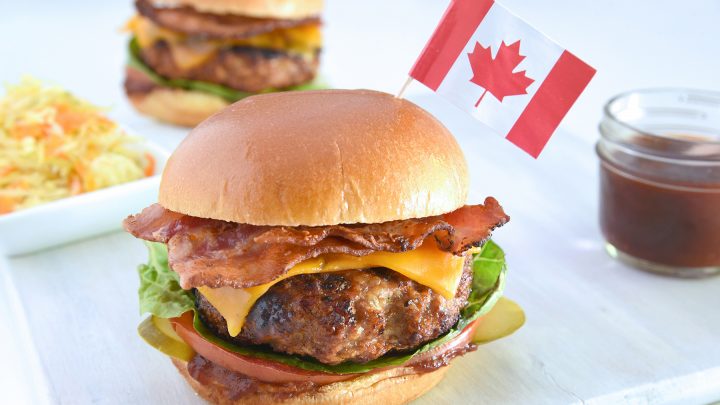 Ingredients
Great Canadian Turkey Burgers
2 lbs ground Canadian turkey
1 tsp olive oil
1 cup onion, diced
1 1/2 cups panko breadcrumbs
1/3 cup milk
2 tsp each: mustard powder, onion powder, garlic powder, sweet paprika
Salt and pepper to taste
2 tbsp Worcestershire sauce
2 tbsp tamari sauce (or light soy sauce)
3 cloves garlic, crushed
4 slices bacon, minced
1 egg, beaten
6-8 slices Canadian cheddar (optional)
6-8 slices Canadian bacon, cooked (optional)
6-8 hamburger buns
Maple Whiskey BBQ Sauce
½ cup maple syrup
½ cup Canadian whiskey
½ cup ketchup
3 tbsp tomato paste
1 tsp each: cumin, mustard powder, sweet paprika
2 tbsp hot sauce
1 tbsp apple cider vinegar
1 tbsp Dijon mustard
Instructions
Great Canadian Turkey Burgers
Heat olive oil in a frying pan.
Add onions and cook over medium heat until tender and lightly browned, 8-10 minutes. Remove from heat and set aside to cool.
While onions are cooking, add panko to a small bowl. Add milk and set aside for 5 minutes until fully absorbed.
Season turkey meat with spices, salt and pepper.
Add Worcestershire, tamari, garlic, bacon, egg, cooled onions and panko mixture.
Gently mix together until ingredients are thoroughly combined. Take care not to over mix.
Divide mixture into even portions (6 for larger burgers, 8 for smaller). Roughly shape into a tennis ball. Flatten into a patty shape.
Refrigerate for at least 60 minutes up to overnight. This will help patties hold their shape when cooking.
Pre-heat your grill. Grill over medium heat until cooked through and no longer pink, 6-8 minutes per side. Baste generously with BBQ sauce in the last 5 minutes of cooking. (Timing may vary according to your BBQ and heat settings. Burgers are cooked when an instant read thermometer reads 165ºF).
If using, top with cheddar cheese and cooked bacon strips in the last few minutes of grilling. Let burgers rest for 10 minutes before serving on a hamburger bun topped with additional BBQ sauce and all your favourite toppings.
Maple Whiskey BBQ Sauce
While burgers are chilling, whisk together all BBQ sauce ingredients in a saucepan.
Bring to a low simmer over medium heat. Cook for 20 - 25 minutes until sauce thickens.
Remove from heat and let cool. Sauce can be stored in the refrigerator for up to 1 week.



Win A $75 Amazon Gift Card
I have teamed up with Canadian Turkey to bring you this giveaway where one lucky reader will win a $75 Amazon gift card.
Prize:
This giveaway is open to Canadian residents who have reached the age of majority in their province.
To enter the giveaway complete the mandatory entry options in the giveaway widget below. Once you have completed your mandatory entries you will be able to complete additional non-mandatory entry options. Complete those for additional ballots in the giveaway!
This giveaway will close on September 13, 2019, at 11:59 PM EST. One winner will be drawn from all eligible entries and contacted via email on September 16, 2019. The winner will have 24 hours to respond to the email and claim their prize. If they fail to do so a new winner will be drawn.
Please note that ALL entries are verified and if you submit an entry without completing it you will be ineligible to win.
.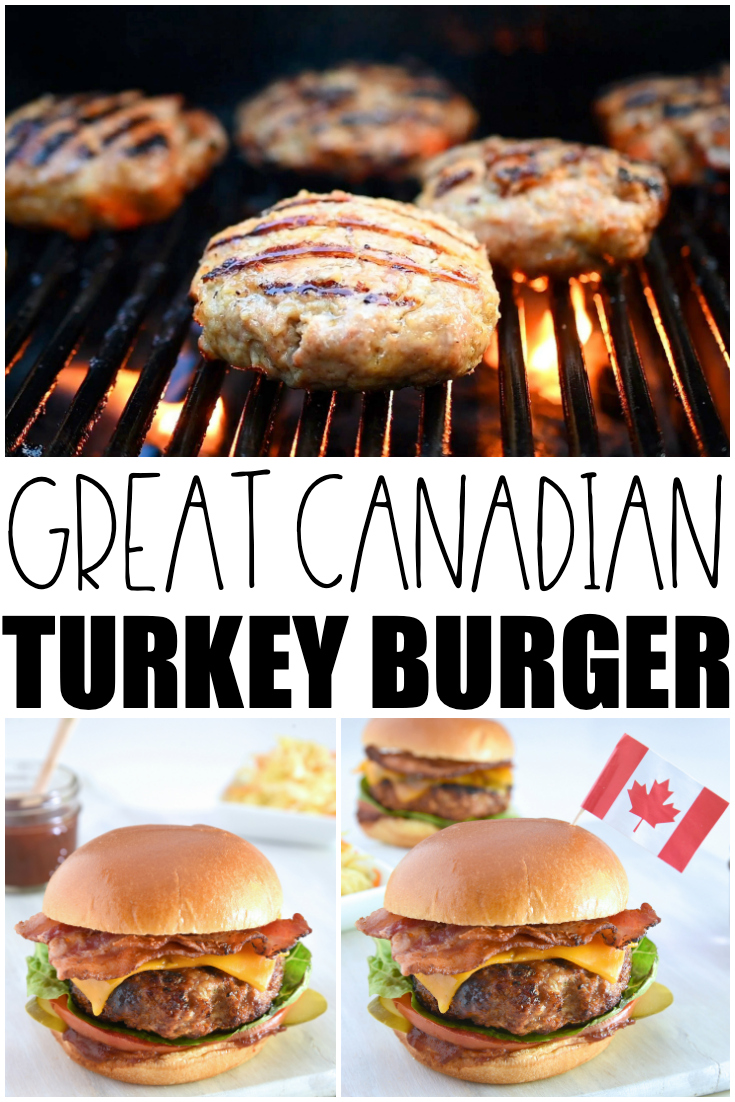 .
Looking for additional tips, recipes and HOW TO's?
Visit the Canadian Turkey website for all your cooking inspiration.
The Get Grilling recipe section is filled with tasty recipes to fire up on the grill.
There are year-round Whole Turkey How To's packed with helpful tips and techniques like brining and spatchcocking, and instructional and recipe videos that make it easy to create a delicious dinner all summer long.
So don't forget to put turkey on your table the next time you're feeding a crowd – it's an excellent option for weekend get-togethers, parties, excursions, and picnics, and it's a sure winner for all your backyard BBQ's and celebrations.
Just ask your grocer or butcher for 100% Canadian raised whole turkey and turkey cuts, in-store, all year long!
Disclosure: Although this post is sponsored by Canadian Turkey, the opinions and language are all my own, and in no way do they reflect Canadian Turkey. Any product claim, statistic, quote or other representation about a product or service should be verified with the manufacturer, company, provider or party in question.